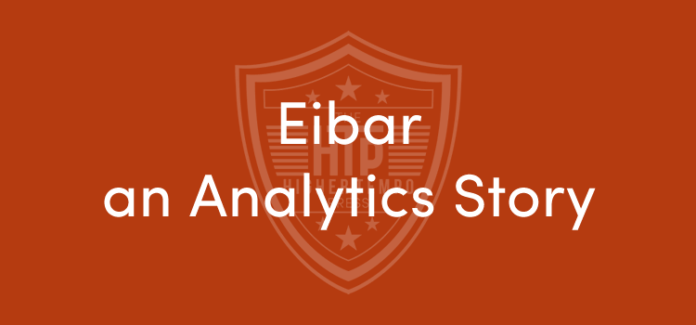 Hello, Eibar is back. We got through the transfer window in the last episode and today we will take a look at what happened after our 0-0 draw against Leganes. At the end of episode 7 I was teasing about a small change that we made and this episode will be about that small change so let's get into it.
Tactics
After the game against Leganes – one of the few teams that we should be beating because we have superior quality – I took a look at the Analysis tab and it showed me that our Striker Nano and our Attacking Midfielder Nano weren't really linking up and that Nano wasn't linking up with the rest of the team either. The latter isn't necessarily bad but if you play someone as an Advanced Forward and he isn't doing runs into the right spaces it is because you need to your Striker to a) score goals or b) be very involved or in the best case both.

Sergi Enrich used to be our main forward but he got injured for quite a while, so you see a picture of Nano here. So, what were our changes? Well, it wasn't much that changed: First of all, I felt that the Attacking Midfielder is very static in and out of possession, essentially acting like a Playmaker which is fine but it's not all I want him to be. I want him to be someone who works hard without the Ball and links up the team with it and when a teammate is on the ball I want him to find space to move into. So, he is now instructed to a) Close Down More and b) Move into Channels.
With my Striker, I did a few more changes. Well, to be 100% precise it was one change but it was a big one, changing the role from an Advanced Forward to a Complete Forward because looking at his Attributes, Nano offers a bit of everything in terms of being quite fast, being able to create things in tight spaces and being able to finish chances so I thought that letting him do his own thing could only be beneficial. If you take a look at his form in the last five games, this seems like a fair assessment but we obviously want to go a bit deeper than that.
Analysis
Here we can see Nano interpreting his role in true Poacher fashion. He waits and attacks the space right between the Centre backs which is easily possible because of the wide back four that Real Sociedad are playing. Thanks to his pace he gets clean through on goal and is able to get a good shot off. Thanks to Inui running into the channel between the Centre Backs who are narrowing up and the right back he is there to collect the rebound which is cleared off the line. This little picture also shows that with Nano we have a potent counter attacking threat. It's not our main strategy because our goal is to control the game but it is a good option to have, especially against slow teams.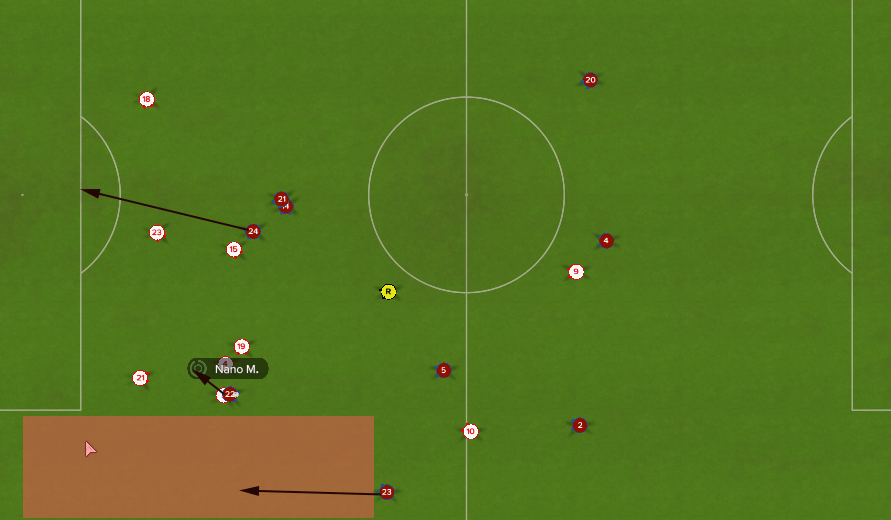 Here we see some brilliant link-up play by the 22-year-old. He receives the ball wide and then runs inside meaning that the opposition Full Back has to pick him which in turn creates space for our LWB Junca. Junca receives the ball and then plays it into the channel right next to Sevilla's number 21. Nano is there and just crosses it to our 24 Adrian Gonzalez and it's 1-0 to Eibar.
These are just two examples of the effect that Nano and his role change had when we were in possession but you also have to consider the effect out of possession because a Complete Forward will always work harder than an Advanced Forward. Especially with our Attacking Midfielder asked to press more we can now really pressurise our opposition's Centre Backs and force them to play it long. Not all of the time, obviously because we are not an out and out pressing team (we don't really have the players for that) but just a couple of long balls from the opposition help relieve pressure and allow us to recycle possession.
Results

As I said, this small change had a big impact on how well we were playing and creating in the Final Third. A 4-1 win against Betis was followed by a 1-4 loss to Barcelona but that is to be expected against a team that has 20 times our wage budget. However, we turned it around and absolutely smashed La Real and Sevilla. Especially the game against Sevilla was great and featured a lot of movement in the final third and saw us create a record 5 Clear Cut Chances.
The next game was a bit frustrating. At that point we were sitting 5th, just 5 points behind Villarreal in 4th meaning it was a big chance to possibly mount an unexpected challenge for Champions League places but 2 Clear Cut Chances and 5 Half Chances weren't enough to break them down meaning that both of our games against "Submarino amarillo" have ended 0-0.
Today is a bit shorter because Newgenday is just around the corner. Oh, and here's the league table: