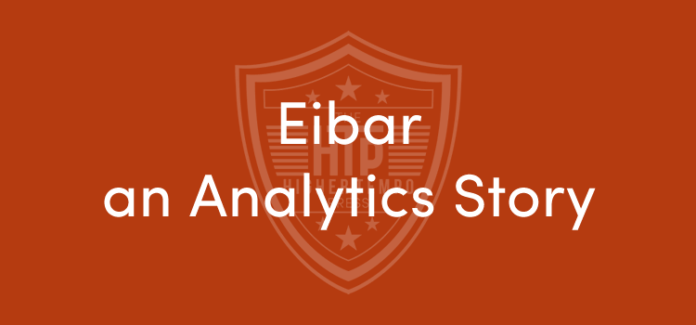 Hey, Eibar is back. Last time we met, there were just four games of the season to go so we are going to cover the end of the season now, looking at some of the best performers and at what lies ahead for the crew at Eibar.
Results

A 2-0 win at home against Valencia saw us jump to 4th place for the first time in the season and I believe for the first time in the club's history. We then tried our absolute best to not qualify for the Champions League by creating a massive three shots against Alaves and I am just gonna argue that we wanted to help them stay in the division and they confirmed safety after that game. But luckily enough, Bilbao and Villareal weren't interested in that 4th place either so at the end of an absolute dull game against Malaga, it was an 83th-minute goal by Nano that secured our place in the Playoffs for the biggest club competition in Europe. After two bad games, we suddenly decided to play football again and ended the season with a convincing 3-0 against already relegated Las Palmas. However, despite only conceding one goal in those games, our defence was very shaky at times but luckily it didn't end up mattering.


We didn't only win the race for 4th but we also had the best defence in the whole division, conceding only 28 goals in 38 games. Given that we conceded 31 Clear Cut and 62 Half Chances, this sounds about right in terms of probability and it is also a huge accomplishment considering a scoring rate of 1.44 goals per game. However, I would not necessarily highlight any particular defender because it was the unit that saw us concede such few goals. Instead, I just have to highlight Pedro Leon: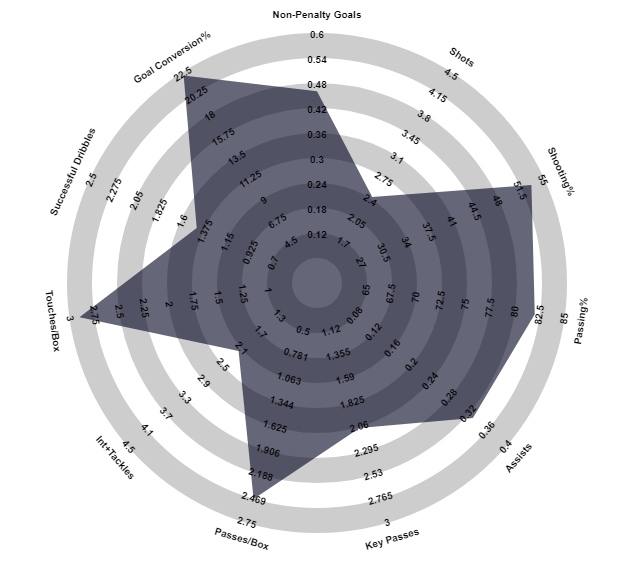 He's quite good, isn't he? In the period when he was injured, we didn't do bad but that was mainly down to the fact that with three Central Midfielders our defence was very hard to penetrate but in terms of creativity, these were the worst games of our season. Pedro Leon created a lot for us but he was also on the end of a lot of moves not only in the form of Penalties or FKs but also from open play. That being said, he is 30 years old right now so there are questions about his future with a contract that is running out in 2018.
At the start of the series, I said that we want to finance growth through transfers and there has been some growth at the club since then. Not just on the pitch but also off the pitch in terms of our stadium: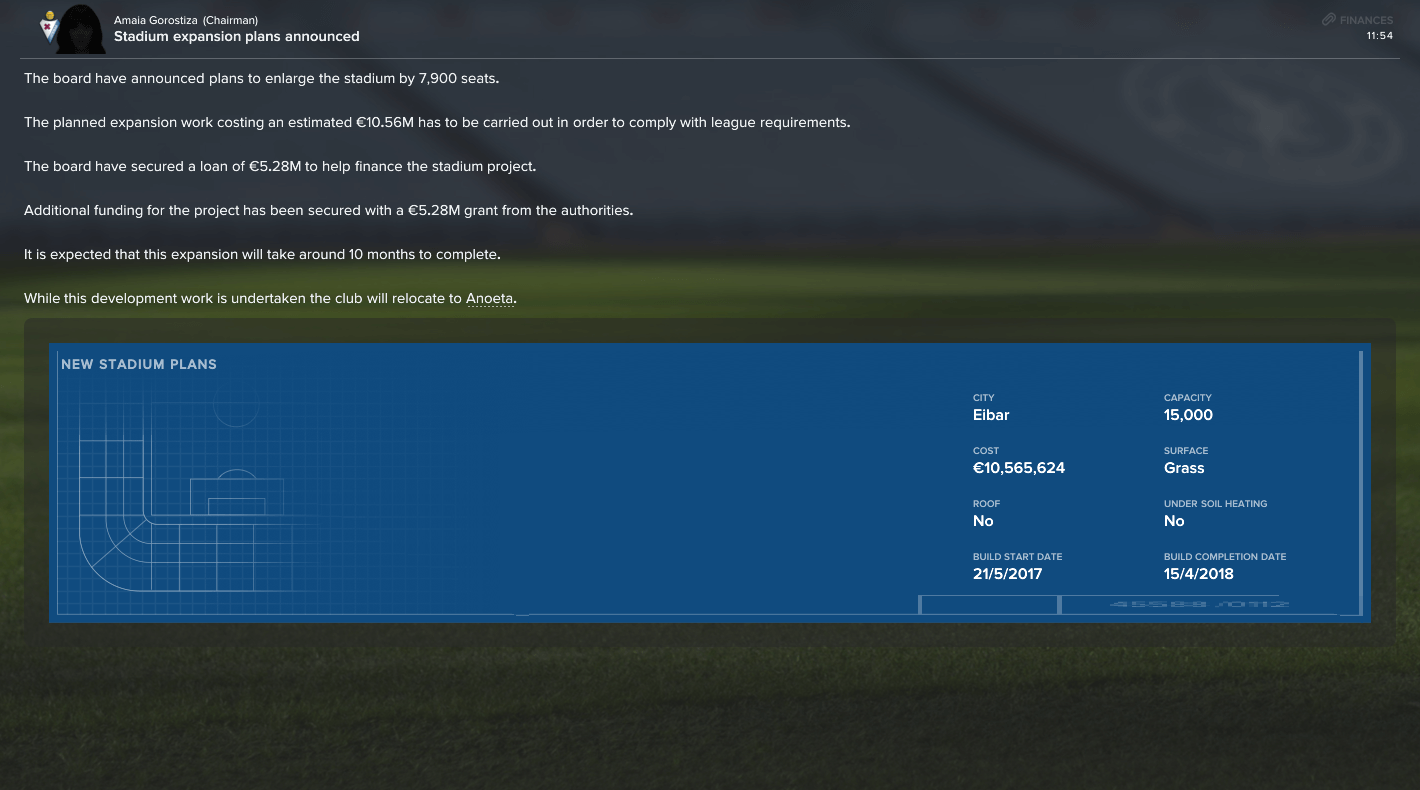 This was always likely to happen but it's still very nice to see that the board is trying to move forward opening up another stream of revenue for us. Because even with the qualification for the Champions League, we barely made any profit meaning that our transfer budget is still in the six figure department with little to adjust in the wage budget meaning that all of our signings will have to be either free or financed by outgoings.
There are two types of players that you usually want to sell. The first type is the players that barely got any minutes. In this case, it is probably for a reason and if that reason is not an exceptional talent, the player should probably leave the club. The second type is the player that is approaching the end of his career and will only decline from this point on. At this point it usually a toss-up between the strength of his decline, his current and future value to the club and his potential value on the transfer market. Thankfully, smart people have come up with a great way of visualising both minutes and age: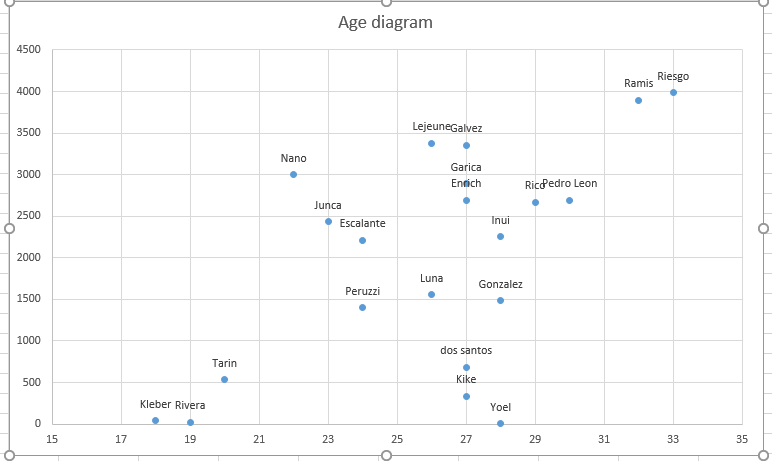 This shows that a lot of our Key Players are around 26-28 so right in their prime which sort of explains why we were doing so well. Obviously, it does not explain everything but having a bunch of Key Players in their prime helps. Going forward, there are some obvious outs. Dos Santos and Kike are both most likely leaving the club and Yoel's loan deal is running out. Tarin is still an interesting player I would like to resign but it's gonna be difficult in terms of money.
Positive: Peruzzi – who arrived in January – got a lot of minutes and has a great future ahead. Same goes for Junca and especially for Nano who was our top scorer with 17 goals across all competitions. With Luna leaving on a free transfer and Fran Rico returning to Granada, both Junca and Escalante are going to get a lot more minutes next season too.
Negative: Apart from Rivera, who was on loan at Ingolstadt during the second part of the season, there are no very young talents at our club meaning that the potential growth in terms of player material is quite limited. There are also some key players who are approaching their mid-thirties like Pedro Leon, Ramis and Goalkeeper Riesgo. Ramis is likely to retire in 2018 and Riesgo also just has one year left on his deal.
The biggest conundrum is the Pedro Leon one though. He played really well this season and we are not quite as good without him but his contract runs out in 2018 and we can't afford to renew meaning that this is the last year we can cash in on him and if I get a bid that is around €20 million I probably have to accept it but there is obviously a huge risk in that because it significantly lowers our chances of getting through to the group stage of the Champions League.
There are already some replacements lined up and I tried to follow most of my transfer targets during the second half of the season and with us not getting a lot of transfer money these haven't changed. In broader terms, I want to sign players for following positions:
Goalkeeper (Young)
Centre-Back (Young)
Central Midfielder
Striker
Possible Pedro Leon replacement
Apart from that I am always interested in bringing in young talent that can develop at the club but with our budget, we can't just take aimless punts so it has to be well-thought through or it might hurt the club significantly. To see what happens and to see some more statistics from our season, check out the next episode.