Last time out – we took charge in Berlin, I shamelessly plugged the original series this is based on (read it) and I found out that I then lost the world's greatest free agent. Manuel Streker is an arse…
We also confirmed the signing of Shaqir Tafa whom I know very well from Salernitana and released some fringe and young players too. Fortunately, the transfer business didn't end there. Out went the experienced Jonathan Schmid to Brexit-restricted Norwich for a nice £5 million. He just about got into the country, his knowledge of Mr. Bean getting him the requisite points for a work permit.
He was joined out the door by another experienced player in Daniel Ginczek, who went to Frankfurt for a nice £2 million. Fortunately, he didn't need to take a test on Blackadder for that one. The final experienced head leaving was keeper Florian Giefer on a free because he was crap. And some young lad named Yaya Diallo left on a free too because he was atrocious.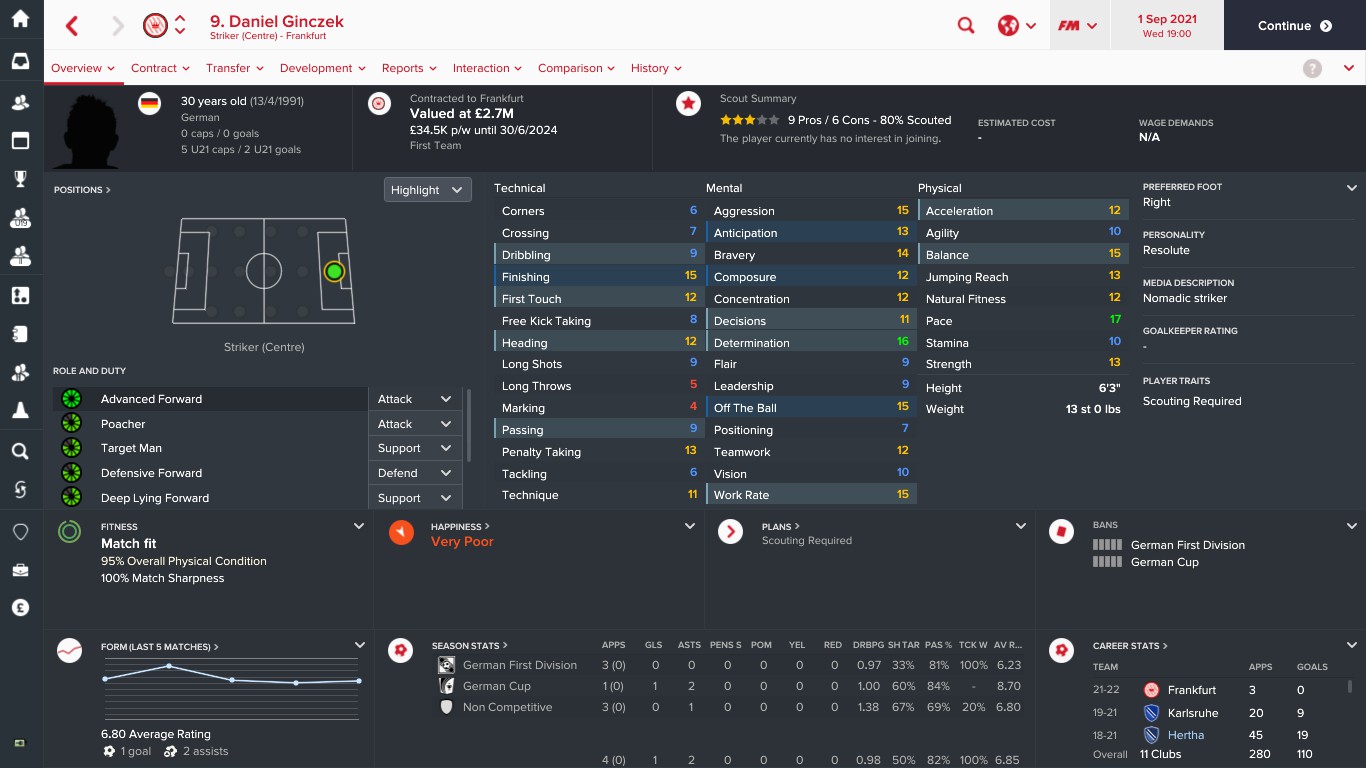 Signing wise, I decided that I wasn't going to sign anyone else that I'd used at Salernitana. Partly because they were not Bundesliga level but mostly because I needed to see what was out there too. Expand my horizons. See the world in all its glory. Which means my first signing was Salernitana captain Max Busellato for £2.5 million.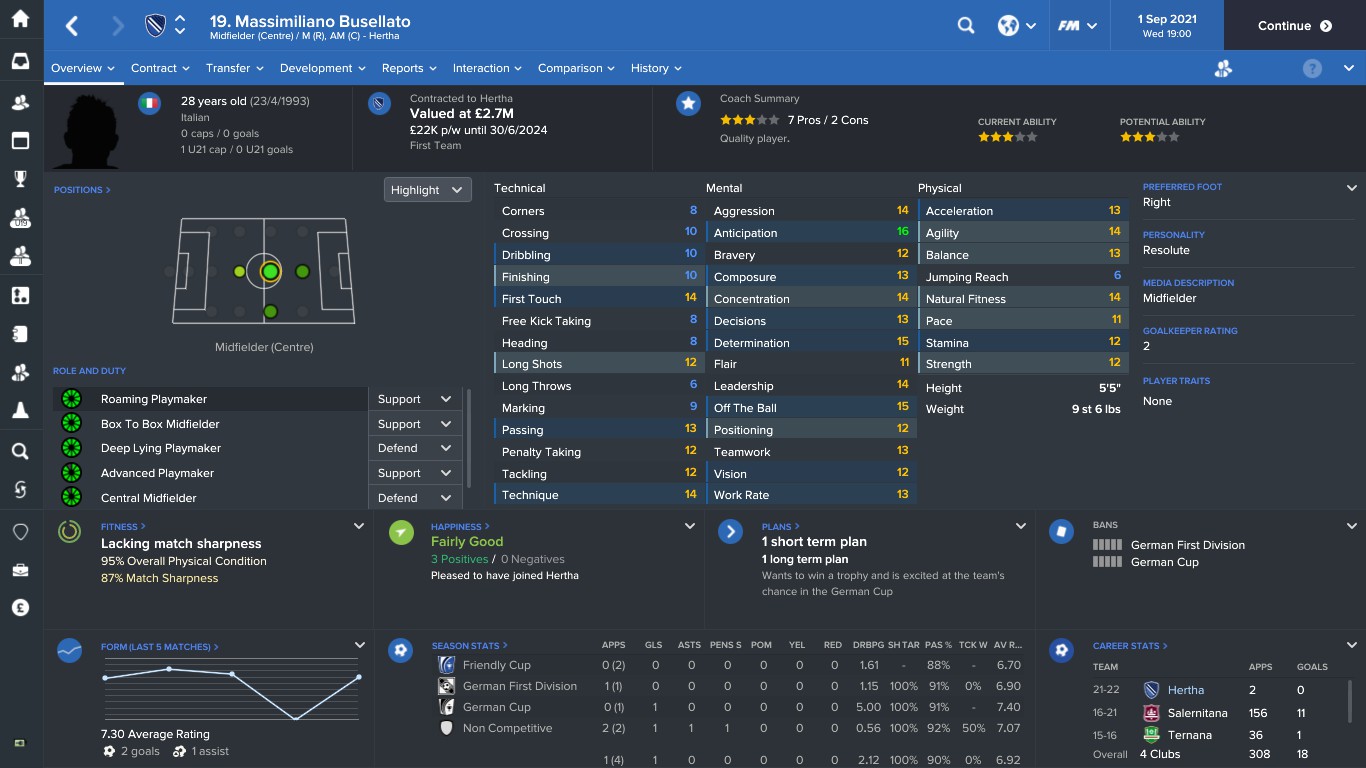 Fortunately for everyone who hasn't read the Salernitana Story (and that will be about 99% of The Higher Tempo's audience) that was the final signing of a previously used player. Mostly because Nicola Dalmonte isn't as good as I thought. Still, we needed quality defenders and I found a 20-year-old Argentine international playing at River Plate. Diego Rodas is quite the pick-up for an initial £7 million, even if he is 5'11". Didn't check everything did I?
He was soon joined by another South American. Colombian midfielder Juan Fernando Florez who impressed in Kaiserslautern's midfield last season as they were relegated from the Bundesliga so I was only too happy to pay the whole £1 million to sign him. ONE MILLION! FOR THAT PLAYER! Ay dios mio!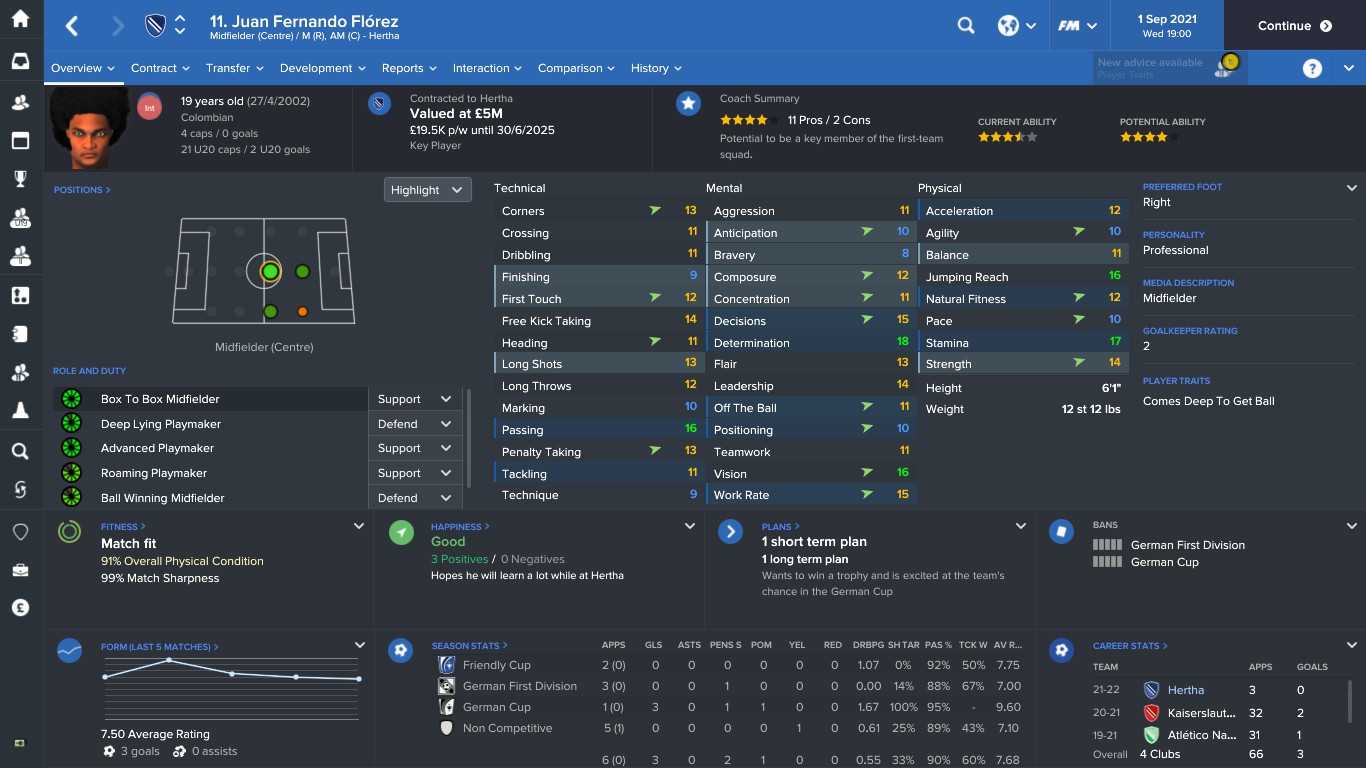 Then I realised my goalkeepers were all garbage and I needed one. I had the choice between RB Leipzig's German back-up or an unproven Israeli from AC Milan's reserves. So meet Haviv Ohayon who cost me pennies.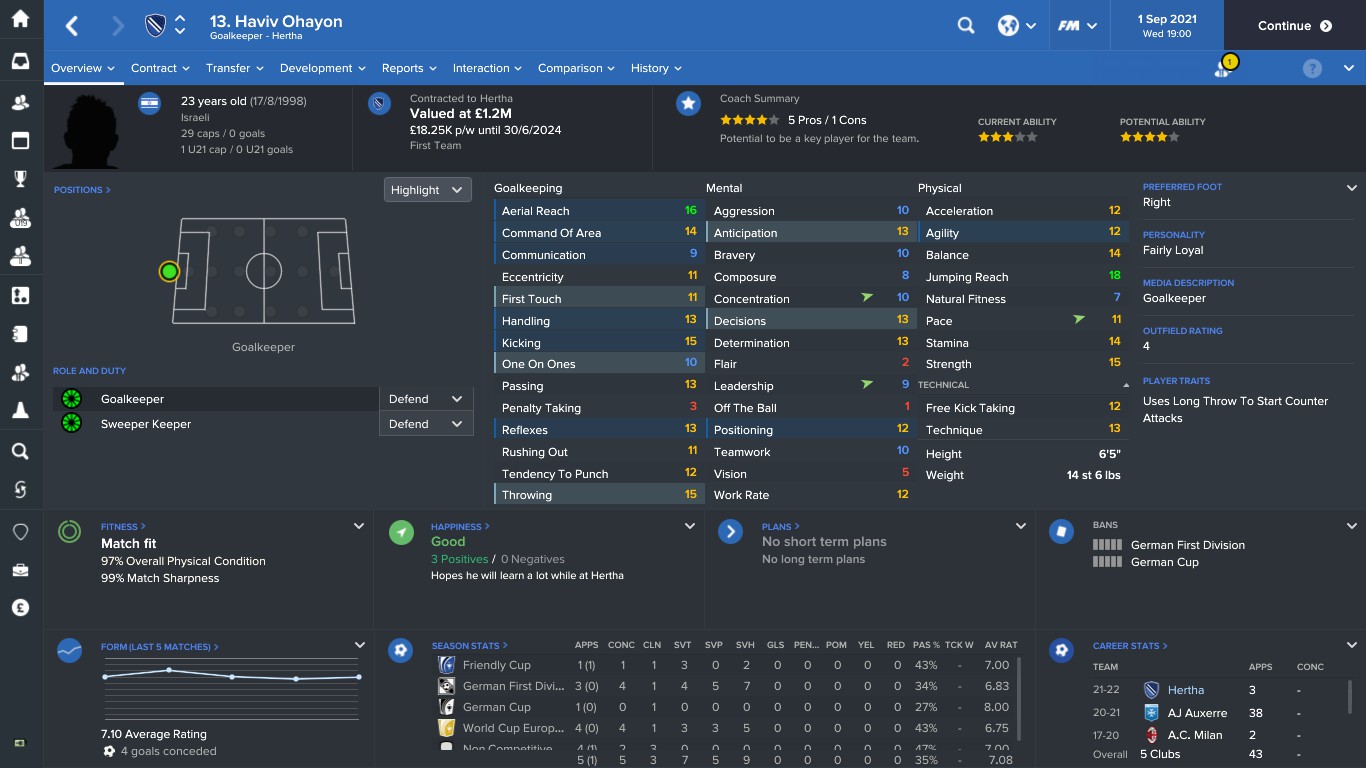 Here's the final overview for our summer spending.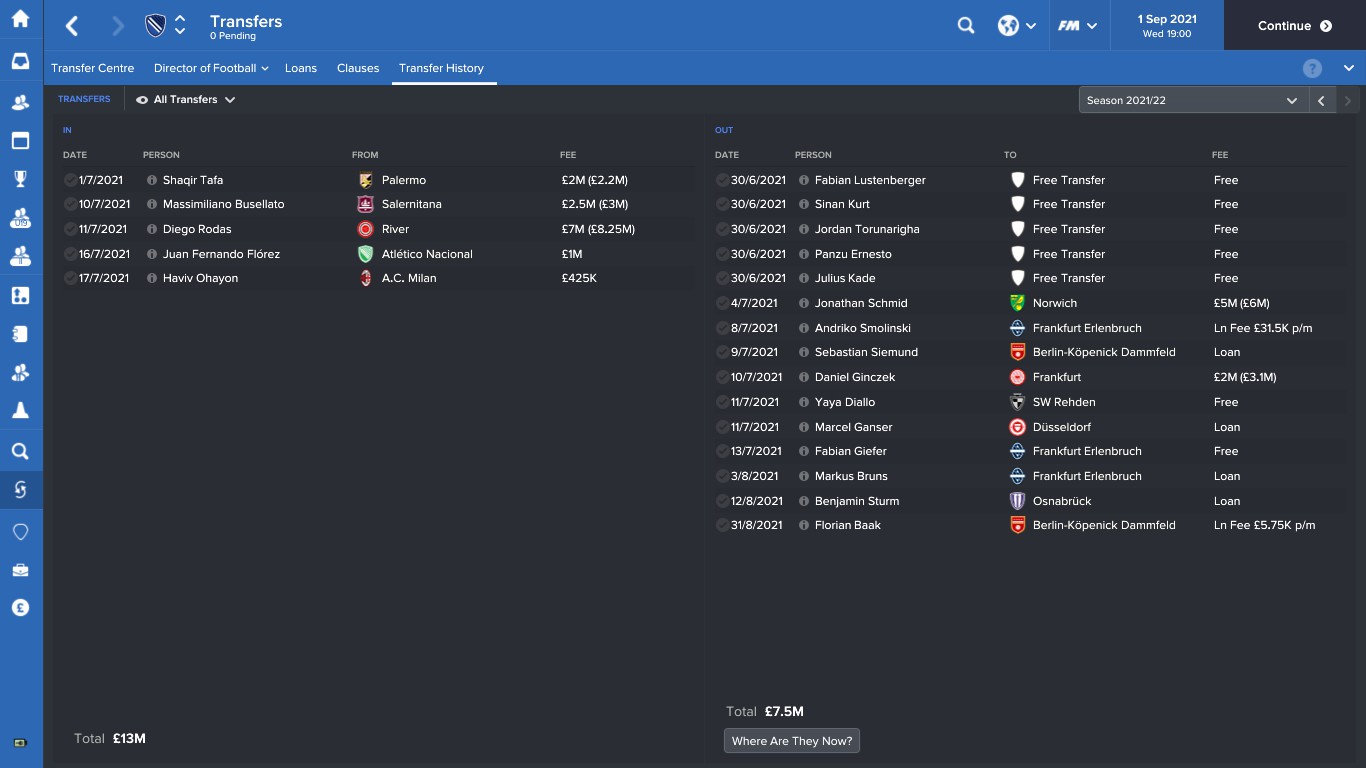 Pre-season happened as well and we won a trophy! Well, a pointless one.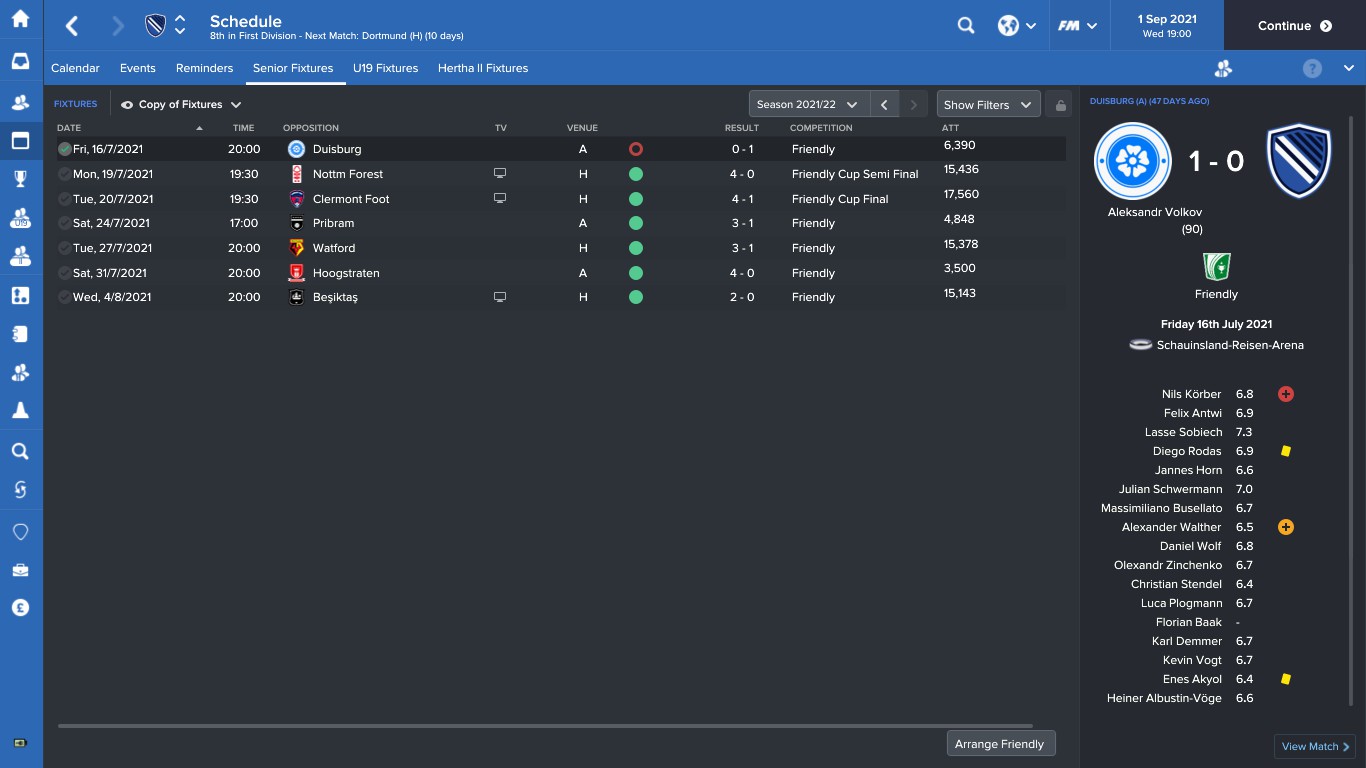 We start the season with the customary German Cup demolition of a poor lower league side. We lucked out and got a trip to Bremer SV who the game reliably informed me play in the "German Div. Lower". This should be fun.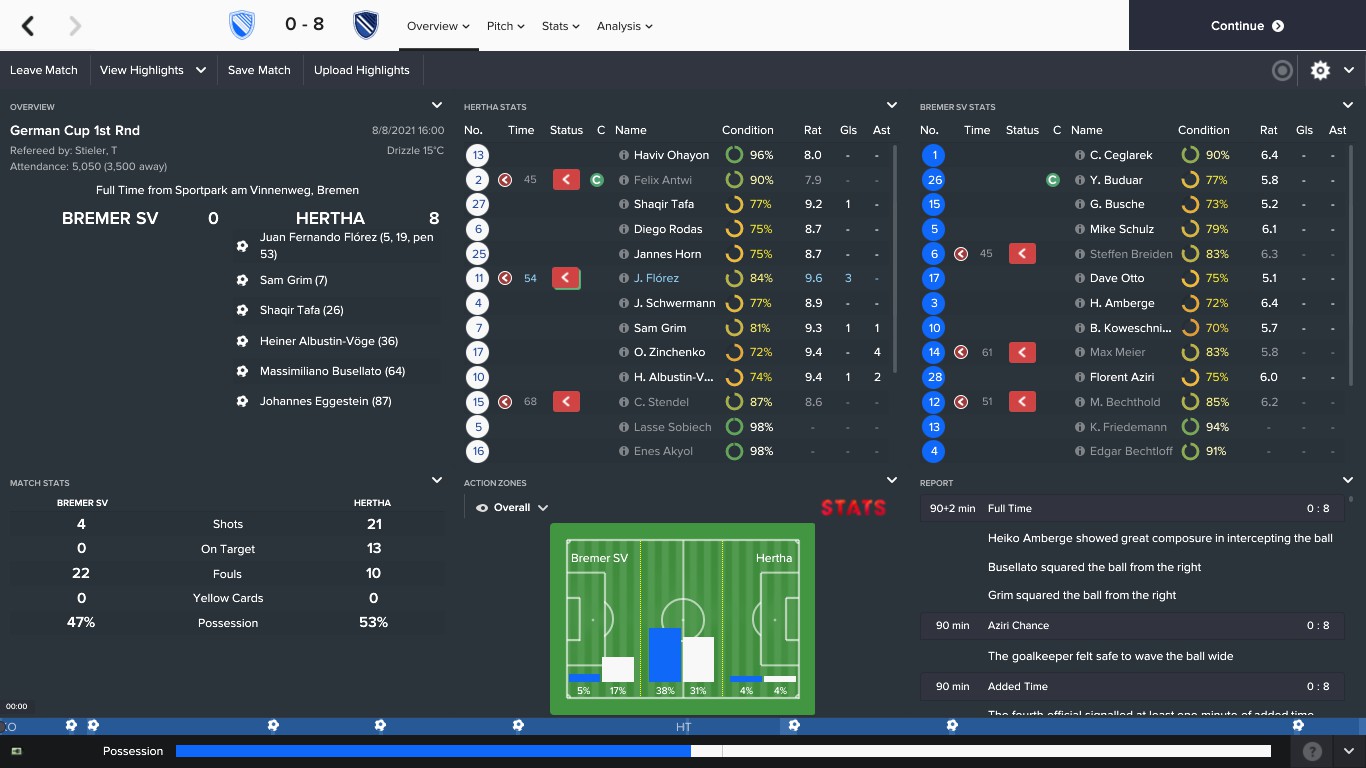 I feel bad. That's bullying. We ran riot, all the new boys played and some even scored. Confidence was high then as we head toward the league opener against Bayer Lever… OH COME ON!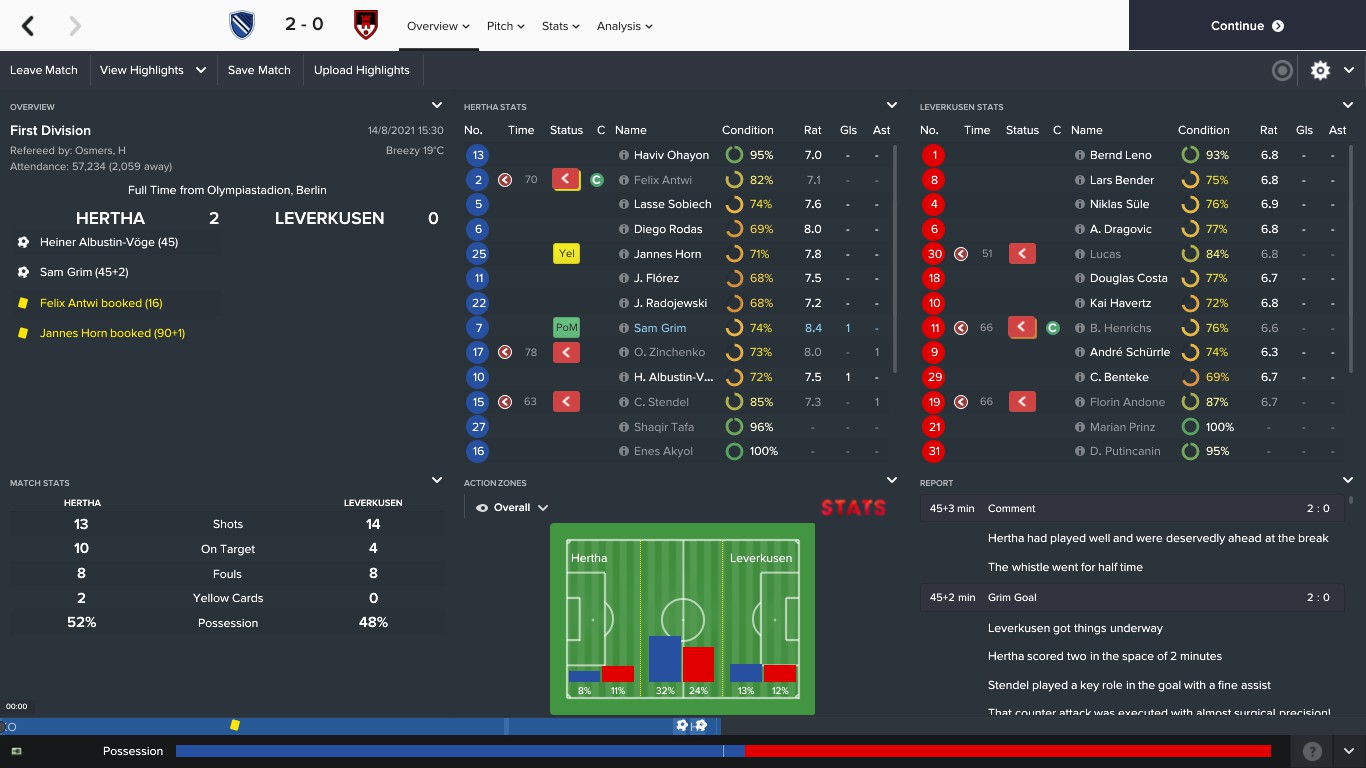 Oh, come on! We held Christian Benteke off fairly comfortably and scored two lovely goals on the break. Sam Grim ran riot, giving the Leverkusen defenders… ahem… nightmares. Get it? Grim? Grimm? Scary stories? Moving on.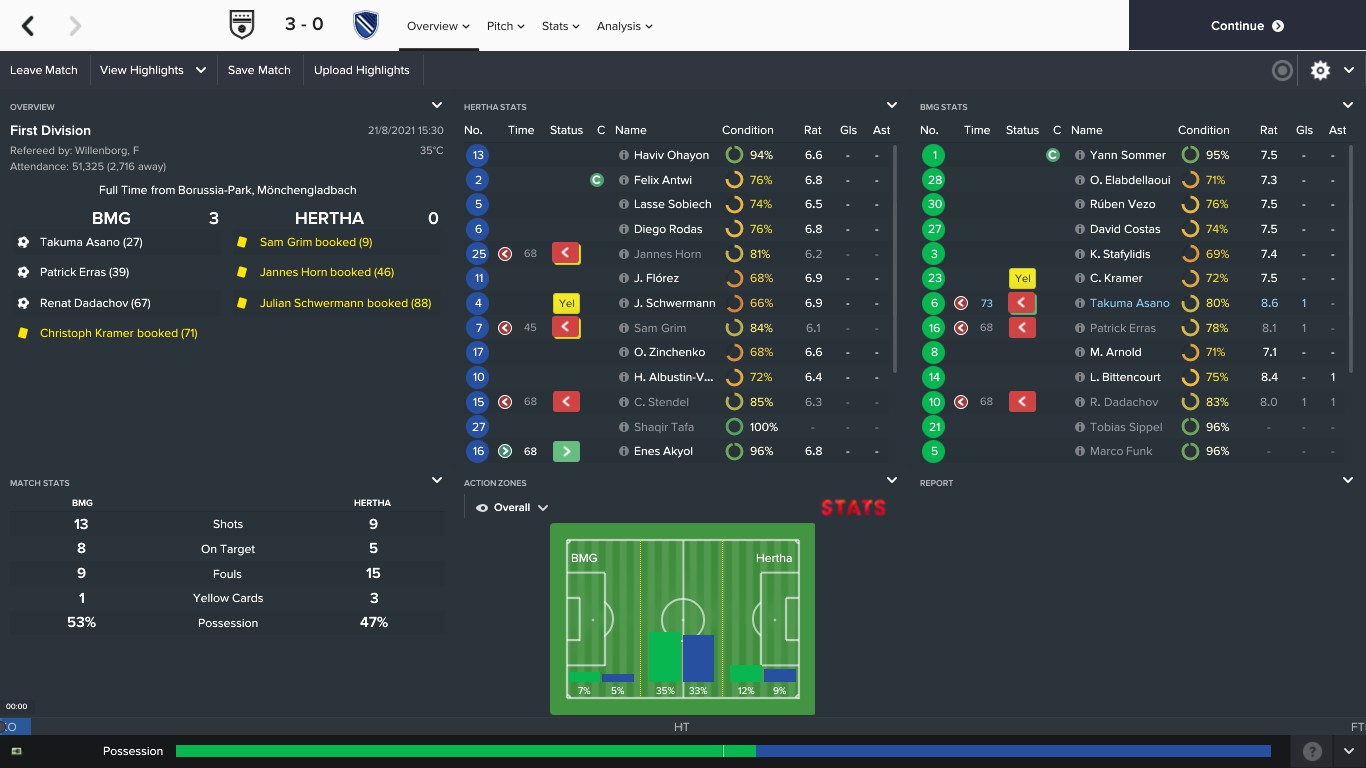 Oh dear. Turns out Munchinflapjacks are quite a bit better than we are and they demolished us. It can't get worse than this right?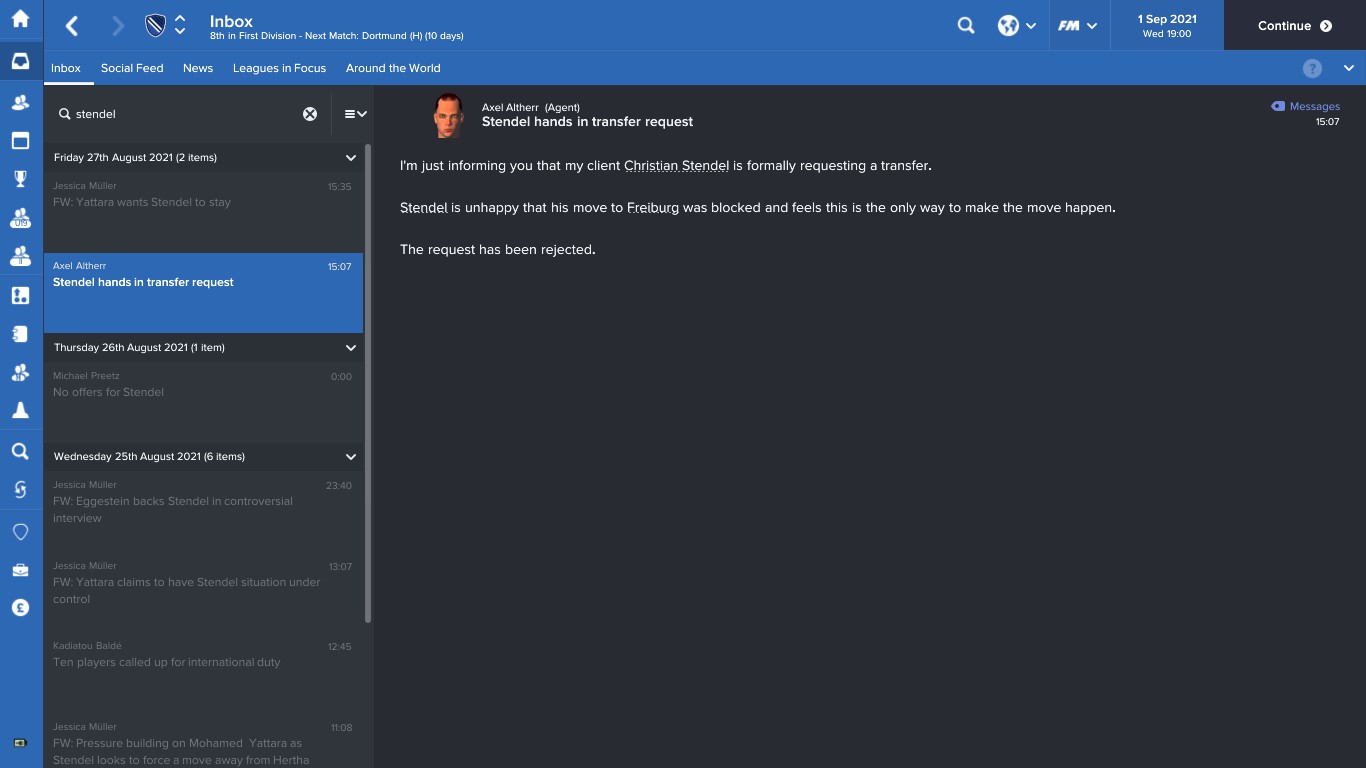 Wrong! Christian Stendel has had his head turned by bloody Freiburg of all teams. THEY FINISHED EIGHTH LAST SEASON! They're not going to challenge for the Champions League Stendel, you clown!
He's suitably unhappy but I don't care because he can now be considered dropped. Still, we had to end the month with a clash against another promoted side from last season in Dusseldorf.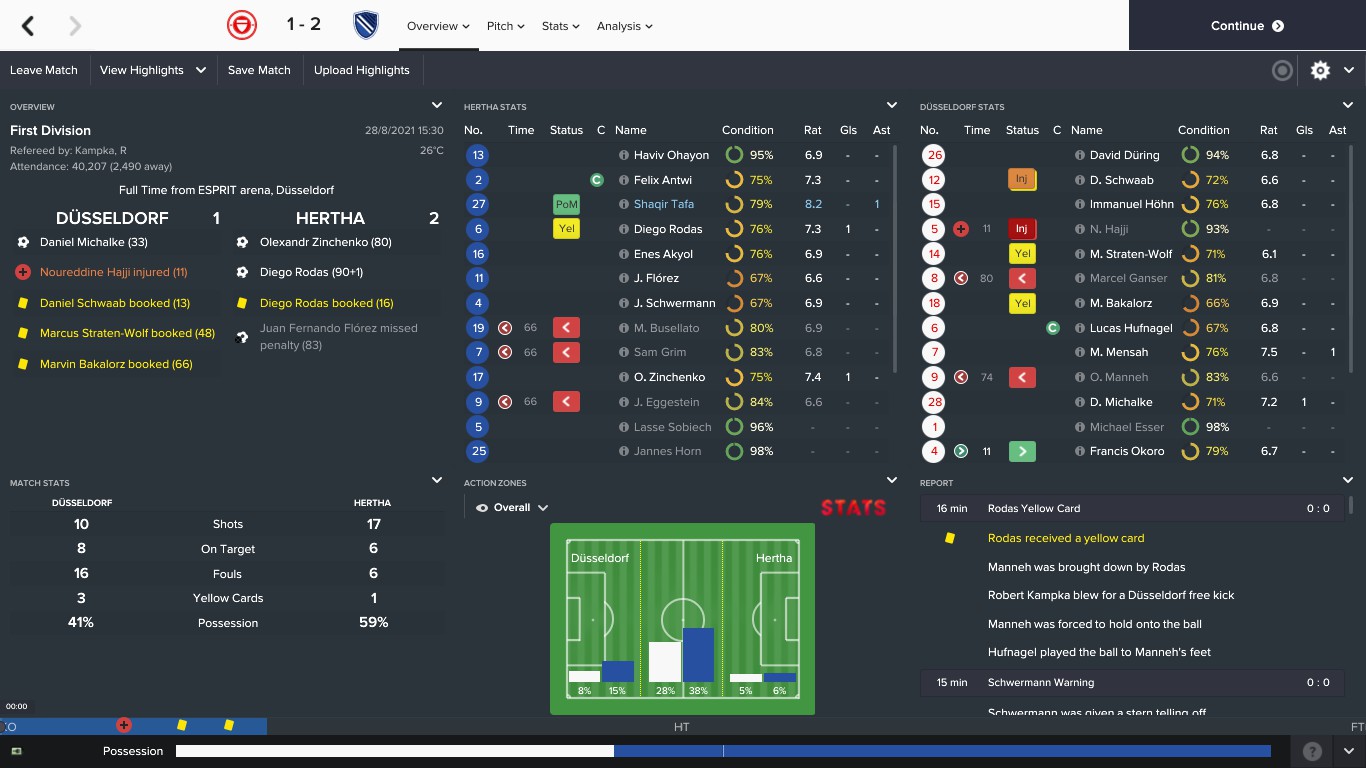 And we just about scraped it in the end. The anger levels were high throughout this game and peaked at Florez's penalty miss which was wider than a fat joke. Thankfully Rodas bailed us out from a corner late on but boy are we going to be in for a long old season if this keeps up.
Dusseldorf's manager was very salty post-match though unable to accept that his team are a bit crap and that his last name is a Gwen Stefani song. It seems Bernd is a Hollerbach girl though.
Until next time!