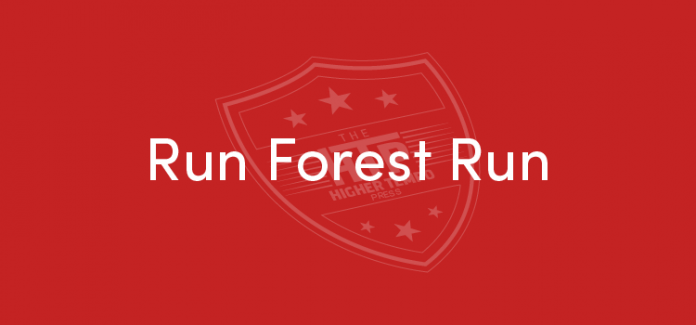 We start April immediately with a match on April Fools' Day, but Preston are by no means fools. They have performed very well and are 13th in the table. They have nothing left to play for, but I don't consider that an advantage. Pinillos has recovered from his abdominal strain, only to fall awkwardly during training and sprain his ankle. That means he will miss this crucial phase of the season. A pity, considering he was one of our top performers after his earlier recovery. But on the plus side, Lichaj and Hobbs return to the side and will take up their regular places in defence. Meanwhile, Solanke is tired and will be replaced by Assombalonga, with Licá taking his place as right winger.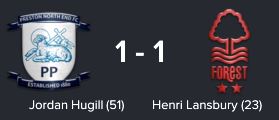 It's the 44th minute. Danny Fox steps up to take a free kick on the far left side of Preston's penalty area. It's already 0-1 for us. Fox strikes the ball hard and clean, the ball sailing over the wall and towards the goal. Anders Lindegaard stretches, but is unable to touch the leather. To his relief, the ball ends up on the crossbar. It bounces back into the field, straight into the feet of Jack Hobbs. He's barely one meter from goal. Lindegaard watches helplessly while Hobbs strikes the ball and… sends it wide. It's these sort of moments that play through your mind when you lose two points at Deepdale.
The draw at Preston still leaves us in top six, because Birmingham City lost to Ipswich Town. Even though we dropped two points, the gap has widened to three points between us and The Blues, between promotion playoffs and ending the season on Saturday May 7th. For our next match we travel to Wolverhampton, where the Wolves await. They are five points above the relegation zone, mostly thanks to the 15 goals made by Icelandic killer Jon Dadi Bodvarsson. We have some tired legs, so I make a few changes to the starting lineup. Traoré, Browning, Kerschbaumer and Licá all get game time in this important fixture.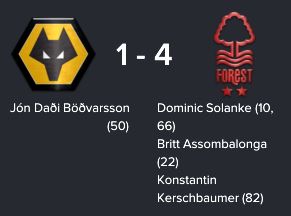 He might be just a loan signing, but Dominic Solanke ranks as one of my best moves in the transfer market in recent history. Since his arrival in the January transfer window, he has scored an incredible 9 times in 11 matches. All of them were crucial goals and we have him to thank for the 5th position we are currently in, 4 points above 7th. We utterly destroyed Wolves at their home, a side we had a lot of trouble beating when we met in December. We have come a long way since then and I firmly believe we can beat anyone on a good day.
Our next opponents in this very busy month are top of the table side Huddersfield Town. The Terriers have been amazing under their American manager and are 3 points ahead of 2nd placed Newcastle United. This match is going to be a very important test to see where we really stand. It is one thing to beat mid table sides, but quite another to win against the leaders of the pack. To be extra prepared, I tell the lads to train on defensive positioning. But I'm hesitant to step away from my control/fluid combination. After all, we're playing at the City Ground and to win, you need to score goals. We face Huddersfield with Fox, Lansbury, Walker, and Hobbs back in the side.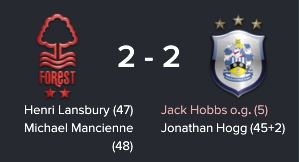 Last time it was Huddersfield who succumbed to a home loss thanks to an own goal, so it is only right that our apparent loss at home against Huddersfield starts with an own goal by Jack Hobbs. It is the sort of poetic justice in which FM excels, and with which it would like to ruin your life. But we are not going to lay down for poetic justice and let it do what it wants with us. Just when all seems lost, when a Hogg goal puts 0-2 behind, we rally. Lansbury and Mancienne erase the Terrier's lead within three minutes of the second half. That's what a determined, driven transfer policy does for you.
Next up are Blackburn Rovers, who are in a heap of trouble. They're only out of the relegation zone because of goal difference and they will throw everything they've got at us in an attempt to get away from League One territory. But we should be able to withstand the Rovers and come away with another three points. The difference within the top six is very small and even automatic promotion isn't impossible with only 5 points between Newcastle United and us. We have no injuries or fatigue, so we start with our usual starting lineup.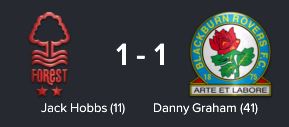 These two points we are leaving behind here are going to be very expensive at the end of the season. I just know it. Everything seemed fine when Hobbs headed the ball past the keeper, but after the equalizer by Graham, we seemed to lose our focus and drive. It's like we forgot we are playing for playoff places. Solanke seemed helpless, and substituting him for Licá and putting Assombalonga up top did not help anything. We were stuck at 1-1. A valuable point for the Rovers, an expensive loss for us. We're fortunate 6th placed QPR haven't won a game since March 7th and continue their slump with a 2-0 loss against Bristol City. That means we're still 5th with three points between us and The R's and four points between us and 7th placed Fulham.
Our next opponent is Cardiff City, who have shown fine form in recent weeks, winning five of their last seven games and drawing the other two. This has resulted in a small, but essential climb up the table and the Welshmen are currently 17th. Like every match in this phase of the season, it is vital we get three points. We have to leave the slightly disappointing result against Blackburn behind us and solidify our place in the top six. Even though our last match was only a couple of days ago and some players were a little bit disappointing, I hold on to my regular starting lineup.
This is essentially a carbon copy of the match against Blackburn. We again faced a side that is lower on the table than us, and we simply fail to create chances only having a paltry 2 shots on goal after 90 minutes of play. Of course, it is nice not to have lost, but one point at a time is a very dangerous strategy to follow. Sooner or later, the clubs around us are going to win and put a dent in our playoff dreams. Elsewhere, Fulham and QPR both win their respective matches and crawl to within 1 and 2 points respectively. This is getting really tight!
Next up is Reading, a side that's fighting against relegation. They are only three points clear of the relegation zone and Jaap Stam's squad will try to keep it that way. This is a familiar scenario, and I have to try and prevent another loss of points, because that could send us out of the top six. To remedy our problem, I decide to tweak my formation a little bit. Both wingers will start further forward in the AM strata. When we're facing stronger opposition, for example QPR next week, I'll change it back. But I need to take some risks to ensure a place in the playoffs.
Now that's more like it! My tactical changes have paid off and we netted a solid win against Reading. With our flank players further forward, we offer more of an attacking threat. This pays with two goals by Solanke and Assombalonga. 2-0 up, I decided to play without risks and tell the lads to retain possession. This puts Reading out of the game, and secures a vital three points for us. The only downside is that we lose Stojkovic to injury, which means his less than trustworthy Irish understudy will take his place. At the same time, QPR draw against Brentford and Fulham lose their match against Huddersfield. This means I need only one more point to secure a place in the play offs.
And that point needs to be secured against QPR, of all teams. This is the sort of match that gets thrown out during the making of a football movie, because it's too cliché. But life has a way of being very cliché, and so to London we travel to put a crown on top of this season's achievements. Because we only need one point, I'm going to change my wingers back to the MC strata. That will give me more defensive security against a very dangerous QPR side. Apart from Henderson between the sticks, there won't be any further personnel changes.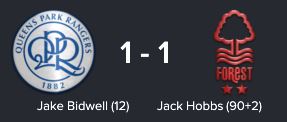 Well, that was close. We weren't in good form at all, which was made worse by a Bidwell free kick hitting the net. With the clock ticking down to 90 minutes, we seemed to buckle under the pressure. But then Osborn gets to take a corner kick in the 92nd minute. The ball rises. Smithies can't reach it and out of a mass of blue-white and red players a giant emerges. Jack Hobbs hits the ball with that mighty head of his and equalizes. This could very well be the best goal this season and will definitely be put on the DVD for the whole family to enjoy. Every year a father from Nottingham will show the goal to his family until his wife and kids leave him, unable to cope with his obsession for this goal. And that's the way the world works. The Hobbs giveth and the Hobbs taketh away.
With our match being played on a Friday, we await the other results with a lot of tension. While our place in the playoff place is almost secure, we do need Fulham to slip up against Brentford to make it happen. Otherwise, we could theoretically be kicked out of the top six on goal difference. In an unprecedented move, David and I decide to attend the match at Craven's Cottage. Mr. Romanov is so happy with our performance, he decides to throw in the tickets. An early Sulley Kaikai goal puts Brentford in the lead and they don't give it away. That means:

A fantastic result! Nobody expected us to come this far, but apart from a slump around December-January, we consistently performed well and fully deserve this result. But we still have the final match of the season to play. Ipswich Town have nothing to play for, so we may hope they kind of, sort of are already on holiday mentally. I really want to win this, so I move my flank players up to the AM strata and hope that we give us the edge in this contest. We are helped by Stojkovic recovering from injury and taking his usual place between the posts.
Bastards! What the hell are they playing for? They had nothing to gain. Nothing! And still they played like it was a Champions League final. We started so well with a Solanke goal, but then we kind of stopped playing. So Ipswich Town put an end to a nice flow we had going, just before we start the playoffs. And to make matters worse, Cohen is out for 2-3 matches after tearing his hamstring during the match.

And so we end the season in 4th place, again: a fantastic result which I'm very proud of. But a full season review will have to wait until after the playoffs. They will determine whether it will be a great season or a fantastic, historic season. And we play the semi-final against, of course, Derby County. Remember what I said about real life being cliché?