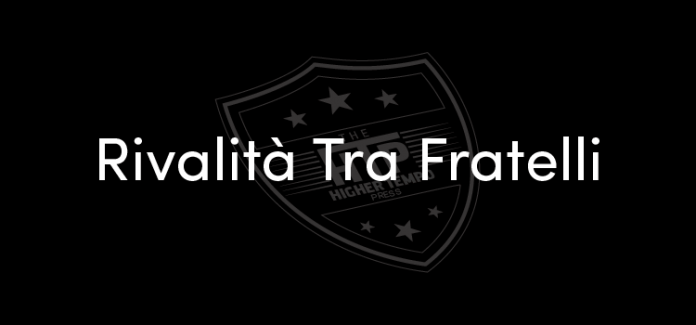 This is the story of two brothers, a modern-day Cain versus Abel if you will, based in the northern powerhouse Italian city of Milan. If you'd like to replicate this challenge, we're using the updated medium database with the following leagues: England (Premier League, Championship, League One & League Two), Italy (Serie A & Serie B), Spain (La Liga & Segunda División), France (Ligue 1 & Ligue 2) and Germany (Bundesliga & 2. Bundesliga).
Rivalità Tra Fratelli – #WeAreTheRivals, Episode 6
We have now reached the first Derby della Madonnina of the season. We've actually come one game on from Episode 5, but both AC Milan and Inter Milan were winners 2 – 1 in their respective fixtures so nothing has changed at the top of Serie A. Just assume that Juventus keep winning, they are the 'Leeds Machine' of the day.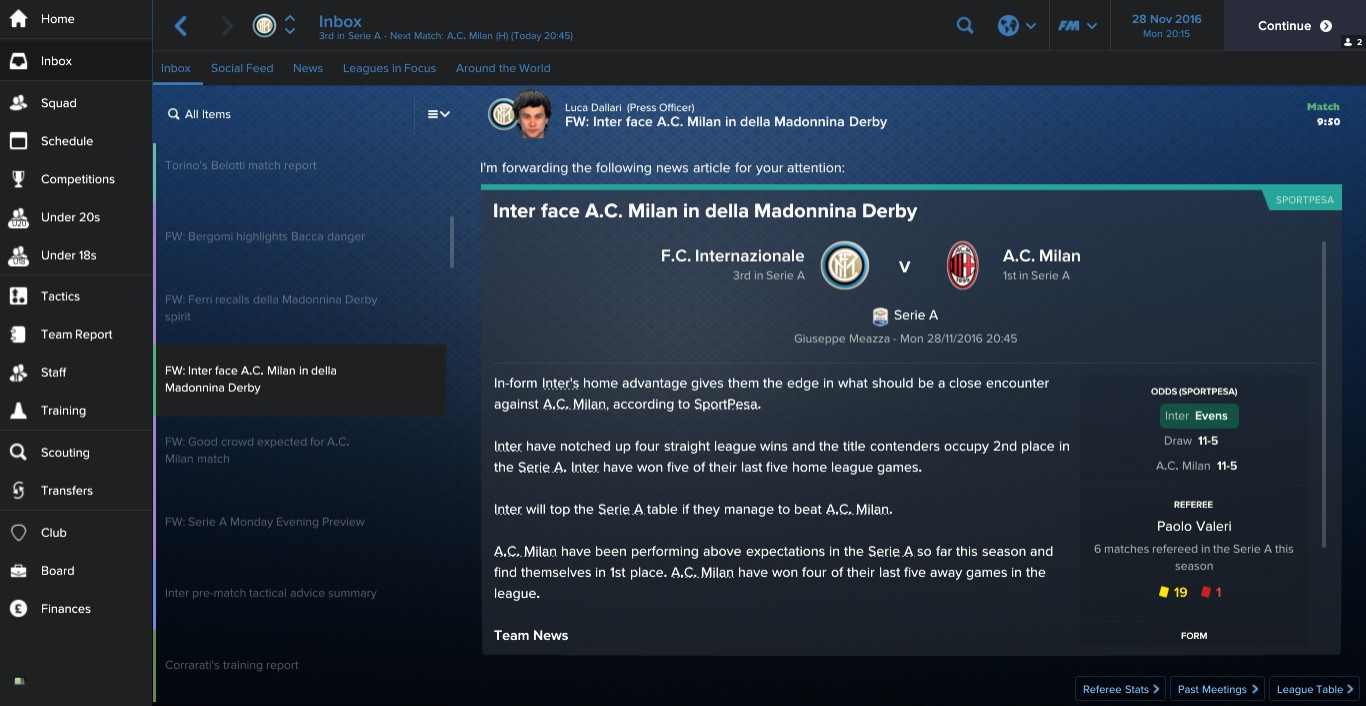 Opening Thoughts
CHARLIE: Everything was going so well. We're free-scoring, easily qualifying from our group in the Europa League, we're even displaying a tactical flexibility with inverted wing-backs and 4-4-1-1 all trialled. We've made signings and covered for injuries as they've occurred.
Then it all hit the proverbial fan. With respect to Gonzalo Higuaín, I happen to believe that Mauro Icardi is the best striker in Serie A and he wants to leave. Not just him either, Marcelo Brozovic and Perisic are also angling for big money moves. These developments have really soured what had been such a promising start.
I can't tell you how frustrating it is to put everything in place and then your star striker comes in to tell you his head has been turned. It's taken my focus away from the Milan Derby, which is causing me some headaches and sleepless nights.
MIKE: When this started, I set out to prove one thing, that Football Manager needn't be difficult. You know already that if you wanted you could spend every day of your life watching YouTube videos of FM games, reading tactical analysis and stories like this on the internet. There's even books about it. What I am hoping to prove is that there's no need for it, just take what bits you can and let it happen.
Don't make life more difficult than it already is. Buy the car you want, not the car your mates want you to have. Spring for a hotel instead of committing to a midnight drive. If you want a chippy tea on a Friday, have a chippy tea on a Friday and don't forget a barmcake. If you want to turn attribute masking off as you start your FM save, go right ahead. That last one may be more applicable to our challenge… except the chippy tea. I'm a working man from Lancashire and on a Friday night, I think you'll find I'm within my rights.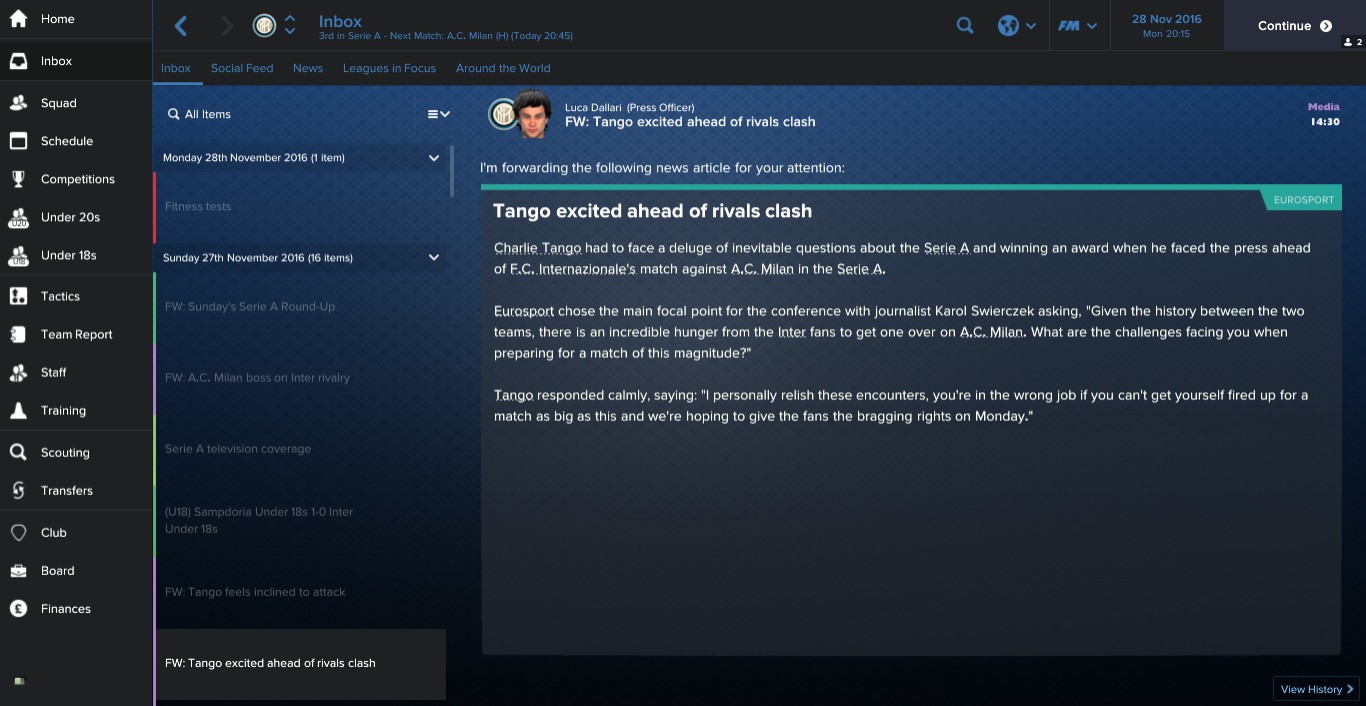 Squads
CHARLIE: Of the two of us, I've made the most changes to the original squad that I inherited upon being parachuted in. Based on Ali Maxwell's recommendations (@TheMakeleleRole) on the Deep Lying Podcast (@TheDeepLyingPod) I hoovered up a few young British starlets and sent them back out on loan to the clubs we've signed them from; Jack Taylor from Barnet, Ollie Watkins from Exeter and Bright Osayi-Samuel from Blackpool.
For the first team the main problem was the defence, ultimately the reliance on Gary Medel at centre-half. Kortney Hause has performed brilliantly since his arrival from Wolves for an original £4.7 million, a bargain fee. He has three Player of Match awards in just eleven games and is third in our average rating list behind Icardi and impact-sub Gabriel Barbosa. The other defensive recruit has been Charlie Taylor, a left-back and his success has been equal of Hause. He has four assists thus far, joint second with Perisic behind the awesome Antonio Candreva (who has seven). Although recent real life events have soured me somewhat on Taylor.
It would be churlish despite recent events not to point out that Mauro Icardi has fourteen goals in thirteen games, he is our talisman, Captain and our goalscorer. And, of course, he wants to leave.
MIKE: While Charlie is looking for some fleeting notion of 'Return On Investment' for his transfer business, I don't care about anything remotely resembling ROI or even value for money. Even if we do sell a starlet later on, it won't be me who enjoys the fruits of that labour. AC Milan had three left-backs who I just didn't trust. I flogged two of them; Mattia De Sciglio (Monaco) and Luca Antonelli (Watford), before bringing in Dennis Aogo from Schalke. Aogo is a true representation of everything I look for in a player, an experienced international who is plug-and-play. No training or retraining, no easing him into the first team. He has the caps and the ability. Get on that pitch and do it, my son. I just wish he wasn't bloody injured for most of the season.
Admittedly my signing of Gerard Gumbau from Barcelona B flies in the face of that but in my defence, there's not a specialist defensive midfield role this guy can fill. He is accomplished as a Regista, Deep Lying Playmaker, Half Back, Anchor Man or Defensive Midfielder. He's done well for us when called on too. His signing was more of a statement, being that I actually do know what I'm doing.
The major signing was one forced upon me by the devastating injury to Carlos Bacca and when I say 'major signing', I mean in terms of importance not transfer fee. Bacca was to be out for three months, which meant we needed a new striker to fill in especially because I don't trust Lapadula, now known forever as Bench Warmer 1. After considering many terrible options, I found one in Didier Drogba on a free, who was perfect. Due to retire in December so I wouldn't be stuck with him or his wages for the second half of the season, he's covered for Bacca's absence and chipped in with three goals. It bothers me more than it should that he doesn't get the credit from the game he deserves in terms of average rating. I've got eyes, I can see he's holding up the ball and playing in teammates, so why can't the game?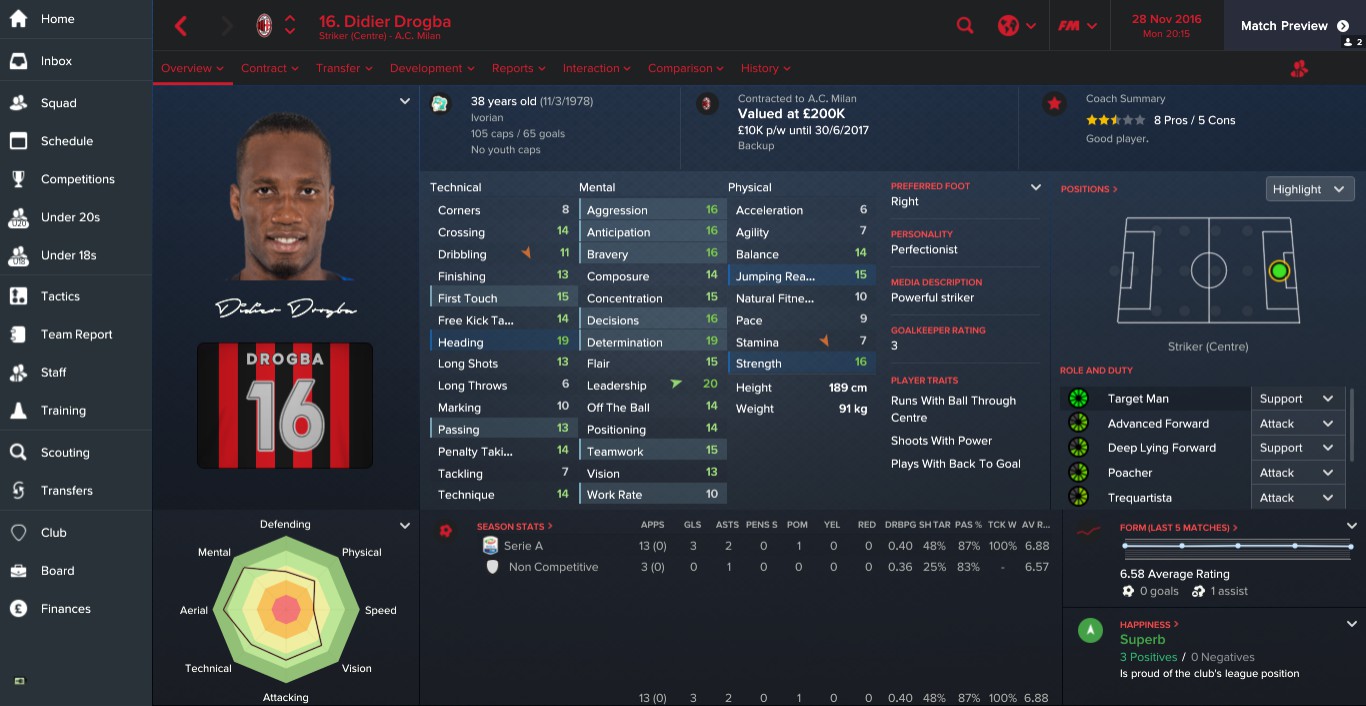 Season Thus Far
CHARLIE: In the league we're slotted nicely in behind AC Milan but crucially we are matching Juventus. They are level on points with us and one goal difference better off but we have the Milan Derby in hand. It's been hard work, there are actually a lot of very good teams in Italy but our quality has shone through on the pitch. Our setbacks have been draws, not losses, and we're in with a good shout of winning a cup, most likely the Europa League. We go into this Derby on the back of four straight wins in the league, combined with a European victory and a draw in the last game against Hertha was achieved with a mostly second string.
Icardi is two goals clear in the scoring charts but he has been matched only by Roma's Thomas Vermaelen in average rating standings. Candreva is joint top of the assists list.
MIKE: Obviously it's gone well. It's hard not to look smug at this point like Clarkson having taken delivery of a brand new Ferrari. We are top of Serie A having drawn just one game, that being against Juventus. And we were so close it still hurts. If I ever come across Paolo De Ceglie I may have to exchange cross words with him. At the very least I'll give him a look that says; "You're a prick". That's about it, really. We're not pulling up trees in terms of performances, we are just winning and that's what it's all about. I'm not here to make friends or entertain thousands of fictional Rossoneri fans, all I want is three points in every game.
We've won so consistently that even in defeat, Inter Milan will remain behind us and that is the most telling statement of all.
Tactics
CHARLIE: We started the season with three formations, designed to promote in-game management and flexibility. Our most regular formation has been the 'Skewer', a wonky 4-2-3-1 with three players in behind Mauro Icardi, that's been our home tactic. Away from the San Siro we began with a 'Classic Jose', 4-3-3 with overlapping wing-backs looking to support two attacking wingers. In order to see games out in a winning position, we have the 'Padlock'. Effectively five at the back, three in midfield and an inside forward looking to join the striker in case of a rare break.
We've experimented in Europe, using different formations in the Europa League group games. We've used a 4-3-3 with inverted wing-backs in the style of Pep Guardiola and a 4-4-1-1 based on Manchester United's current system. When applying to the league, results have been… mixed. Work still to do.
MIKE: Again, I've gone simple with tactics. Aside from Everton-loanee Gerard Deulofeu, AC Milan are not blessed with brilliant wide men so I've employed a tight formation, practically a narrow 4-5-1 with the wing-backs providing width. It's been toggled (epic word) between counter and control depending on the opposition. That's been successful, along with the 'Macintosh', our version of a closing formation, which is a slight on Charlie's favourite football writer and an uncreative 4-1-4-1 designed to just bore the opposition into submission.
My treatment and lack of playing time for Deulofeu has been something occupying my mind, he's done well even as a square peg in a round hole so I've cried havoc and let slip the Dogs of War. It's still a 4-1-4-1 but with attacking intent with the one striker supported by two marauding wingers. Fortune favours the brave and we are brave with the attacking intent of the Dogs of War.
Prediction
CHARLIE: Losing a game of Football Manager is not a problem, I've done it before. We all have. I took Schalke to the Champion's League final and lost 5-4 to Barcelona, so I know heartbreak. It's the public element that bothers me. In essence, it's because of you. Not only will you be watching but so will I and on full highlights. As any true fan will tell you, the only reason your side loses is because you are watching them. I'll be bringing Inter Milan bad luck. I'll be cursing, preying and screaming far too much.
Oh, a prediction? 2 – 2 draw, just. That'll take us above Juve and hot on AC Milan's heels.
MIKE: No messing about, 3 – 1 win to AC Milan. Does Charlie even know he's at home? Score draw, my eye.
We'll open the scoring on the counter, hit Inter for a second before they can gain their footing and pick them off for a third late in the second half when they inevitably throw everything forward. I back Icardi to get a consolation but no more.
Join us very soon for the Milan Derby and let's face it, only one of us will be satisfied with the result.
Thank you for reading, join us on twitter at @FM17Challenge, @CharlieTangoFM & @MikeTangoFM for excusive comments, developments prior to episodes and reaction afterwards. Continued thanks to Chris and everyone at Tempo for the opportunity to share this with the readers.