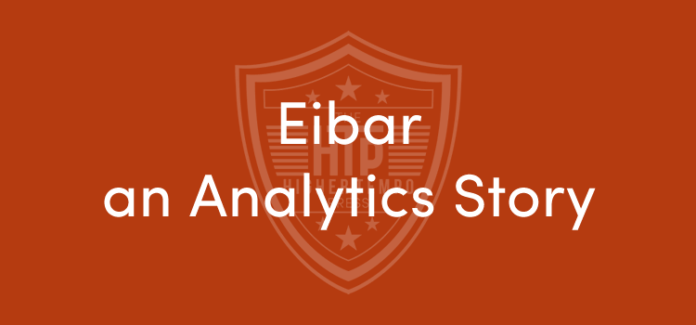 Eibar – The Squad
The first thing I noticed when I looked at the squad at my disposal for the first time was, that it is a really well built one. First of all, it has 23 players which means that we have two players for every position. Even though we are only involved in La Liga and in the Copa del Rey, this is the ideal squad depth to have because it a) allows us to be flexible in our approach and b) allows us to rotate in the December/January time when we have a lot of fixtures in a short period of time.
Starting at the back we have two decent Goalkeepers but this is probably the position where we would look to improve because both aren't quite up to the standard of La Liga. However, Asper Riesgo does have Mentals in Areas that I think are very important including Composure and Concentration. Why I think these are interesting later. If there is a recurring theme in our Centre-Backs it is their great passing ability. Out of Lejuene, Galvez and Ramis no one has less than 12 on Passing. However, all of them are fairly slow which obviously prevents us from playing a high line at any point because that would just get punished a lot by balls over the top because most Strikers are going to outpace any of our Central Defenders.
Talking about recurring themes – there is another one in our Fullbacks. All of them are decent Attacking Fullbacks, especially Luna, Capa and Junca. They aren't makeshift Fullbacks like you sometimes see them at smaller Premier League clubs – they are proper Attacking Fullbacks. If there is an area in the squad with stiff competition it's going to be this one because there isn't much between Luna and Junca on the left and Capa/Arbilla on the right. If we sell anyone, it might be Ruben Pena.
Granada is a weird club. For some reason they loaned Fran Rico to Eibar. And boy, does he look good for a team of our level. He has some very good Technicals in the Playmaking Areas and outstanding Mentals and Physicals all over the shop. If he's fit he will be one of the first names on the team sheet. Another player like this is Gonzalo Escalante. The 23-year-old Argentinian is more of an Allrounder but a good one at that. In terms of flexibility having Midfielders that can play more than one role and Wingers that can play centrally or in a Playmaking role are key.
Winger in a Playmaking role you say? Well hello, my name is Pedro Leon and I am the top earner and best player at SD Eibar. Looking at the 29-year-old Spaniard you get why Real Madrid once spent 10m to secure his services. He is an astonishingly good Winger – for our level – but he's also very well suited to a wide Advanced Playmaker role. A theme with our Strikers is, that they are quite well-rounded but every one of them has their own particular strength. Nano is quite pacey, Kike hard-working and Enrich intelligent. All in all the squad is well-built and considering a transfer budget of 500k and a wage budget of 4.5k, transfers are unlikely. As I said, I don't want to use Attributes at the main way of evaluation but the options aren't plenty in the first season.
Tactics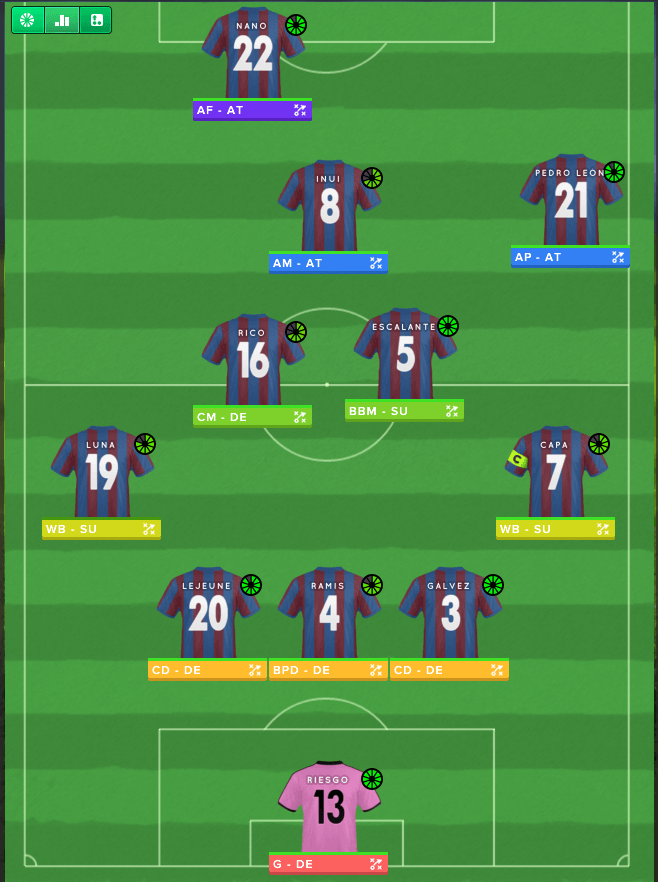 If there is a – often accurate cliché about small Spanish teams it is the one, that they always want to have the ball, that they want Control, that they don't want to just sit behind the ball with 11 players. Quite frankly, we don't really have the players to do that anyway. This is why I decided to go with three Centre Backs making it easier for us to play it out from the back and with Riesgo in Goal, we have someone who is competent at that too. This also allows us to use the attacking prowess of our Fullbacks. In Midfield we go with a duo of someone who can go up and down the pitch and someone who can hold the fort and spray balls to our wide players from deep positions with both roles getting the most out of our best Midfield players. If they should get injured we might have to go for a little change.
I am playing Inui as an Attacking Midfielder on Attack because I love the flexibility that role provides. It allows us to just change the game via changing his PIs. As I said earlier, Pedro Leon is very well suited to a Playmaking role on the Wing and that is where I am initially going to play. But the theme of the series is analysis so this might change, same goes for the Striker role.
In terms of TIs, there is not much to talk about. We want to Control the game and play a narrow short Passing game which is the reason why we are on Fluid but with how our squad is built we do have options to make in game management very impactful.
Next one is going to be a bumper episode, featuring our long-term plans and first evaluation of our short term plan. If you want to know anything, I am on Slack and you can follow me on any of the Socials below.