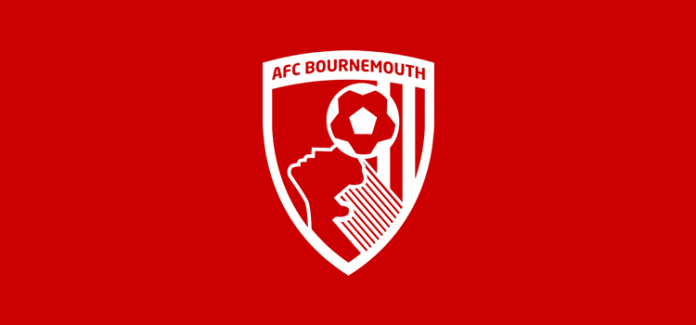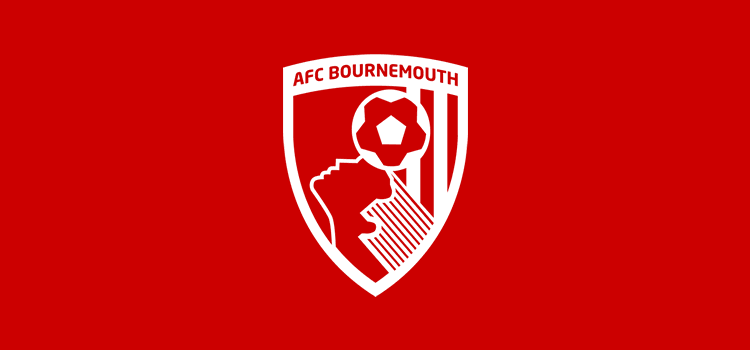 It's that time again. Back in the saddle for the third time. Let's get things going.
This time we open with the Community Shield against title winners Chelsea.
Chelsea opt to put out a mostly second string side: it's that odd two week period in summer where all of Chelsea minions return to the club briefly before being shipped out to every corner of the globe on loan. That means the likes of Pasalic, Michael Hector and Andreas Christensen are actually seen playing a game in a blue shirt for once.
I, on the other hand, go full strength, throwing in all of my new boys – with the exception of Oxford and Welbeck, who start on the bench. That means Berahino and Sturridge upfront, Charlie Taylor at left wing back, and Jack Wilshere on the left of a midfield three alongside Lewis Cook and Nat Chalobah.
From a tactical perspective, not much has changed. We're still primarily working with a 3-5-2, but I've pushed the Half Back up to play a more conventional central midfield role. With our new attacking riches, I don't feel the need to be as cautious and want us try and dominate more games in the middle of the park.
What happens during the game is a masterclass in punching below your weight.
We coast to a 3-0 victory. My ex-Chelsea boys link up for the opener as Chalobah finds Sturridge with a long diagonal pass over the defence. DS takes a touch on his chest a smashes a shot from 20-yards with such velocity that if Courtois had got something on it, it would have snapped his forearm like a piece of uncooked spaghetti. Steve Cook then showed predatory instincts to tap home a rebound from a corner and then, with the game winding down, Sturridge channelled his inner Quaresma and floated a beautiful trivela cross onto the penalty spot for substitute Danny Welbeck to ping home with his right foot.
Now, some of you might tell me that the Community Shield is a mickey mouse trophy that nobody takes seriously and that it's essentially worthless. To those people, I say: no. You can pry that big shiny plate from my cold dead hands before I admit that it doesn't count as a trophy. It's going in the cabinet and I've now won two trophies as Bournemouth manager. Understood?

The opening league game was a barnstormer and perhaps indication that we've still got a fair way to go before we become the all-conquering force I've sort of allowed myself to dream about.
We race into a 3-1 lead away at Norwich. Wilshere slipped in Sturridge who offically got off the mark for the club and Jordan Rossiter added a second, finding himself on the end of a flowing move where almost every player touched the ball. Brady pulled one back but then Saido bundled home a cross inside the box.
Then we just imploded. Despite my best efforts to slow the tempo and retain possession, we get done by Neimar. First he bashes one in on the half volley from just inside the box and then we get caught on the counter from our own corner. Francis hacks away Naismith's legs and he picks himself off, dusts himself off, and nicks a point from the penalty spot.
Things aren't much better in the next game against newly promoted Aston Villa. An early lead (Sturridge flicks on a corner at the front post for Berahino to nod in at the far post) is chucked away via a pair of freekicks. Ross McCormack picks out Tommy Hoban at the far post and the defender thuds one in off his chin and then McCormack rifles home a direct freekick in added time. That's two games in a row where we've dropped points thanks to a mediocre Scottish striker.
That's probably not going to be an issue in our next game, as I renew my rivalry against Mr. Guardiola at the Etihad.
My beautiful, hirsute nemesis finally got the better of me and it was probably long overdue; we've picked up a number of valuable points against City so far. Not today though.
Alex Sandro violated us, first driving through the heart of our defence, acting as a sort of close-control dribbling battering ram, before laying it off to Nolito who sizzled a shot from eighteen yards in off Butland's near post. Sandro then effectively killed the game just after half time, skipping past Adam Smith down our right and picking out Ousmane Dembélé, who patted it home at the far post. Ravel Morrison caught Fernandinho in possession and laid in Sturridge who poked us back to 2-1, but within five minutes the game was gone. Butland tried to roll the ball out but Sergio Agüero nipped in and passed it into the empty net to complete a 3-1 victory for the Blues.
Frustrating but perhaps inevitable, given the absolute embarrassment of riches in City's starting XI nowadays. Never mind, but a positive result against West Ham was vital to kick start our season. A positive result that didn't come.
It was a largely dull game, with little in the way of incident until deep into the second half when we gave away a corner. Cresswell curled it towards the front stick and Rossiter boomed a header clear, but only as far as the set piece taker. West Ham's left-back then sent in a devilishly swirling ball for Ricardo Kishna to volley in from the opposite side of the box. I mix it up tactically and get us to pour forward but we're consistently thwarted by Angelo Ogbonna who appears to have been possessed by the spirit of Bobby Moore. We get caught too high up the pitch and Gio Dos Santos prods one at Butland who flaps at it on its way through to the back of the net. That's two mistakes in two games and I'm starting to wonder whether he's the titan I previously thought he was. Sturridge is on hand to nick a consolation once again but we lose 3-1, despite having three clear cut chances. It leaves us with just one point from four games.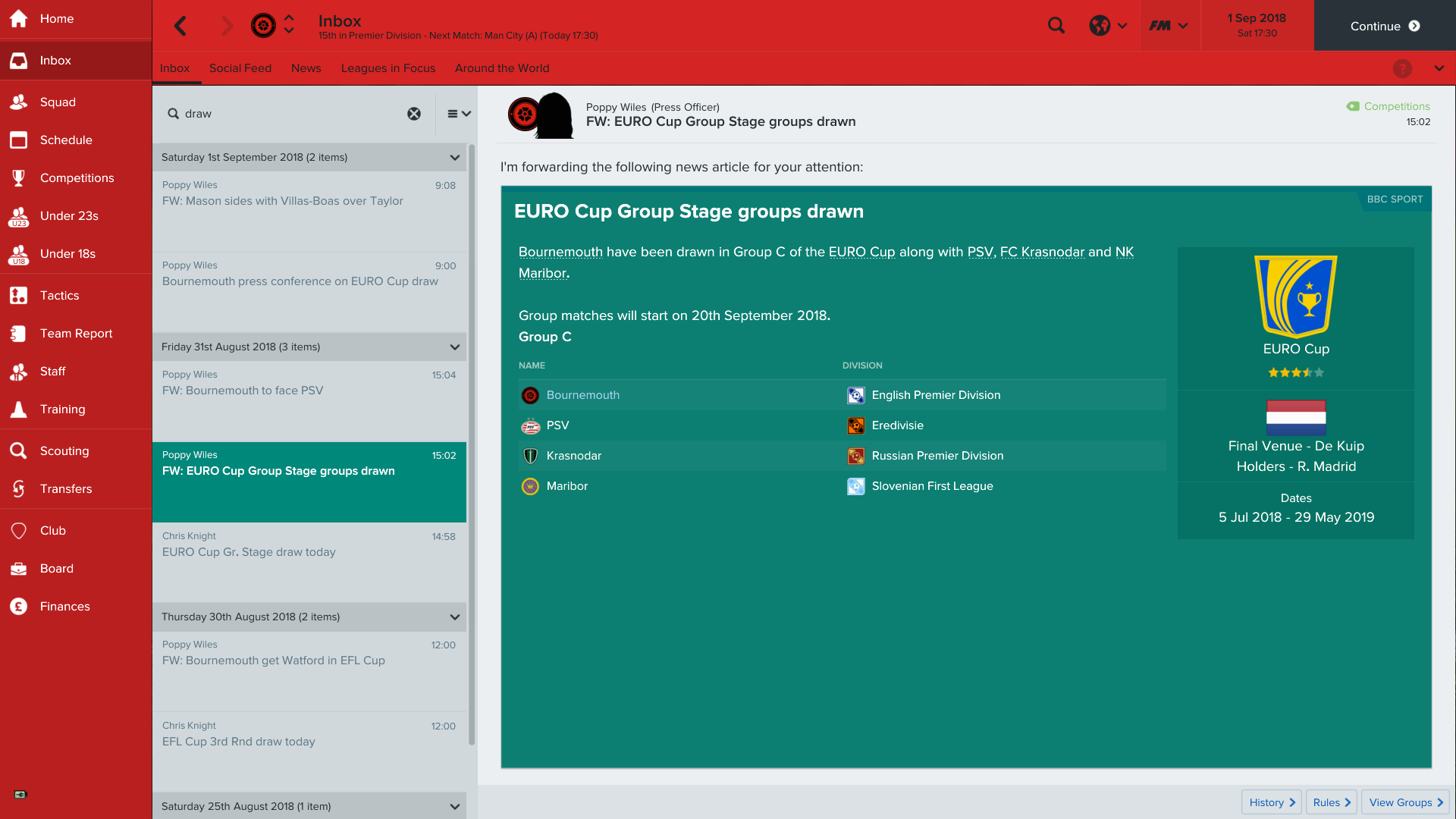 Our first foray into continental football is a welcome distraction, then. Up first is the hardest team in our group – PSV. A good result here would put our season right back on track, but I have to say I'm a little apprehensive. My nerves aren't assuaged when Jack Wheelchair goes down in a heap with a calf strain after twenty minutes. I scrape his remains off the pitch and pray the damage isn't too bad.
We do just fine without him. Lewis Cook, Wilshere's substitute, puts us in front when he essentially tackles in a cross from Charlie Taylor. The games ebbs and flows until the second half, when we grab our second courtesy of a bit of comedy. PSV defender Seegers clatters the ball against the face of his team-mate Pröpper causing the ball to ricochet to Nathaniel Chalobah, who fires home a delightful half volley. PSV literally had to take that one on the chin.
The Dutchmen cause me a bit of panic when Beto Da Silva goes on a mad run from the left wing and scores a Cavani-esque worldie into the opposite top corner from thirty yards. They push too hard though and we pick them off on the counter. Or rather, Callum Wilson does. He picks the ball up in our box from a PSV free kick and runs the entire length of the pitch, hurdling a desperate slide tackle inside the centre circle, and finally shapes one past the hopeless Zoet. Cook puts the finishing touch to the scoreline, this time getting a much cleaner finish on a cross from Adam Smith to seal a 4-1 victory.
It's a lovely result that gives us a chance of progressing from our group. Unfortunately, I can't say the same about the nature of the result of our next game against Chelsea.
I set out to make this the most unenjoyable match in history. Our collective, spindly fingers close around the throat of this game and throttle the very life out of it. The plan works beautifully until Wilshere, miraculously recovered from his midweek calf strain, gets himself sent off for a pair of moronic trips. David Luiz gives us a lifeline, foolishly shoving Lewis Cook at a corner which resulted in a successfully converted penalty by Berahino. We valiantly hold on until the dying embers of the game when Willian swings a big cross to the back post for Pedro to slam an equaliser past Butland.
Two points dropped then but I did manage to have a pop at Van Gaal for coming over here and infecting the ENGLISH game with his transfer policy: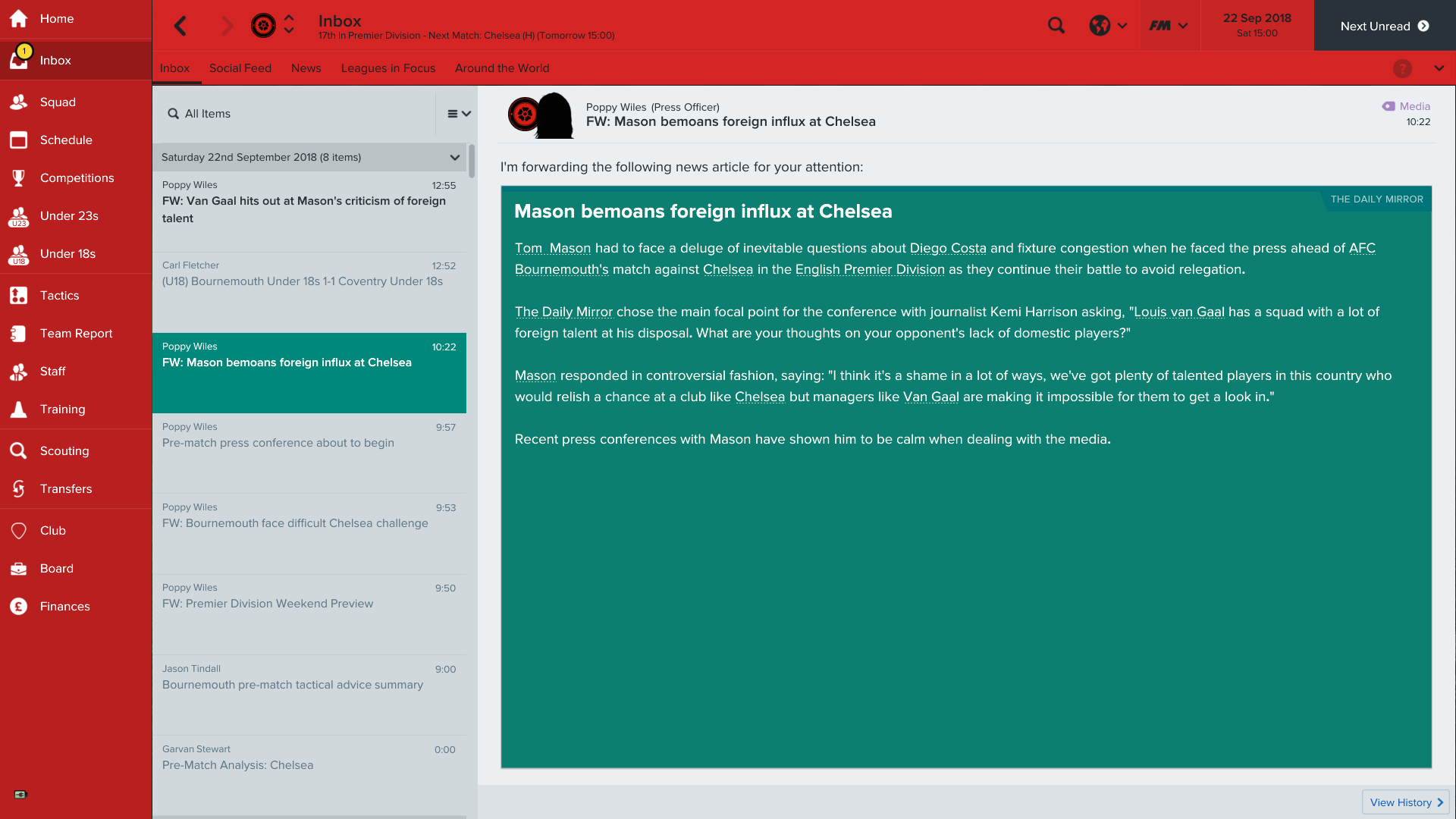 That point was followed up by another awkward fumble at 'home' with Watford in the League Cup. We entered at the third round this year because we're big time now, you see. We coolly dispatch the Hornets 3-0 thanks to three crosses. The first is nodded home by Welbeck at the back stick. The second bounces off Dória's shins from Ravel's drilled ball across the face of goal. The third was dropped by the 'keeper from a corner and Welbz passed it back for Reece Oxford to stroke home his first senior goal. Job done and on we march.
That march takes us to Goodison and, if we go on to accomplish anything this season, this will be looked back on as the turning point. We race into a two goal lead with a Sturridge double – virtually mirror image goals, assisted by cutbacks from either wing back. But, because things can never be simple, Phil Jags cushions one in from a corner on the stroke of half time.
Everton are level soon after. Yannick Bolasie terrorises Charlie Taylor by taking the highly novel approach of running in a literal straight line and then chucking in a cross for Iwobi to score at the far post. It's a carbon copy of the goals that Pedro and Kishna scored against us recently. What's even more troubling is that the centre back who is covering that zone is Michael Keane, ostensibly our best defender.
Iwobi nearly scores another but crashes his header off the bar this time and Keane himself steals the win for Bournemouth with an uncharacteristic goal, fizzing a shot across goal and inside the post from twenty yards out.
It's a massive three points and we've finally won a game despite our finest efforts to chuck a win away from a winning position. No time to rest on our laurels though, as we have the joy of an absolute bastard of an away trip. Krasnodar away: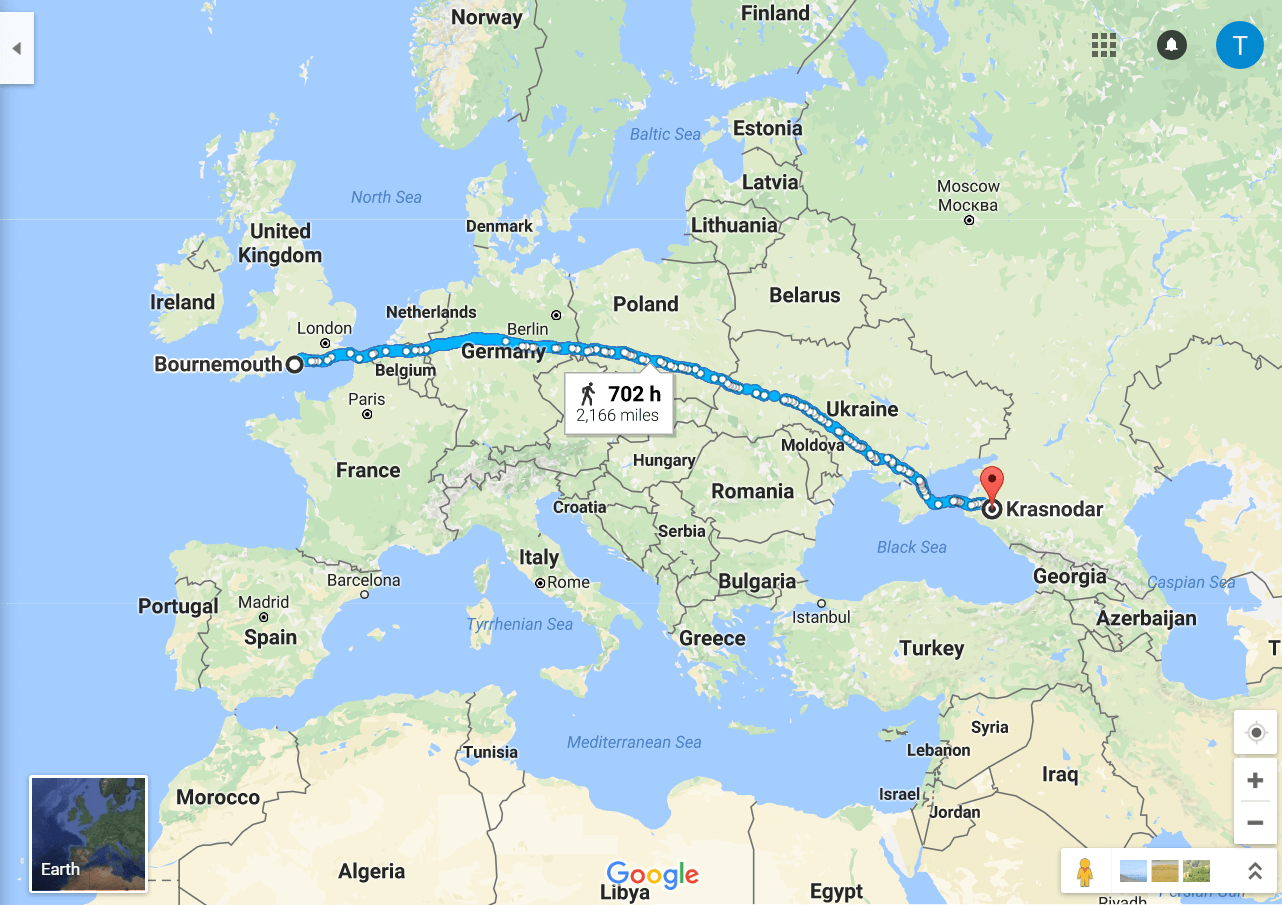 Just the 12 hour flight and 2000 miles to the Black Sea on a Thursday night. The trip is well worth it for the punters however, as we dish out a second consecutive 3-2. Keane makes it goals in consecutive games as well, nodding in Wilshere's outswinging free kick from the left wing as the 'keeper rushes out and gets nowhere near the cross. Sturridge then threads in Saido who slots a one-on-one past the 'keeper who is already having a horrid game and then Wilshere utilises his right foot – perhaps for the first time in his life – to stick a third in at half time. A couple of sloppy mistakes in the second 45 let them back in the game but we steal away with the points and have plenty of time on the plane to think about how lucky we were.
Those two wins have found us settling into a comfortable groove, a groove that sets us off on a run of narrow victories. Stoke and Newcastle are victims of our new-found propensity for spreading the ball wide to an overlapping fullback and then having a striker smash their low cross into the back of the net. We beat Stoke 1-0 and Newcastle 2-1 with all three goals coming from that exact scenario; two for Sturridge and one for Welbeck.
The two Daniels are clicking together nicely. I have to admit that I was slightly worried about what sort of form I'd see from both of them – Sturridge especially – but they've already proven their worth and give us a real cutting edge.
That cutting edge was at its absolute sharpest against Maribor in our third game of Europa League group:
We batter them. Five minutes in, Nat Chalobah, who is starting to specialise in long-range pings, collects the ball from a throw-in, saunters to the edge of the box and finds the bottom corner as the 'keeper dives over his shot. Lewis Cook does almost exactly the same thing after eight minutes, but his shot cannons off Kolaric and nestles in the opposite corner. Welbeck and Sturridge both grab quickfire braces; Welbeck's coming from a Taylor cutback and a through ball from his strike partner, while Sturridge's come from a lofted pass over the defence from Cook and a twenty yard bobbler into the inside of the side netting. As the ref blows for half time, everyone takes a collective breath. They need it after that busy first 45. The match stats for us read: 19 shots, 9 on target, 6 goals. Bloody hell.
The second half is a total afterthought. Our lot strut around the pitch and barely break out of a jog at any point. The handbrake is well and truly on and the game ends the way the first half did: 6-0 to Bournemouth. What a day: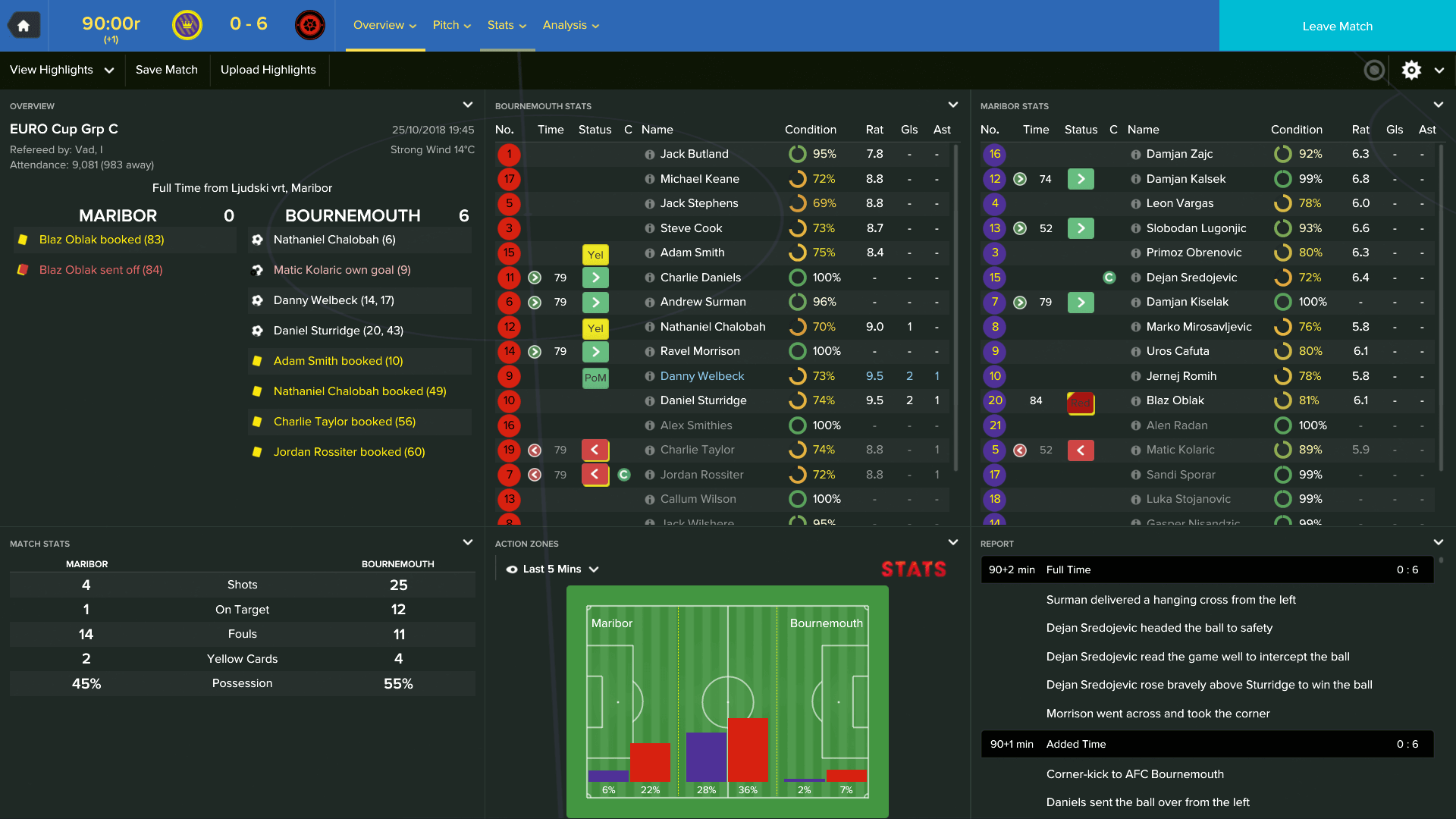 A slight hangover looms over the first half of our next game against Hull as we struggle to get going, despite the fact I've rotated my knackered central midfielders. Luckily, a brief bollocking at the interval does the trick and we dash towards a 2-0 win, thanks to a trademark Taylor/ Sturridge combo. The striker then does the honours for Welbeck, chasing down an over-hit long ball, barely reaching it before it rolled out of play, passing it square along the touchline for Welé to flick home at the front post.
Stringing together a few wins shoots us up the table, but we're still picking up the pieces from yet another slow start. To put things in context, United are somehow eight points ahead at the top of the league after only nine games. They've conceded just once in that time, too. This is peak José.
All that hard work has the potential to be undone by a duo of games against Spurs in the space of three days. It turns out to be a case of one step forward and one step back, though.
The first game in the League Cup goes well as our rejigged defensive 3-4-3 shape successfully limited them to potshots from range, while another big performance from Ravel Morrison (claiming a goal and an assist) in a big game clinches a 2-0 win.
I try the exact same thing in the league game the following Wednesday – a mistake, possibly – and it almost works. Frankly, we were pretty awful. Our porous defence offered little resistance to wave after wave of Tottenham attack but somehow they failed to score, with three different players hitting the woodwork. I was convinced that we'd pulled off the heist of the century when Welbeck tackled Dier in midfield and a ping-ponging move between him and Ravel put Berahino in who scooped one over Vorm.
It couldn't last though, as Kane and Alli made amends for their earlier glaring misses to turn the game on its head in the last five minutes. That halted a run of seven wins in a row, which is annoying, but honestly it would have been an undeserved result.
The return game against Maribor is far from as breathtaking as the first, but that's fine by me as we still grind out a win – Andrew Surman piledriving the ball in off the post from range – which means we qualify top of our group after just 4 games. As inconsistent as our early league form was, in Europe we've never been anything less than dominant. I'm quietly confident of a deep run in this competition, if everyone stays healthy.
What's even more pleasing is our capacity for avoiding the post-Europe hangover, claiming wins in Sunday matches after Thursday night exploits. That run continued against West Brom at home. Shorn of Pulis, scourge of my existence, we plough through a game of initialisms: we beat WBA, managed by AVB, thanks to a comedy OG by Jonny Evans. Steve Cook scored a touch-and-swivel-and-bang goal from a freekick in the second half and Nacer Chadli grabs one back from a cross swung in from deep on the right – surprise surprise – but we show our mettle and hold out.
With us wedged firmly into midtable's warm embrace, our next game could prove pivotal in determining which end of the league we'll be competing at this year: United. At Old Trafford.
They've drawn a few games and conceded a hefty 3 goals now. We've got our work cut out, especially considering that the last two times I've travelled to the red half of Manchester, they've had a player come off the bench to score a hat-trick against me.
This time will be different though, won't it?