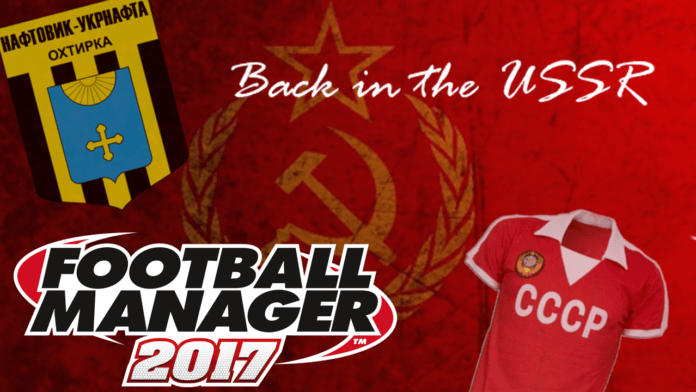 Five games and eight points. That's all that stands in the way of greatness, we're so close to promotion I can almost taste it. The pressure is mounting and the press are doing their best to ramp up the importance of every game.
According to them, I can secure promotion as long as all results go in our favour. I'm not good enough at maths to work out which results they're referring to, but I'm just telling my boys to win and forget about everything else. Gelios come to visit, they're on a shocking run of form which worries me a little. Forget form, forget pressure – my boys are ready.
That. Was. Tense.
We start, as we always seem to, excellently. Kulishenko to Maxym – such a familiar story this season. They combine after three minutes for Prykhodnoy's 24th goal of the season. From then on, it was nervy and we had our backs to the wall for long periods of time. Inevitably, after 17 minutes, they found the equaliser. We paid the price for keeping our full backs high up the pitch. I began to fear the worst when we gave away a penalty but after it was saved I felt like we might come out on top. It took until the 77th minute for us to take the lead again, a thunderbolt from Kilmov which was good enough to win any match.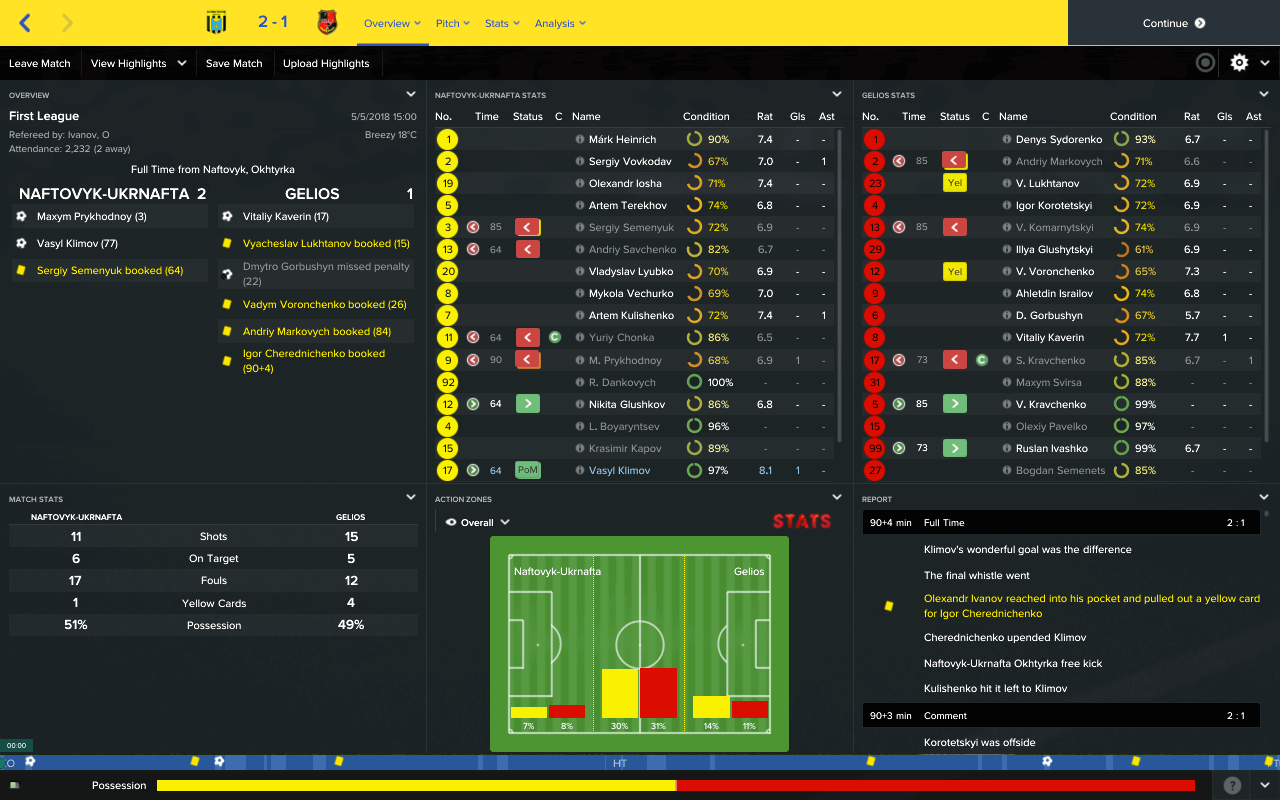 That result breaks another record for Naftovyk-Ukrnafta: most consecutive wins. Sadly, both Illichivets and Girnyk-Sport also picked up three points, so no promotion party tonight.
We're up against bottom of the league Bukovyna next. They are already relegated, have won only four games all season and were just thumped 4-0 by Illichivets so we should have no problems in picking up another win. My assistant recommends holding a team meeting to encourage the players to kick on, keep spirits high and bring home the promotion.
"Two points is all we need for promotion, lads. Let's go out an do this!"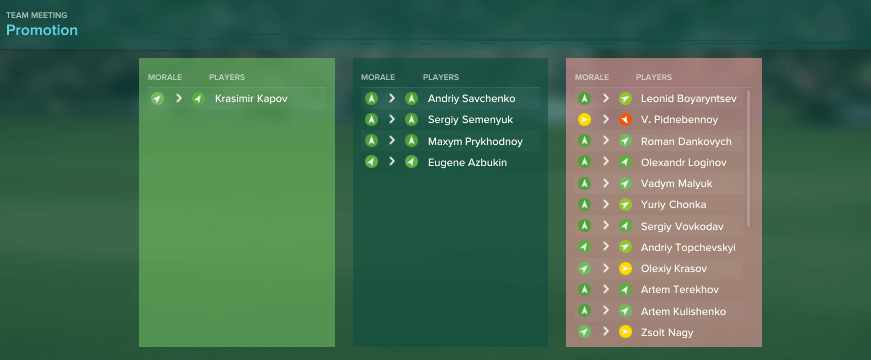 Brilliant.
Well, after my 'motivational' speech before the game I suppose we should have expected that. We look nervous the whole game, despite a world class free kick from Kulishenko giving us the lead after a quarter of an hour.
Things are not helped when the moron Verchurko gets himself sent off in the 38th minute and bottom of the league Bukovyna score two in quick succession. An 79th minute equaliser is a relief but I had been eyeing the promotion champagne all game. It's put back in the fridge, again.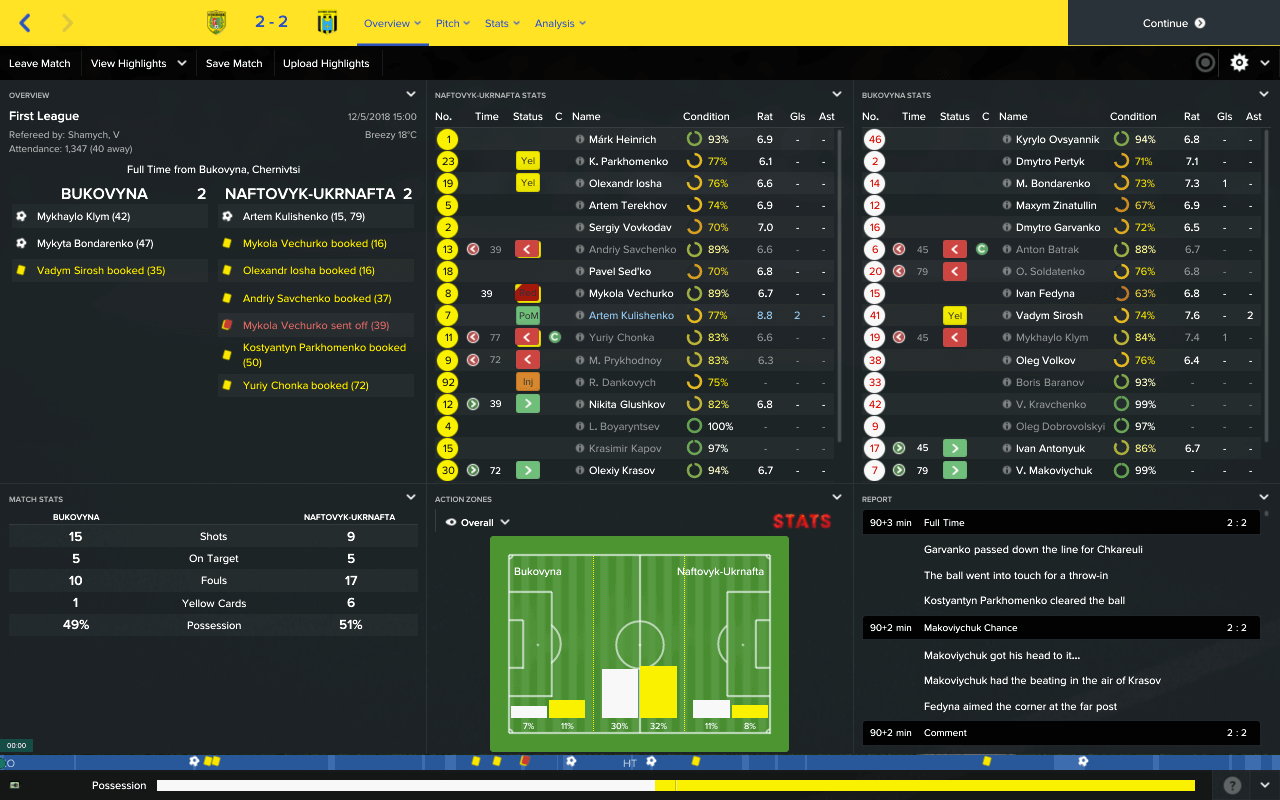 One point. That's all we need. Admittedly it's going to be difficult to get that point against Illichivets, who just secured their own promotion, but I'm hoping their hangovers are still prominent enough for us to take advantage.
We are going up, say we are going up! We are going up, say we are going up! We are going up, say we are going up!
Yes we lost. But so did Girnyk so, who cares? I'm opening the champagne!
In the two years I've been here in the Ukraine, I've woken up with a lot of hangovers and a helluva lot of shame. This morning, however, as I stumble to the bathroom of my flat there's a different feeling mingled in with the overwhelming urge to vomit. It's pride. We're going into the first division – a division ranked 9th in the world. We'll be playing against Shakhtar Donetsk…a thought which promptly causes me to empty the contents of my stomach.
MFC Mykolaiv have the joy of being the team we play just after getting promoted, so they will almost certainly pick up three points. I mean, If I'm this hungover, I can only imagine what my players are like. Curiously I'm still getting asked about our chances of promotion by the press, which is both confusing and slightly alarming at the same time. I have my assistant check and no, it wasn't a dream – we are still promoted.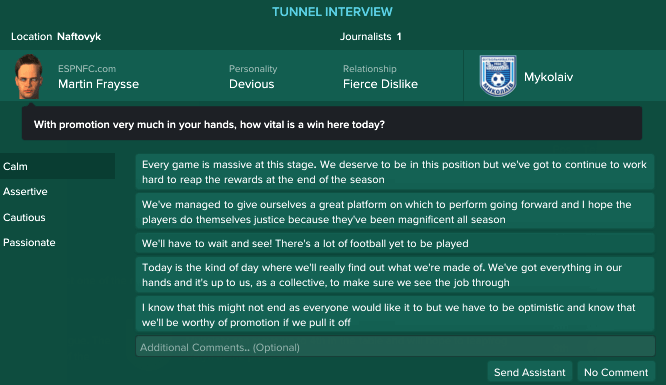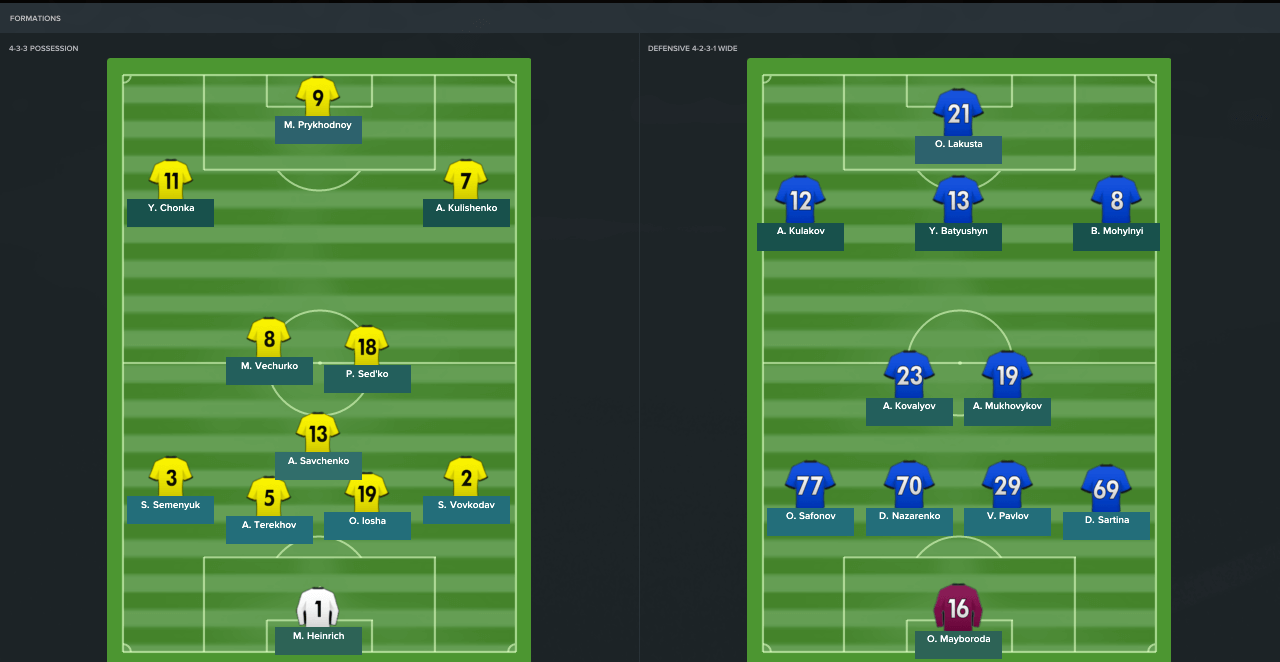 On the whole, I think we'll take that. We went down early to a soft goal inside 20 minutes. I imagine it took us that long to stop feeling like we were going to vomit at any second. We were given a penalty in the 35th minute, which was dispatched by Sed'ko. After the hour mark we were caught out again, this time from a ridiculous mix up between centre back and goal keeper which allowed their big number nine, Olexandr Lakusta, to bag his second of the game. Luckily, Kilmov was on hand about five minutes later to tap in Vovkodav's excellent cross and that was a good as it got.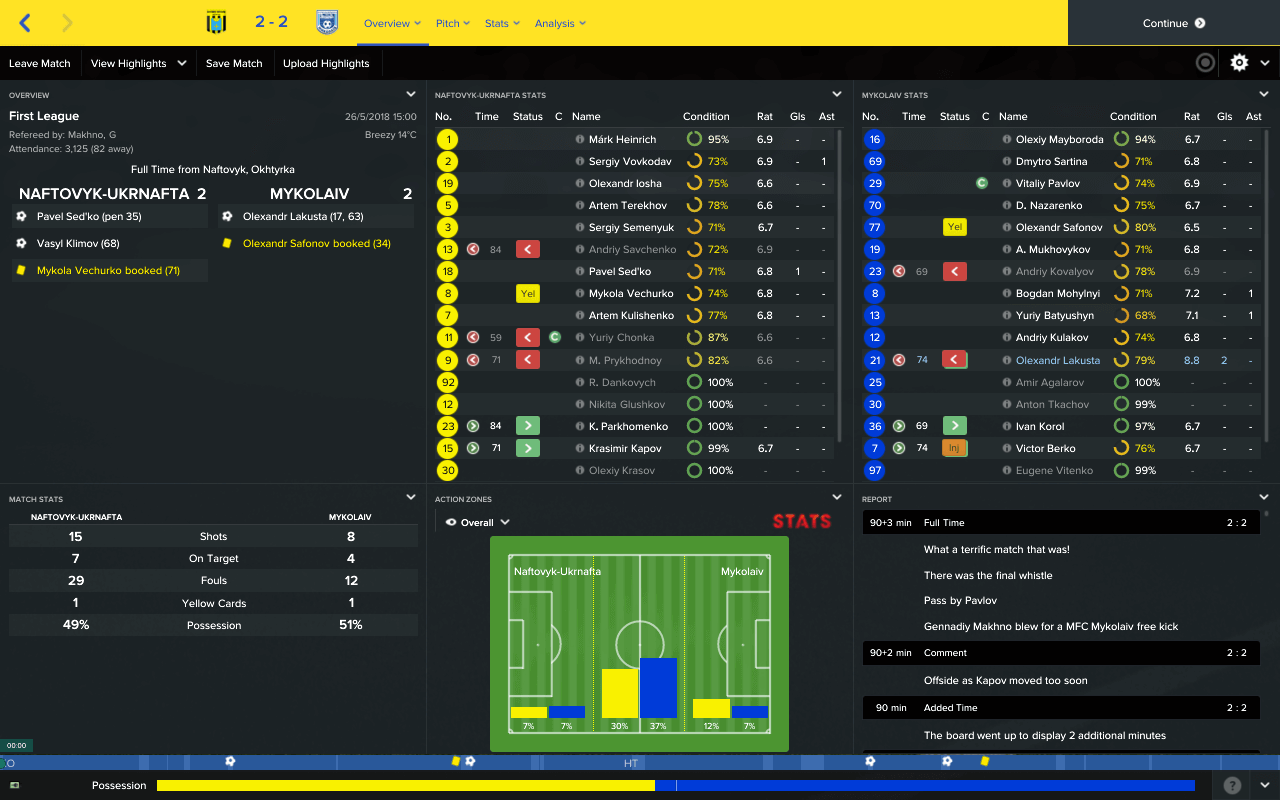 Kolos Kovalivka: our last game of the season. It's an emotional time for Leonid Boyaryntsev, who makes his last appearance for the club. I'll never forget the goals he scored in my first season, at times he was inspirational, now he's just a bit old and a bit rubbish.
The press ask if we've anything special planned for him as it's his last game and then in the next breath ask why he is in the team ahead of Olexandr Iosha…I mean, I literally just answered a question that would explain that decision. Moron.
As for the game, well it was a routine win in the end. A nice way to thank the fans for their hard work and support. Kulishenko bagged his 16th goal of the campaign and Olexiy Krasov reminded me why he's a decent stand-in by adding a second and we see the game out.
And so with that, the season ends. What a season it has been. For long periods of time I feared we wouldn't do it, we'd fall away at the last few hurdles but we didn't! We hung in there and right now I'm feeling pretty incredible.  Understandably, Kulishenko wins all the team awards – 16 goals, 18 assists is truly remarkable for a debut season. Maxym Prykhodnoy finishes with 24 goals which is pretty damn good too. I'll need those two to continue that form if we're to stand any chance of staying up next year.
Just as I'm about the leave the office, I notice a new email waiting for me on my Amstrad 7 (the latest in computer technology, I'm told). It's a link to a Welsh newspaper report and a question from a journalist asking an unexpected question.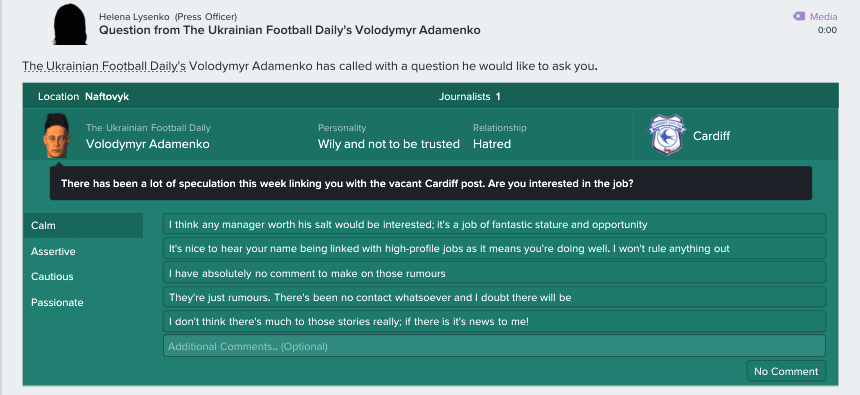 Interesting…