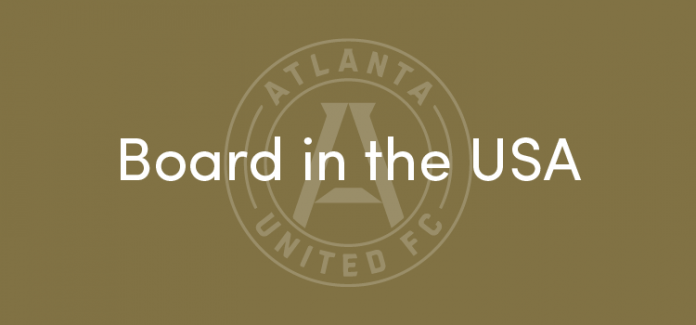 Board in the USA 7: Waivers and the Preseason
As the 2017 season was about to get underway, I took a look at what the Atlanta Board expected me to deliver. I always did a spit take.
"The Eastern Conference Semifinals!?"
Those seemed like lofty ambitions, given how we were, I don't know, a new team in MLS?
————————————————
(Aside: A quick rundown of the tournament structure of MLS. There are two "leagues" in the MLS: The Eastern and Western Conference. Each team will play 34 regular season games against the other teams in the entire MLS, with a greater number of games being played against teams in their respective conference.
Both conferences operate the same way: the top 2 teams in the conference will progress to the Conference Semifinals. The 3rd place team will face the 6th place team in the MLS Wild Card Game, where the winner will progress to the Conference Semifinals. The same is true of the 4th place and 5th place team.
The Conference Semifinals will take place over two legs, with the winning teams moving on to the Conference Finals, which is also over two legs. The Conference champions will then face each other in a battle between East and West to decide the champion of the MLS for the season.)
————————————————-
It would seem that at minimum I have to finish in the top 6 of the Eastern Conference. Yikes. Maybe I have to think about squad improvements if I want to keep my job.
However, looking through the squad, I realise I don't have many changes to make. Both my DPs, Almiron and Villaba, are on young DP contracts, but in 2 years they will be graduated to full DPs with the 7k salary cap. I also have Brad Guzan coming in on a DP contract. I don't have the ability, nor the cap space, to bring in new DPs now to strengthen the squad for the coming season. Whatever cap space I have, I would rather save for replacing crucial season-ending injuries.
I also agreed to trade away Tommy Meyer, a free agent backup centre-back I picked up the previous year on a Senior Minimum Salary contract. After acquiring London Woodberry, I already had fairly reasonable coverage at centre-back, so I let him go for a 2nd round pick in the 2018 draft and a 4th round pick in the 2019 draft. Pretty good dealing for a man I picked up on a free.
Meanwhile, I was heading into preseason. It was pretty rough.
While we did not lose many games, keep in mind this was generally far weaker opposition. I do hope Theiler, my Assistant Manager, knows what he's doing with this team..
The MLS season was about to start for real. My roster was mostly settled, and I was ready to stress-test this squad I put together with the rigour of the MLS. But first, the waiver draft!
Waiver Draft
Aside: The Waiver Draft is an event that takes place several times a year. The pool of players consists of guys who had been cut from MLS rosters. They will join the Waiver Draft, where teams can pick them up on their existing contracts. Should they not be picked, they will be released from the MLS as free agents.
I know I said I had a mostly settled roster, but I was being nosy and decided to take a look.
The pool was largely comprised of international players and very large contracts, which made sense given these were the most taxing on any MLS roster. Fortunately, there was one player I was interested in: Mix Diskerud.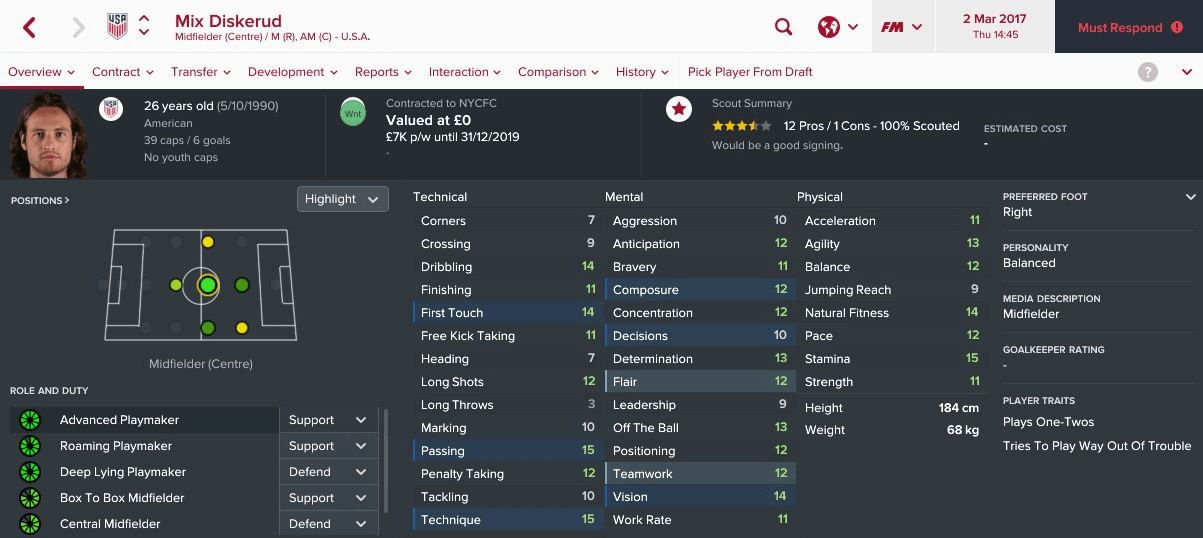 He's a good, flexible, MLS ready player – definitely a good asset to add to my roster. Unfortunately, because of his massive contract I had to pass him up. Maybe next time, Mix.
But that next time was not far away, because he ended up not being drafted! I approached him in free agency to see if he was willing to take a pay cut. I could afford maybe 3-4k a week. Unfortunately his agent still wanted 6.25k.
I was about to vomit blood. "Mate, do you not realise you just got cut from a roster!? If you had some self-awareness maybe you would realise your VERY LARGE CONTRACT is the reason why you were cut."
Unfortunately this conversation never occurred and I had to pass up Mix yet again. I took up the last-ditch effort: to offer him a trial.
After his trial, I tried to offer him a contract again. Perhaps after taking a look at our facilities and what we were trying to achieve, he would be willing to play ball and take a pay cut. And take a pay cut to 4.7k he was, but he was not willing to reach the 3.5k figure I wanted. That's too bad Mix.
Pre-season Squad Review
The Mix Diskerud saga (which ultimately led nowhere) was the last transfer saga I would be involved in prior to the start of the regular season. At this point, the team I had was the team I had.
Looking back on my work, I think I can be pretty satisfied. Our salary cap is healthy, the team has reasonable cover in almost every position. The team is also very young, which is a good base for future seasons. I think I can be fairly proud of the work I have done.
A massive downside was my inability to sell Kenwyne Jones. The now 32-year old Jamaican target man was still on his massive contract sitting on my squad. Although I transfer listed him and offered him away constantly, no one took the bait. I eventually gave up. Since I can't get rid of him, he's just going to play backup to Ulises for the season. I'm going to keep trying to sell you, Kenwyne, so don't look so smug.
Of course, everything can change with the start of the 2017 season. Keep up with how this Atlanta United squad does in the next update! As always, if you have any questions or feedback (or just want to talk about the MLS!) drop me a tweet at @avery1822, or you can find me lurking in the FMSlack. Stay tuned!