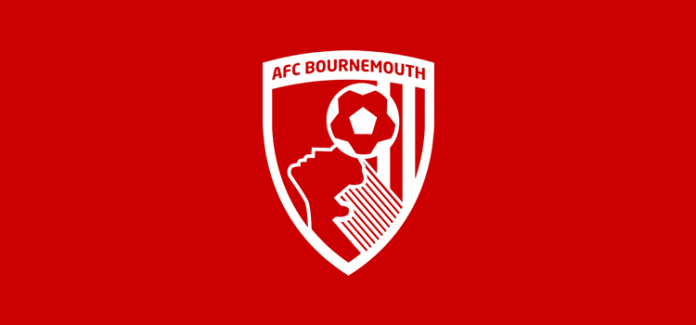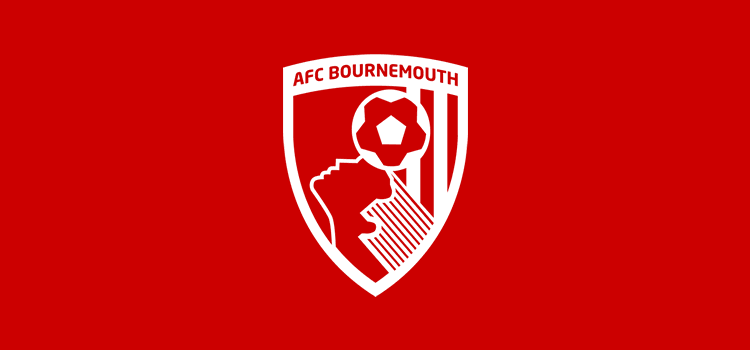 We start 2017 with a sloppy and frustrating 2-2 draw with Leicester. That amazing result against Chelsea has papered over the cracks slightly as that's the only game I've won in the last 7 games. There's no real pressure from the board, but I don't want things to spiral out of control again.
It's FA Cup weekend and it's a welcome distraction as I could do with a bit of a cup run to draw attention away from my distinctly average league performance. We were drawn away from home against… Manchester United. So much for that, then. (We meekly surrender to a 2-0 defeat).
Our form perked up a bit after the cup disappointment with a comfortable win against Burnley, a tidy point at the Emirates against Arsenal, and then we dominate 0-0 stalemate with Watford but can't quite make a breakthrough, which seems to be something of a recurring issue. I need to come up with some better ways of breaking down overtly defensive teams.
Or perhaps not. Suddenly, we catch fire and leave Merseyside in ashes. Liverpool are thoroughly destroyed by a trio of goals in the space of ten first half minutes; Afobe, Wilshere and Pugh leaving Simon Mignolet in the foetal position, cradling his knees as he rocks back and forth. Afobe's second puts the gloss on it and we made a very decent side look like they'd never even seen a football before.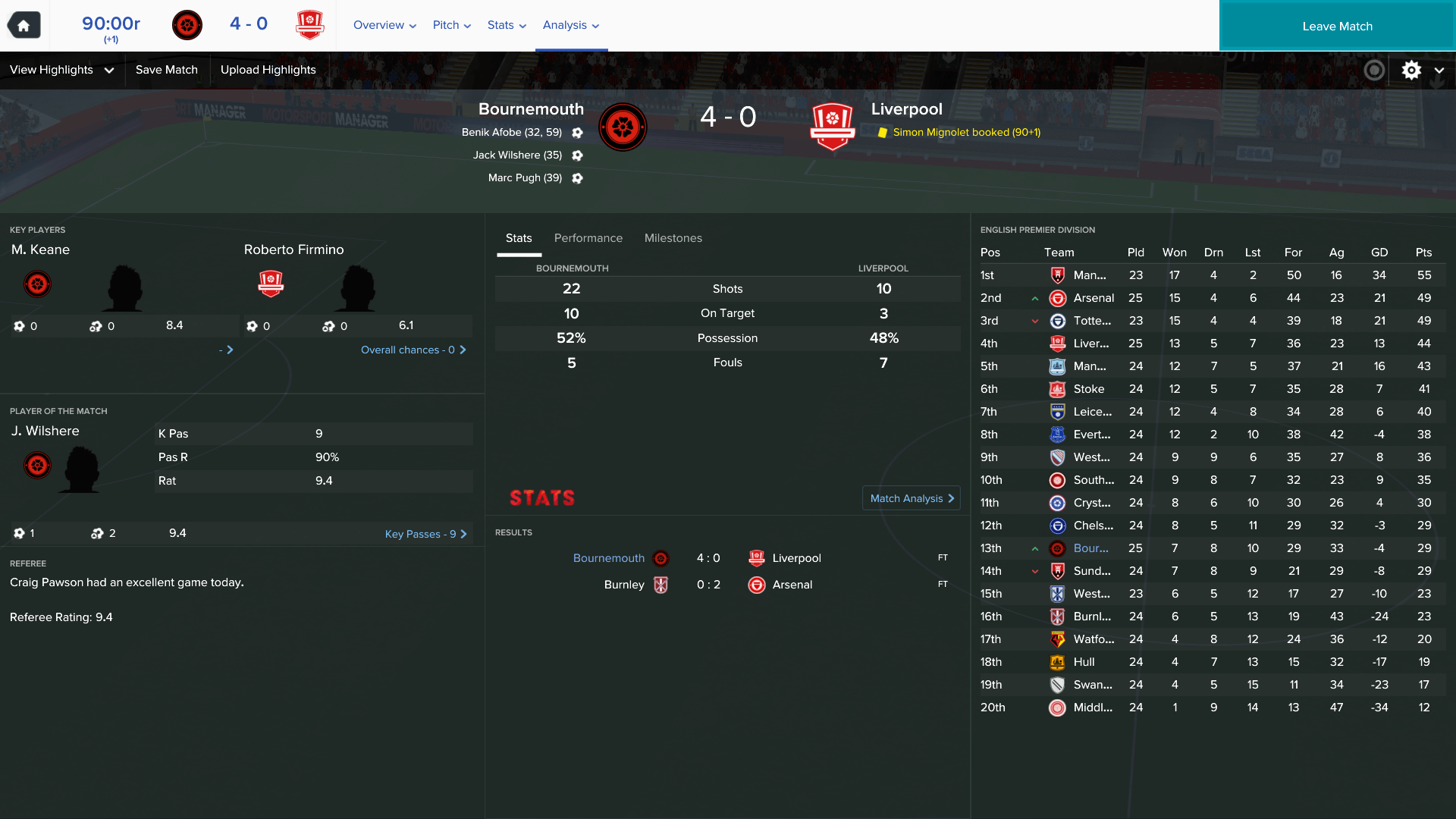 The blue half come to town and are the next to fall to our might. The scoreline reads 2-0 but 6-0 wouldn't have flattered us. This is great, this game is easy, we're unstoppable and I'm dreaming of a late charge for Europe. Just imagine it. Thursday nights on BT Sport. Glamour ties against Marseille, AC Milan and Ajax. Away days in Prague. Long weekend city breaks with the lads…
Racing into a 2-0 lead at the Lane against top of the table Tottenham does little to stop my delusions. Jack Wilshere is the pantomime villain and he is *loving* it – you can almost hear the cascade of boos and the vitriol pouring down from the stands as he delicately curls a shot into the top corner from 25 yards and then ties Vertonghen's ankles in knots with a mazy dribble before squaring for Wilson. Wilshere shaves the woodwork with a lazy finish after finding himself one on one just before the break and we look absolutely electric. I leave things as they are, feeling like we're invincible but we proceed to crumble like a cheap digestive biscuit in the space of 15 minutes. Harry Kane finally decides to show up and bags a ridiculous hat trick and I flail around, tinkering frantically to find a way back into the game, but I have to face the fact that I've let a valuable three points slip through my fingers here.
Chucking away that result clearly affects the boys and we lose the next three in a row. That seems to be another recurring problem with this lot. We have a habit of throwing away points from winning positions and then allowing things to spiral into a bad run of form; collectively, we are about as resilient as damp cardboard. I'll have to pay closer attention to the personalities of the players I recruit in the summer and hopefully I can add some resolve and some better determination stats to my mentally fragile squad.
Pep avenges that point we stole from him earlier in the season as City beat us 2-0 and we then contrive to lose 1-0 against an absolutely dire Boro side. We're toothless upfront but they carry virtually no threat until Alex Smithies dives over the top of a tame shot from Downing.
While he started quite well, I've got some question marks over Smithies and I'll be having a long hard look at who's available when the window opens again. That treble loss is rounded off by a 2-0 loss to Southampton which does not go down well with the locals.
I steady the ship with a drab, mirthless 0-0 draw with Stoke (both teams had one shot on target each and it was televised game for Monday Night Football. Best of luck picking that one apart, Carra).
Palace are my saviour once again. We're back to winning ways when the Croydon outfit roll over and let us tickle their belly. Afobe and Wilson both find the net for me and I'm feeling good about life once more.
Then we have a slightly awkward encounter. Swansea have been marooned in the bottom three with Boro nearly all season long and, finding themselves cut adrift from the rest of the league, they opt for a change in manager. The new man in charge? None other than Eddie Howe.
My press conference before the game is naturally peppered with questions about the Bournemouth legend, the man whose legacy I tore away and whose position I usurped, and how I'll react when we come face to face. I hesitate and weigh up my options, but ultimately decide to go down the magnanimous route.
After all, Howe's always struck me as being a fairly decent bloke, and he's waded into calamity with the Swans, so there's no need to be hostile and make his life any more difficult. Besides he's English and we've got to look out for our own while all these FORRUNERS are coming over here and taking good, English jobs from good, English lads.
Those pre-match niceties were rewarded as we claim a 4-0 win to remind their new manager of what he's missing out on. They barely have a kick and have Championship written all over them. Thank you, #AgentEddie.
As I bask in the glow of a comfortable result that makes relegation an impossibility, I receive yet more good news. Gareth Southgate has picked his latest England squad and has included three of my players. THREE.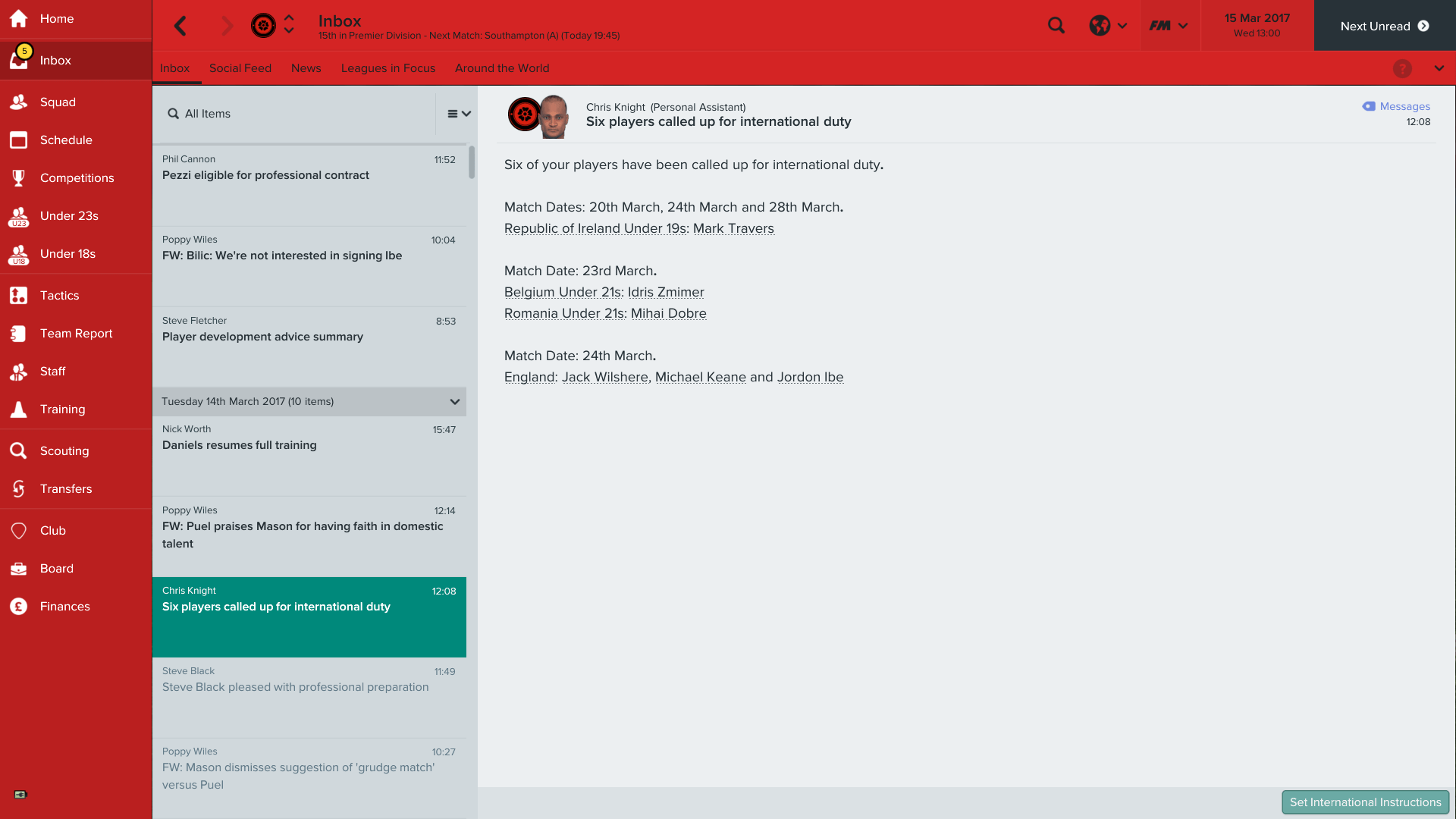 I am so filled with national pride that my heart could burst. I immediately go out and get a tattoo of three bulldogs wearing Bournemouth shirts adorned with the names of my players. This is unheard of and way ahead of schedule. Forget the fact that, technically Jack Wilshere isn't my player and technically none of them made it into the pitch, I'm having this moment and none of you can take it away from me. Michael Keane has fully deserved the call up based on his form all year so well done to him. Quite how Jordon Ibe got the nod, I don't know, but I suppose it speaks to the dearth of decent English wingers.
With our status secured and any hopes of a top half finish effectively dashed, I experiment a bit tactically and give some of my squad players a few minutes to keep them satisfied. We lose 2-1  three games on the spin but I'm not too bothered. The season then draws to a close with a win against West Ham and a heavy loss to Chelsea on the final day, who seem to have finally figured things out under Conte.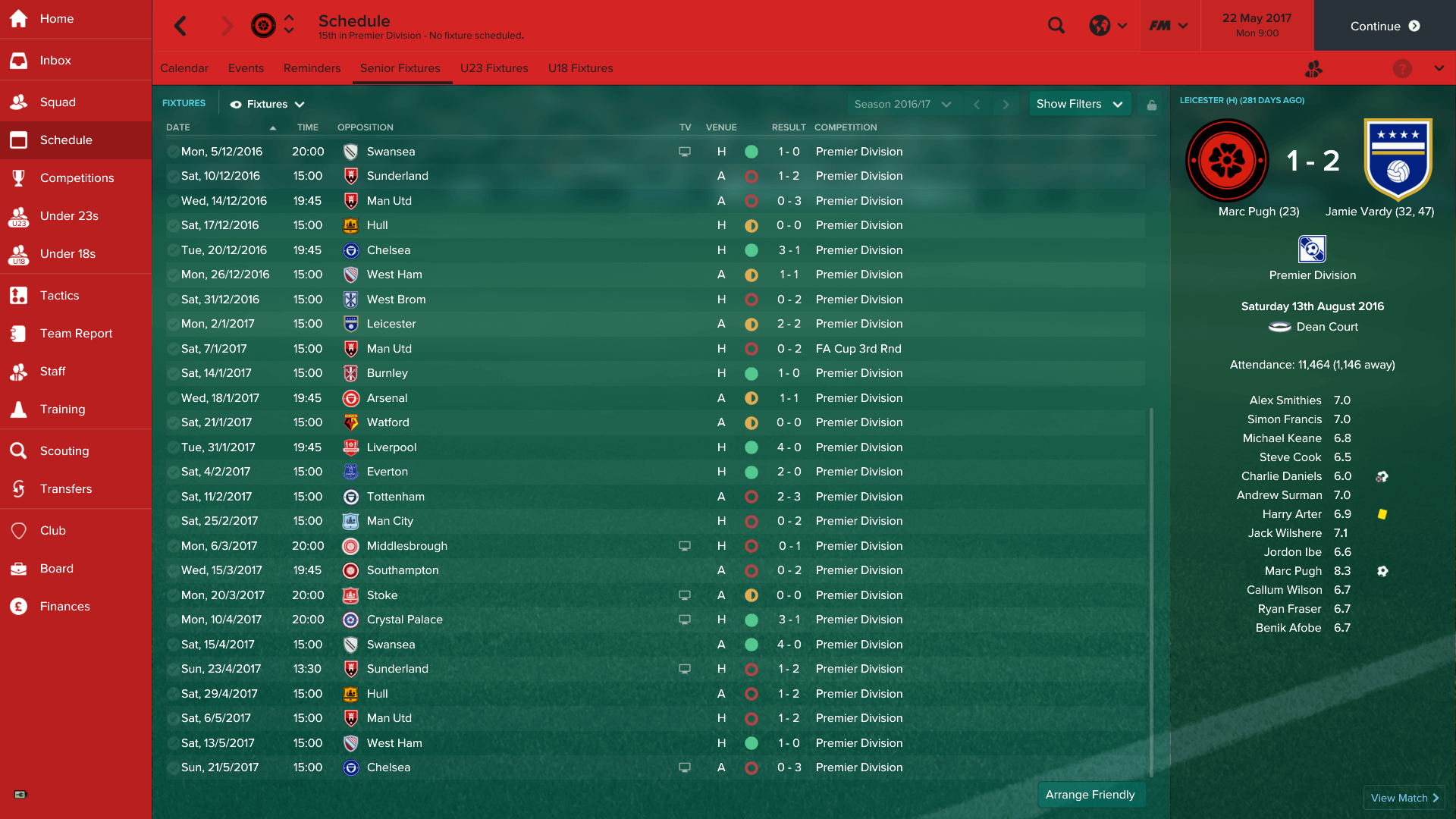 And with that, our first season is over and we finish… 15th. Hmm. That's one place higher than the media predicted us to finish at the start of the season, at least. We're 9 points clear of the drop zone, but 14 points away from a top half finish.
Ultimately, I can't argue too much – our position largely reflects our performances. Our form was horribly patchy and that woeful start stymied any ambitions we had. That said, there's definitely cause for optimism. There is so much room for improvement as some of my silly mistakes cost us results, causing us to drop a lot of points against poor sides.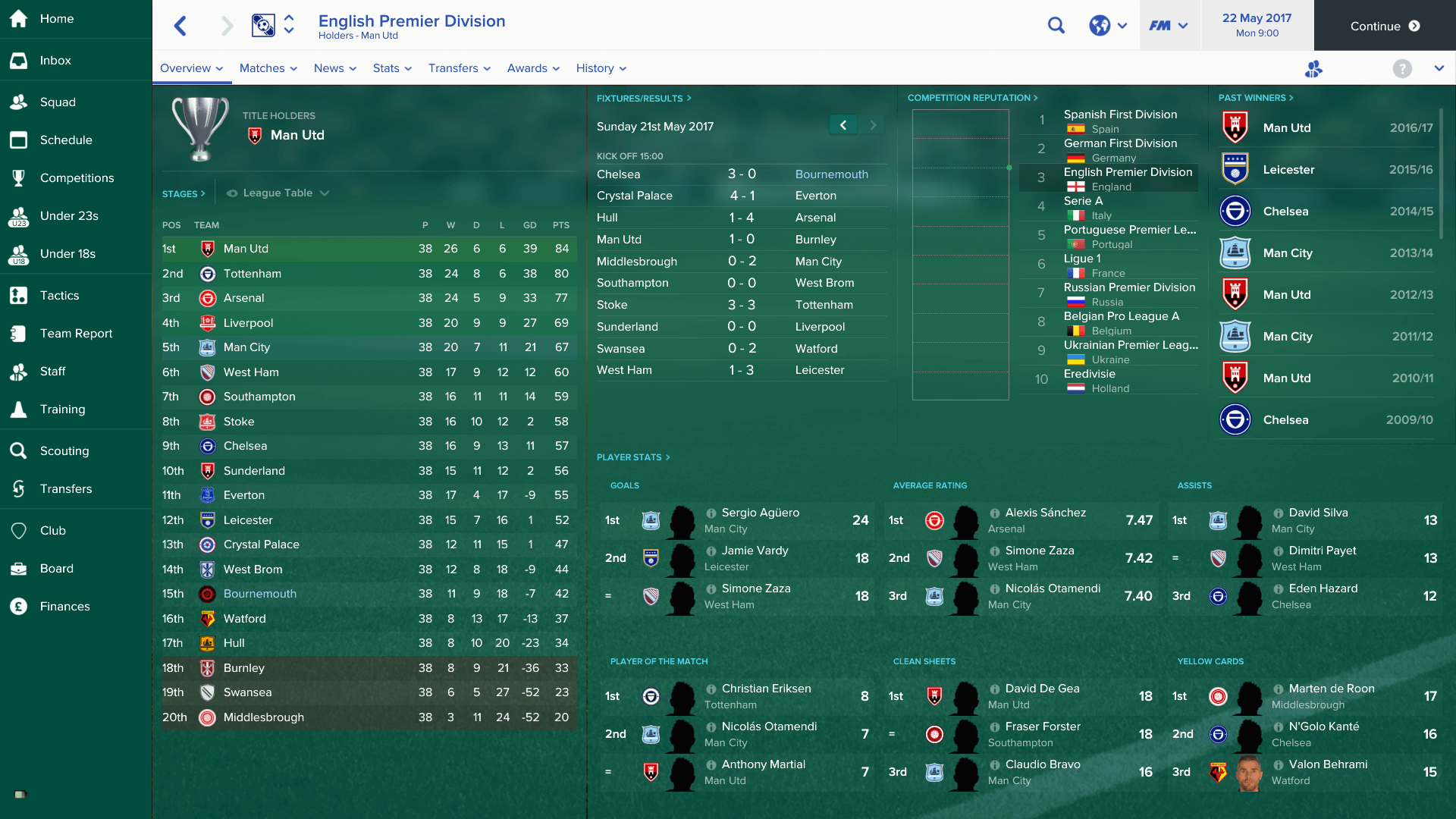 The biggest problem is that we're are losing our Player of the Year. Jack's going back home and with his value approaching the £30 million mark, there's no chance we can get him back. He was statistically our best performer, with an average rating of 7.15, and claimed our joint highest number of assists. I've got my work cut out to replace him.
Financially, the season can't be considered anything other than an unmitigated success. I've been way under my wage budget all season and we make a profit of £33,774,798. Not bad for a club who play in a ground with a capacity just shy of 12,000. Just how much of that I'm allowed to invest in the squad remains to be seen, but the coffers are filling nicely.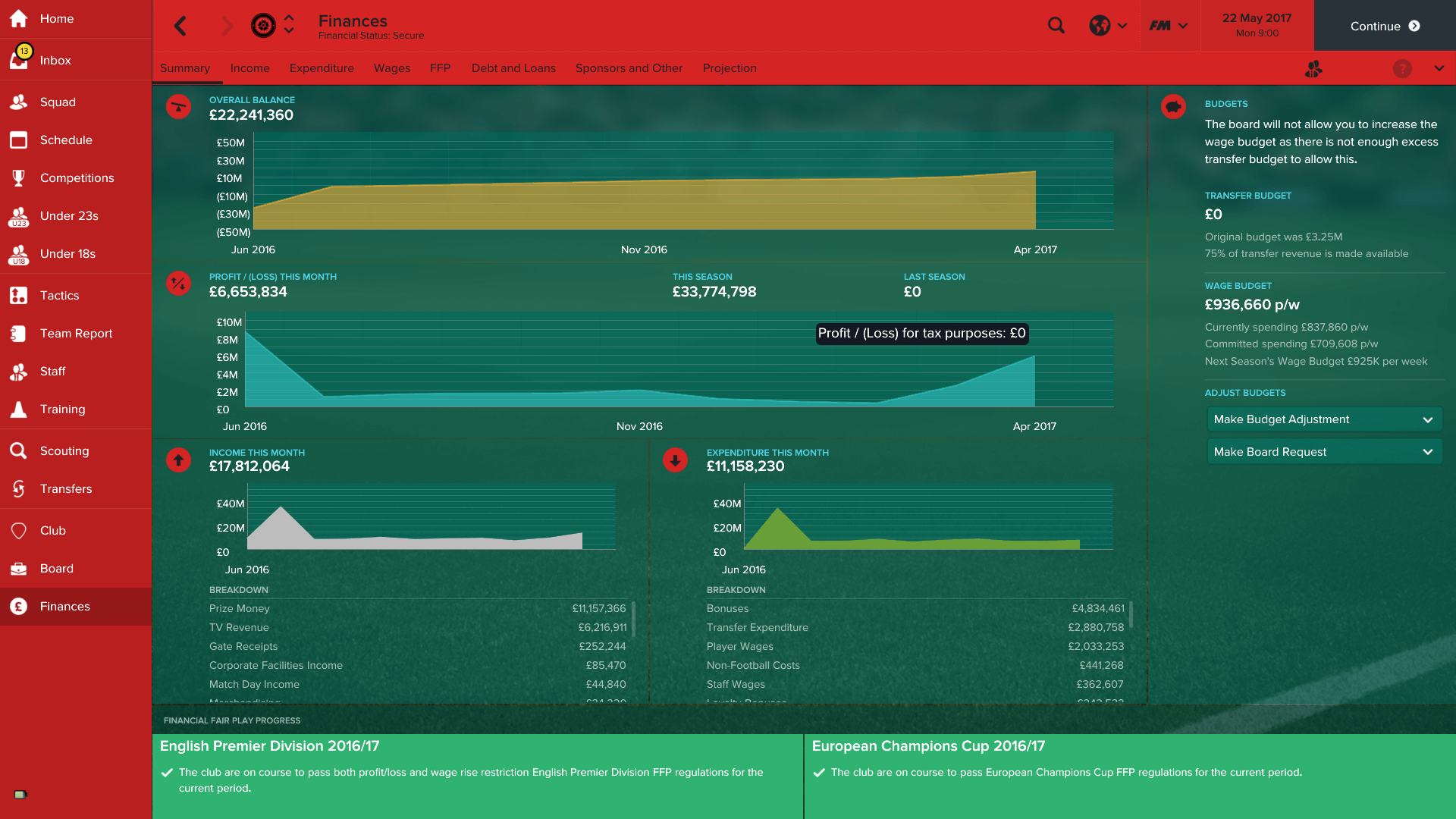 How did we do in terms of fulfilling our aims? Well, we underperformed in the league and cups. On the other hand, we did get a midtable(ish) finish and therefore achieved the bare minimum. We also had a number of players called into the England squad so we're ahead of schedule on that front. Essentially, we're slightly ahead in some areas and slightly behind in others.
What about our principles? Did we manage to be as Brexit as possible?
1. Only scout, sign and use players and staff from the United Kingdom and Ireland, with a bias towards Englishmen wherever possible.
Our only signings were English and we got rid of a number of foreign players throughout the season. Boruc is leaving at the end of his contract and Federici has become unsettled so I'll look to move him on too. Hyndman and Mousset are still on the books but they'll be soon on their way.
I did, however, commit a major sin. Foolishly, I forgot to include a recall option when I sent Tyrone Mings out on loan which meant that, with Daniels suspended and Adam Smith injured, I was forced into playing Brad Smith for one game. I am so sorry. I have failed. It won't be happening again.
2. Sign players aged 19-24 on permanent transfers, with loan signings only being used in exceptional circumstances.
Everyone other than Smithies meets this criteria, but he's exempt as he's a goalkeeper.
3. Invest in the club's training facilities and youth academy to develop players for the first team, with the eventual aim of having a fully home-grown squad.
Didn't do so well on this front. My current youth players, and this year's intake, are fairly dire so there's little chance of this happening any time soon. I'll be asking the board to spend on improving things over the summer.
4. Be profitable.
£33 mil in the bank. Say no more.
5. When recruiting players, show a preference for those with strong Bravery, Decisions and First Touch attributes.
Overwhelming success on this front, with Keane and Stephens excelling.
I'm still in the job and I've given myself a decent enough platform to build on. It's time to have a long, hard look at the squad and see where we can improve. We've lived to fight another day and next season I'll be older, wiser and ready to push us to new heights.
It's probably not time to break out the St George's flag bunting just yet, but we're tentatively waving a middle finger at Brussels and we're one step closer to permanently taking back control.