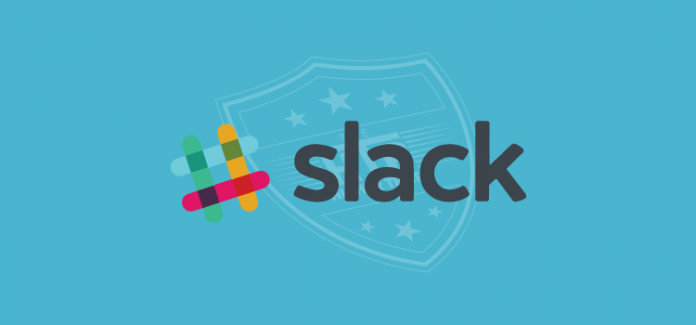 Welcome to the first instalment in the story of Slack FC!
This is a community project put together by the members of the FM Slack community. Over 750 members have joined to discuss their saves, tactical ideas and generally have a bit of banter about the game. Fancy joining in? Head on over to Samo's twitter (@FM_Samo) for an invite!
So – what is Slack FC?
Glad you asked.
Slack FC is the hotbed of young talent in football. Rising to the glitzy heights of the Vanorama National League South, this story will follow the current Slack FC squad throughout their careers in the game. Every player will start with their year of birth set as 2000 (so they will be 16 or almost 16 by the end of the year), with a CA of 80 and a PA of -10 (i.e. a random PA between 170 and 200). Each post, we will look at their progression from the previous update and also any success or failures they've achieved. Will they all climb to the very top of the footballing elite, or will they fail to realise their full potential and look back on a career wasted?
Now – this game won't be managed by a player, no no no. That would take the fun out of it wouldn't it? No – instead, the Slackers (yes, the Slackers, I couldn't think of anything more creative) will be managed by a legend. When testing the database out, the club signed a player that I thought impossible to sign, given his cult status. It surprised me so much that he had to be the gaffer…
Famous for golfing celebrations, comical finishing and even having a song made about him, please give a warm round of applause to the manager of Slack FC – Emile Heskey
Anyway, enough jibber jabber, time to look at the Slack FC squad. Cue glorious music!
SLACK FC 2016-17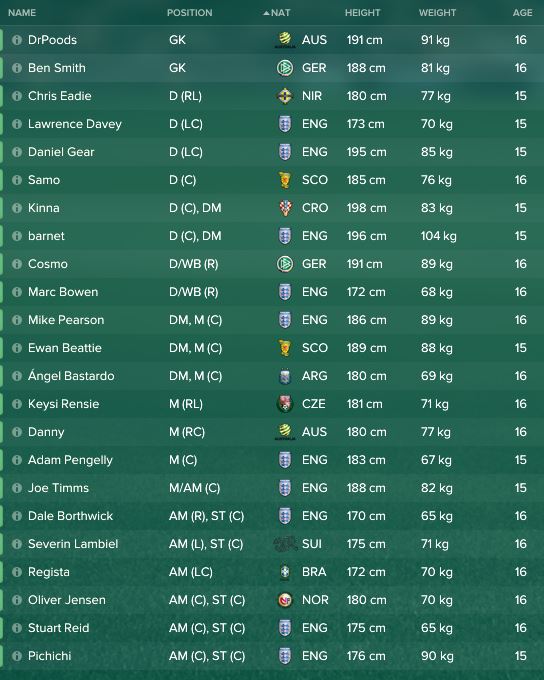 There we all are, immortalised in game forever. 23 of FM Slack's finest members have been scouted, signed and ready to take the world by storm. Each community member has submitted their desired attributes and positions and these have been converted in to in game players. Naturally there have been a limit on the total number of attributes available to distribute, and we want to see the lads grow and develop.
With that being said, let's have a look at the boys in a bit more detail (Slack names in brackets)
Goalkeepers
DrPoods (@DrPoods) – We start off our run through by syaing g'day to a commanding Aussie between the sticks. Poods has got the making of the next Jose Luis Chilavert with a great free kick rating. His catchphrase is "I am a hazard, not haphazard" – fitting for a goalkeeper.
Ben Smith (@ZeGermanFM) – Aiming to follow in the footsteps of legendary German keepers such as Oliver Kahn, Bert Trautmann and Manuel Neuer, Smith has all the traits in the making of another great keeper. However, being a young German man in England, he will certainly be the subject of some banter in the changing room – no Basil Fawlty impressions please!
Defenders
Chris Eadie (@eadster) – A tough tackling Northern Irishman, Chris Eadie has left the science world behind to make a career in the beautiful game. Perhaps the magic formulaf or Slack FC is Goals = Shots + Eadie Assist?
Lawrence Davey (@97ldave) – Our jovial cockney lad, Davey has affection for the Toon Army of Newcastle. It's been said that he's a big fan of the band Steps – let's hope his career doesn't end in tragedy.
Daniel Gear (@dgear86) – Hailing from the west country, Daniel Gear lists Steve Bruce amongst his footballing idols. Keep an eye out for this one, along with how many times he breaks his nose.
Samo (@FM_Samo) – The first of a Scottish contingent at Slack FC, Samo might be the most agile defender the world has ever seen (even at 16 years old!) A favourite in the dressing room, will leave or stay at Slack FC for the long term?
Kinna (@thenameiskinna) – How a 6ft+ Croatian 15 year old found his way to the 6th tier of English football is a mystery in itself. Expect him to be the resident card merchant of the team – refs are gonna love him.
barnet (@barnet)- There may be split loyalties for young barnet, being eligible for England and Wales due to parentage. Despite only being 15, it will be interesting to see which side he opts for.
Cosmo (@blackcaesara5) – It's not often you see a German with Scottish heritage that was born in Amsterdam, but one person in human history fits this profile and that's Cosmo. He's got links to the TV world. Potentially a world beater, he needs to make sure he keeps his head in the game, and not on a future career as a pundit.
Marc Bowen (@marcbowen17) – A little birdy has told me that Marc is a dab hand at computer graphical design when he's not on the football pitch. We should give him the name Banksy, because, you know, he's an artist.
Midfielders
Mike Pearson (@accordingtofm) – A wonderfully technically gifted defensive midfielder, Stoke lad Pearson hopes to find himself at the Britannia in the future. Rumour has it he's been in talks with Mark Hughes already – conspiracy theories are already surrounding the poor guy.
Ewan Beattie (@ewan) – a fierce Aberdeen supporter, Ewan has been caught on the Buckfast already by the tabloids. He faces fierce competition in the defensive midfielder role, but he could be the dark horse of the team.
Angel Bastardo (@fm_grasshopper) – Potentially the marquee signing, Bastardo's biggest secret is that he's developed a time machine, de-aged to 16 years old and signed for Slack FC. Perhaps he should share his scientific discoveries with Chris Eadie and start the Slack FC Foundation?
Keysi Rensie (@keysirensie) – a Marek Matejovsky in the making, Rensie looks to be a fine wide midfielder in the making. (Author note – resist the urge to make a pun about "czeching him out")
Danny (@dannykjr) – Aussie midfielder Danny might well emerge as a potential captain of Slack FC. Like Lawrence Davey, Danny is a big fan of Newcastle United and Newcastle Brown Ale. A dream move to St James Park is surely on the cards…
Adam Pengelly (@ap21fyt) – Perhaps the hardest working player for the Slackers (ironic I know), Pengelly is a big fan of the Class of 92. However, the lad could play for both England or Germany and has a short temper. That should certainly liven up any England/Germany matches in the future!
Joe Timms (@timmssports) – Joe Timms was the last man to be signed up by the Slack FC chairman, having just completed his masters in English literature at Oxford at the age of 15. A super genius off the field, it remains to be seen if he can convert his academic mind in to a footballing one.
Regista (@regista) – the eye candy of the team, Regista makes his way to England on the back of a fake work permit due thanks to Brazilian mafia gangs, so keep quiet everyone. A real ladies man, let's hope he can bring some samba flair to the lower leagues in England. And no – he doesn't play the regista role!
Forwards
Dale Borthwick (@daleybo) – an ambitious lad, the English winger has set his sights on playing for the Gunners. Very much in the Theo Walcott mould, Borthwich could make his mark on the Premier League and Instagram for years to come. If he makes it to the Emirates though, can he cope with the pressure from ArsenalFanTV?
Severin Lambiel (@ifinnem) – Given his Portuguese roots, Lambiel has a love of all things Nandos. A very direct minded player, may he spark comparisons and being labelled as the next Cristiano Ronaldo?
Oliver Jensen (@fmfutbolmanager) – just look at this lad. Jensen may come across as a shy individual off the field, but he's got bags of ability and let's his football do his talking. One to watch for sure (well… they all are to be fair, but that's not the point!)
Stuart Reid (@reids) – Reidy might be famous to some people out there, as his brother has featured on the show Made in Chelsea. Luckily for us, this Reid decided to focus on football. A fan of Coca Cola, perhaps he might feature in a World Cup advert or two in the future.
Pichichi (@dkm) – With a name that would not be out of place in the world of Pokémon, Pichichi looks like he will operate best just behind the main striker. Will he make any club say "Pichichi, I choose you!"
And that's the whole squad that's ready to be set loose on the lower leagues in England. This journey will hopefully continue until the ends of everyone's careers. With each player starting at 15 or 16 years old, that should hopefully be at least 20 years or so.
So which players will rise to the top and which players will fail to make the grade? Who's your favourite player and why? And what do you think will happen over the course of the save? Stick your comments down below, and keep your eyes peeled for the next update. Follow me on Twitter (@registafm) for exclusive screenshots on players before updates come out, and check out the #slackfc channel on FM Slack if you want to talk about the game! Until then, come on you Slackers!
(Aside – all of the above stories are made up, of course, for your amusement)