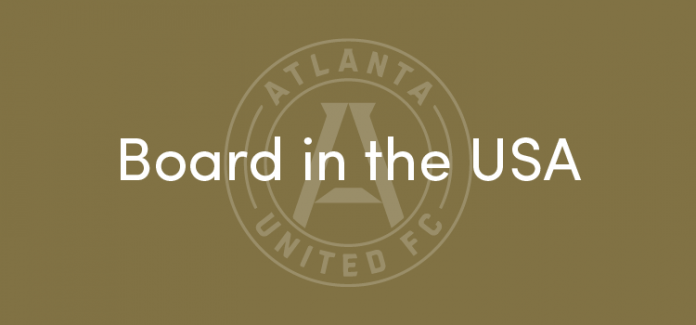 Board in the USA 15: We in the big time
The moment is here. The business end of the season, crunch time, whatever you want to call it: the 2018 MLS Playoffs would make or break our season. We already won the US Open Cup, could we make it a double?
The hype our team was generating was starting to get real. In particular, the rookie combo of Robledo and Greg Coyne was attracting the attention of mainstream US news outlets. Both were nominated, along with David Reyes, a promising midfield playmaker with FC Dallas, for Rookie of the Year. These guys really are the future of the Atlanta United, just like I predicted. Got to pat yourself on the back every now and then, right?
Prior to the playoffs, we took a rather unfortunate injury to Mix Diskerud, who would miss the earlier half of the post-season.
This could end very badly for me, given how Theiler's preferred centre midfield pairing is Diskerud and Almiron. Hard pill to swallow, but we have no choice but to soldier on.
We faced Toronto FC in the Eastern Conference Semifinals. In the regular season, we beat them twice and lost once, with all the games being high-scoring. I knew this was going to be exciting.
Oops, maybe I really should get worried. It wasn't a good showing, but it wasn't a very bad one either. The consequences of playing away, I suppose. At least we picked up that away goal!
Wow, we really scraped this one out. The home leg turned out to be a close game, with the score-line not reflecting how back and forth it got. That away goal was the decisive factor that led us to the win. Although our performances thus far weren't convincing, at least we did one further than last year!
On to the Eastern Conference Finals against Toronto FC. This was a decent matchup, since we pretty much mauled them in every prior encounter. That being said, I was still nervous.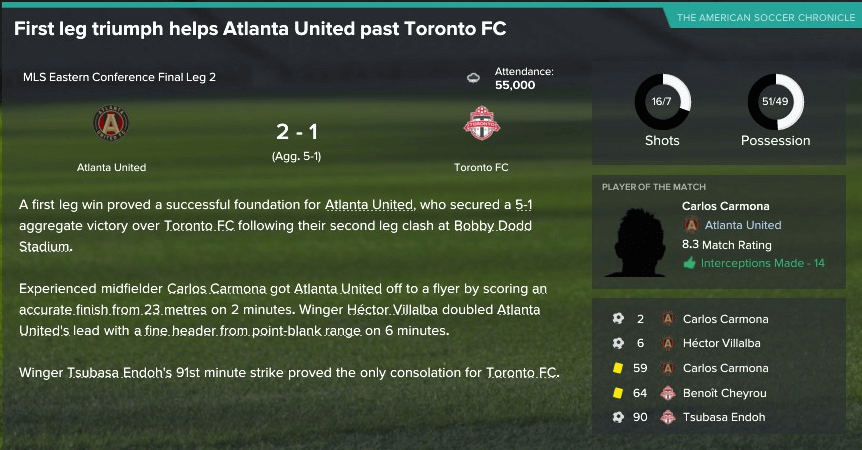 Turned out I had nothing to be nervous about! We continued to have their number and decimate them. Special props to Greg Coyne, who really turned it on with his performances. They were so good, news outlets were considering him as a player in contention for the USA Young Player of the Year! I had a superstar on my hands for sure. The issue was whether he could take us to the promised land this season.
It was here that I made a big mistake.
The Big Mistake
It turns out when I told Almiron that discussions of an improved contract for him would wait til the end of the season, his idea of the end of the season did not include the Playoffs. He got mad, getting the impression that I did not want to give him a better deal. He even threatened to move to LA Galaxy! The whole squad came together in support of him.
Of course I was intending to offer him a bigger deal, but it had simply slipped my mind. Even after I gave him the deal he wanted, the team's morale took a big hit as a result. This was when it dawned on me: this lowered morale could be the reason we lose the  MLS Cup this season.
That type of responsibility is really hard to swallow.
Nevertheless, we trod on to the MLS Finals against Minnesota. They had been tearing it up for most of the year, with their new Designated Player Shinji Okazaki banging in goals at a ridiculous rate.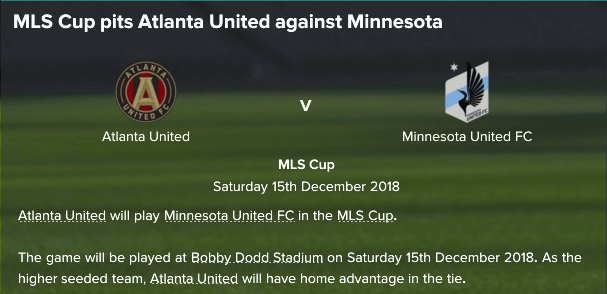 The rivalry really came to life. Two seasons into the Expansion team's existences in MLS, and they meet in the final. Winning would make this a fairytale – losing would make this a nightmare.
Never has the "Go on Holiday" button been more stressful.
We demolished them! Of course Greg Coyne had a really massive game. He really turned it on this MLS playoff season and brought us all the way. On the other side of the ball, Okazaki was completely shut down with only 1 shot taken in the whole game, with a 6.3 rating.
Atlanta United are the MLS 2018 Champions. It was so hard to believe! We achieved success in such a short amount of time. I'm so proud of my squad (and myself of course) in coming together and do so well.
But the celebrations did not stop there! Coyne was obviously the MLS Rookie of the Year, with Manuel Robledo coming in a close but distant second.
Unfortunately Hector Villaiba missed out on the MLS MVP, finishing 3rd place in voting. Take a look at their data below and feel free to let me know if it makes any sense. HECTOR WAS ROBBED, PEOPLE.

In a comedic twist, it would seem that Brad Guzan, my DP Goalkeeper, is the 2018 MLS Humanitarian of the Year…? It seems he's been doing plenty of charity work over the course of the season. I'm not so sure how I feel about that honestly. At least it's a funny award!

Of course, the one award that made plenty of sense was the MLS Coach of the Year Award. And that obviously goes to…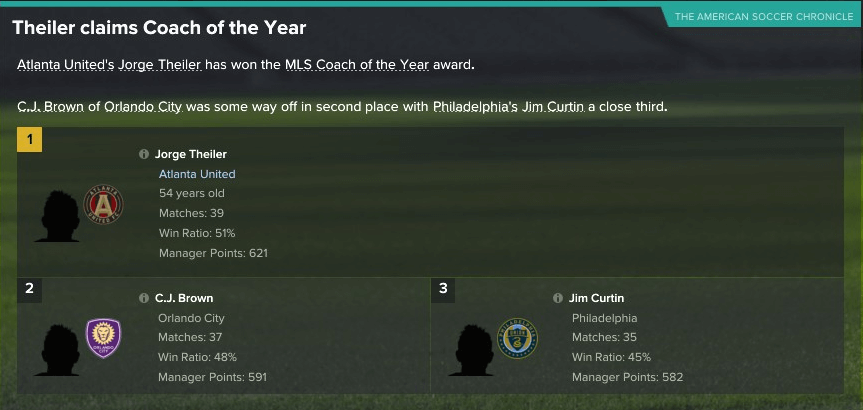 I'm sorry I ever doubted you Theiler. You da real MVP Coach.
That concludes the 15th update, and my second season with Atlanta United as the Director of Football. Join me in the next update as I set new goals for this save. Spoiler alert: I plan to create  legacy. As always, you can hit me up at @avery1822 on Twitter, or @avery on FMSlack. Do drop a shout if you want an invite into #fmmls on Slack as well! Cheers.