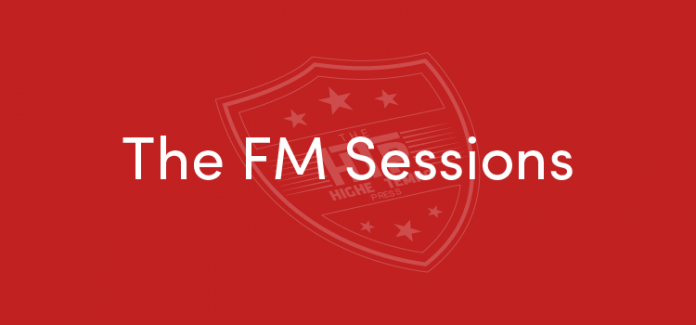 There's no better feeling than the first day of the season, especially when your club is in the top tier. It's the last Saturday of July and all around Dundee fans are optimistic. They've seen their side promoted under new manager The Back Page. They've seen new arrivals and old heads perform to levels they never expected. And they've even heard rumours that their club could be in the market for a huge name signing before the window's done. It's a good time to be in the Orange half of Dundee.
For our opening day game, back in the big time, we line up in our traditional 4231 with only one change from the side who brought us glory last season, as Jason Naismith makes his league debut. I'm optimistic about our opening game as we host a Patrick Thistle who finished 8th last season. They've got a few good players (Liam Lindsay and Ziggy Gordon notably) but we're Dundee United and we're ready to show this league what we've got.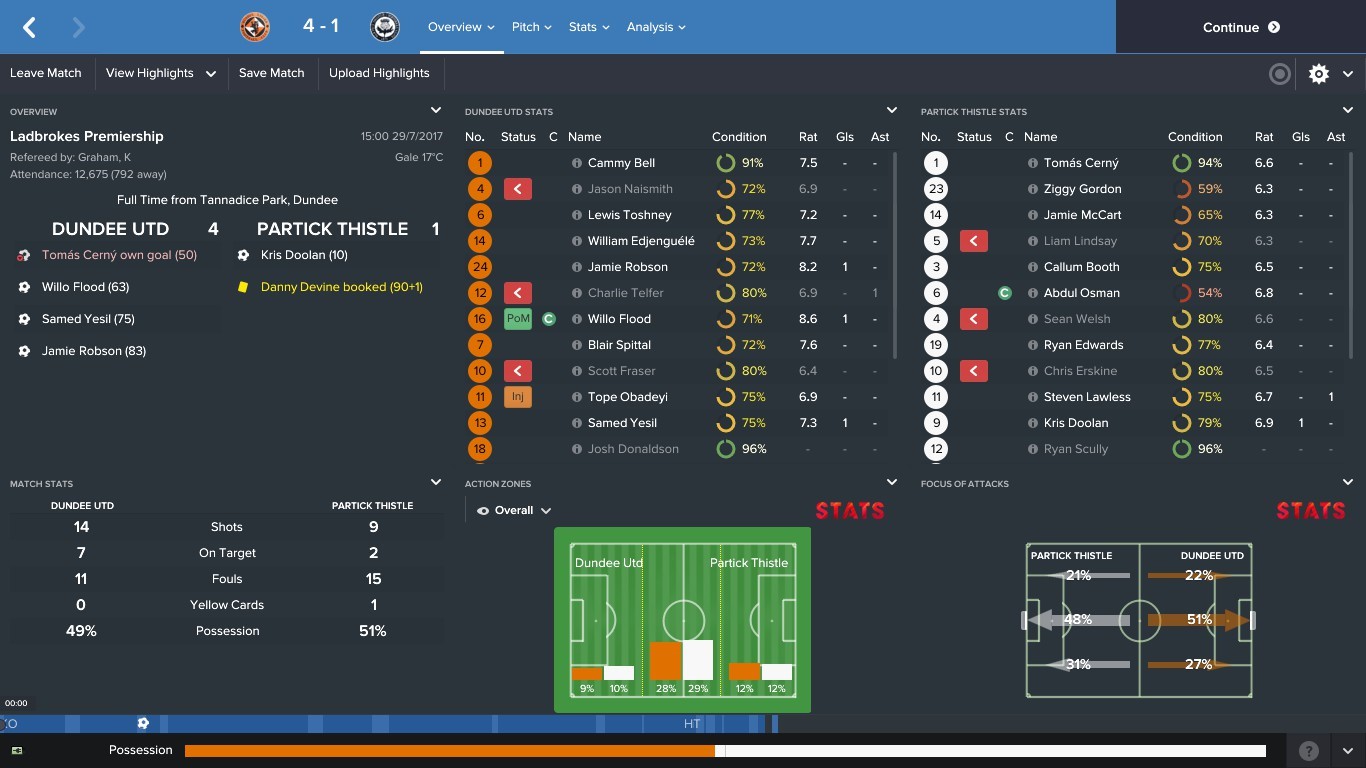 That's what we're talking about. It might have taken 50 minutes for the boys to get to grips with our new tactical style but the second half was a clinic in free-flowing attacking play. Willo Flood looked like a man who had returned home to his native Premiership – with 7 tackles, 10 interceptions and a passing success of almost 90%. Regardless of who we play next, I'm confident in this side.
Oh. It's Celtic. And we're away from home. Scrap that.
To put things in perspective about how much better this Celtic side are than the rest of the league, you only need to look at the media's dream eleven which contains 11 (ELEVEN) Celtic players.  Yes, the likes of Moussa Dembele, Tom Rogic and Kieran Tierney have all departed but they've been replaced by Jan Kirchhoff, Omer Damari and Lucas Silva. Lucas Silva was signed by Real Madrid for £10.25 million 2 years ago – we can't cope with financial power like that.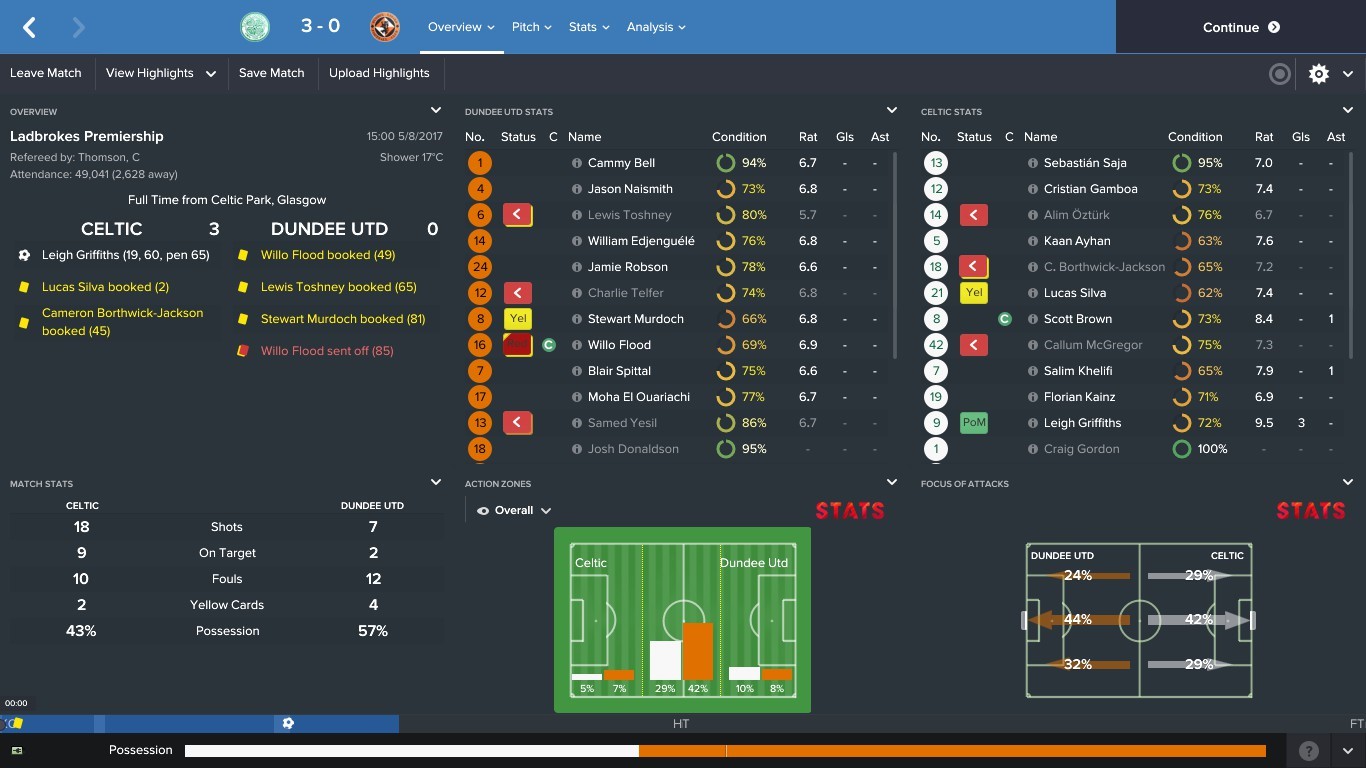 In all honesty, it wasn't as bad as it looks. Before Griffiths' second goal, we were matching them toe for toe. Both sides had taken four shots in the box and we'd created 2 clear cut chances to their 1. Sadly, a couple of defensive mistakes led to Griffiths completing his hat-trick and that was the game over. Overall, I can't complain too much – they're a far better side than us and I think everyone else in the league will struggle to pick anything up at Celtic Park.
The 4231 formation reappears for our Betfred Cup 2nd round trip to St Johnstone. Samed Yesil picked up an injury in the Celtic game so Lewis Vaughan leads the line for this game. His performance is the performance of a man with a point to prove, a man who's ready to step up and start regularly. The performance is possibly of a man who has heard those rumours of a new striker arriving at the club, when Vaughan himself was earlier billed as the new man around town. 2 goals and an assist in a 3-1-win book our place in the quarter finals, where we'll travel to Tynecastle to face Hearts.
Now time for the big one. Our rivalry with Hibernian was a competitive one, borne from two sides battling for one single spot in the Scottish Premiership. This year we've a different kind of rivalry to take care of and it's 100 times more serious. Dundee have been watching us all last season, in fact it would be hard for them to not have with their stadium only 200 yards from ours. And I'm tempted to say their fans are probably quite happy to see us deep down, they know that our city rivalry adds to the excitement and drama that comes with football.
However, if we're to become a bigger club in the future, we'll need to expand our fanbase and stadium somewhere down the line. In a two-club city, there's only one way to do that – dominate in games vs Dundee and prove to the Dundonian people that United are the only team to follow. No child wants to be supporting the club that always loses, and by the time I'm done here playgrounds will be a sea of orange. The players know what is expected of them and now it's time to see what our cross-city rivals are made of.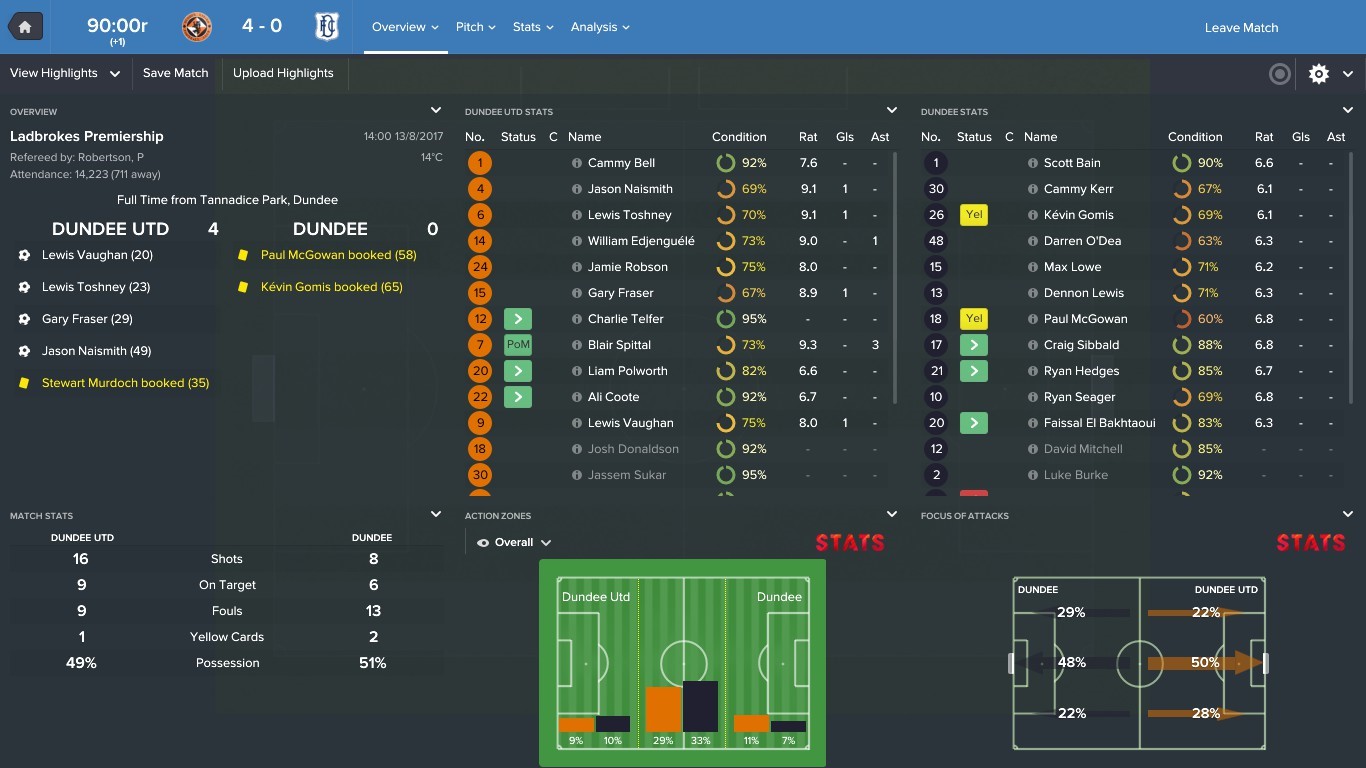 Wow. Wow wow wow. I wasn't expecting to dominate Dundee this early, especially considering the media had them to finish directly above us. It was a complete performance in all respects. Our defence was strong, Vaughan led the line brilliantly again and Blair Spittal gave Max Lowe a torrid time from start to finish. A result like this could be a catalyst for the rest of the season and has given me hope that we've got the talent to achieve more than mid-table obscurity this year.
We follow our derby day victory up with a much less eventful 1-0 victory at home to Ross County. travel to Inverness Caledonian Thistle, knowing that any sort of win could place us 2nd in the league.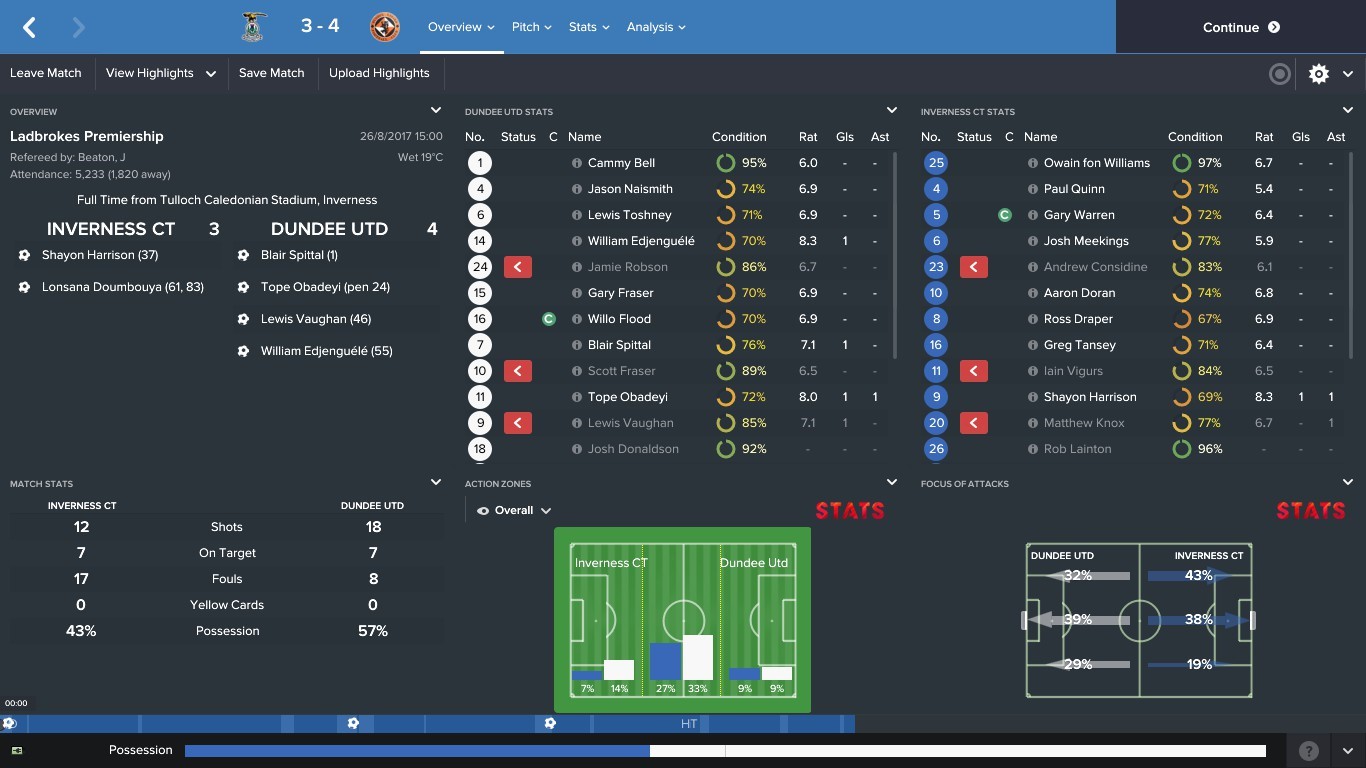 Who knew Scottish football would be so much fun? This game had everything you could think of. We scored early in both halves, won a penalty and held off a late comeback from Losana Doumbouya, with the 27-year-old Guinean coming off the bench with a point to prove. To put this season into context so far, the only points we've dropped so far were against Celtic away from home. That's some going for a side only arriving to the league this year.
Now the moment you've all been waiting for – did we manage to secure our marquee signing? Would Jason Cummings be willing to leave his boyhood side for the club who stopped them from achieving promotion? And would Dundee United even be able to afford a man, who scout reports suggest won't go for less than a million pounds?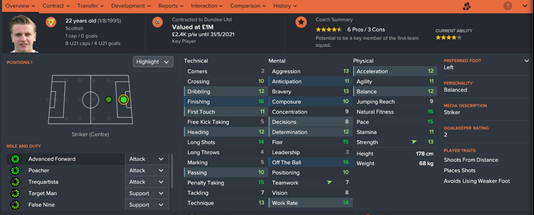 The answers were yes, yes and yes. And I must say I'm absolutely delighted.  I can't say this signing didn't go without a hitch though. As we were putting the final touches to a deal worth £800,000 Birmingham decided to wade into the fray, creating a bidding war. I knew I needed Jason at the club so pushed the boat out in a deal worth £1.5 million. To keep us within our transfer budget the deal is structured over 2 years, and even though the media picked up on this at our press conference and claimed we spent too much on Jason – it's an investment, and a wise one at that.
And he's come in at the perfect time. We've got Aberdeen and Rangers next in the league, followed by that cup Quarter Final against Hearts. Let's see how quickly we get a return on that investment, see you next week!