A Kolnoscopy Challenge

The Bundesliga Tale: Season 4: Intro
Extract from the Managers diary:
'Garry? You there mate? Hellooooo. This is the fifth message I've left now, Gazza. Where are you? Gaz? Gaz. GAZ!!!'
Bright blue skies stretched as far as the eye could see. The sun blazed overhead with an intensity of heat not found in many places of the world. I couldn't help but think of the damage it would wreak on the pale skinned redheaded bastards I'd been living with these past three years. Ginger pricks, I smirked, missing them already. The inflatable lilo bobbed in the pools water as I lay there feeling content with my hands behind my head and a pair of sunglasses protecting my eyes. Except I wasn't content, I'm a football manager. One of the select few that chooses to work in one of the most intense pressure cauldrons on planet earth. Holidays are great but they are only great for so long. I was bored. Bored and itching for a new challenge. I quit on June 2nd. It was only June the 16th. shit.
Buzz, buzz, buzz.
My mobile vibrates on the edge of the pool. I jumped up and it causes me to twist and turn until I'm plunged into the pool.
'Fuck–Bastard–I can't swim!–Shit!–Gwahbubbleblaaa'
Potential Jobs:
So, I'm now officially unemployed. It was my decision to step down as manager of Hibs despite having one year left to run on my contract.
So why do it? Frustration and boredom I guess. As strange as it may sound I wasn't frustrated by the club, players or fans. No. I was bored of looking at the same things everyday. Seeing the same opposition names, travelling to the same places and getting asked the same questions. It was all the same shit but on a different day. Everything was stagnant like my dogs shit when I can't be bothered to clean it up. Besides, I achieved everything I set out to accomplish with Hibs and I feel I left the club in a great position. A great young competitive squad built from peanuts, newly crowned champions that broke the Celtic/ Glaswegian cycle on the league, and Europe to come this season too. Yeah, I left the place on a positive and with my head held high. Lets be honest, no one likes to overstay their welcome so it was definitely a jump before I was pushed situation. Not that I ever really thought it would come to that mind… You da man R Kelly.
It also left me with what I felt was a fairly impressive CV for such a young manager. Four cup wins and two titles (albeit one being the lower division). It is a CV I hoped would attract attention from other exciting challenges as my reputation has been enhanced significantly through my time in Scotland.
So who was interested in this surprising addition to the dole queue?
No one initially.
To my surprise there was only a handful of jobs that were available and nearly all of them where in Brazil. None of them got me excited so I hit the continue button and waited for something else. And waited. And waited. And waited. Time crawled by and barely anything changed. What's going on? I demanded of the footballing Gods. Why haven't you sacked any poor sods yet? But they were in no mood for me and my selfish desires and so my self enforced banishment extended. What I hoped would be a swift appointment somewhere else became an agonising wait.
And you know what my first job offer was? A fucking international job. Managing the United States of Fucking America.
I mean, I was flattered but international football is not something that tickles my balls at the moment. Perhaps in the future but not yet. I swiftly and politely declined their generous offer of £27,500 per week and began the waiting game once again.
Only to be offered yet another international job. By the Former Soviet Union – Russia, no less.
Ring, ring.
'Hello?'
'This Aleksandr from the Russian Football Union National team.'
'Haha, fuck off mate.'
Slams the phone down.
They offered me £2,500 per week as well the cheeky bastards. Are you guys sure you've called quits on Communism?
By this point we were well into the new football season and I was forced to accept it was now a waiting game. As the season progressed struggling teams would grow more and more desperate and managers would suffer the consequences of their underperforming players. So I watched the leaves turn from bright green to red and brown as Autumn settled in around us. Slowly but surely more and more managers got the chop. By December a number of prospective clubs appeared in the job centre, many flooding in from foreign leagues. Hmm, some of these look quite interesting, I thought. A number of clubs that caught my eye due to the possible interesting challenge was Stade Rennais FC in France and Feyenoord over in Holland. I passed on both as I felt confident that more exciting jobs would shortly come up but Stade Rennais were in serious contention at one point. Not long after, Southampton came knocking, they were sitting comfortably in mid table so I wasn't quite sure why they axed their manager and that to me was worrying. Besides, the Premiership excites me as much as an OAP pole dancing. The players are overpriced and prima donnas, there is far too many games and the owners have as much patience as a six year old girl. No thank you. Valencia also came knocking and offered me an interview. Now, as a football romantic the notion appealed to me at first but then I remembered their knack for sacking managers every six months. But, but surely they wouldn't do that to me? Me, who is the greatest manager on earth. Surely I would be fine? Well dammit tell that to Gary Neville! So with a heavy heart I also passed on Valencia too.
Then two jobs came up at once that interested me immediately.
Manchester City sacked their manager Eddie Howe. I've mentioned Eddie in a previous instalment. His ability to create a good team lead Bournemouth to overachieve a few seasons ago and it saw him given a chance at the top. Obviously it hasn't worked out for him, as he is now stood behind me collecting his dole cheque, but you've got to love the guys ambition. See, as much as I have reservations about England, the prospect of taking control of City was exciting and I'm not going to lie, it tickled my balls a little. The job advert stated they wanted a manager to lead the club to a top 8 finish. Pretty reasonable if you ask me, and you can be assured you'll be fully backed by the wealthy owners. Maybe England wasn't such a poor idea after all?…
Until a job in Germany caught my eye.
Koln was looking to replace their club legend and current manager Peter Stoger. Much to their fans dismay. Let me tell you, his sacking didn't go down well at all and their fans were very focal about it, but at the end of the day football is a results business and Koln were sat precariously in 15th place, hovering dangerously above the relegation zone. And as it was now late December the clock was ticking and they were only a pubic hair away from dropping in the relegation no-go area.
So an easy mid table season with Man City or one filled with tension and terror at Koln? I applied for both, much to the delight of both clubs – as why wouldn't they be thrilled by my interest? –and was granted an interview with both.
Naturally I chose Koln.

The pull of a struggling German team outweighed everything else. When I resigned I set my sights on two countries in particular, Spain or Germany. Koln wouldn't have topped my list of potential clubs when I first resigned but the challenge really really excites me. I'm hard just thinking about it now. The thing that really attracted me to Koln is it is a bit of a sleeping giant, as they won a handful of titles back in the early days.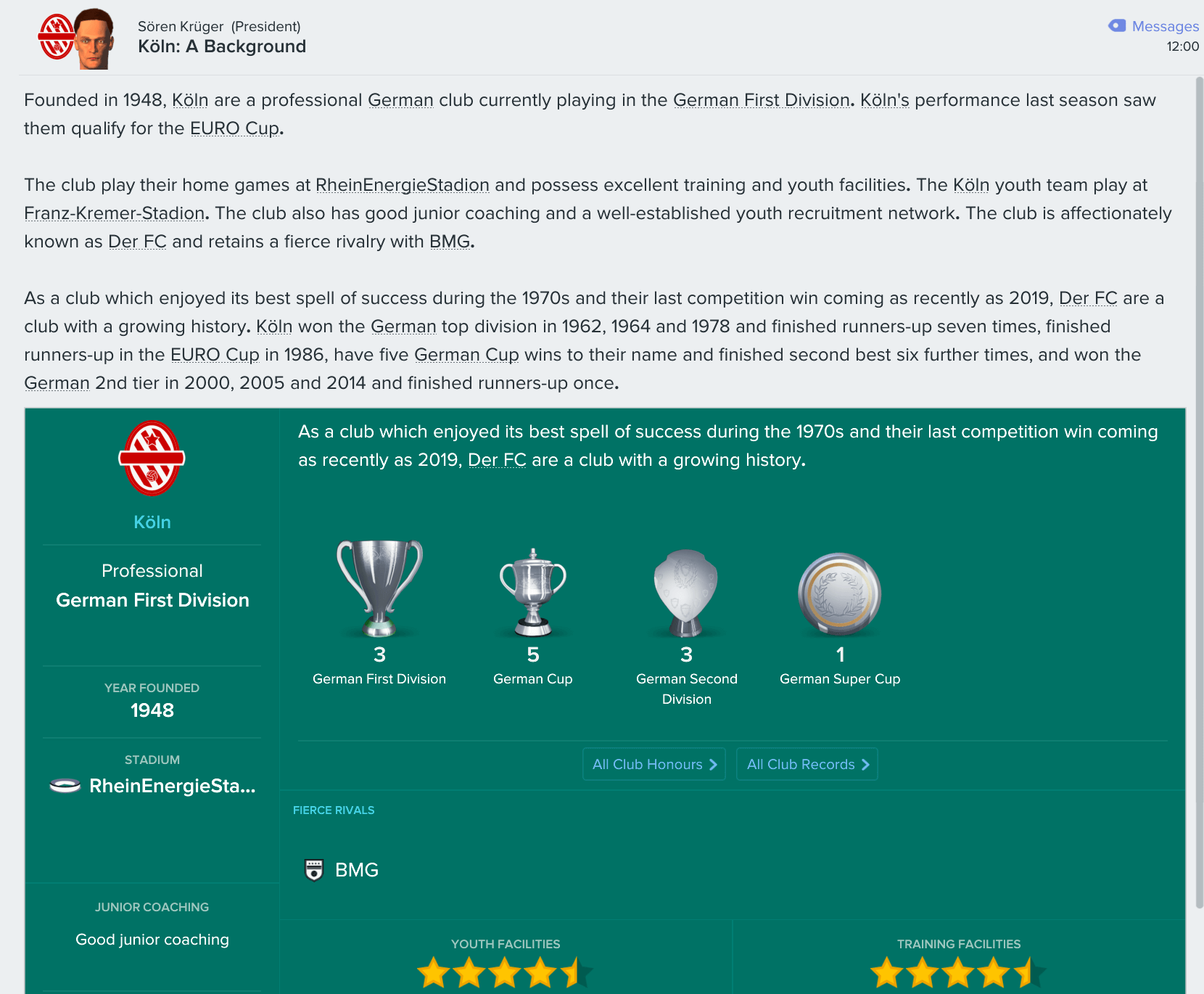 It also has a big stadium of 50,000, great passionate fans (as demonstrated when Stoger got the bullet), and a owner who is, and I quote, "rich". Now, don't get me wrong, it isn't the money that interests me here, I'm a bin dipper at heart and proud of it, but it's nice to know I'll have the option of spending money if I want to. Money which I'll look to invest in youth.
So, what are my personal targets for Koln? Year one: avoid relegation, at all costs. Year two (if I make it that far *gulp*): stabilise the team and secure our position in the league. Year three: silverware. Here's to hoping I make it past this season. I'm under no illusions here, this is a massive task in a much more difficult league and there is no time for slacking. It's seriously squeaky bum time right now, as we have only a two point safety net between us and the relegation zone. It's time to roll up my sleeves and get stuck in. Wish me luck.
Nur ein Karnevalsverein.
Let's get this Karneval on the road. Up the Billy Goats.