You've hopefully read my introductory post by now so without any further blagging or bluffing let's catch up with International Manager's diary…
July
I'm welcomed to the Kosovo National set up. The FA break the news to me that they don't expect me to get beyond the qualifying stages for the World Cup 2018. I nod in agreement while trying to hide my delight at their realism.
I check the qualifying group for information. This isn't bad. I mean, I don't see any immediate 3 pointers but, we've managed to avoid any of the big boys!
The next thing I do is to check the list of players with Kosovo Nationality – 150. The number of player's eligible for Kosovo – 149. A quick search reveals that youngster Besar Halimi (Mainz) retired from international duty in 2010 with 1 cap (that would have made him 15 at the time).
I schedule a quick phone call with Besar Halimi to discuss his potential return to the international scene, he's keen to talk to me which is nice. The resulting conversation is not such a success. We'll leave it a while and see if his mind can be changed.

My final actions of the month are to place job advertisements for general Coaches and Goalkeeping Coaches. I also arrange a friendly for 31st August against 136th placed Azerbaijan.
Player Watch:
07/07/16 – HJK (v Slavia 1913 Sofia, EL 1st Qual Rd):
Lum Rexhepi starts at DCR and plays 90 minutes. Rating: 7.1
13/07/16 – RB Salzburg (v Dundalk, CL 2nd Qual Rd):
Valon Berisha starts at MCR and is subbed after 68 minutes. Rating: 6.8
21/07/16 – Grasshopper (v Sonderjysk E, EL 2nd Qual Rd):
Mergim Brahimi starts at MCR and is subbed after 70 minutes. Rating: 6.4
Alban Pnishi starts at DCR and plays 90 minutes. Rating: 6.8
27/07/16 – Luzern (v AZ, EL 3rd Qual Rd):
Elba Rashani is brought off the bench on 69 minutes to play STCL. Rating: 6.5
August
During this month we finalised the agreements with three new coaches and a goalkeeping coach to come on board with the National Team. Unfortunately the calibre of applicants was not quite as good as I'd have liked but on the bright side the new recruits are all Kosovan.

My first International Squad selection highlighted the lack of quality within our own Kosovan domestic leagues.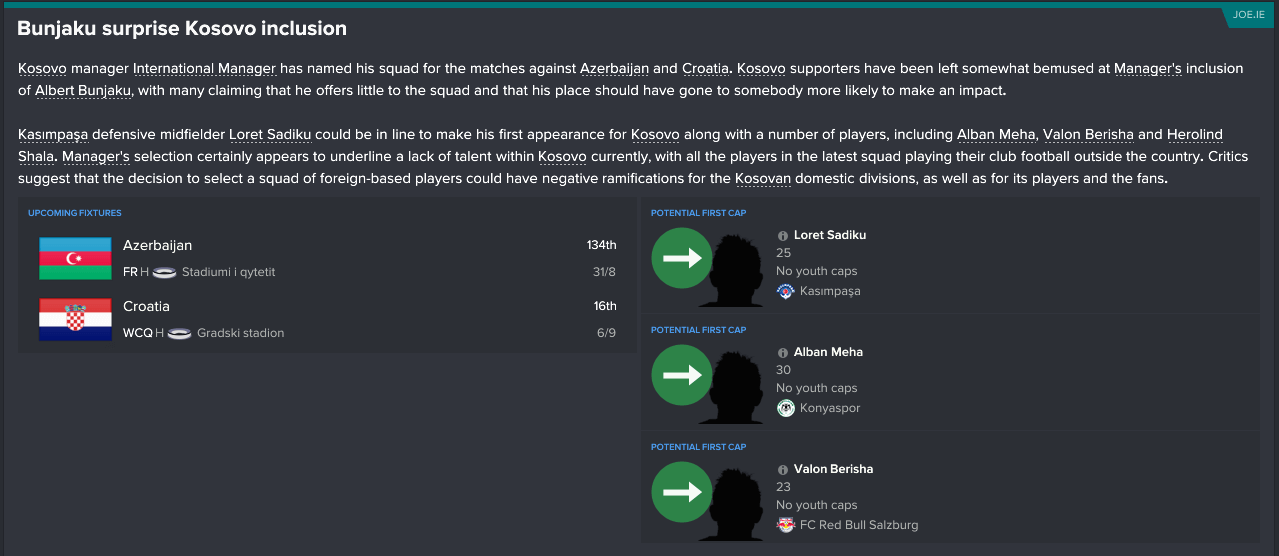 My first match in charge sees us take on Azerbaijan in a friendly on home territory. The match took place on 31st August 2016 at Stadiumi i qytetit, Pristina, in front of a crowd of 11,236. We head out in a 4-1DM-2-3Wide formation as we look to shield the defence. The instructions are simple – we want a structured system with minimised risks, we will look to hit them on the counter. The defence will sit slightly deeper but the midfielder will be invited to close down the opposition as they enter our half.
It's an incredible occasion as Kosovo take the lead on 5minutes through Target Man Ilir Azemi as he fires home from the edge of the area after some neat build up play to notch his first ever International goal. The matches finishes 1-0 in our favour! A solid performance from Azemi was enough for him to take home the Player of the Match award.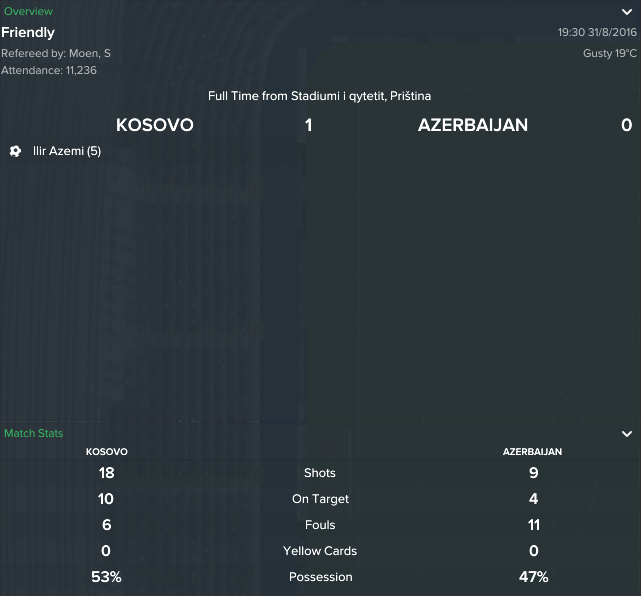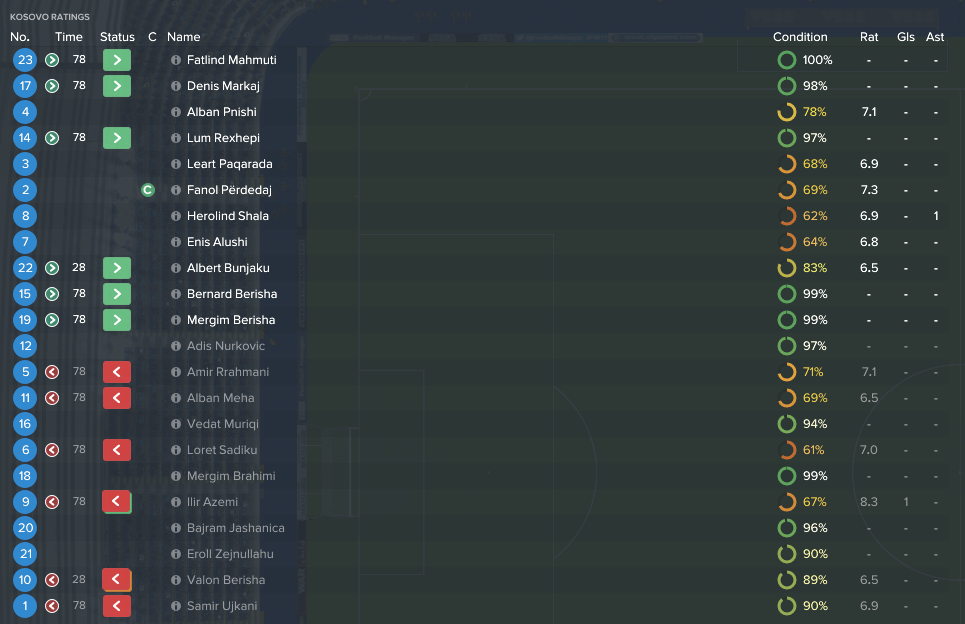 Player Watch:
04/08/16 – Luzern (v AZ, EL 3rd Qual Rd):
Hekuran Kryeziu starts at MCR and is subbed after 72 minutes. Rating: 6.8
10/08/16 – 1860 Munich v Nurnberg (2. Bundeslig):
Fanol Perdedaj (1860 Munich) starts at DMCR and plays 90 minutes. Rating: 6.5
Enis Alushi (Nurnberg) starts at MCL and is subbed after 71 minutes. Rating: 7.6
September
The month started out with the bad news of Valon Berisha's withdrawal from the squad due to a bruised thigh picked up against Azerbaijan – Arber Zeneli was called in as a replacement.
The UEFA U19 European Championship 1st Qualifying Round groups were drawn – we'll keep a keen eye on our youth side in these games.
U19 friendly: Kosovo 0-6 Turkey, U21 Euro Champs Quals: Slovakia 3-0 Kosovo.
U19 friendly: Norway 4-0 Kosovo, U21 Euro Champs Quals: San Marino 1-2 Kosovo.
Our first competitive game has arrived. We host Croatia at Gradski Stadion, Gnjilane-Gjilan. There is an attendance of 4,000 present for the fixture.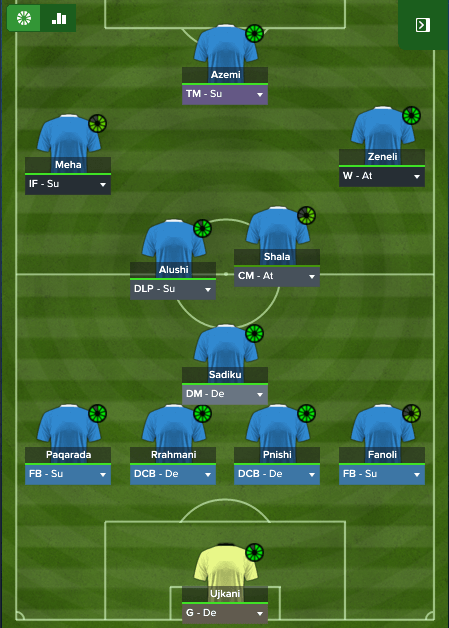 Despite the match stats we manage to comfortably keep Croatia away for most of the match restricting them to plenty of long shots. It's 0-0 at the break but we can't keep that up and Croatia strike on 56 minutes to consign us to a defeat in our first competitive game 0-1.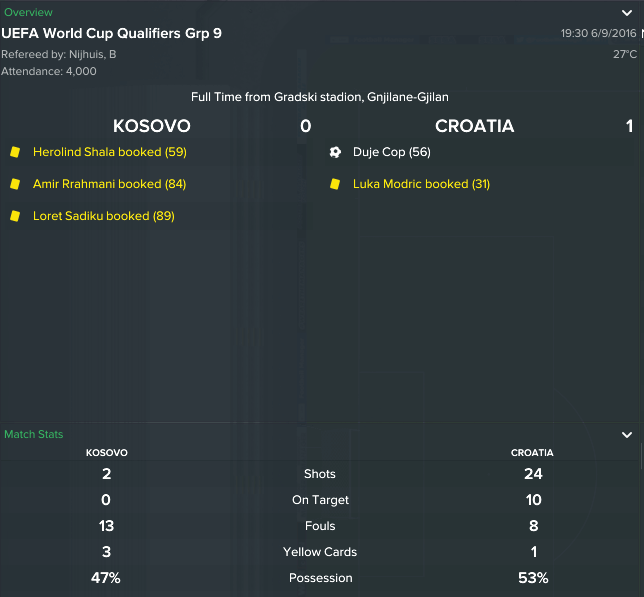 Immediately following the Croatia match we are approached by Switzerland (18th) with an offer of a friendly match on 09/11/16 which we duly accept.
Good news! The World Rankings are in and we've gained 2 places, success!
Player Watch
15/09/16: Konyaspor (v RB Salzburg, EL Group Stage):
Alban Meha starts at MCL and plays 90 minutes. Rating: 6.7
21/09/16: Hannover 96 (v Fortuna Dusseldorf, 2. Bundesliga)
Valmir Sulejmani: After making the trip to Hannover I am disappointed to see that Sulejmani does not even make the bench.
October
Yet again the media had their say on my squad selection
U19 Euro Champs Quals: Latvia 2-0 Kosovo, U21 Euro Champs Quals: Kosovo 1-3 Latvia
U19 Euro Champs Quals: Kosovo 1-0 Norway
Our first away game in the group sees us travel to Finland. We stick with our original tactic of trying to hit them on the break while maintaining defensive solidity.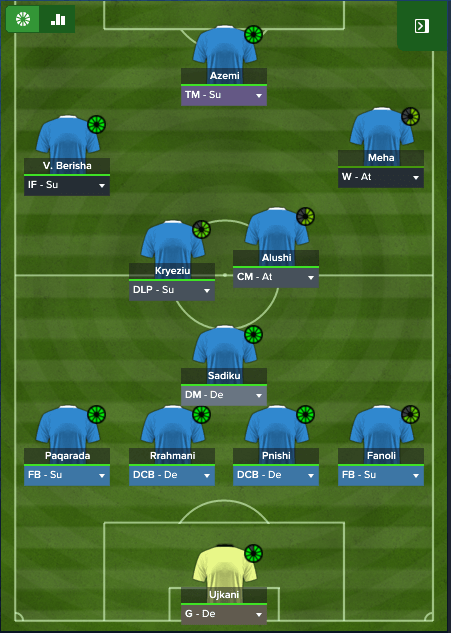 It starts oh so well as Enis Alushi gives us a shock 1-0 lead on 26 minutes but that only lasts for 8 minutes as Finland equalise. Before we can do anything Finland take the lead on 40 minutes. HT 2-1. The second half has only just kicked off and we concede a penalty leading to a second yellow for our right back. Finland convert it to make it 3-1. On 75 minutes the subsititute Arber Zeneli give us a glimmer of hope with a tidy finish but we can't go one better. Final score a 3-2 loss. Enis Alushi picks up the Player of the Match award.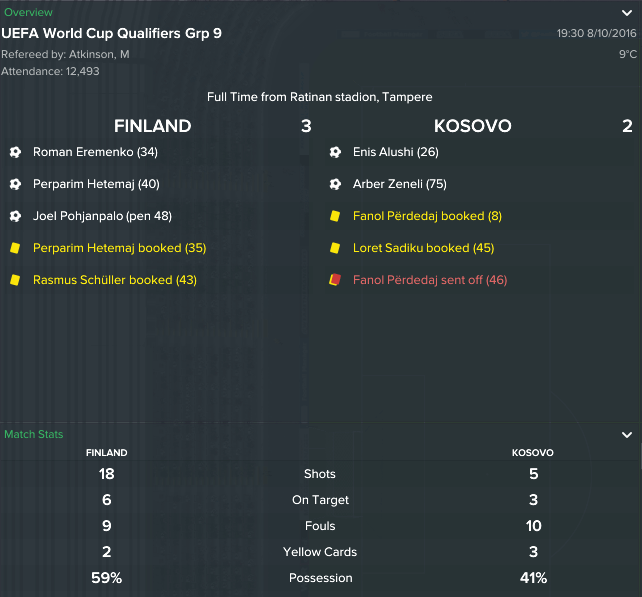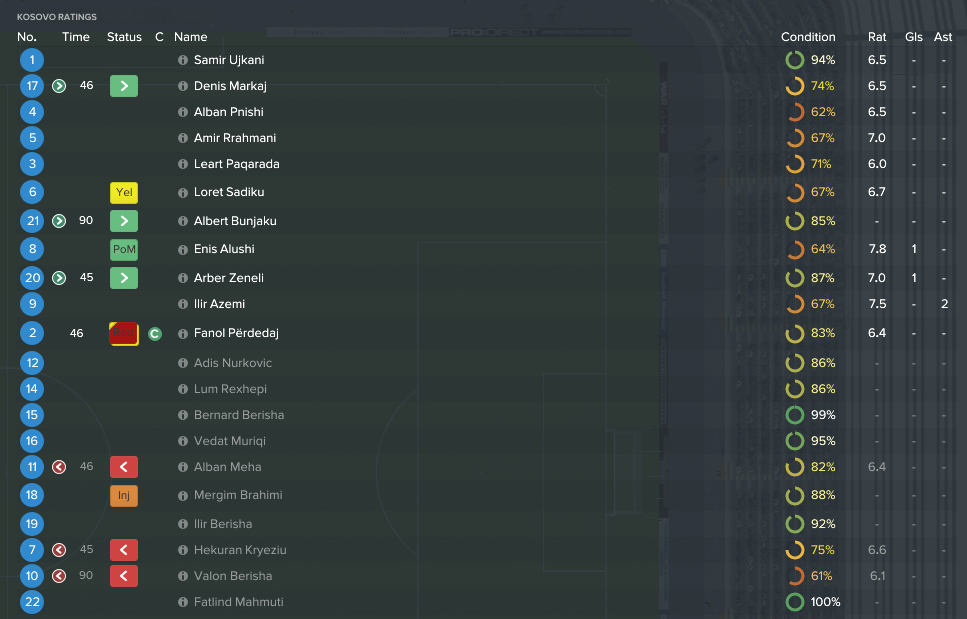 U19 Euro Champs Quals: Kosovo 1-4 Ireland, U21 Euro Champs: Slovenia 3-3 Kosovo
The Under 21s manage to avoid the wooden spoon prize in their qualifying group as this stage comes to an end although they are, as expected, quite some way off qualification.

Our travels continue at we don't have to go too far as we make it to Euro 2016 surprise package Iceland. Our pre match tactical report suggests that Iceland are strong in the air and vulnerable to a 4-2-3-1. We adopt that shape and seek to play the ball on the deck.
Iceland score a header on 22 mins to make it 1-0, 9 minutes later they repeat the act and make it 2-0. At least our tactical report was right! On 39 minutes they only go and do it again, 3-0 and 3 headers. We hit back 3 minutes later through Valon Berisha as he is set free through the middle, 3-1. The second half is a dull affair until Valon Berisha breaks through the middle again and pulls it back to 3-2. Bernard Berisha picks up a second yellow in added time and for the second consecutive game we are reduced to 10 men. It's too little, too late as we fall victim to another 3-2 away loss. Two goal hero Berisha picks up the Player of the Match award.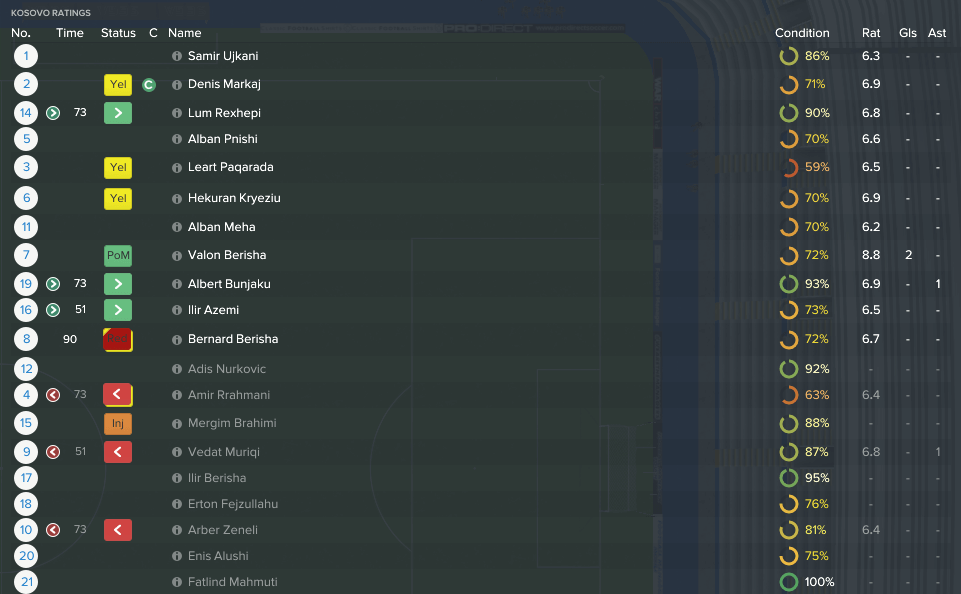 The World Rankings are published and we've surrendered our 2 places again, back to 190th.

Player Watch
23/10/16: Genclerbirligi (v Basaksehir, Spor Toto Super Lig)
Vedat Muriqi makes an appearance at STC from the bench on 63 minutes. Rating: 6.6
30/10/16: Kayserispor (v Besiktas, Spor Toto Super Lig)
Ilir Azemi starts at STCL and plays 90 minutes. Rating: 6.3
November
The squad is announced for our November fixtures which raises a eyebrows about the selection of a few players. I feel the criticism of Azemi is harsh.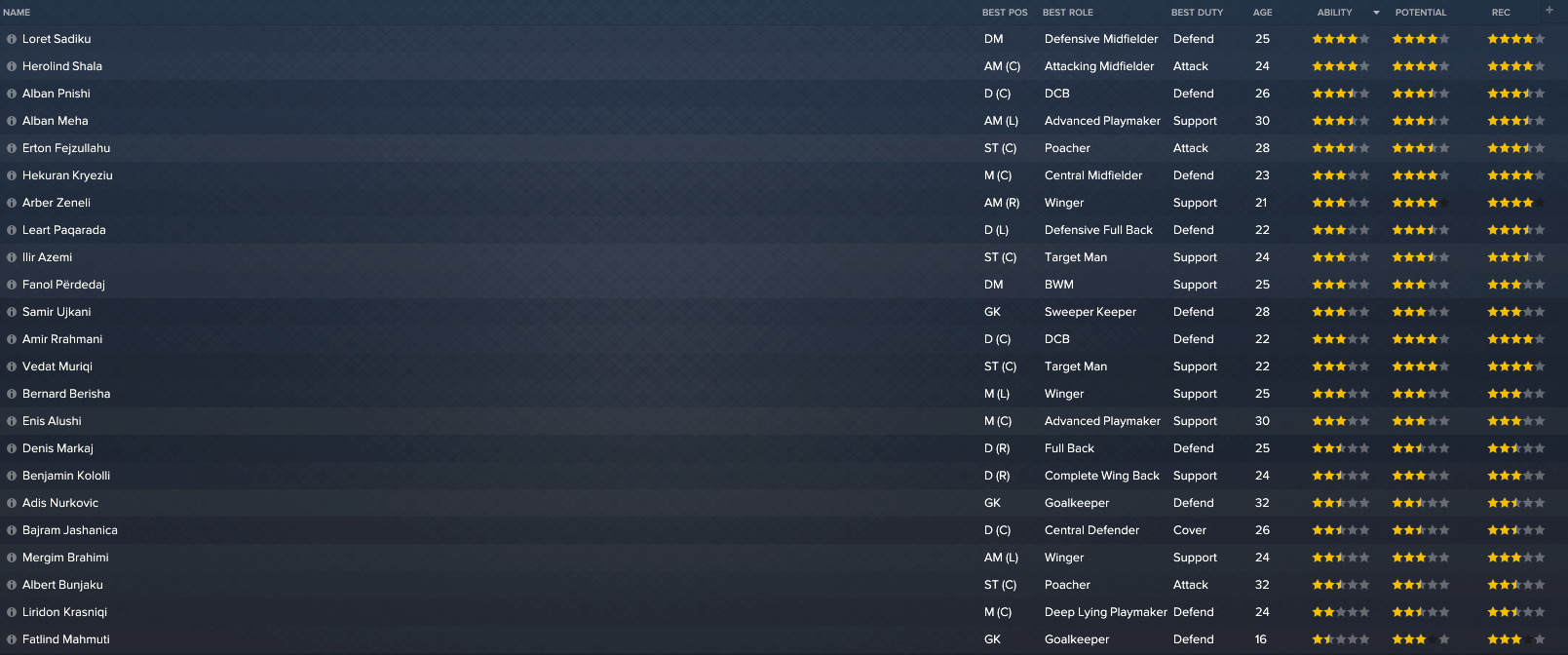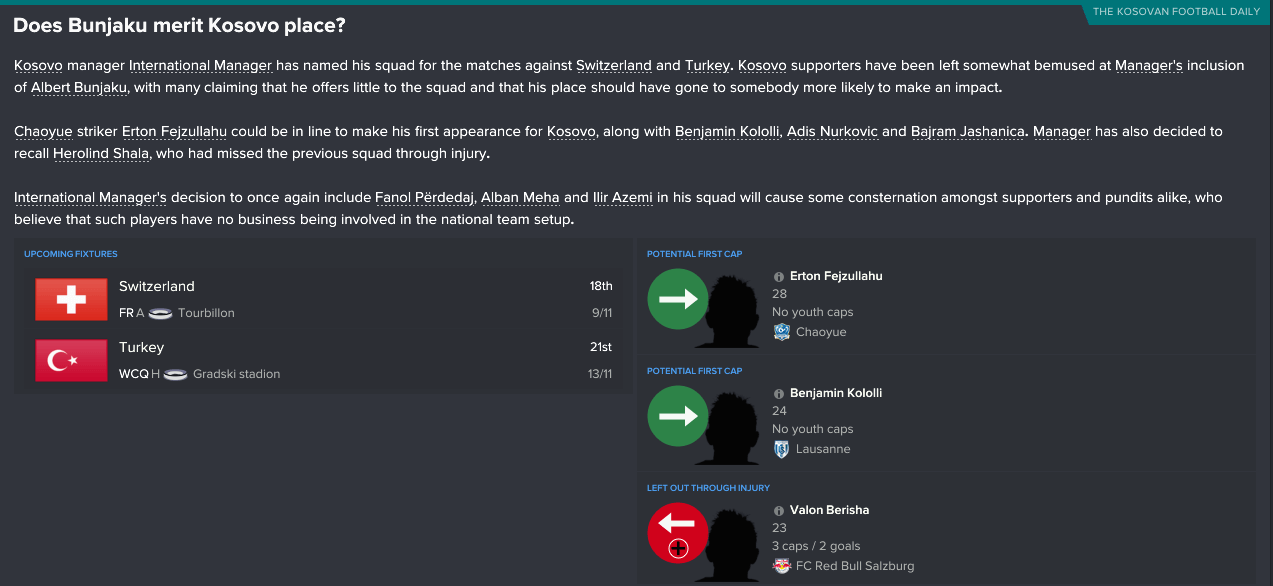 The penultimate game of 2016 sees us travel to Switzerland for a friendly. Switzerland are currently ranked 18th in the World and have three wins from three in their own group.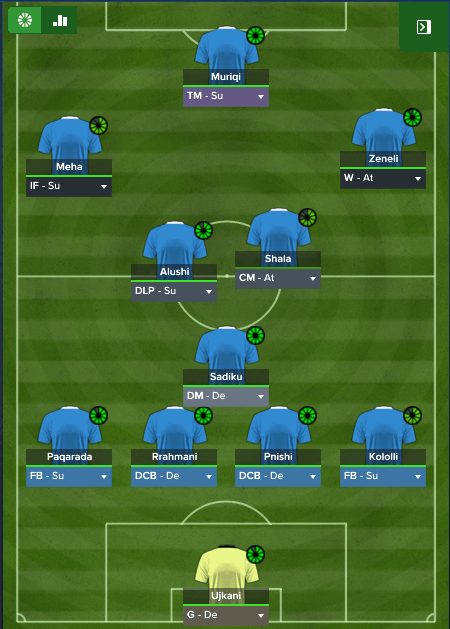 8 minutes gone and we take the lead! Muriqi heads down a Meha corner for Sadiku to blast home. We hold strong until Switzerland equalise on the stroke of half time. 1-1 at the break. On 63 minutes Ujkani is beaten at his near post by a weak header and Switzerland take the lead. Things go from bad to worse as the Swiss get a third from a 73rd minute corner. Final score 3-1.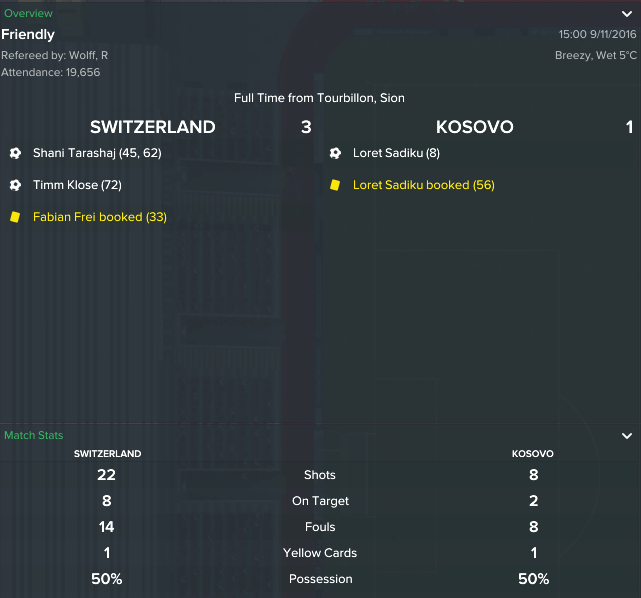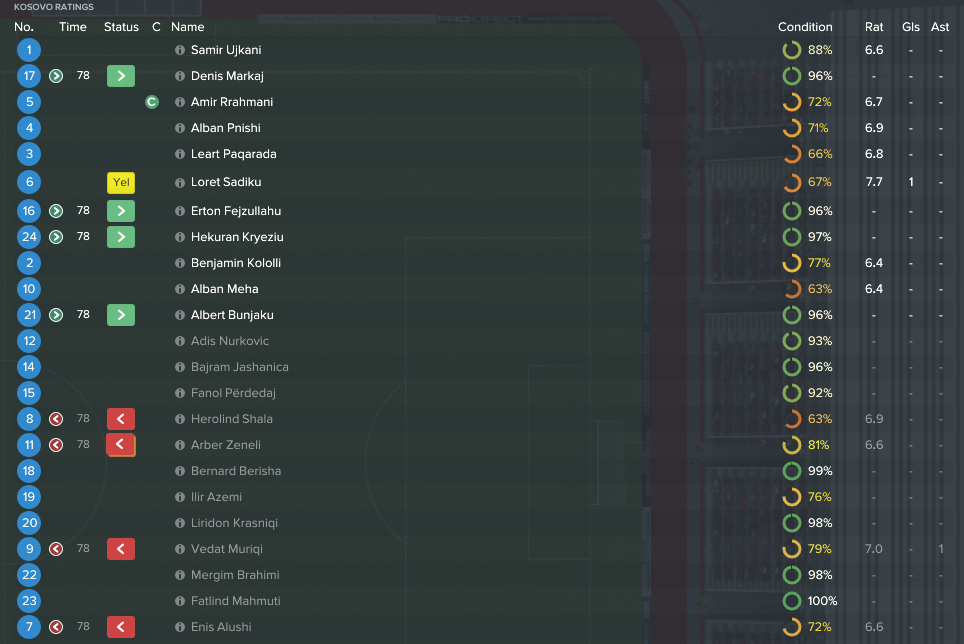 We round off the matches for the year by hosting Turkey at Gradski Stadion. There are 4,000 in attendance.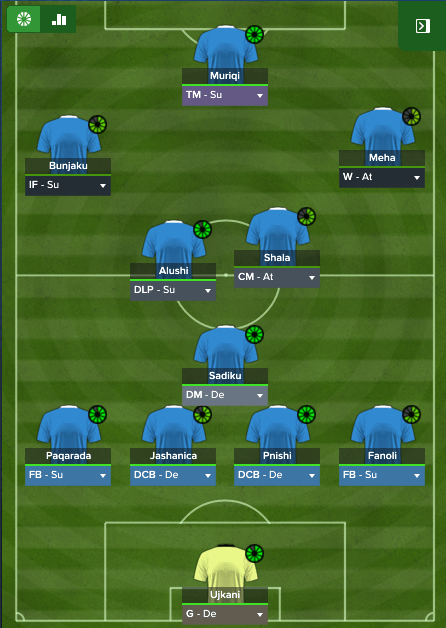 Turkey strike first through a controversial 23rd minute penalty.  Their leads lasts just twelve minutes as substitute Fejzullahu (who replaced the injured Shala) scores after a nice cut back from Meha on the right wing, 1-1 at the half time whistle. Turkey regain the lead and it's a cruel one as a cross from the right deflects in off debutant centre back Jashanica. Turkey go down to 10 men on 80 minutes so the players are instructed to push forward but 7 minutes later we lose a man ourselves through injury and having already used all our substitutes. It finishes 1-2 in Turkey's favour and this feels like a very sore one to lose.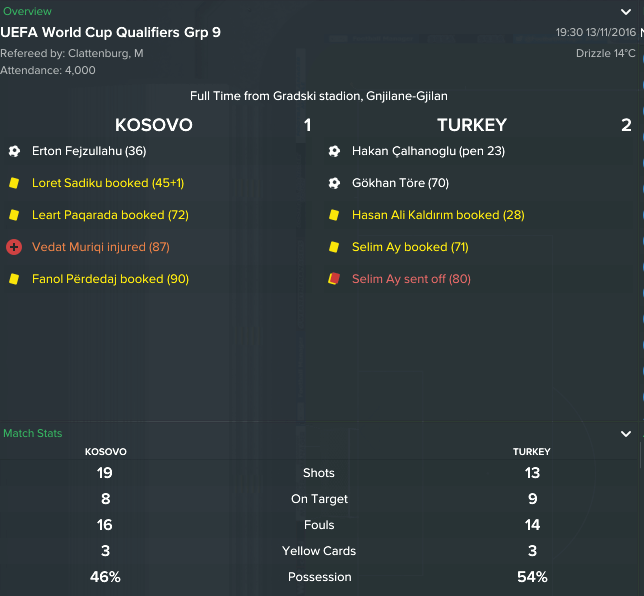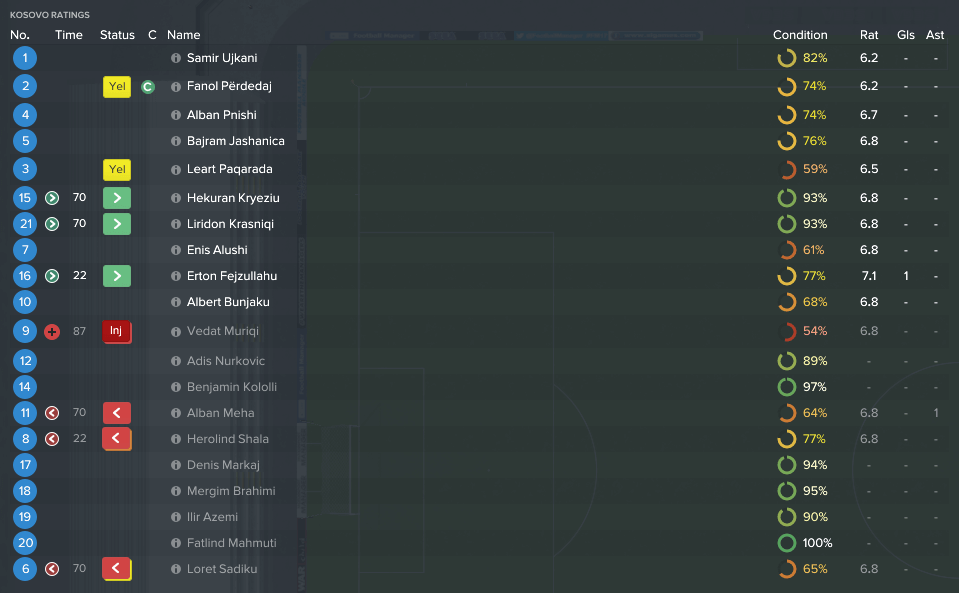 U19 friendly: Romania 3-1 Kosovo
The latest World Rankings are announced and we've dropped a further place to 191st!

Player Watch
03/11/16: Konyaspor (v Spartak Mocow, EL Group Stage)
Alban Meha starts at MCL and plays 90 minutes. Rating: 6.5
26/11/16: Skenderbeu (v KS Vllaznia Shkoder, Kategoria Superiore)
Bajram Jashanica starts at DCR playing 70 minutes and picking up a booking. Rating: 6.4
Leonit Abazi starts at ML and plays 90 minutes grabbing an assist. Rating: 7.0
December
December is a quiet month with no matches for Kosovo and no big news items.
Player Watch
11/12/16: Genclerbirligi (v Akhisar, Spor Toto Super Lig)
Verdat Muriqi picks up an injury pre-game and does not feature
14/12/16: Laci (v Korabi, Kategoria Superiore)
Faton Toski starts at MCL plays 90 minutes and captains his side. Rating: 6.9
25/12/16: Genclerbirligi v Kayserispor (Spor Toto Super Lig)
Vedat Muriqi (Genclerbirligi) starts at STCR and plays 64 minutes. Rating: 6.5
Ilir Azemi (Kayserispor) starts at STCL and plays 90 minutes, grabbing a goal. Rating: 7.0
2016 review
We played our first 6 games with two friendlies and four World Cup Qualifiers. One win in six games doesn't sound great on paper but the performances gave me a lot of hope.

We scored seven goals in those six games which was a lot more impression that I imagined given our stature. Valon Berisha scored two of those and is now one goal behind the record holder Albert Bunjaku.
I'm happy with our current tactical set up and feel it gives us the best option at the minute, we just need to get a bit of luck. That said, we will continue to explore alternative options in terms of how we send the team out to play.
The fans selected their Best XI for 2016 as follows: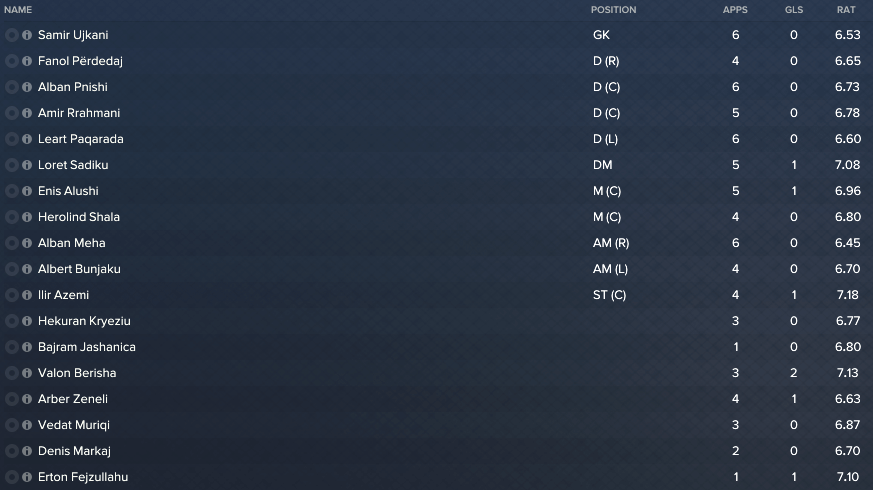 In terms of World Ranking we have actually gone down one place to 191st but I don't feel that is entirely reflective of our performances to date. Good things are to come…
Milestones Update
First goal: Ilir Azemi v Azerbaijan (Friendly 31/08/16)
First competitive goal: Enis Alushi v Finland (WCQ 08/10/16)
First clean sheet: Samir Ujkani v Azerbaijan (Friendly 31/08/16)
First competitive clean sheet:
First win: 1-0 v Azerbaijan (Friendly)
First competitive win:
Avoid finishing bottom of qualifying group:
Qualify for tournament finals:
Win a trophy:
Reach Top 100/50/20 in World Rankings:
Number 1 in World Rankings:
First player to reach 50/100 caps:
First player to score 10/20/50 goals:
===========
If you'd like to read more of my contributions to Tempo you can do so by clicking my author name a the top of this article. There you can also find links to my Twitter and my own blog where I am currently embarking on a long term save with Mallorca to topple the usual suspects in Spain! I'm always happy to discuss my saves and I'm more than happy to accept any pointers you might have! Thanks for reading.