Well, it's been a while, hasn't it? Time is limited and I had moved on to play a couple of different saves within the game before being drawn back to the Porto save. That in turn means that I'm back to updating the save on The Higher Tempo Press.
There are unconfirmed reports that this is only because I want to win the monthly prize being offered up by the site for the most read article….
As a reminder I am currently managing both Porto and Porto B in an effort to ensure there is a regular pathway for young players to progress through to the first team level. So far this has been a resounding success as you will see over the course of the next couple of updates.
This is purely a catch up post that will detail the end of my first season. After this I have scheduled two more posts that will bring you to the end of the summer transfer window and then update you on the top prospects at the club who we will be tracking during their time at the club.
First Team
At the end of the last update we were comfortably at the top of the league having barely dropped a point. As a reminder though this is not a save where lack of direct domestic competition is an issue since I am playing more to develop and bring through younger players.
How did the season end though?

As expected then we comfortably won the title finishing a grand total of twenty points ahead of our nearest challengers Sporting CP. The second half of the season was certainly less consistent than the first though as we contrived to drop points that we should not have.
I thought originally that Benfica would be by far our strongest rivals although their squad was weakened early on. Rio Ave were extremely impressive all season and were unlucky not to break in to the top 4.
There you go then. A double in my first season at the club may appear in the surface to be positive but we will still be disappointed to have gone out in the semi finals of the Taca De Portugal by Arouca.
Next season I will be looking to dominate domestically completely and not throw away the chance of another trophy.
We managed to reach the quarter finals of the Champions League where we were unfortunate to come across a very strong Barcelona side. That said we more than held our own over the two legs and if anything I would argue that we were unfortunate to come away with a 2-1 aggregate defeat.
In the second leg alone we hit the woodwork a total of three times and with a little more luck we could have been celebrating something of a famous victory.
This offers something of a decent barometer for the upcoming second season. Where I should be aiming in European competition is still something of an unknown to me but a quarter final place next season would be more than enough I think.
B Team
It was interesting for me managing a B team for the whole season where the overall focus is on development as opposed to actual results. Trying to balance playing time for each player through the course of the season to ensure that they are getting enough minutes took precedence over year but that's not to say that we weren't successful as a team.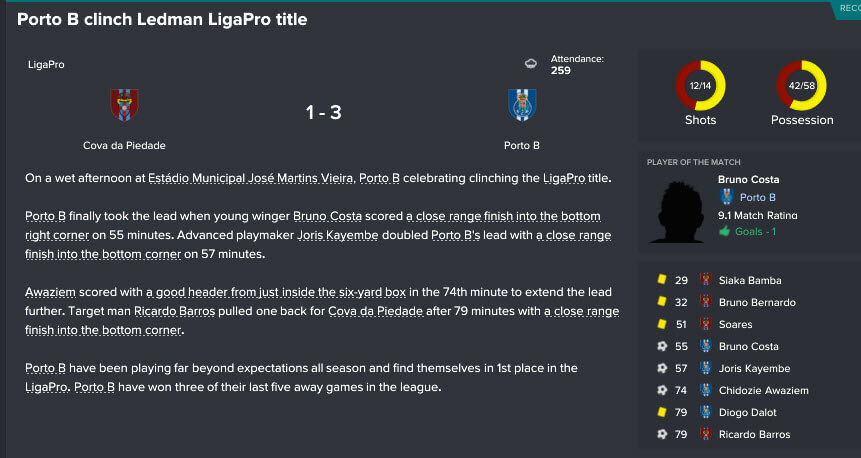 In front of 259 people we stuttered to the Ledman LigaPro title over a team that we really should have swept aside.
Over the course of the season several players spent the entire year in the B team but proved themselves more than ready to move up in to the first team squad including our top scorer, best defender and most creative midfielder – more on those squad changes in a later update though.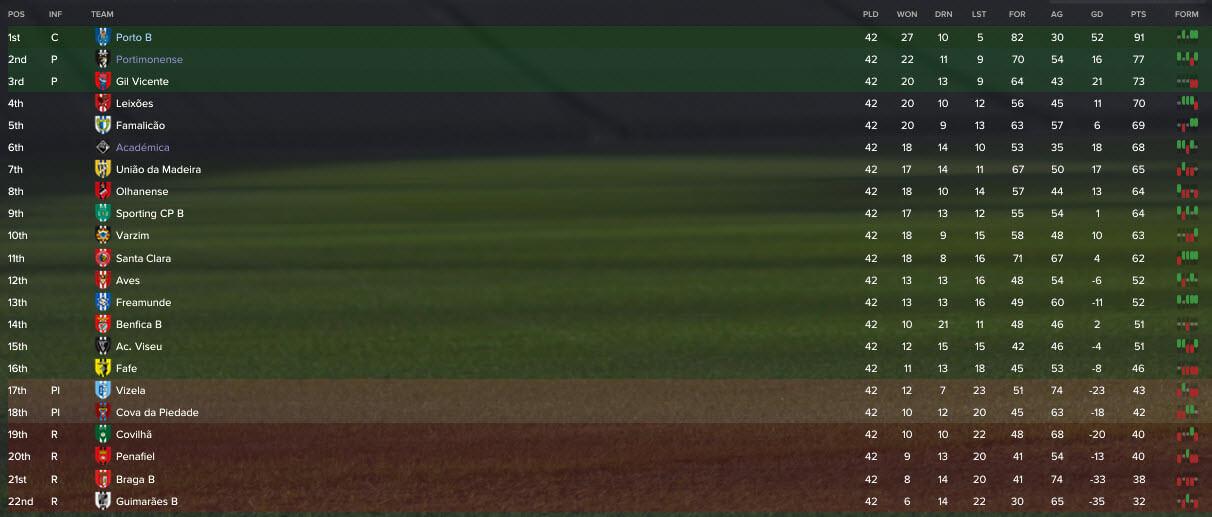 A very comfortable margin at the top of the table in the end.
Obviously as a B team we cannot get promoted to the top division due to competitive rules not allowing a club to have two teams in the same division. Instead we will simply look to finish as high as possible each season and give our players experience of winning.
In terms of whether he overachieved this season with the B team I think that it is fair to say that we did. When you consider that Sporting and Benfica also had their B teams in the division and they finished 9th and 14th respectively. That's from two sides that are better known as developers of domestic talent than we are.
End of season awards
First of all let's get the official awards out of the way (or at least the ones that I remembered to screenshot in game).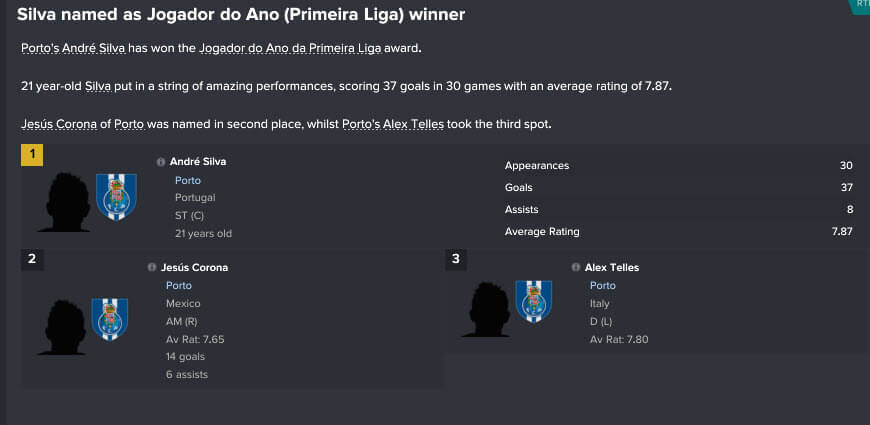 Fairly straightforward then with our goal machine striker Andre Silva winning the player of the year awards followed swiftly by two other Porto players in Jesus Corona and Alex Telles. Difficult for me to argue with any of the three although there is one difference in my own players of the season as you will see below.

Andre Silva also blew away all the competition for the European golden boot award. How long we can keep him at the club remains to be seen although luckily we already have two very talented young strikers who could even go on to surpass his achievements if he does leave.
My own players of the season are as follows.
3.) Jesus Corona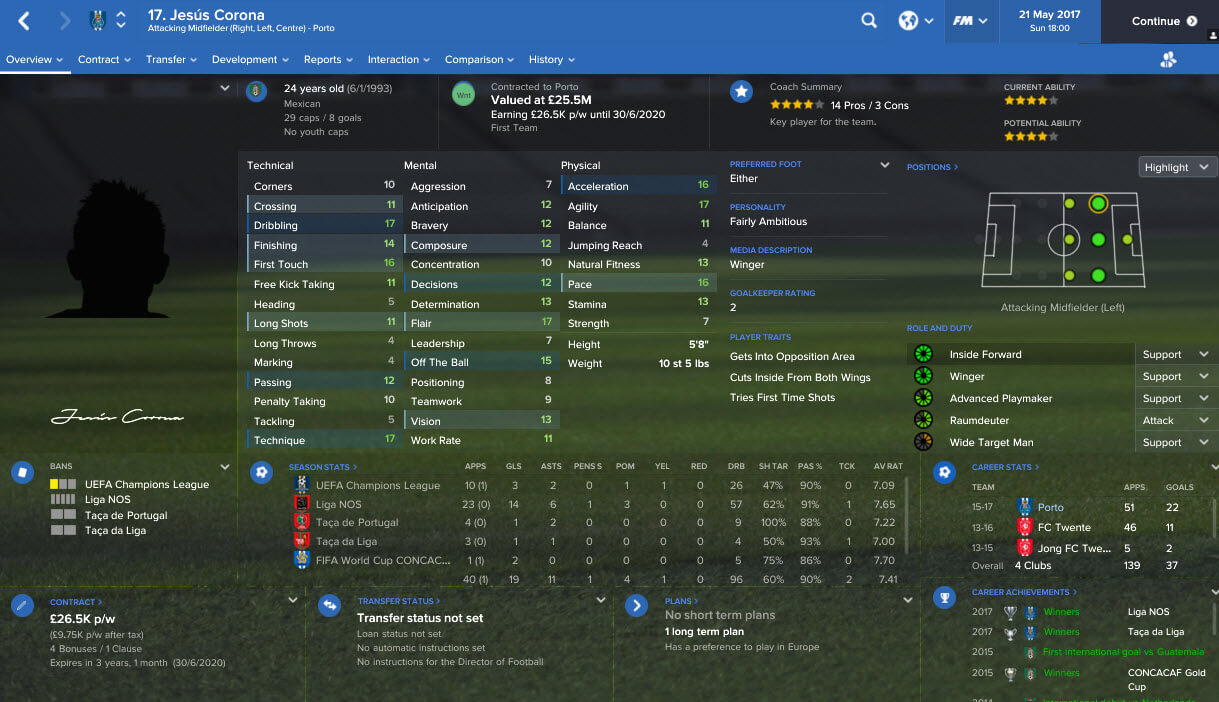 The Mexican winger was on fire over the first half of the season and completely pulled the opposition to pieces. He fell away slightly in the second stage of the season as other players picked up the slack.
There has also been significant interest in his services from some of European footballs bigger sides so it remains to be seen just how long we can keep him at the club for.
2.) Hector Herrera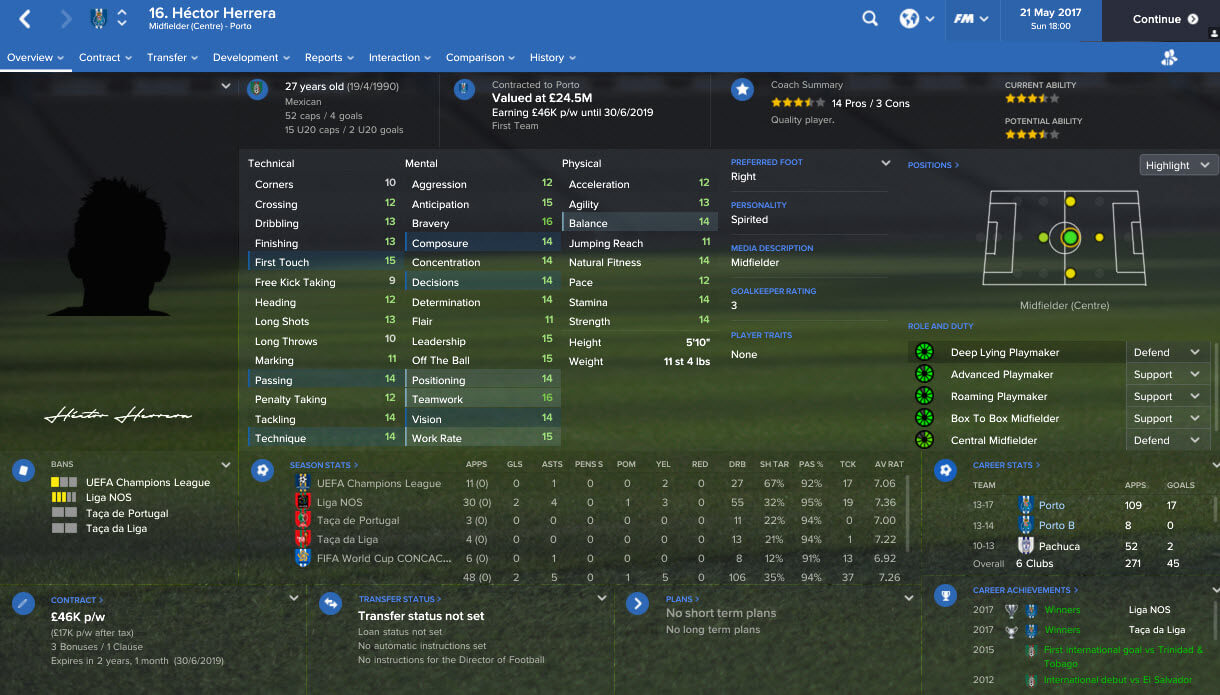 Another Mexican and this time the club captain. Herrera was perhaps the only player whose performance level never dropped from one week to the next. The perfect captain who even turned up from time to time with a timely goal or assist.
As with Corona teams have already been sniffing around and given his age profile if I got a reasonable offer I may well consider selling.
1.) Andre Silva
It couldn't really have been anyone else. More than a goal a game over the course of the season was a fantastic return. He was marvellously consistent and rarely missed a match over the season.
He will rotate slightly more over the course over our second season with the advancement of a striker from the B team. That is of course if he is still at the club amid significant interest.
There we have it then, apologies for the slightly disjointed nature of this latest post. I am trying to pick up from where I left off. I should have another post following this one within a couple of days.
As always if you have any questions then please use the comments section below or find me on twitter @FMAnalysis.
Thanks for reading.