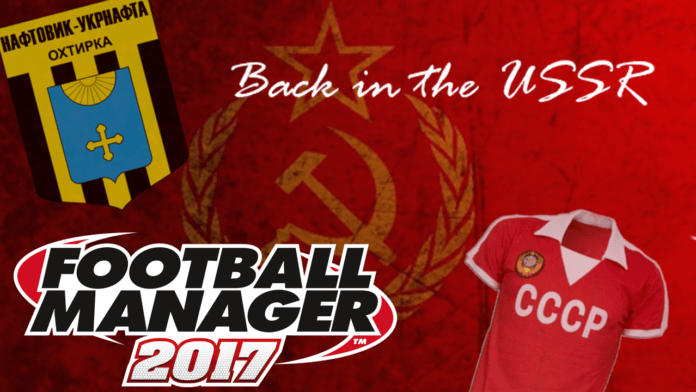 When I think of the great managerial debuts, my mind wanders fondly to memories of Alan Curbishley's  1-0 victory over Manchester United with West Ham in 2006, it can recall Jose Mourinho's 1-0 triumph over United in '04 and it can even remember Steve Clarke's emphatic start to life at West Brom with their 3-0 win over Liverpool in 2012.
These were all fantastic starts to life as a manager and I don't claim to know the secrets behind these great results, but I'm willing to bet every penny I have remaining in my Alliance & Leicester Building Society Account that, on the day of their first game in charge, just as they were about to submit their team sheet, their Assistant Manager didn't tap them on the shoulder and say this: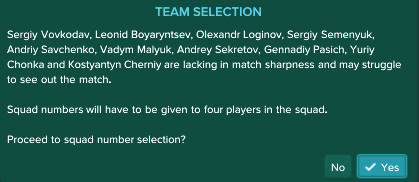 That really wasn't the best thing for him to say moments before my first ever game was about to start. I suppose we'll add 'startlingly bad at motivation' to his ever-lengthening list of flaws.
The game itself was a relatively quiet affair, considering the opposition had also only played two pre-season games, you assume that the game was comprised of two sets of teams shuffling around the pitch, wheezing – I'm surprised we didn't have an iron lung in the dugout.
Then, in the 32nd minute, a moment of history was made: a corner from Andrey Sekretov was swung in and the unstoppable force of Leonid Boyaryntsev met it with a thundering header. The keeper, rooted to the spot, could do nothing but despair as the ball flew into the top corner. We'd arrived. Bollocks to match fitness – we were winning!
Half time came and went, the lads ruddy LOVED my team talk, we were on top of the world, nothing could bring us down, nothing at all.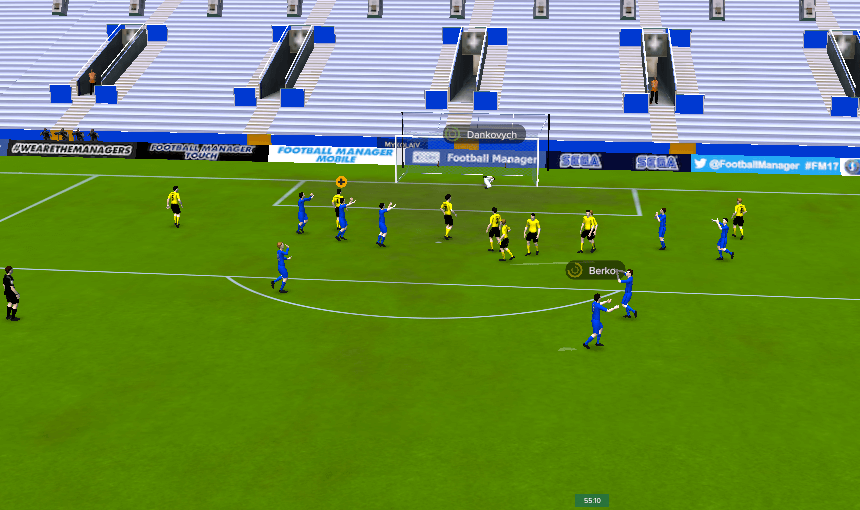 Ah.
Ok, well you can't save those – I mean literally; my keeper is so ropey I'm not sure he'd have saved it if I tied him up in exactly the right spot and covered him in PVA glue.
Despite this set back, I still felt we could get something out of the game – we switched things up and went a bit more attacking.
My players, despite being dreadful footballers themselves, could certainly recognise a player when they saw one in their ranks and as such almost all of our attacks came through Chonka – it's possible that they too wanted to shout 'A THRONKA FROM CHONKA!' who knows – and when a pinpoint cross came in from Chonks onto the head of Cherniy, I expected to see the net bulge. Instead, the Mykolaiv 'keeper pulled off a breathtaking save and we were forced to settle for a point.
On reflection though, a point for a side who, according to my number 2, were exhausted from simply getting off the coach wasn't a bad result at all.
The games come thick and fast in The Ukraine First Division, as there's an enormous four month winter break. So we've a couple of days rest before we come up against FC Ternopil.
They were beaten in their last game and I can smell blood… the more I think about it, the more I can actually smell blood, it might have something to do with this:

My frequent queries as to why someone with a sprained ankle is producing so much blood fall on deaf ears. I'm ushered from the physio's room, left to ponder how to proceed without my first choice striker.
Match day two arrives and my team is unchanged except for Ivan Sondey who replaces the injured Cherniy, his attributes are fairly similar so I can keep telling my players to lump balls into the box in the hope that he'll get on the end of it.
I'm told only two players are unlikely to see out the game this time, which – I think you'll agree – is an improvement.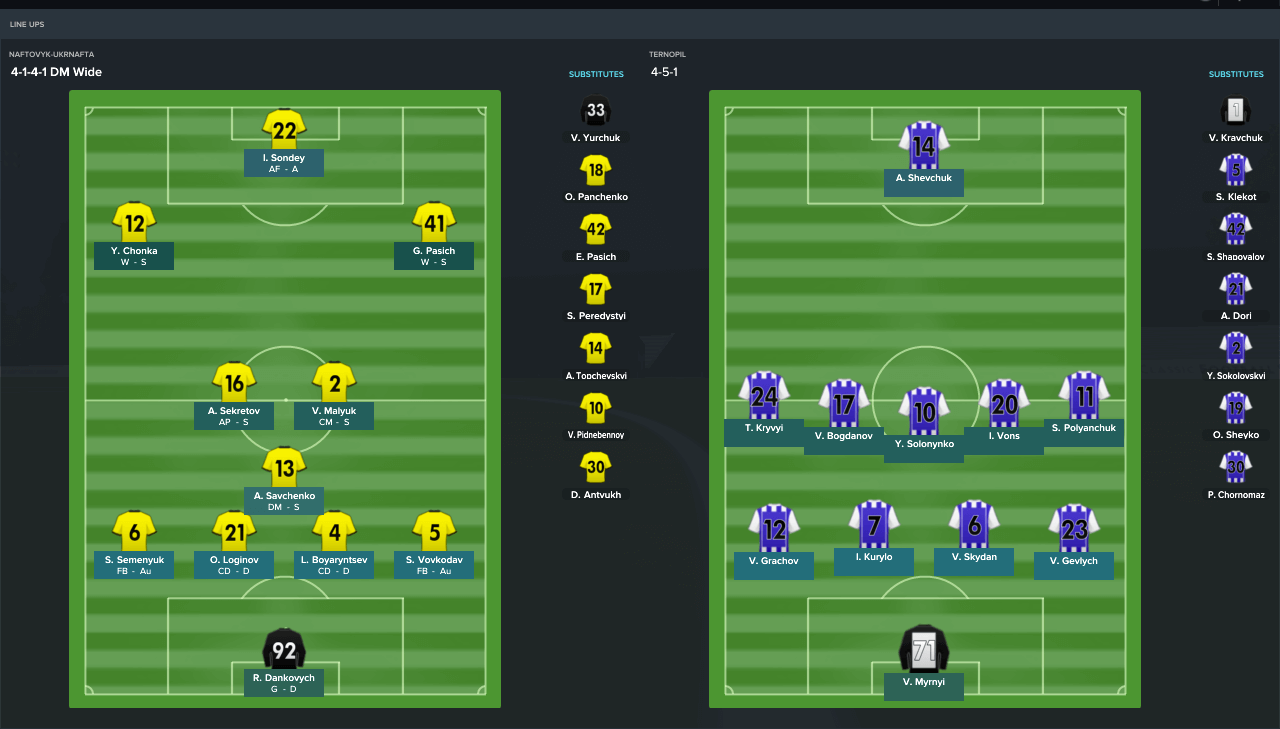 The result was never in doubt, we controlled proceedings from start to finish. It only took 15 minutes for us to take the lead: Chonka's delivery from a free kick was excellent, it found the head of Boyaryntsev whose header hit the post, the 'keeper, confused, could only palm the ball into the path of Vadym Malyuk who smashed it home from 6 yards. Another goal another set piece. Christ, we're becoming the Stoke of the Ukraine.
After the break, it was more of the same. Sondey, deputising for Cherniy, was played through shortly after the restart, but his shot was well saved. Soon after, Pasich was found in space by another excellent delivery from Chonka, but his shot flew wide of the post.
The only other noteworthy moment was a gash to the head of Sondey, this injury, at least, would provide an explanation for the alarming smell of blood emanating from the physio's room.
We've just enough time between games to ship out defender Olexandr Vechtomov, who just happened to be our Vice Captain. He was well below the frankly terrible standard of the first team and hadn't even made it into my 25 man squad.  As a reward for his impressive start to life with The Oilers, I hand the armband to fan favourite and owner of the greatest name: Yuriy Chonka. Don't let me down, Chonks.
Up next it's an away trip to Kolos Kovalivka and I see no reason to change a winning side. Despite Sondey's head injury I'm assured that he will be fine to play so long as he wears some protective head gear. As the players are getting ready, I notice that his 'protective gear' seems to consist of a large amount of bubble wrap, clumsily taped around his head but I've given up trying to get anywhere with the medical team. On with the game.
It's a poor start, our backs are against the wall from the first whistle and it takes Kolos just three minutes to get their goal. A low cross from deep evades my entire defence, who presumably spotted something shiny in the stands, and Bondarenko converts with ease. Things don't let up after that either, the home side poured forward at every opportunity. Luckily, since I sent my my assistant to remove all shiny objects from the crowd, my players are able to defend resolutely and we're rewarded for this after 35 minutes.
After some first class defending, we are able to break at pace. Pasich hurtles down the right wing and his cross is only half cleared to Sekretov who hits one. Now, I don't want to over sell it, but it's probably the BEST GOAL OF ALL TIME: a screamer from 20 yards which puts us right back in it.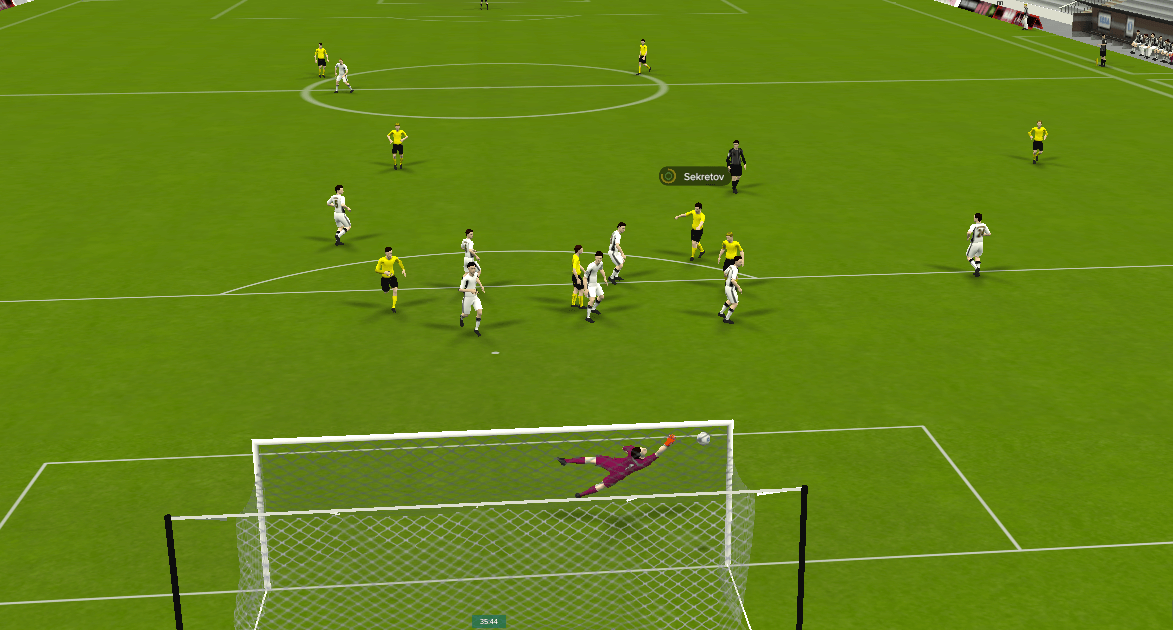 The trouble is, on the 65th minute, Andriy Shevchenko, sorry Savchenko,  picks up a second booking and we have to lock the game down to preserve our away point.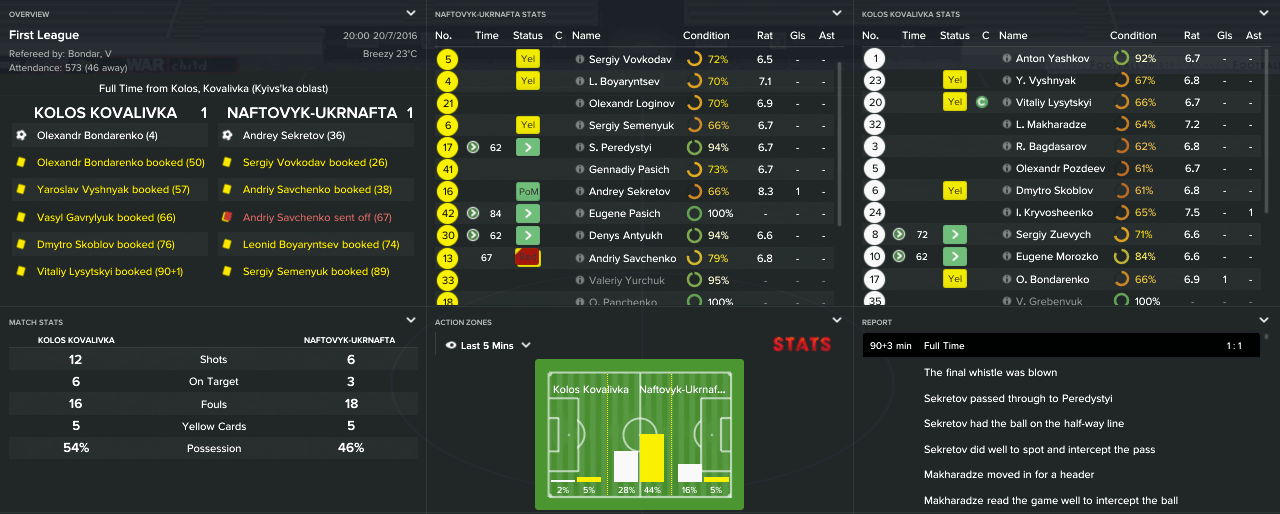 Still, I'm not too despondent. From our first three games we've come away with five points, which is hardly a disaster. Even so, there's still plenty to think about especially as Sondey hasn't performed particularly well. Then again perhaps he just can't hear with all that bubble wrap over his ears…
Like what you read? You can follow me on Twitter. Even if you didn't, why not follow anyway? You can always just hurl some abuse. You can also read the same piece again on my site The Mazy Drivel it'll have more content one day.
This blog and the decision to head into the unknown was, in part, due to YouTuber Cultured Left Foot's NK Maribor series