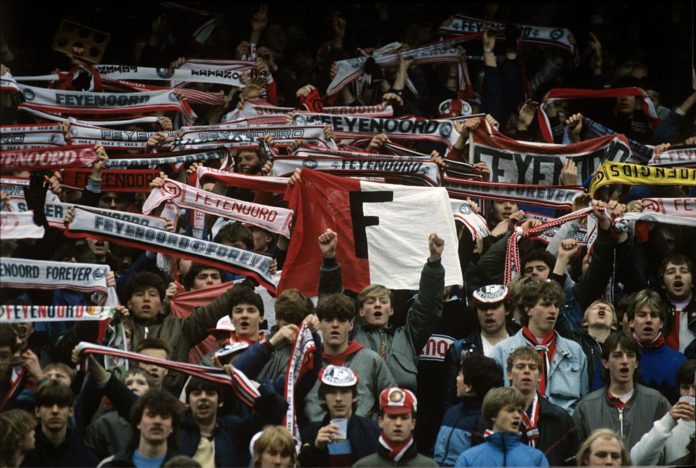 So, last post I talked about tentatively hanging on at the peak of the Eredivisie, whilst firing through the early rounds of the Europa League and Dutch Cup. Despite a questionable start, we were back on the straight-and-narrow. The squad had clicked, the new boys had settled in and the cohesive unit of my Dutch dreams were assembled – and ready to party.
Eredivisie:
During the first half of the season, we broke a club record for games unbeaten in all competitions – around 20. Little did I know, we were going to smash that again in the same season. We returned from the winter break with an iffy away game to FC Twente. They're one of those teams in my save that's a good team, but under performing massively; it makes setting up against them a bit of a ball-ache. Nevertheless, we won 5-3 at De Grolsch Veste and set the tone for the second half of our league campaign – winning; in notable cases, emphatically.
February was a tough month; with games vs. Ajax, Utrecht, Zwolle and our cross-city rivals Sparta Rotterdam. We ended the month unbeaten. I bet you can't guess who we dropped points against? Well, tough; it was Ajax. The bastards. We're still yet to beat them during the save. I'm not sure what it is about them that turns Kevin Lasagna, Richairo Zivkovic and Dirk Kuyt into a squadron of storm troopers trying to hit Luke and Leia in front of goal. Regardless, we ended our toughest month with a 3 point cushion on PSV; which, I was very happy with, bar a broken wrist for Richairo Zivkovic which would see him wearing a protective cast for 8 weeks.
We had 8 games to go – amongst a growing amount of fixture congestion – to work our way towards Feyenoord's first title in 19 years. Afterall, Rotterdam's great at working; which also lead to us doing some partying too, at the expense of the other two over in Eindhoven and Amsterdam.
We finished the season with 7 wins and 1 draw for the 8 games remaining – winning the season at a canter with a record points total. It was a brilliant, and as you'll see in further competitions, a crazy season. Zivkovic and Lasagna spearheaded the joint best attack in the league, whilst Fabricio and Van Aken were the heart of the best defence. My initial Vilhena replacement Gabriel Xavier came up clutch in the absence of Nathan through injury; with Ajer, Toornstra and Bentancur proving to be a brilliantly balanced trio.
We hammered Heracles, who I heralded as the bogiest of bogy teams last season. When they took the lead, I was convinced this was my Liverpool vs. Chelsea moment. But, we showed more character – ironic, eh? – and stormed to a 4-1 win. The rest of the results were pretty routine, apart from our trip to the Phillips Stadion. I rested quite a few players due to the fixture being bookended by two Europa League fixtures. The aim was to stay compact and to avoid defeat at all costs – which we did. We kept the ball and killed the game; making PSV look like nothing in the process. That cemented the title in my eyes, just for it to be confirmed after we beat Den Haag the week after.
The league campaign embodied the blueprint I laid when I first started the save. Just a season in, and the sales of our best individuals gave us the flexibility in the market to build a team. The team as a unit prevailed; exemplified by the fact that despite winning the league so comfortably, and having the joint best attack in the league, we still didn't have a player in the league's top three scorers. Rotterdam is partying, whilst Amsterdam has some work to do. ­­

Europa League:
Picking up where I left off, we were drawn vs. Bordeaux after surprisingly dominating our group. I was greeted by a deceivingly solid team; boasting the likes of Malcolm and Rene-Adelaide. Their attacking talent did cause us problems, after all, they did score 4 goals over the two legs. But we scored 12. I was surprised. A virtual world was surprised. We massacred Bordeaux 8-2 at De Kuip – probably one of the most enjoyable games I've watched on FM.
We then drew Borrussia Monchengladbach – that German team. At the time, they were sat atop the Bundesliga table and would go onto win it. But, they wouldn't be winning the Europa League. A heroic hat-trick from Kevin Lasagna earned us a not-so-deserved 3-3 draw in Germany. We followed that up with a very composed 2-1 win in Rotterdam. The eventual Dutch champions had toppled the eventual German champions. We were breaking wall-after-wall; but soon, one had to be lined with Rebar.
Next up: Galatasary. The banana skin? Nope. We continued our groove; marching to the rhythm of Lasagna and Co. into the semi-finals with a 4-2 aggregate win – 1-1 in Istanbul, 3-1 in Rotterdam.
Now came Lyon. This one was going to be tough. They're stacked with talent still present from 2016; the likes of Mammana, Tolisso, Fekir and of course, Lacazette. I knew with Fekir and Lacazette they'd try to get in behind me, so I made sure not to be too adventurous with my backline. I went with my standard setup for the home game; short passing, high-tempo pressing with a standard backline. It worked a treat and we won 3-0 going into the second leg in Lyon.
Surely we weren't going to be beaten 4-0? With a tandem push on all fronts, I had decisions to make. I dropped my full-backs back, dropped the backline deeper and switched to control to take more risks and kill the tie off. I also took the big risk, and rested a few starters. The season was long – we had played European qualifiers, gone all the way in the Europa League and were part of a competitive trident spearheading the Eredivisie. Nevertheless, the tactical switch worked a treat. We got our away goal, and a win. Completely nullifying Lyon was a testament to my defence. My moneyballin' had paid off and our centre-back pairing that cost a fraction of what we sold Van Beek for were proving to be one of the best in Europe. We were going to Wembley, to face Bayer Leverkusen.
Wembley was ready. Ready for the biggest European twatting since Barcelona gave Manchester United a football lesson in 2011 – soz, not soz. We went back to our same old style: flying wing-backs, high-tempo pressing and being bastards. Gabriel Xavier – who I have an irrational soft spot for – opened the scoring in the 3rd minute and we didn't stop. It was Lasagna, then Karsdorp, then Bentancur and then Bentancur again. The game ended 5-1. I like to think the virtual Wembley walls were painted with the turf of boots thrown by virtual Roger Schmidt. We were European cup winners, we were treble winners.
Dutch Cup:
The treble was completed with the Dutch Cup. It was a fairly straightforward run. I like this thing we're doing at the moment: making winning look easy. It seems as though my investment in work-rate, teamwork and bravery has paid dividends in just a year.
We beat Groningen away in the semi-final, which, final aside was the most notable result of the cup run given the season Groningen had. We came up against a resilient Zwolle in the final; a team who, despite me prolifically beating, do cause us defensive problems whenever we come up against them.
Zwolle decided to set up rather negatively, allowing me to up the tempo and tire them out as the game went on. We got our reward when Richairo Zivkovic delivered a hammer-blow in the 83rd minute to crush Zwolle dreams.

Conclusion:
This has been a long post, after a long season. I'm not going to go into the nitty-gritty of development and recruitment – I'll do that next time.
The season was a resounding success; resulting in Dirk Kuyt finishing his career by lifting the treble at the club that gave him the platform to shine. The season was an amalgamation of a blueprint that is embodied by Dirk Kuyt – work-rate, bravery and teamwork. Transfer and recruitment policy were coupled together to sign Gabriel Xavier, Kristoffer Ajer, Roberto Bentancur, Nathan, Fabricio, Van Aken, Zivkovic and Lasagna – all of whom were vital cogs of the treble-winning machine.
Anyway, for now, Rotterdam's partying.
==========
If you enjoyed that, make sure you don't miss the next part by signing up to the Tempo daily round up!