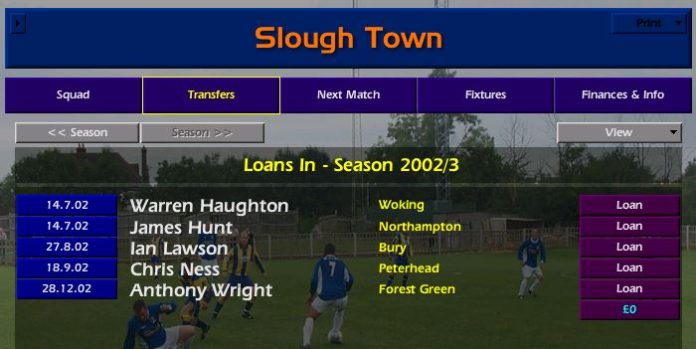 Is this the final part of the CM01/02 no money challenge? Kicks for Free has certainly been an eye opener, and whilst we aren't quite ready to have a Band Aid song in our honour, which of our two penniless fools will be singing by the end of this? Dave's Scunthorpe go looking for promotion to Division 1, whilst Ross' Slough battle relegation from the Conference.
Have either of you been able to strengthen your sides heading into the New Year?
Dave: No. John Karelse left as his loan expired, and I had to sign Ian Bennett as a replacement. Ian Bennett is terrible. I did however sign this guy who thought Scunthorpe was the place to be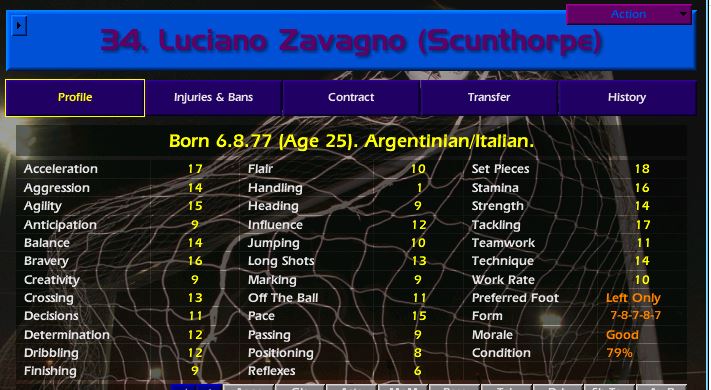 The scouts also find a Finland International out of work, he's a right back so it's goodbye Lloyd Doyley who gets a 3 month injury.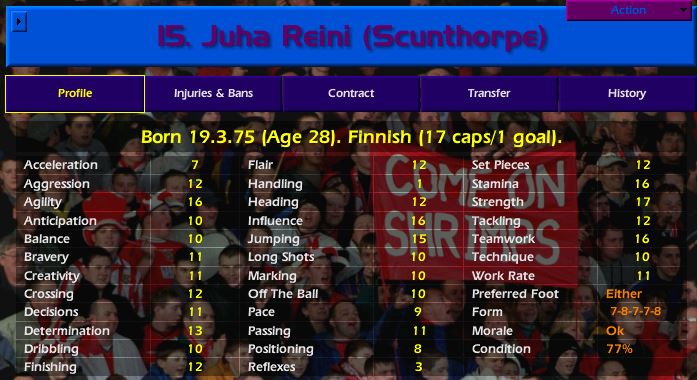 Ross: You're allowed 5 loans in a season, unfortunately I had used them all by December 28th. So I'm stuck with what I've got, even though I think it is an achievement to have convinced 5 people to join Slough in such a short space of time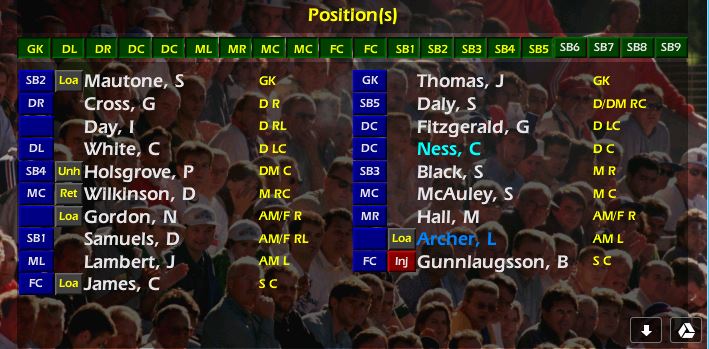 The all-important question then – how has it gone!?
Ross: I enter the last half of the season knowing full well staying up is a long shot.
So I've decided to go all-out attack and have fun. Whether the players like im not sure. Will the chairman like it, again im not sure. What am I getting my wife for xmas again…. you get the picture.
We start the new with something that would, if it happened in the prem, be shown classic football for about 50 years.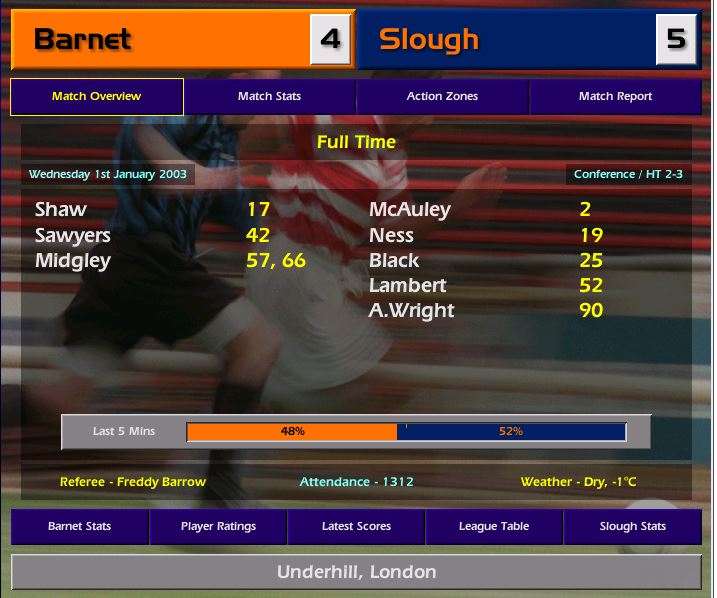 Even at 4-5 in the 90th min I was sure I wouldn't win it. Just shows the predicament I'm in with Slough.
Chris Ness is doing his reputation no harm. 5 goals and my top scorer from CB.
To say the next few months are hard for would be an understatement. We go 8 games before our next point.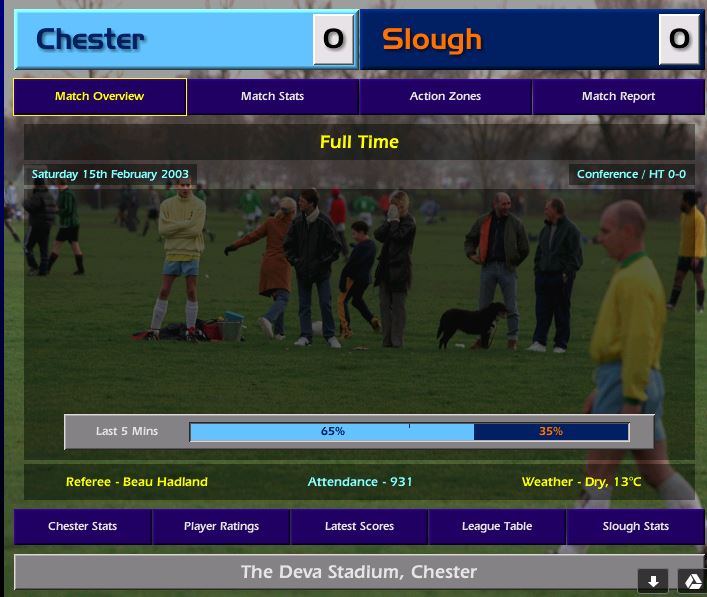 A bottom of the table clash of the non-titans. 931 people have their Saturday afternoon wasted.
The 0-0 is a little rest bite for us. As three games later we do something I'd never thought we would do again:
Terry Grant the hero, yet still doesn't get MOM!
Sadly this was it. The next few months we unravel like a poorly put together orange. I throw caution to the wind but it just slaps me back I the face
The draw with Dover proves a high point and even Barnet get revenge for the new year thriller.
Eric Morecambe's team give me no sunshine as they condemn my brave Slough to relegation.
The table shows no lies and I can't really complain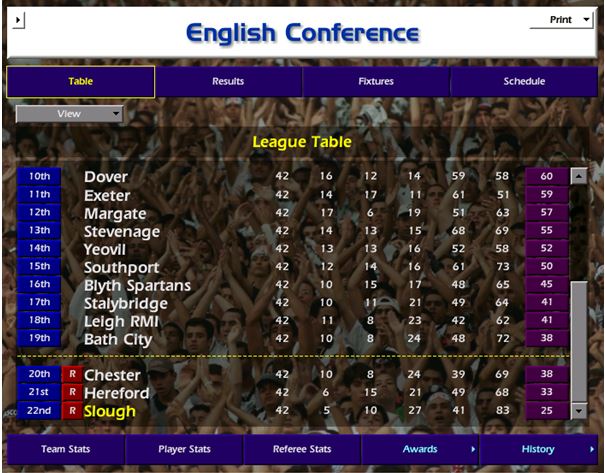 A full 14 points from safety. The board still want me to say but I retire. Hull was a bad experience but this hurt more.
Dave: We have a mighty injury crisis which is caused by the sheer number of games. We're a victim of our own success as we reach the FA Cup 5th round
And the Quarters…

Before taking Sheffield Wednesday to a quarter final replay, where we are soundly beaten.
Sheff Wed go on to beat Leeds in the semis and Arsenal in the final, so that's good.
Anyway, since Karelse left and Ian Bennett came in we've become very, very leaky. So leaky we drop from 2nd to 6th and hanging on to a playoff place
So few clean sheets. So few pieces of good news. Well, except that we are in the playoffs!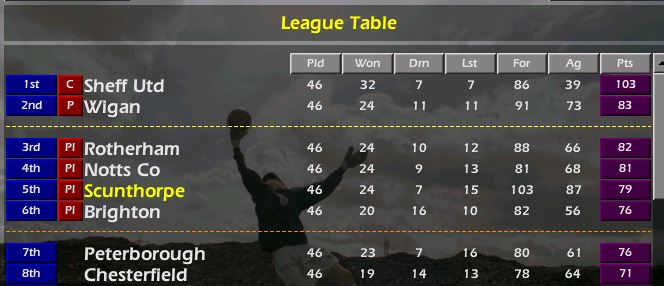 Look at those goals for and against. I don't know whether to laugh or cry. To celebrate, I drop Ian Bennett and in comes Evans, who starts the game at the club. After a 2-2 at Glanford Park, we finally remember how to play in the nick of time.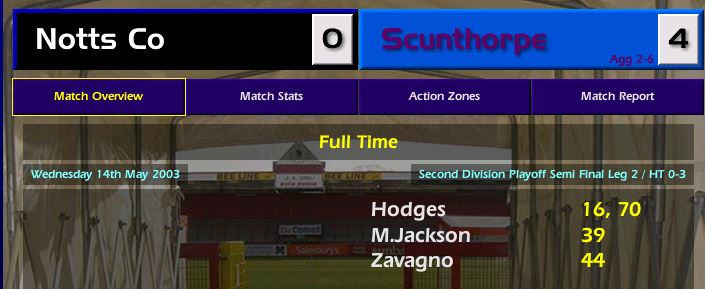 Remarkably, we're off to Wembley. We've had some right battles with Brighton all season but the main man Lee Hodges is the toast of Scunthorpe. We're going up!
Hodges is a true hero but some others can hold their heads high
Any final thoughts?
Dave: I'm pleased to end on a high. We'd have found the top division very tough going unless I could find a decent keeper and at least one centre back to help me out, and for free there's usually other teams with more clout sniffing around. I think I made good use of the scouts, they certainly helped.
I can't take any credit for the save, this was Ross' brainchild but it was a pleasure to give something different a go. There's not many multi-person saves out there but I think we gave it a good go. Hopefully you think so too.
Ross: I end this by saying the no money idea was very very hard. But very enjoyable.
I want to thank Dave loads to the chance to work with him and hopefully one day we can do something again. I'm going solo now and hopefully I've built up a few followers to mean it's not just my mum reading this.
=====
So will they be back?  Sign up to the Tempo newsletter to find out!