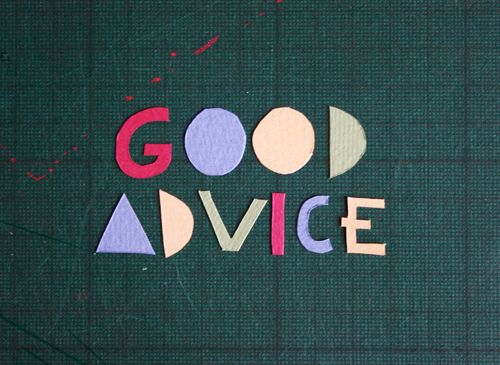 After the humiliation of thrashing our Under 23s 1-0, me and the lads are jetting off to Holland for a pre-season tour. I might have said it was France in a previous update, forgive me, not only am I tactically inept I also don't know where I am.
Speaking of the Dutch, Vernon Anita has signed a new contract. I am relieved, quite frankly. His versatility could be vital over such a long season. I've had some good advice on Twitter which I've scribbled down in my notebook and I've researched some set pieces. Here's what we've been working on: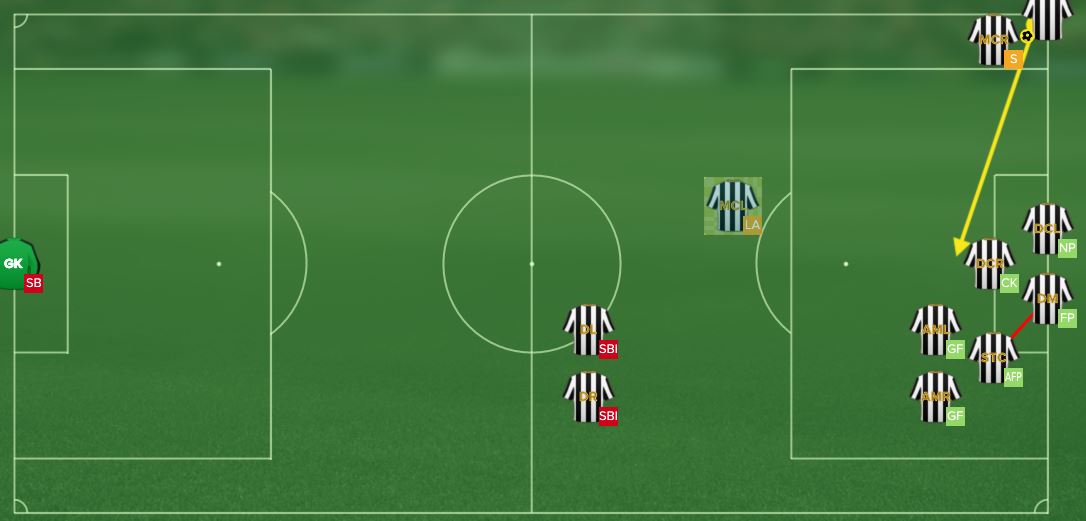 Fascinating I know. That arrow might look like it's aiming for the one area I have nobody, but it might not be. We'll see. Our first game is against Dutch giants Feyenoord, which is some sort of sick joke. On another note, young Freddie Woodman is off to Oxford on loan. I've got two great keepers for this level and Rob Elliot is on the way back, so he can develop nicely at Oxford.
DeAndre Yedlin's got a hernia. Hopefully not from the flight. The delightfully named Scott Diaper tells everyone not to shit themselves

Game day is here and after a couple of days training in Rotterdam, I'm quite relaxed about the whole thing. Maybe it's the famous Dutch air but I've had good advice, which is scrawled here: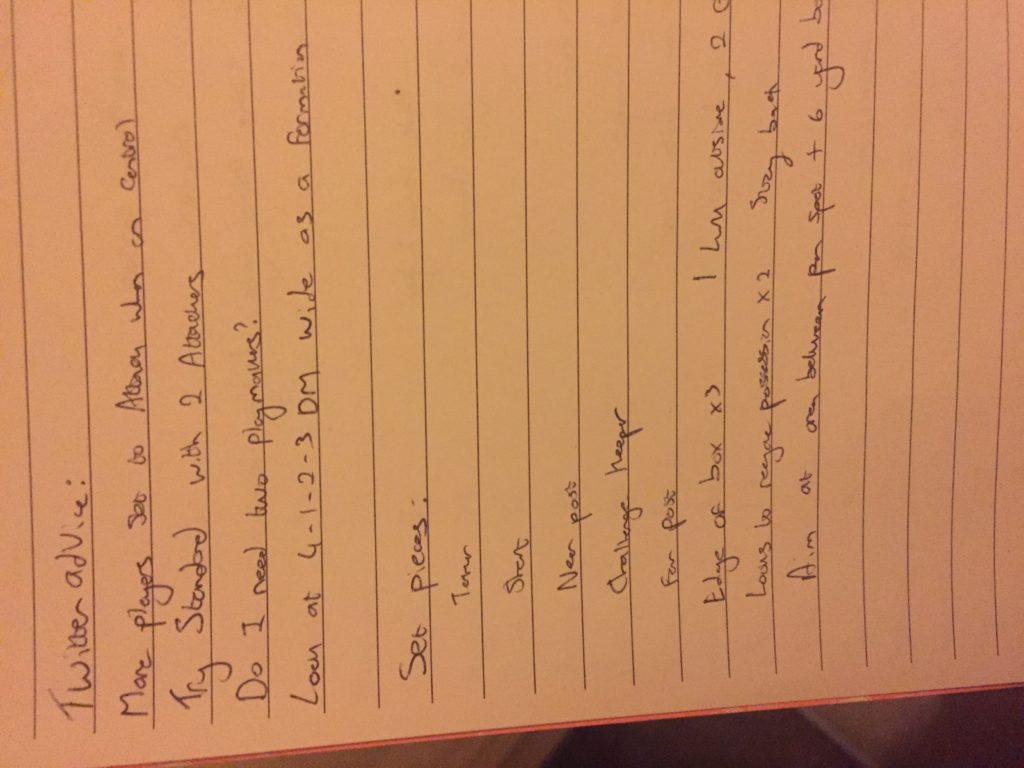 With that in mind, here's how I'm setting up. Counter attack and patience.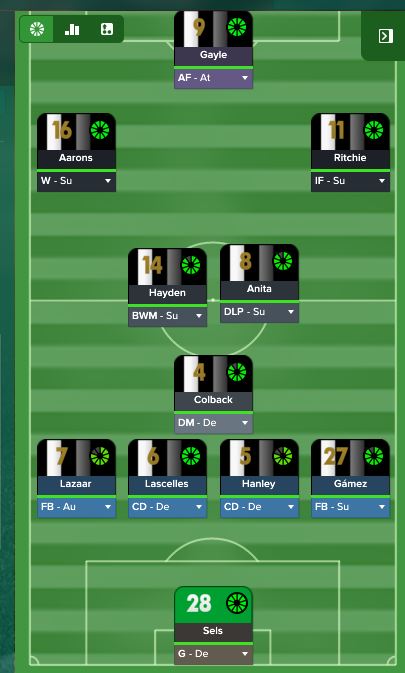 They're playing a 4-2-3-1 not too dissimilar to my other tactic. I bet theirs works though.
At half time, I'm grinning like a Cheshire cat. We're miles away from that grim day at Whitley Park. We're 1-0 up through Dwight Gayle, we've had a header off the line from a corner and I'm pleased. It's only pre-season but this is as good as it might ever get. The feedback is we need to keep the ball more, so I've asked us to retain possession. I'll make changes on the hour at which point I can blame substitutions for any demise. I tell the lads to keep it up and send them on their way.
At 2-0 up, we should have won. Feyenoord clawed two goals back though and a draw is ok. A lot of changes were made and I'll not lose too much sleep at the result, but both goals came from their right winger once Clark came on at left centre back. That's something to think about.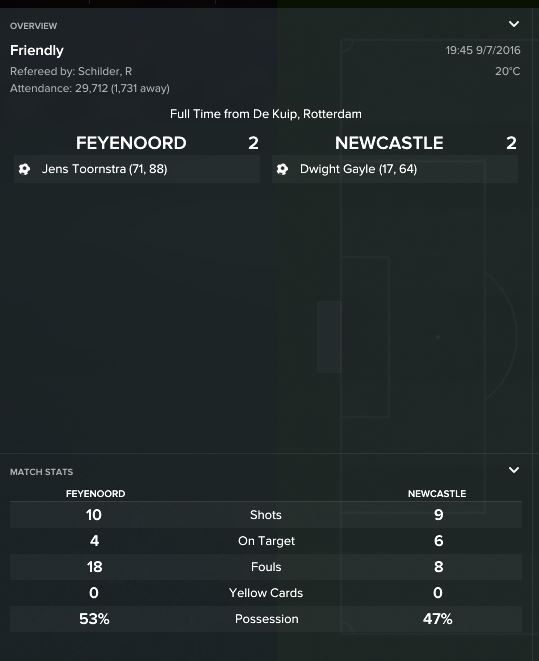 This sort of sums it all up

Next up after a couple of days is NAC Breda. I'm going to keep the same formation but change the personnel, and with that a couple of player instructions. Here's what we're going with: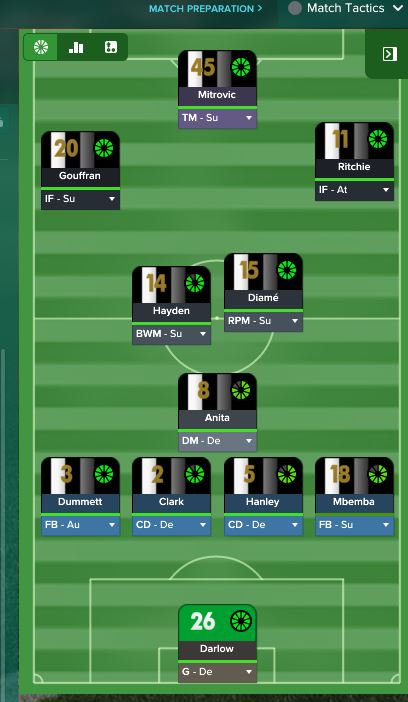 We're a body light in midfield and on the wing, in my opinion, so I'll dip into the market properly shortly.
Half time and I'm happy again! Gouffran made use of his inside forward status to stroll inside and hammer a shot home. Good man. It's been a bit dire aside from that moment though, the target man system hasn't been great. I'll give it 15 before changing things up.
It stayed 1-0! A clean sheet and a win on the road. Yes, it's pre-season, but this is what we're building towards.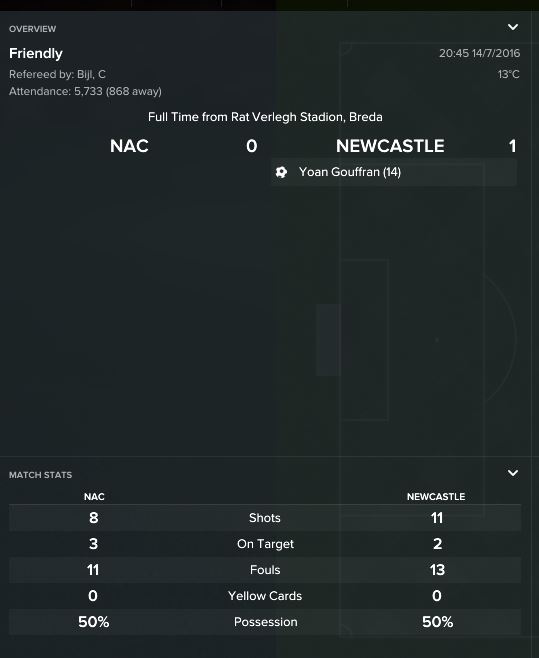 Jolly good. Progress is being made, but I need reinforcements. Particularly if we play three in central midfield, I don't think Shelvey and Diame can play in the same side, then there's only Colback and Hayden to do the other two roles. We need more.
A quick look at the market and there's Leon Osman on a freebie, but he's a playmaker too really and not what I need. Mulumbu of Norwich is in our price range but would they sell to a rival? He's 3.5 stars so I've made an enquiry, but he's 29 so the board will probably go mad if I sign him. I've sent the scouts out looking for somebody suitable. Tiote is still on the books of course, and he could become an option if nobody takes him.
The last friendly of this update sees us visit the delightful FC Dordrecht. We're going standard rather than counter and a certain Ivorian is in the side.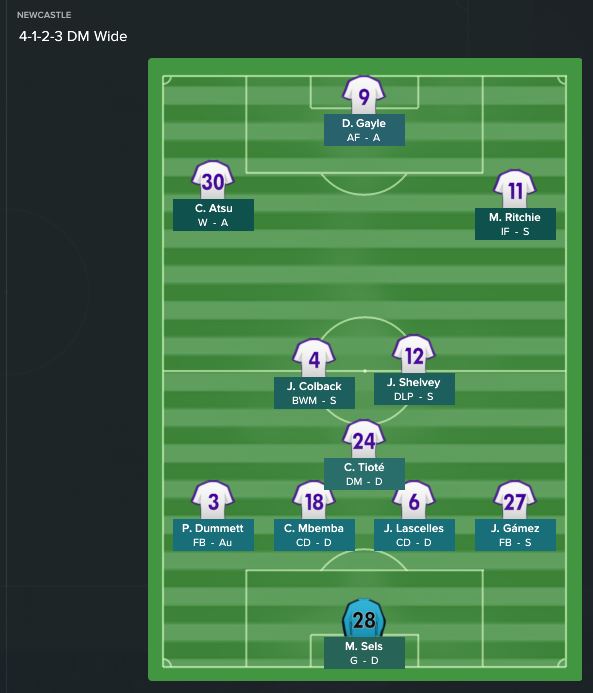 We won't be winning any entertainment awards, but we're starting to get somewhere. A 1-0 win, this time Gayle racing onto a ball over the top early on, and a bother free game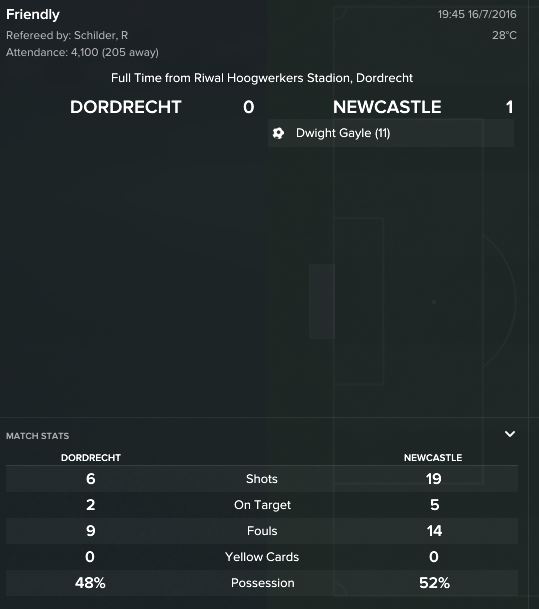 So, there's one game of the Dutch tour left before we head home to face Napoli at St James'. Who arranged that!? Things to work on – Antia is still going mad about defending set pieces, and I need to get cracking in the transfer market. Tiote didn't play bad but is he up for the challenge? I guess we'll find out next time! I've come through this update unscathed, somehow, which I'm taking as progress.
I'll be back after Christmas, so here's wishing you all the best
====
If you enjoyed this, make sure you never miss another post by following us on our Facebook, Twitter and daily newsletter!