Okay, so it's hardly the most exciting element of Football Manager, but in-game or touchline team talks should not be overlooked. I am aware that many players of the game rarely use this concept, if at all, but I really must advocate it.
I use the team talks in two scenarios; when I'm getting the result I want, and when I'm not. Simple really. I use the team talks all the time, as many as I can in each match that my team plays.
What they are and when to use them:
Encourage: Offer encouragement to your players and boost their moral. (Use when not getting the result you want from the game.)
Calm Down: Instruct your players to calm down in an effort to avoid yellow and red cards. (Use when multiple players are booked, and the team is giving away a number of fouls, goes hand in hand with the 'stay on feet' team instruction.)
Get Creative: Give your players more creative freedom in the hope they can fashion goalscoring opportunities. (Use when your team is struggling to create chances, goes well with the 'be more expressive' team instruction.)
Concentrate: Remind your players to stay switched on and focused on the task at hand. (Use when achieving a result as an underdog, or when holding a narrow lead late on).
Show Some Passion: Insist your players show some passion and put their bodies on the line for the shirt. (Use when your players seem not to care about the result and you need them to try and get back in the game).
No Pressure: Encourage your players to relax in the hope that they play without fear. (Use in a important game, or a game you are not favourites for, to try and relax your players).
Tighten Up: Shift your player focus towards defending. (Use when leading a game and are looking to sure things up defensively. Will invite pressure, though!)
Push Forward: Shift your players focus towards attacking. (Use when trailing, running out of time, and need to get back in the game. You may find yourself open to a counter attack.)
Demand More: Demand your players work harder. (Use when players aren't really trying, and aren't fussed about the result, but you need improvement.)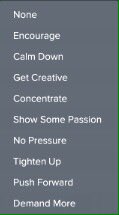 Why and what to use them, as well as scenarios:
In-game team talks can really help in getting the result that you're after, be it a win or just settling for a singular point. They are a fantastic tool to give you're players out on the field that boost or instruction that can spur them on get get all three points, or to keep it tight at the back and ensure that you don't come away empty-handed.
For example, if I'm playing at home against I side I really should be beating and its still 0-0, even after 20 minutes, I'll use a team talk to give the players that boost to help them on their way. In this case I'dassertively'encourage' the players so the team won't feel overly pressured by my comments, and equally they won't feel the need to push forward to much and risk conceding, but instead will have received an 'egging on', if you like, from their manager. I'd also use this team talk as soon as my team go 1-0 down, or are pegged back to level terms, to get them up and running again and stop the heads dropping.
If, on the other hand, I'm a goal up in a match in which I was underdog for, I'd assertively instruct my players to 'concentrate' as soon as the ball hit the back of the net, so we don't get pegged back quickly or concede a sloppy goal, I'd also use this instruction if I'm getting a favourable result in the closing stages of a game, and looking to sure it up at the back but without limiting my team to solely defending and inviting pressure, as 'tighten up' would do. Another scenario in which I'd use this team talk is if my side concede a goal which slims their lead, so as to prevent the comeback from the opposition.
Sadly though, things are not always this rosy, and sometimes you will find yourself on the wrong of a two or more goal lead, it which case I've often opted to aggressively 'encourage' my players or to 'push forward'. This is so that the players are aware that they have to improve and to push them towards this end. Hopefully, when we've got the ball rolling on our comeback in the game by netting a goal then I'll passionately tell my players to 'show some passion' so that the lads are up for the fight to get back on level terms.
There you have it then, the when, the why, the what (a throw back to primary school newspaper reports I had to do) of touchline team talks in FM.
Drop a comment to let us know how you are getting on in your saves, and if this has helped you out.
And of course, remember to check back to www.theealingroad.wordpress.com to see what else I've been writing about. Oh, and follow me on Twitter!
– Stan
Stan is now known to aggressively instruct his players to 'show some passion' when watching the local U8s play, after writing this article.