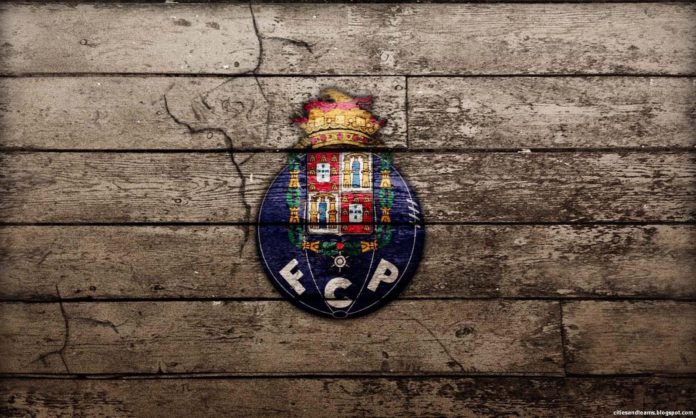 Welcome to the first 'real' update of the Porto Promise (credit to the site owner and general creative guru Chris Darwen for the title). For those that have not followed a written Football Manager series from me before I tend to update the game information twice a season, at the half way point and at the end. Interspersed amongst those will be a series of other reports looking in depth at various aspects of the save.
So, how have the first six months at Porto gone? Well they've gone pretty much as expected to be honest. I may actually write something else on this at some point but personally I am getting the feeling that FM17 is actually a lot easier than previous versions of the game.
First of all let's look at the transfer business that we have conducted so far. First of all players going out.

Nothing really to write home about with five players departing from the first team squad. Varela, Depoitre and Evandro were all surplus to requirements and with my tendency to run a small first team squad they were allowed to leave.
Max Pereira on the other hand would have been a valued member of my squad but when I rejected an initial advance from Barcelona for his services he made it clear that he wanted to be allowed to leave. Given his age and the fact that he would have been primarily a back up I allowed him to go for a nominal fee.
This transfer actually allowed me to put in place the first example of squad management that should become key for this save. As he left he created space in the first team squad for one of our younger players.
Fernando Fonseca (click name to see profile) moves up from the B team to the first team. He still has some development ahead of him but as a back up on the right hand side he will receive significant game time that should aid his development. With that move in place it created a space in the B team squad for Diogo Dalot to step in to. At just 17 Dalot is arguably the better prospect but by creating a chain of movements in this manner I want to insert contingency plans in to every area of the first team squad in case we lose an important player.
The loss of Danilo Pereira on the other hand was unavoidable. My tactical system only allows for two central midfielders and both operate from the central midfield strata. Pereira rotated with Ruben Neves in one of the slots but was unhappy with his game time. I allowed him to leave to save squad harmony.
We did however bring a couple of players in to the squad in the first transfer window.
Three additions but only two are for the medium to long term. I feel that I overpaid slightly for Malang Sarr although competition for his signature was fierce. He joins from one of my pre defined recruitment areas (France) and should go on to be a regular first team player although he is still being rotated in and out of the side at the moment. Andre Moreira on the other hand should become a first team regular far sooner. Iker Casillas is coming to the end of his career and I needed a replacement. Moreira moves from Atletico Madrid and should in my opinion go on to become first choice for club and country.
So we have strengthened key areas of the squad, what though did that mean in terms of performances?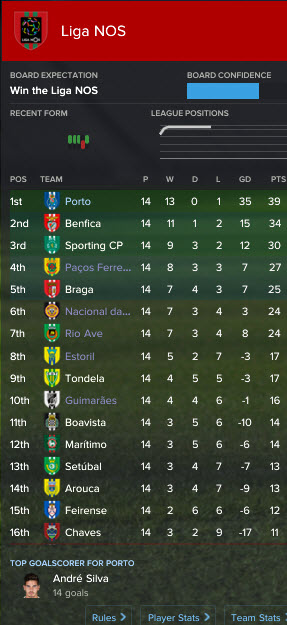 13 wins in the league from 14 games, not bad going, right? But who inflicted our one loss of the campaign so far? Benfica? Sporting CP? maybe Braga? Nope, Tondela. The loss only happened a round or two before this update and it was one of those typical FM moments where you get a sense early on that the game is going to go against you. We actually dispatched both of the other big 3 sides with almost alarming ease earlier in the first half of the season.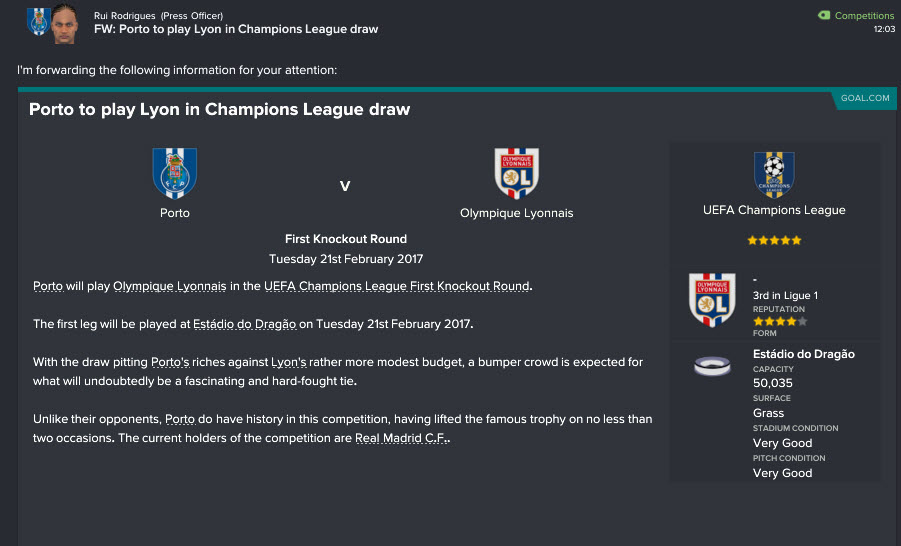 The Champions League did provide a somewhat stiffer test as we had to come through a really strong Monaco side just to reach the group stage. In the end an away goals victory was enough. The group stage saw us play Bayern Munich with the German giants inflicting our only other defeat so far with a 3-0 defeat in Bavaria. The loss was partly my own fault, we went a goal down early and I started to chase the game in the second half thinking we could get it back. I went incrementally more attacking and when we conceded again in the 84th minute I didn't react and we went on to concede again in injury time. Lesson learned then.
Lyon in the first knockout round should offer a winnable tie, shouldn't it?
I won't bore you with updates on the cup competitions at this stage, suffice to say that we are doing extremely well in both. What though of the B team?
Slightly less dominant than the first team but we are still sitting proudly at the top of the second division. For what it's worth I am 99% certain that we would not be eligible for promotion as the B team are not allowed to operate in the same league as the first team for competitive fairness reasons.
I also feel that I haven't managed the B team properly to this point. There is a tendency for me to want to win all the time in the save as I would in any other. I have perhaps neglected the player development aspect of the squad and not rotated enough to offer players the playing time that they may need to develop. This will change over the course of the second half of the season although that could be detrimental to results.
I'll leave this update on a high though;

Our star striker Andre Silva was named European Golden Boy in our first season. Given that he has over a goal a game so far this season that may not be a surprise. Still, it's always nice to end on an award isn't it?
Thanks for reading. If you have any questions use the comments section below or find me on twitter @FMAnalysis