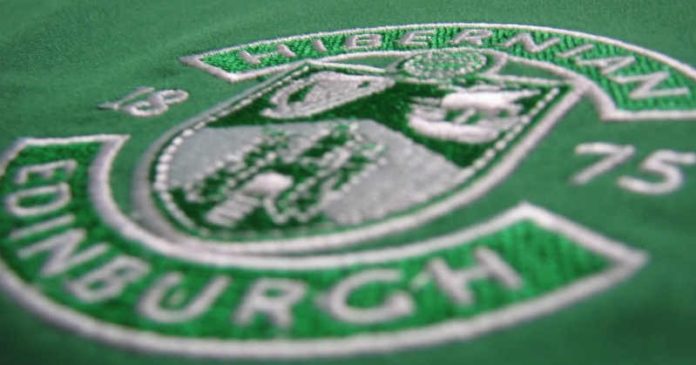 The Last King of Scotland
A Hibernian Tale
Edinburgh, home to a vast history stemming hundred if not thousands of years. A rich culture, once the very forefront of scientific discovery. A city of riches, with their finance sector second only to London in the whole of the UK. Edinburgh then, the heart of Scotland. Guardians of Scottish politics. Protectors of the Stone of Destiny. A city to visit, a home to be proud of.
Football clubs? Meh. Not so much.
For whatever reason, (and I'm sure there is some geopolitical explanation but I'll hold my hands up and admit I don't know it) the city of Glasgow leads the way in Scottish football. Celtic and Rangers, two massive clubs known and respected globally. Between them an astonishing haul of 101 League titles, 69 Scottish Cups – *sniggers* – and 42 League Cups highlights just how superior they have been. In football terms, Glasgow, then, not Edinburgh, leads the way for the proud Scotsmen.
So a team from Edinburgh. But which one? Because I'm spoilt for choice.
Hearts, Hibernian, Edinburgh FC, The Spartans FC.
I would like to pick The Spartans FC. I mean, lets be honest here, the decision would purely be based on their name alone, let alone the challenge, but FM17 hasn't quite delved into the depths of the Lowland League, yet. So here's to hoping they are promoted next year. Fingers crossed. As interesting as Edinburgh FC would be, the draw of Hibs was just too strong.
So Hibs it is.
Briefly, and I mean briefly, here's why: Recently relegated despite winning the Scottish Cup, they're now qualified for Europe and also, at first glimpse, they've got a fairly strong team. Plus, and heres the real reason, I quite like their kit.
Now, a little about me. The thing I enjoy most when playing Football Manager is a challenge. If it isn't challenging then my interest will stagnate pretty darn quickly. Because of this short attention span I tend to pick teams from lower divisions and then set myself a target. For Hibs I've gone for a three year plan. First year: Promotion at all costs. Second year: Stabilise and cement in the top division. Third year: It's all about the trophies. I'm a glory hunter. I'm not in this game to be the 1st best loser. I'm here to win. A lot. I want to win so much and so goddamn hard that the world takes notice. Or at least, y'know, the Scottish National Press so I can win Manager of The Year. Life goals right there.
Oh, and by the way I'm writing this after completing my first season at Hibs, so you are in for the full first season review, so here we go:
Tactics:
I'll be honest, the first time I played FM16 I was in a rush so I downloaded a tactic from the interweb due to time constraints and it worked a treat. By my fourth season, after beginning in League One, my Wigan team won the Premiership title and the Europa League to boot. Within four seasons. Now I don't know about you, dear reader, but I live by the very simple rule of: If it ain't broke don't fix it. So I've copied the tactic and uploaded it to FM17.
The thing is though, in the past I've copied a particular tactic which worked well and used it in the next instalment but for whatever reason they all seem to fall flat. But because of how successful this tactic has been for me (I repeat, Wigan, English title winners and Champions of Europe) I felt it was worth a try.
So here it is:
As you can see, it's a 4-1-3-2 formation and the aim is to play out from the back and patiently build towards attack using shorter passes. On paper it doesn't seem much, quite dull if anything. In practice it is seriously effective.
Transfers:
Now the fun bit. I say fun, but I often wonder if buying players on a minimal budget and tiny wage bracket is similar to bondage, where the fun is derived from the pain… or so I'm told anyway. Er hem. Now, to become the all-conquering Emperor we all strive to be, you have to make sure you spend your budget well. Like I said, promotion at all cost. So when the finances are limited what pool do you dive into? Personally I look towards the big teams B-teams/academies. Teams such as Man City/Arsenal/Seville/Barca etc. have so much talent in their first team they rarely dip into their own academy pools and so there is always a rough diamond or two waiting to be snapped up. Unfortunately, to get the majority of these players it comes down to loan moves because the next big thing simply don't fancy playing in the Scottish lower divisions yet. They simply cannot–sorry cannae–see the unstoppable force I aim to become. Yet. The bastards. So who did I loan/buy?
As you can see in my first season I brought in seven new faces, two of which came in during January. Of the five that came in the opening few weeks of the summer, only one wasn't a loan and even he [Templeton] was a free transfer. The temptation when coming into a new club is to buy players you want rather than the players you need. I've made this mistake a lot over the years, so nowadays I try to avoid buying players until I've had a good long hard look at my existing squad. I give them all a fair crack of the whip and if they don't meet my standards then they're out the door and replaced by players I've spent at least the past six months scouting. It's a strategy that probably isn't overly popular because it requires a fair amount of patience, not only from yourself but your fans and more importantly your owners too. If your team isn't up to scratch and aren't winning games it can definitely be risky.
Which brings me full circle back to David Templeton. A few years back when Rangers where relegated right down to the lower divisions I took on the task of leading them back to glory. At the forefront of that charge was Templeton. He was my best player and scored an unbelievable amount of goals for me. So seeing him floating about as a Free Agent broke my heart and I snapped him up. Nostalgia and a cautionary tale perhaps but on a one year deal with the option of a second it didn't seem too bad.
Pablo Maffeo from Man City then came in to fight it out as my starting right-back. Followed by Ben Sheaf from Arsenal who I intended to rotate in midfield but actually became my starting right wide-midfielder over the course of the season. Carles Alena from Barca B was to battle it out as my box-to-box midfielder and later cemented it. Luca Zidane (yes that's right, Zinedine Zidane's son) came in from Real Madrid's Castilla team and slotted straight in as first choice goalkeeper and proved to be a very… handy. D'ya get it? Handy.
Unfortunately as the team was relegated the previous season a lot of the players took time to warm to myself and playing in the lower division. Some *cough* Fyvie *cough* McGinn *cough* didn't. They were swiftly shown the door. My way or the highway. Due to outgoings (fuck you Fyvie) I later brought in McCart on loan. A Centre-back by trade but he excelled as my Halfback.
I spent my first bit of money on Ryan Hardie. Now, Hardie was excellent for me at Wigan in FM16, he was my top goalscorer every year, reaching 30 goals on numerous occasions so it was always going to be a move I was interested in. I splashed my £300k budget on him and Hardie joined McCart through the door on January 2nd.
These players, minus Gray and insert Maffeo, became my team during the first season. And what a team it was.
Fixtures & Results:
To save your eyes I'll post a picture (below) of the seasons fixtures instead of detailing every result.
One of the main attractions of taking Hibs on was the promise of European football. So it was with great disappointment me and my lads were sent hurtling out in the qualifiers. If I'm honest, after our heavy defeat in the second leg against IFK Goteborg I wondered what I'd gotten myself into. If this minnow of Europe could wallop me, what chance did we stand for promotion?
How wrong I was:

The 5-0 victory over Dundee Utd soon cheered me up after the disappointment of Goteborg. Followed shortly after by the 7-0 victory over Ayr. What seemed like a shaky start soon solidified into something… else. Three loses in the entire season and in all competitions to be precise. All coming in cup games too. Not bad hey? Especially considering how uncertain I was that my past tactic would translate. But translate it did. In the Championship we ended the season unbeaten, with 27 victories and only 9 draws. I know right? To say I was over the moon was an understatement. I was over Uranus.

Team Performance:
So after a season of highs what, ultimately, was the outcome?
Not a bad way to start my tenure. Most importantly is promotion at the first attempt but its always the cherry on top to win the league too. Also we had an added bonus and one I wasn't expecting as we won the prestigious Scottish League Challenge Cup. I say prestigious but I'd never heard of it before either. But a cup is a cup, and I'm here for silverware.
So who was the pick of the litter for me? Here was my preferred starting 11: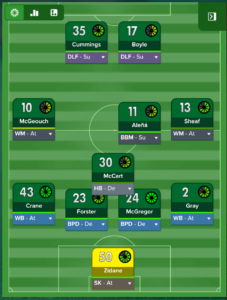 Well, Maffeo for Gray, as Maffeo picked up an injury in the final month of the season but you get the picture.
Individual Performances:
In a team that has gone the entire league season undefeated you expect to find on average they've all played pretty well, otherwise how else do you manage it? But I had my favourites along the way, as I'm sure we all do. Be it for their goalscoring ability or simply because you are one of their favoured personnel, I don't know. Shoutout to Paul Hanlon. Anyway. Out of my inherited squad my favourite players were:
Dylan McGeough, the man was Mr. Consistent. He started as my box to box but with the arrival of Alena was shifted out to Left Wide-midfielder and excelled. With 15 goals and 13 assists out of 36 games he had a massive impact on the team and was rewarded with 7 POM awards (best in the league might I add).
Next is Darren McGregor, our Ball Playing Defender. Out of a very solid defence he was the shining star, topping his defensive performances with 3 goals to boot. Apparently he was signed on a free from Rangers just before my arrival. Excellent business from the former gaffer I must admit and one I took full advantage of. He's duly been awarded with the captains armband in my second season.
Jason Cummings my top goalscorer. Out of 32 appearances he managed to bag a modest 19 goals. Good but not spectacular. However, the reason Cummings gets a mention here is because he also managed an impressive assist tally of 15. And at the tender age of 22 he will only improve and therefore I'm hoping he has a big future under me.
Now to the lads I brought in on loan, who impressed me out of these boys?
Luca Zidane certainly tried his damnedest. Out of 42 appearances he kept a respectable tally of 20 clean sheets. Baring in mind he came in at the age of 18, that's pretty good. As a side note I liked Luca, he was solid, and with good management in the future will likely become one of the best in the game.
Pablo Maffeo became one of my star pupils. Not only solid defensively, but a real threat on the attack with a respectable tally of 3 goals and 4 assists to his name. For anyone playing in a lesser league Maffeo is definitely worth a punt. Again, at the age of 19, he will only get better and better. Something a certain Guardiola has obviously noticed as Maffeo made his senior debut in real life not too long ago.
Lastly Ben Sheaf. When I initially looked at Sheaf I sensed he could go one of two ways, his stats aren't hugely impressive for instance unlike Alena, but I liked the look of his flexibility – he can literally play anywhere in defense and midfield – so I took a punt on him. And he payed off wonderfully with 11 goals and 10 assists from 25 games, meaning he was hugely influential, crazy considering he's naturally a MC and I had him as a Right Wide-midfielder for the majority of his games. Even more impressive is that wee Sheaf was only 18 when he joined me. I'm so proud of you buddy *wipes away a tear*.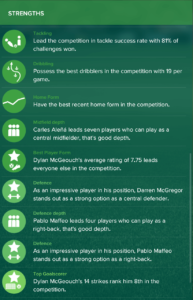 It was with great difficulty I watched all of the loanees leave myself and Hibs and head back to their stupid, smelly home clubs. That's right guys, this is my middle finger. Deal with it. There they would no doubt stagnate and watch their great potential left unfilled unless a wonderfully talented and handsome manager comes along so they may once again join his quest for glory.
I came to love most of my lads. For the most part they ran their sweaty green socks off for me all year long and so they fully deserved their tiny bonus' for achieving promotion. But with promotion comes the even bigger task for year 2 of my three year plan: Cementing ourselves in the top division again.
But that's all to come in the next instalment. For now I bid you all farewell. Up the Hibees.