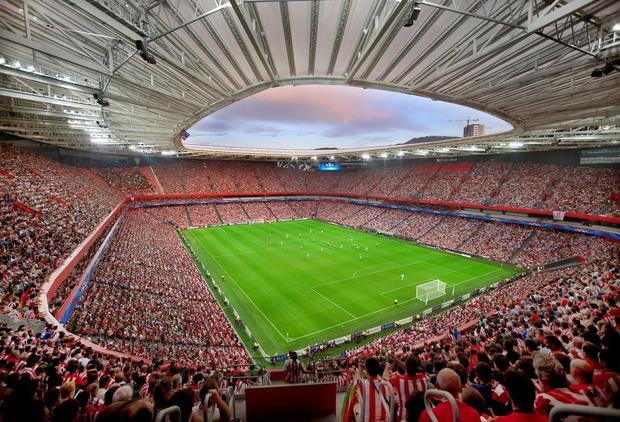 Well folks, FM17 BETA was actually worth waiting for wasn't it?  Look, I am not going to sell you on the fact there have been loads of changes, improvements or anything like that but, for me, at this very early stage it feels like a better game and, providing things don't change in the ME come full release, I am fully on board and looking forward to having a lot of fun.
All that means I am really excited to start writing about the save that I am hoping might last a very long time – "The Boys of Bilbao."
Now, before you start to assume I am going to break my habit of a lifetime and start a save in the top division, think again.  In the weeks building up to FM17 BETA being released, and following finally getting a new laptop, I have been messing around testing managing a B team firstly on 15, then on 16.  I had seasons at Valencia Mestalla, Villareal B and then Dortmund B just to see how it all worked.  I mean, Miles is adamant that you cannot manage anyone other than a first team in FM and that people would find it boring, so I wanted to (a) check I wasn't going mad by thinking you could manage a B team and (b) show it wasn't boring.
The test seasons were very interesting.  At Mestalla on FM15 playing my ArgSt tactic we finished outside the play off spots and my contract was not renewed – a first ever sacking on FM for me.  Villareal was better on 16, again finished outside the play off spots but we were predicted to be in a relegation battle.  Finally, Dortmund B was class and we won the Regionalliga and then the play off meaning we would have been promoted to 3.Liga.  But, more importantly, what did I actually learn?
Well B team management looks like it is going to be one hell of a challenge for the following reasons:
I have virtually no say in my staff, the director of football seems to appoint everyone

Although I can recruit free agents into the squad, I am not allowed to pay money for anyone – the DoF might sign a player and give him to me, but I get no say

Equally, players can suddenly disappear from the squad – either sold, loaned out or promoted to the first team squad with no notice whatsoever.  That can be a pain when you have finally got a settled team, and it was this that say me go from 2nd in the table at Mestalla to eventually finishing 6th and being sacked

Players can be dropped, or made available, to play for the B team at any point.  At Villareal we had a fine pre-season, then for the first match I had Soldado, Van der Vaart and another young quality first team player all available.  Foolishly I slotted them straight in and we lost!

The squads are typically very inexperienced as they are full of youngsters hoping to make it into the club's first team squad – and they are often up against experienced teams full of hardened lower league players
But, I like a challenge and this is slightly different to anything else I have seen written about so I'm going to throw the dice and see what happens.
Choosing the club was a challenge.  Mestalla were my initial choice, but they are on the shit-list forever for sacking me.  I probably would have gone back to Dortmund, but I would have had to wait until the full release so I could do the database that unlocks the Regionalliga.  I was over the moon to learn that Athletic Club Bilbao B were in Segunda B, the lowest Spanish division available to play on the out-of-the-box BETA version.
So why Bilbao?
I've always been a fan of a club with either history or a clear identity.  Bilbao are by no means a fallen giant or anything, but that doesn't matter as I am going to manage the B side.  Therefore I wanted a club with a clear identity, and Bilbao tick that box abundantly.
My good friend @FM_Samo begged me to give you a full account of the history of the club, but I respectfully declined.  However, have a read on their wikipedia page as I am not a fan of cut and paste unless I am stealing gags for my other blog.  Living in Spain, I have come to learn a little about the country and that some regions feel very, very independent from Spain as a country.  You may be familiar with Barcelona and Catalonia for example as a more profile case, but the feeling is as strong in regions such as Asturias where my beloved Real Ovieo hail from.  Bilbao takes it one step further though, protecting the identity of the Basque region by only signing players that are from the Basque region of Spain or France.  I also like the fact that they are the only other Spanish club that are wholly owned by membership – Real Madrid and Barcelona are the other two.
So I have a club with the identity that I want, a club that places great focus on where they come from, their social responsibility to their community and is famed for putting their faith in young, local players.  Perfect – but what is the plan considering I am going to manage the B team?
I do love a career plan.  In my actual career before I semi-retired to the sun I ran Graduate Schemes for a couple of technology firms, recruiting the very best graduates on the market and training them to be elite salespeople.  It's amazing how much of that mentality I transfer into youth development on FM!
So the career plan for me in this save is to start at Bilbao B and get as many coaching badges as quickly as possible whilst, hopefully, performing well in the job and building a reputation for myself.  I will start with a continental C badge, as per real life.  Now, in an ideal world I will do well enough and get Athletic Club Bilbao B into the Segunda Division quickly – all the time our first team are in La Liga we will never get to the top flight.  If I do that, my repuatation will soar and, hopefully, I will get a chance to progress to managing the first team.  That is my preferred route.  A little spoiler, I am currently in December as I write this, and the first team coach has been fired – that has come around a little too quickly this time!  But yeah, that is career path A.  Now, if I have been there a few years, developed kids like the club wants me to do and got the side to be a very stable Segunda side and I am still not getting a look at the top job then I am going to explore other options – I cannot say where I will go yet, I will see how I feel in a few seasons time.  Needless to say it would be a step up from a B team job and as I have started the save in BETA I will only be able to move to countries and divisions available on the game as it is now.  
What if a Segunda team comes in for me early in the save?  Surely a B team manager would move to take over the first team of another club in a division higher?  Well yes, quite possibly so I will play that one by ear.  I mean, if Oviedo came in for me how could I say no?  
What does initial success look like?  The board have made their demands clear – I will be judged on avoiding relegation and developing players for the first team squad.  I am going to push myself a little harder than that – by the end of season one I want to finish in the play offs and have seen at least two players move up to the first team squad permanently.
There will be a few rules of the save, as always.
At Bilbao (I would imagine this is hard coded anyway) I can only sign free agents under 21 that are from the Basque region

Attribute masking will always remain on

Players I do sign can be found using the player search tool – but only using the "StS" method that I will explain in future posts – in a nutshell stats searching, not attribute searching

If, for example, the first team suddenly make 5 players available to the B team, no more than two of them shall start in any game (protecting the save against any selection bugs there maybe)

There maybe other rules I come up with
So, what else can you expect in the next few posts?
In the next one I will explain the tactical approach that I am employing and very much enjoying.  You will get a look at some of the goals we are scoring as well, worth having a look at.
I will cover the training plan I have in place to make the tactic work.
I will introduce you to some of the key characters to any potential success in season 1 – Bilbao B have a few talents that are worth watching as they progress.  
I will be setting up some key views that I use to monitor player performance – some longer term followers might be already familiar with my stat based KPI approach to the game, that will be explained again in more detail, especially if there are new FM17 features that enable this to go further.
As and when we move towards recruitment I will do a big piece around "Searching the Stats v3.0"
One article I am really looking forward to writing about is "player communication."  I get the feeling I have a system that works for this and, if I get the success I am aiming for in season one, I will share it.
I think that is it for the introduction folks.  I hope you have enjoyed it and feel up for following me on this slightly different career!