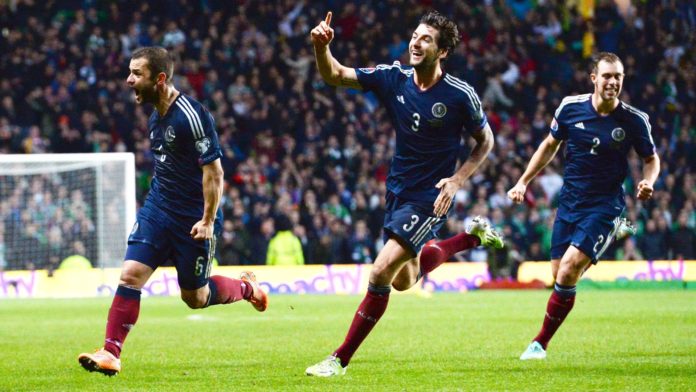 British success has been hard to come by – especially when it comes to football. With England's 1966 World Cup win still the one and only, Scotland have lived in the shadow of that for many years. Despite the odd false dawn, they are now 90 minutes away from a World Cup final. Och aye!
The Czech Republic came into the tournament as dark horses, and with big stars like Jan Koller & Pavel Nedved it is perhaps no surprise that they have reached the latter stages of the tournament, but few would have predicted this semi-final. However the draw has opened up nicely and now one of these teams will get to play for the biggest prize in football next weekend. The other will have the indignity of a 3rd place playoff with France. Lovely.
Story so Far
Here's how both teams made the semi-final stage
Scotland
Second in Group E (Italy, Senegal, India)
Last 16: Scotland 2 – 2 Portugal (Scotland win 5-4 on penalties)
Quarter Final: Scotland 2 – 1 Denmark
Czech Republic
Second in Group A
Last 16: Czech Republic 1 – 0 England
Quarter Final: Czech Republic 4 – 1 Sweden
Jan Koller is the top scorer having netted 3 times, whilst Tomas Rosicky is one of the tournament's top performers with an average rating of 8.33. Barry Ferguson, Stephen McPhee and Steven Nicholas all have 3 goals for Scotland whilst Ferguson has the highest average rating at 7.60. Read into that what you will.
Italy await the winners of this tie, after Trapttoni's men brushed aside France yesterday
William Gallas will have a lot of making up to do in the coming years for France. The holders did well to reach the semi-finals though, and Italy will fancy their chances of winning the trophy having already beaten one of today's semi-finalists.
TEAM NEWS
A lot of the pre-match build up has been around who Scotland will use to take care of the giant Jan Koller. David Black has opted for Matt Eliott and Lee Wilkie to keep their places from the win over Denmark, despite David Weir pushing hard for a recall. Gary Naysmith is back in at left back and Jackie McNamara replaces Russell Anderson at right back. The squad is showing signs of fatigue but some players just can't be rotated
The Czech's operate a 4-4-2 diamond with so much of the creativity coming from Nedved and Rosicky. Without a recognised left back though it is Tomas Repka filling in there – can Scotland make the most of that?
It is a very wet day in the National Stadium on Tokyo, though it is still warm as you might expect. The officials today are from Croatia, led by referee Zeljko Sekulic. They're about to lead the players out for the anthems, which means we're just 10 minutes away from kick off!
The anthems have been belted out, the coin toss is taking place. Let's get going!
KICK OFF – The Czech Republic kick us underway.
3 mins – Ambitious or Stupid? Craig Burley hits a volley from fully 30 yards that was probably supposed to dip wickedly, but it didn't. In fact it is probably still rising. Oh well.
4 mins – Neil Sullivan's stock is rising with every game and this is just an example of why. Marek Heinz is the creator, lifting a cross to the back post where Jan Koller is lurking. The big man brushes off Wilkie before toe poking an effort at goal, but Sullivan's fingertips are in the way before Neil McCann hacks away the loose ball.
6 mins – GOAL! Czech Republic 0 – 1 Scotland (Neil McCann)
What a start! Can Scotland start believing? Lovely move down the Scotland left as McCann and Gary Naysmith combine to free Naysmith down the left. The full back feints to cross but instead rolls it inside the box for Barry Ferguson, who in turns finds the onrushing McCann who smashes home a left foot shot to make it 1-0. He started and finished the move and the Tartan Army are delirious!
10 mins – Pavel Nedved has been quiet so far but he's given a chance to demonstrate his talent here as Kerr fouls Rada about 25 yards from goal. Nedved's effort is tame though and it hits the wall and goes to safety.
15 mins – That's more like it from Pavel Nedved. He beats McNamara and whips in a cross but Baranek gets far too much on it and it flies wide. The Czech's are growing in confidence.
18 mins – GOAL! Czech Republic 1 – 1 Scotland (Pavel Nedved)
We knew he was the dangerman and he hasn't half proved it here. Nedved picks the ball up about 40 yards from goal. There's no danger. However he bursts past Mark Kerr before dropping a shoulder and leaving Neil McCann behind. A nutmeg on Matt Elliott is then followed by shrugging off a frantically back tracking Craig Burley. Can he finish? Of course he can. It's as fine a goal as you will likely see, and it's an equaliser. Wonderful skill and balance.
20 mins – That goal has rocked Scotland and Nedved is purring now. Is it worth man marking him? Tough call.
25 mins – GOAL! Czech Republic 1 – 2 Scotland (Steven Nicholas)
Scotland! This game is getting out of control. Ferguson is at the heart of it again, lifting in a ball to the back post that McPhee takes on his chest as he tries to hold off Karel Rada. It looks like the Port Vale man has managed but as he lines up his shot, Rada flies in with a slide tackle to save a certain goal, however Srnicek is now out of position after coming to close down the advancing McPhee. Steven Nicholas can't believe his luck and he has an open goal in front of him to give his side the lead in a World Cup semi-final. Get in!
27 mins – Goodness me this could easily have been 3-1. Mark Kerr takes aim from the edge of the box and Srnicek pulls off a great save, but the ball bounces back into the centre of the box. Craig Burley is steaming in and must be seeing his name in lights before his dreams are crushed by Tomas Repka sliding in from nowhere to save a certain goal.
31 mins – HITS THE WOODWORK
The Czech's might have plenty going forwards but their defending has been woeful. Kerr heads Neil McCann's corner and the Roma man is wheeling away celebrating until it clatters the post and arrives back in his path. Kerr instantly shoots but that man Repka is in the way again.
35 mins – HITS THE WOODWORK
This is like a basketball match. Baranek, Koller & Rosicky combine with the latter smashing a shot off the crossbar from just inside the area.
40 mins – It's another good save from the veteran Srnicek to deny Scotland. This time Stephen McPhee knocks down a long throw and Jackie McNamara smashes a shot at goal from the angle of the box but the former Newcastle keeper is equal to it.
44 mins – Late free kick for the Czech's but Baranek hits the wall. One minute added on.
HALF TIME – Czech Republic 1 – 2 Scotland
That was a breathless heart of football, but the upshot of it is Scotland are 45 minutes away from the World Cup final.
Scotland have had the better of the chances, though you can't argue with the Czech's winning 100% of their tackles! That's Tomas Repka for you.
Scotland's players are coming out pretty well in the ratings but there's a few Czech players with work to do.
KICK OFF – Scotland get us back underway, 45 minutes away from a remarkable final appearance.
48 mins – Scotland have a free kick and it actually leads to a chance for the Czechs. Burley's delivery is flat and quicker than you can say Inverness Caledonian Thistle, there's panic stations in the Scotland box. Fortunately Marek Heinz decides to take on a ridiculous overhead kick and it flies well wide.
50 mins – SUBSTITUTION
The hilariously named Milan Fukal is off and the even more hilariously named Petr Gabriel is on. He has a real Sledgehammer of a shot. Look it up, kids.
55 mins – Dare I say it, the Czechs look worn out. They are barely laying a glove on Scotland at the moment.
58 mins – SUBSTITUTION
Jozef Chovanec has seen enough and he's playing his final 2 cards now. Patrik Berger is on for Tomas Rosicky in a like for like change, but midfielder Jiri Jarosik replacing defender Tomas Ujfalusi is a more adventurous move. Can the Czechs find a way back?
63 mins – Here's Nedved again, beating a  couple of Scotland defenders before crossing for Baranek. His headers is glanced towards the far post and a nation holds its breath as it drifts just wide. Phew!
69 mins – SUBSTITUTION
Scotland's turn to make a change, with Paul Rudden on to replace Craig Burley. That should shore the midfield up a bit for the final 20.
73 mins – Another save! Srnicek denies Stephen McPhee this time, sprawling to his left to keep out the Port Vale man's volley.
76 mins – Srnicek vs McPhee again! McPhee meets a McCann corner with a bullet header but it is well held.
79 mins – The Czech's still have some life left in them. Berger crosses this time and Nedved has to strain every sinew to keep it in play, but his header drifts harmlessly into the side netting. 10 minutes to go!
80 mins – YELLOW CARD
Oh goodness me, it's Gazza all over again. Captain Barry Ferguson has had an unbelievable tournament but he's tripped Pavel Nedved here and the referee has shown him a yellow card. He'll miss the final if Scotland can hold on, but you can bet Scotland will miss him a whole lot more.
82 mins – Good chance for Neil McCann to seal it but his low shot screws wide of the post. He was under pressure from Gabriel who slid in and put McCann off at the vital time. But hang on, the defender is limping! Hamstring?
83 mins – Petr Gabriel is off down the tunnel, his game is over. I wonder what Phil Collins thinks? Either way, for the second game in a row Scotland are going to finish against 10 men.
85 mins – FIVE MINUTES FROM THE WORLD CUP FINAL. Scotland fans quiet, finger nails being chewed. Czech Republic getting increasingly desperate, Jan Koller seemingly getting bigger.
88 mins – Colin Cameron is on for captain Ferguson. The man looks knackered, physically and emotionally. He won't kick another ball in this tournament but he's been great.
90 mins – 5 added minutes. Groans.
90+2 mins – Berger goes on a run and finds Heinz who is desperately trying to get a shot away but Colin Cameron blocks it. Good lad.
FULL TIME – Czech Republic 1 – 2 Scotland
SCOTLAND WILL PLAY IN THE WORLD CUP FINAL
They've done it! Somebody check on Rod Stewart.
No goals in the second half but the goals from McCann and Nicholas were enough. Scotland defended magnificently and really limited the Czech's chances.
It's fair to say Pavel Nedved did everything he could but it wasn't enough.
Out on the pitch, it might be pouring with rain but the Scotland squad are partying with their fans here in Tokyo. Spare a thought for Barry Ferguson though, he won't be able to play in the biggest game of his life. Mind you, spare a thought for whoever replaces him. They are big shoes to fill.
Confirmation then of next weekend's final
Be sure to join us here for that, but until then…try and control your excitement. Scotland are going to play in the World Cup final!