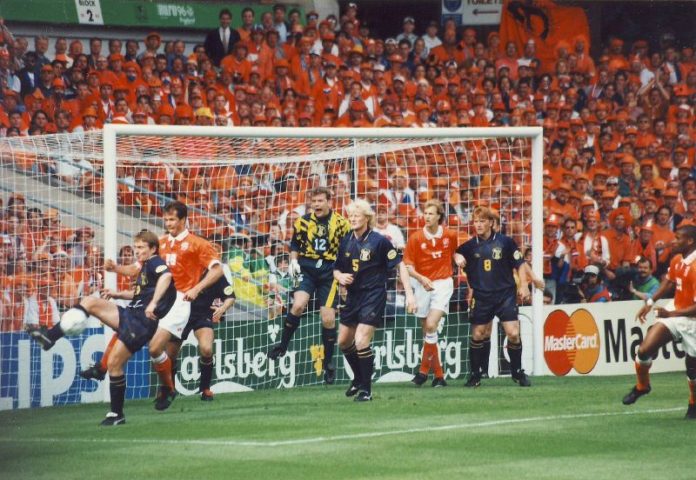 Scotland are breaking new ground. Before this tournament, they'd never made it past the group stage of any major tournament. 3 weeks later, they are about to kick off their quarter final tie with Denmark, having seen off Portugal in the round of 16. With expectations exceeded, is the handbrake off for Scotland? We're not far away from finding out.
Of course you can't forget about Denmark. The 1992 European Champions reached the quarter finals at World Cup 1998, so having emulated that feat here they will be keen to go one stage further. Both have full squads to pick from, so I'm expecting a game where both sides go toe to toe and make their own history.
The quarter finals have been underway the past few days, with Scotland and Denmark on the more favourable side of the draw
Strangely, there are only European teams left, after France and Italy saw off South America between them. France are of course defending champions. Only Sweden from the bottom half of the draw can boast a World Cup final appearance, and that was way back in 1958, so it's going to be an unusual final whenever we get there.
TEAM NEWS
Just the two changes for Scotland – Jim Paterson is in for the "tired" Gary Naysmith at left back, and Matt Elliott replaces David Weir at centre half.
Denmark saw off Mexico in the last round but have changed from a 4-3-2-1 to…whatever you would call this. The wingbacks are very attack minded
For reasons I don't really understand, Jon Dahl Tomasson isn't even in the squad. Anyway, here at the Chamsil Olympic stadium in Seoul, it's 24 degrees and Petteri Kari of Finland is the referee. All set? Here come the players.
The anthems are respectfully observed, it looks like Scotland will get us underway. The travelling Scottish fans are giving us one last blast of "Irn Bru" to the tune of Vindaloo, they've loved every minute of their World Cup adventure. There are nearly 100,000 people in the stadium, remarkably.
KICK OFF – Stephen McPhee and Craig Burley kick us underway
2 mins – Is this a sign of what's to come for Scotland? Denmark have started like a train. A neat move ends with Tofting teeing up Weighorst on the edge of the box, and his well struck effort is tipped over the bar by the flying Neil Sullivan. Fortunately, the corner is less good and Scotland survive.
5 mins – Scotland trying to calm things down, passing the ball about but nowhere of any threat to Denmark. Patience is a virtue.
9 mins – YELLOW CARD
Ebbe Sand is a centre forward, so we'll try not to ridicule him too much for this attempt at a slide tackle. He fouls his man after being about 20 minutes late with the challenge.
11 mins – GOAL! Scotland 1 – 0 Denmark (Stephen McPhee)
Maybe they will ridicule him now! After Ferguson is treated by the physio, Matt Elliott pumps a freekick into the box from half way and Stephen McPhee gets the run on Martin Laursen of all people and loops a header over Sorensen. It's a perfect header and a goal from a nothing situation. Scotland lead!
12 mins – Mayhem in the Scotland end. Kilts and tartan hats everywhere. Just keep it together for a bit Scotland.
15 mins – GOAL! Scotland 1 – 1 Denmark (Stig Tofting)
What did I just say? Denmark level and it's angry midfielder Stig Tofting with the goal. It's well worked, to be fair. Jorgensen does well down the right and hangs a cross to the back stick. Ebbe Sand is onto it but uses his nous to head it back to the arriving Tofting, who smashes it in on the  volley from no more than 10 yards. All square.
20 mins – It's been all Denmark…the whole game, really. Other than that brief interlude for Scotland's goal. Their latest spell of pressure ends with Jesper Gronkjaer going on a weaving run before smashing a shot that clips the crossbar and goes over.
23 mins – Brief sniff of a chance for Scotland when a free kick is awarded wide on the right. Neil McCann swings it over and Nicholas tries to head down towards Matt Elliott but Ebbe Sand is back helping out and the danger is cleared.
26 mins – A stoppage in play leads to drinks all round. It's very warm out there and the game has hardly stopped so far.
30 mins – Jim Paterson is remarkably calm for a man earning his 2nd cap in the environment of a World Cup quarter final. Some good defending here shuts down an attack before it's really started.
36 mins – Henrik Pedersen, that is woeful. He actually does really well initially, then as he winds up the left foot his shot is wild. And I mean wild. Over and wide. Sorry Henrik.
40 mins – Scotland playing for half time now. David Black has got a job on here to reorganise things, it's been one way traffic.
45 mins – There'll be one added minute.
HALF TIME – Scotland 1 – 1 Denmark
Scotland scored with their only shot. Denmark have been good but Scotland need to find some answers.
The stats show it as it is. Scotland just hanging in, really.
Some good performances though, Matt Elliott looks to have been a wise choice but Lee Wilkie is struggling. Scotland's creative players can't get into the game as Denmark's midfield trio have been excellent.
The players are on their way back out for the second half. Can either manager make the difference?
KICK OFF – Denmark get us back underway.
47 mins – Denmark, dare I say it, have relaxed a little bit. They were almost gung ho at times in that first half, perhaps they are recharging themselves for a late burst?
52 mins – First chance of the half goes to, surprise, Denmark. Sand gets his head on Gronkjaer's cross but it's tamely into Sullivan's gloves.
56 mins – Penalty!? No! Sand gets the wrong side of Elliott and goes down, was that a push? There's a hand on the back, but you rarely see them given. As you were.
58 mins – Scotland have had a shot! Barry Ferguson, still sporting a strapping on his wrist, is played in by Kerr but from a tight angle his low shot goes into the side netting. A couple of optimistic fans cheer and the sight of a net bulging, but he'd have to be superman to score from that angle.
61 mins – Weighorst has been very good for Denmark but this is a poor finish. Tofting sprays a ball over the top for Sand but he's wide on the right. After holding the ball up, Gravesen arrives on the scene who in turns finds Weighorst, but the former Celtic man drags his shot wide.
64 mins – SUBSTITUTION
Maybe Denmark were just tired? It's a triple sub, which is crazy in my view in the context of the game. Jorgensen, Henriksen and Pedersen are off, Goldbaek, Gaardsoe and Bo Hansen are on. A Premier League triple.
67 mins – What an effort this is. New arrival Goldbaek lifts a ball into the box which Wilkie gets his head to but it goes very up and towards the byline. Thomas Gravesen decides to try and outlandish volley from an acute angle which nearly catches everybody by surprise, but Neil Sullivan's fingertips push the ball behind for a corner.  It's poor though and cleared by the first man
SUBSTITUTION
With that, it's time for Scotland's first change. Neil McCann is off for Gary Naysmith. It looks like a move to try and stem the flow of Denmark's wingbacks down the right hand side, with Paterson in front of Naysmith almost as an extra full back.
71 mins – Big moment in this game? Mark Kerr comes to life, sprinting past Weighorst and leathering a shot that Sorensen turns away. Weighorst is on the deck though – what's he done?
Replays show he seemed to jar his knee, he looks in a lot of pain. The physio asks him to try and run but he nearly collapses. He's off down the tunnel – Denmark are down to 10!
73 mins – Scotland are buzzing about now. What an opportunity this is to reach a World Cup Semi Final. Barry Ferguson takes aim but his shot is just wide.
75 mins – PENALTY TO SCOTLAND
Penalties again! Well, one. Stephen McPhee is in the box and he tries to round Sorensen. The keeper catches him and it's a pen. It should probably be a card of some sort too but I think the Finnish referee has taken pity on Denmark. Who cares – it's a penalty!
76 mins – GOAL! SCOTLAND 2 – 1 DENMARK (Steven Nicholas)
It's the Spurs forward who is given the responsibility, McPhee looks to be nursing an injury after being fouled. It matters not – Nicholas sends Sorensen the wrong way and Scotland are 15 minutes away from a semi final.
79 mins – It's a cruel game but how big will that call from Denmark's manager Morten Olsen be to make all three changes? Into the last 10 we go…
84 mins – Scotland are doing a great job at running the clock down. Like seasoned pros at this level. Port Vale's Stephen McPhee wins a throw in. Blimey.
87 mins – Denmark have the centre halves up front and Stig Tofting is basically playing quarterback. The clock ticks down.
90 mins – 4 minutes added on. The fans are much more nervous than the players.
90+2 mins – Denmark are caught up field and Mark Kerr carries the ball into the Denmark half. He has options left and right but instead he lets a shot fly from 30 yards that cannons a post. It's desperately
FULL TIME – Scotland 2 – 1 Denmark
It's over! Scotland are in the Semi Finals.
It was much better in the second half from Scotland, though I suppose it helps that Denmark played the final 20 minutes a man light.
Only one choice for man of the match, with a goal and an assist it had to be Stephen McPhee.
Sweden and the Czech Republic will face off tomorrow for the right to play Scotland in Tokyo at the weekend. What an opportunity for one of these three teams. Confirmation of that semi final draw will be on our twitter page tomorrow.
Scotland are of course now guaranteed two more games, with a semi final followed by either the dreaded 3rd/4th place playoff or the World Cup final. Wow! See you on Saturday!