We are back with another tactic testing today, with a tactic from one of our favourite tactic creators, Delicious Story. This time, it's a tactic called the 42112A Blaulicious, which is an Asymmetric 42112.
It's the sort of tactic that is slightly different and, more importantly, produces solid results.
The tactics conditions
We did an Everton save in which we set up the tactic and holidayed until the end of the Premier League campaign. The database we used was slightly tweaked by myself, with the Everton squad from after the September transfer window shut.
Side note, unfortunately, I forgot to swap Leicester and Luton when I edited the database, so the Foxes were in the Premier League and the Hatters were not. However, I am not sure how much of a difference it made, but I will be sure to correct my mistake ahead of the next tactic testing.
What is the tactical set-up?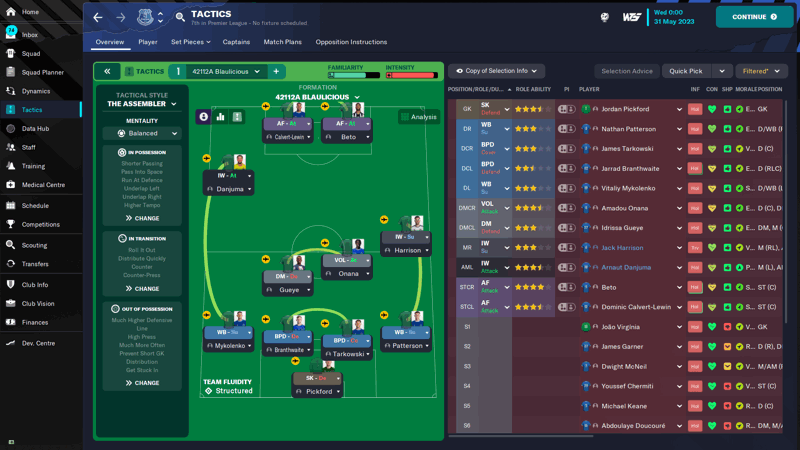 As previously mentioned, the formation is an Asymmetric 42112 with a balanced mentality. Looking at the tactic, it is a well-balanced set-up.
The goalkeeper is set to sweeper keeper on defend duty. The defence is set up in a fairly straightforward manner, with two ball-playing defenders flanked by two wing-backs, all on the defend duty.
In midfield, there is a defensive midfielder on defend, partnered with a volante slightly further forward on attack and an inverted winger on support duty in the wide right midfield spot. In attack, there is an inverted winger on the left wing on attack duty, supporting two advanced forwards on attack duty.
How did the tactic perform?
The tactic performed very well and achieved a solid, if unspectacular, result. The team was predicted to finish 12th place in the table but managed a seventh-place finish, which was good enough to earn a place in the Europa League Conference.
The team's goal difference was 32, which was bettered only by three teams in the Premier League, the top two Liverpool and Manchester City, and fourth-place Arsenal.
When it came to goals, the team was also the third most prolific in the table, which is always a good measurement of whether a tactic is a success or not. The 45 goals conceded were not ideal, but it led the team to the sixth-best defensive record in the Premier League campaign.
Considering we were predicted to finish in the bottom half, a seventh-place finish and European qualification was a good result.
Who were the top performers using this tactic?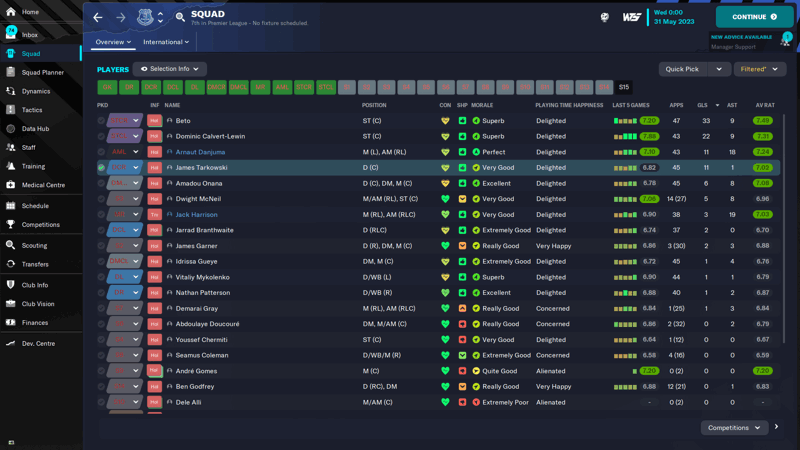 It seems Everton has a new king when it comes to best-performing players on FM23, and his name is Beto. The new addition scored 33 goals and produced nine assists in 47 appearances in all competitions. His season average was an impressive 7.49. No doubt he will be fun to watch for the Toffees in real life and also a great Football Manager asset, too.
The former Everton king of average season ratings, Dominic Calvert-Lewin, wasn't too far behind his striker partner, though in season average rating, as he earned a rating of 7.31. His attacking return of 22 goals and nine assists was certainly respectable.
Another new boy, Arnaut Danjuma, also impressed on the left wing, scoring 11 times and producing 18 assists, with the latter being the second-highest figure in the team. He also earned the third-highest season average rating of 7.24.
One player who produced a surprising goal tally was centre-back James Tarkowski, who matched Danjuma's goal tally while picking up a season-average rating of 7.02.
When it came to assists, Jack Harrison, playing as the right midfielder, topped the charts with 19 assists while also scoring three goals, earning a season-average rating of 7.03.
Other players who picked up decent stats using this tactic were volante Amadou Onana, who scored six goals and also produced eight assists. Dwight McNeil also scored five goals and had eight assists, despite the fact only 14 of his 41 appearances were as a starter.
What is my conclusion?
I really like this tactic, as it suited the Everton players down to the ground. With strikers Beto and Calvert-Lewin being two of the better players in the squad, it was good to see a two-striker formation that worked well.
The formation was ideal for this squad in other areas, too, as the stats showed it brought the best out of the likes of Arnaut Danjuma and Jack Harrison, who produced strong attacking returns.
The only downside to this tactic was the number of goals conceded. However, to be fair to the creator, he did state that you need a solid defence to get the best out of the tactic. Everton's starting defence is decent but not great. With a better defence, this tactic could be outstanding, I believe.
This is a tactic that I will be using on my future personal Everton saves on FM23, as the attacking players work so well. I recommend this tactic to anybody who is playing as Everton with the players I had or for anybody looking for a well-balanced two-striker tactic.
Have you ever used 42112A Blaulicious by Delicious Story on FM23, and what are your thoughts on the tactic?