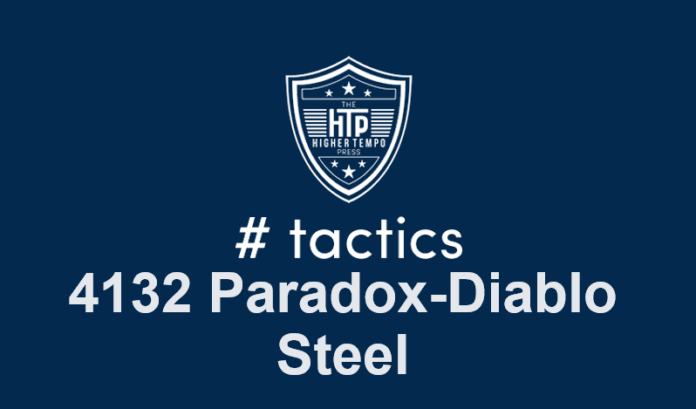 We are back with our latest tactic testing. This time around, we tested out another tactic from one of our favourite creators, Delicious Story/Delicious the Assembler, called the 4132 Paradox- Diablo.
To learn more about the tactic, why not visit Delicious' YouTube channel, where he talks about his creation?
What were the conditions of the test?
For the test, I used an updated database By FMInside downloaded from the Steam workshop, with all the deadline-day moves on there. I used Everton once more, as always. I found the summer signings made a massive difference in this save particularly. More on that later on.
The predicted finish for Everton at the start of the season is no longer 16th, it is now 12th place, which has been more than achievable with most tactics I have tested and used recently.
How is the tactic set up?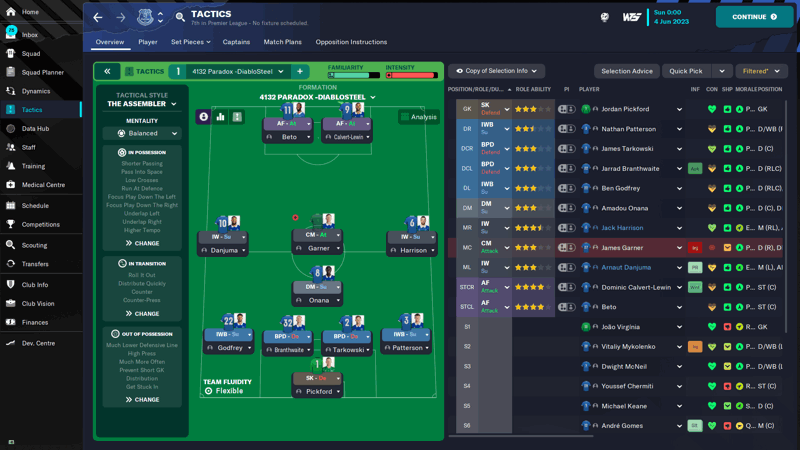 As the tactic title suggests, it is set up in a 4132 formation with a balanced mentality. Looking at the tactic, the first thing I feel is that it is very well-balanced, which is obviously what the creator was going for when creating it.
The formation itself sets out with a goalkeeper on sweeper keeper with defend duties. In defence, two ball-playing defenders on defend are flanked by two inverted wing-backs on support.
A defensive midfielder on support adds an extra level of protection in front of the backline. The midfield consists of left and right midfielders playing as inverted wingers on support, with a central midfielder on attack.
The forward line contains two advanced forwards on attack. I have to admit I do like tactics with two forwards, especially now that Everton has two very capable strikers.
How did the tactic perform?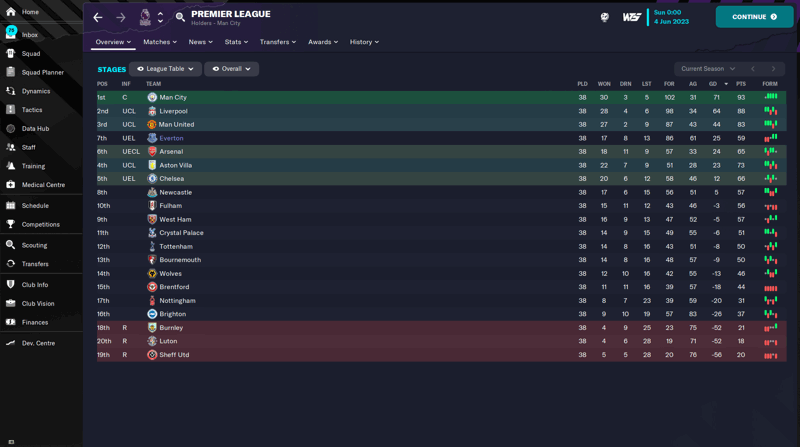 Like most tactics I have tested by Delicious, this tactic overperformed. As I mentioned earlier, the team were predicted to finish 12th place in the table. Instead, they finished a respectable seventh place, which I would be relatively happy with in a first season with Everton.
Unsurprisingly, considering it's a two-forward tactic, it was impressive in attack, as the team finished as the fourth-highest scorer in the league with 86 goals scored. The attacking side negated a defensive record, which saw them concede the fifth most goals in the league. The two combined resulted in a goal difference of 25, the fourth-best in the Premier League.
The Premier League position and overall was undoubtedly satisfactory. However, there was also a bonus in another competition, as the team won the FA Cup, with a 4-2 final victory over Brighton. The Carabao Cup saw another early-stage exit.
Who were the top performers using this tactic?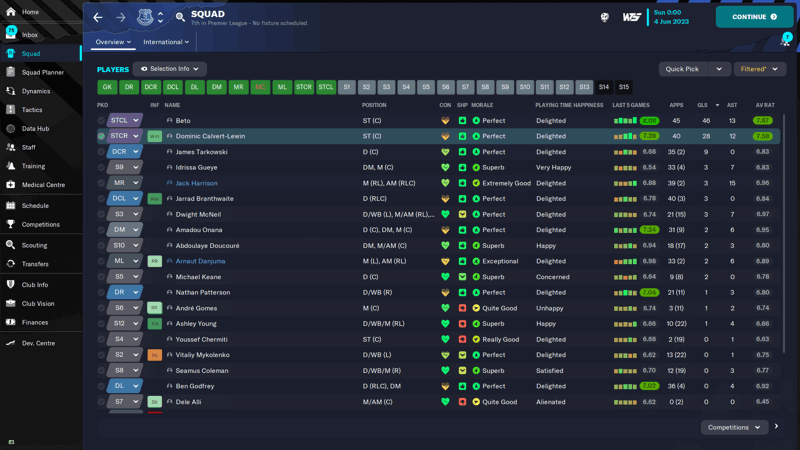 When it comes to the top performers over the season, nobody could touch the two forwards, Beto and Dominic Calvert-Lewin. Beto was outstanding, scoring 46 goals and producing 13 assists in 45 appearances.
Only Manchester City superstar Erling Haaland scored more Premier League goals than the Portuguese forward. His average season rating of 7.87 is one of the highest any player has produced in any of our tests.
Beto's striker partner Dominic Calvert-Lewin was previously the king of topping the Everton goal charts and season-average rating tables. However, he had to settle for second place on both in this save.
The England forward still scored a respectable 28 goals and produced 12 assists. His season-average rating of 7.58 is also excellent, and without Beto's presence, DCL would be streets ahead of everybody on that particular metric.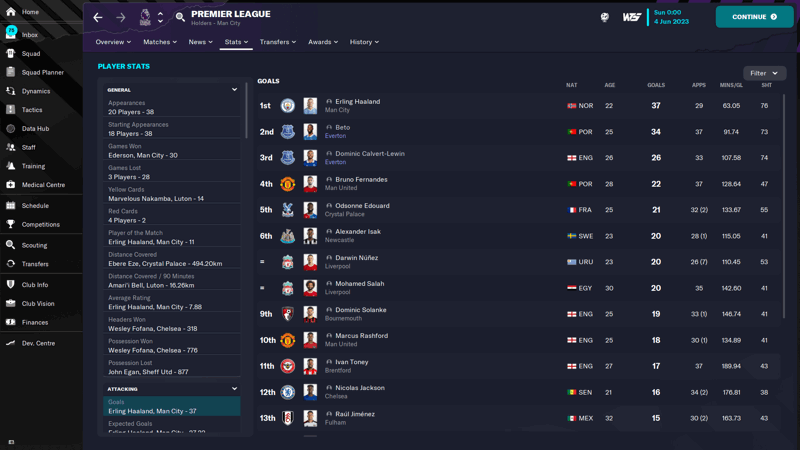 As is often the case with FM tactics, a centre-back was prolific from set-pieces. With Everton saves, it is usually James Tarkowski on FM23. The former Burnley centre-back didn't disappoint in this tactic, grabbing nine goals and picking up a season-average rating of 6.83.
No other players produced significant goal tallies of any note. However, right-sided midfielder Jack Harrison was highly prolific when it came to assists, as he had a team-high 15 assists while also contributing three goals.
Several other players were highly productive when it came to assists, as Idrissa Gueye, Dwight McNeil, and James Garner all produced seven assists. Meanwhile, Arnaut Danjuma and Amadou Onana picked up six apiece during the save.
The former's result was slightly disappointing, as Danjuma has performed far better in other saves. However, he does tend to perform better when playing higher up the pitch.
What is my verdict on the tactic?
It seems that most tactics that Delicious creates produce solid results. This one was no different. I particularly liked the fact that I could pair Beto and Calvert-Lewin, as on FM, they are two of the Toffees' best players, as they are in real life.
As always, with a two advanced forward system, you lose something defensively, as you tend to concede more goals with fewer players in defensive roles. However, the trade-off is worth it in this tactic, as the advanced forwards worked very well as a partnership.
I feel like I always say this about my Everton saves, but if the team had better defensive players, then this tactic could probably result in a higher position in the table. However, other than having relatively poor defensive options, this tactic suits the personnel available on the updated database.
Overall, I would undoubtedly use this tactic again in future saves. Its positives definitely outweigh the negatives. However, if I used it in a personal save, the first issue I would address is the defence. That is not the creator's fault, though, who created another excellent FM23 tactic.
Have you used the 4132 Paradox-Diablo Steel by Delicious the Assembler in FM23, and what are your thoughts on the tactic?