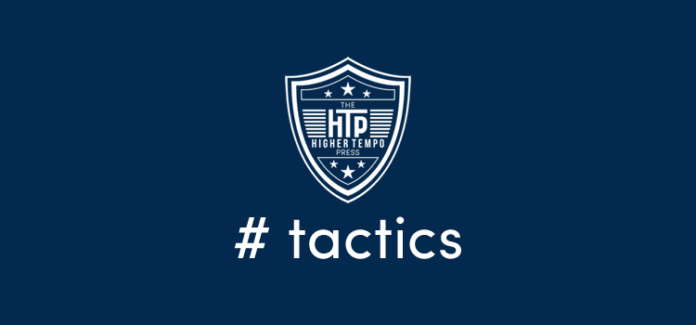 Like any position on the pitch, it's not enough to just stick a good goalkeeper between the sticks – they need to fit your tactical style. Personally, I like to play with a high line, at a high tempo, although this can leave a lot of space in behind. And that's why I always use the Sweeper Keeper, with the attack duty.
Goalkeeping attributes on Football Manager aren't quite as clear cut as outfield players, so it can be tricky sometimes to distinguish between a top goalkeeper, and a top sweeper keeper. Let's take a look at what a sweeper does.
What is the Sweeper Keeper Role?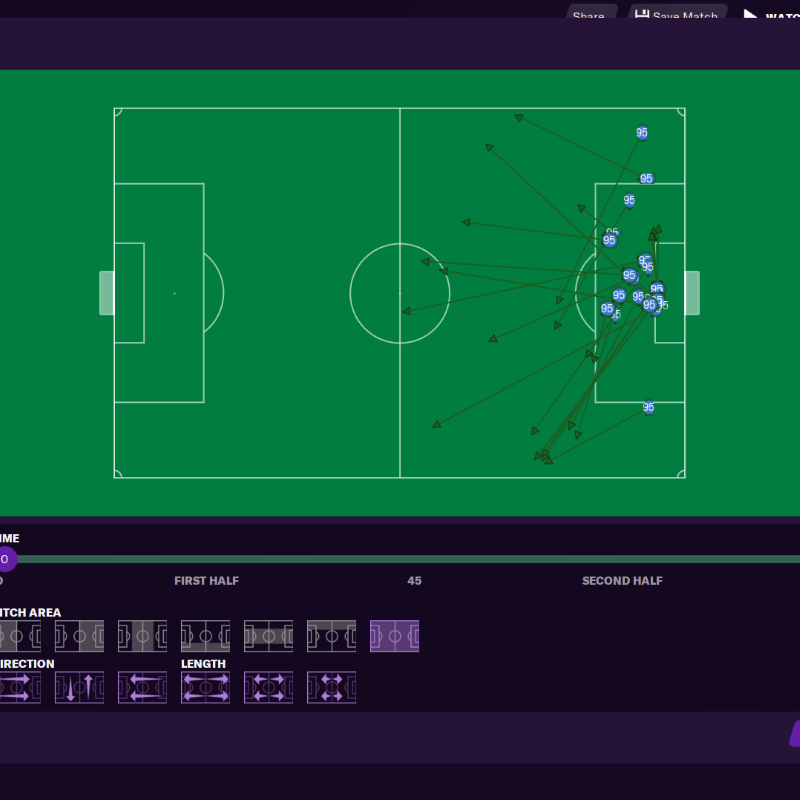 This sums up a sweeper keeper's job, moving around their own final third and being comfortable with the ball – not restricting themselves to their own box.
Always an outlet for the centre backs who need to play a pass under pressure, and always on hand to deal with a through ball past the defence.
This is where the sweeper keeper stands (left) in comparison to a standard goalkeeper (right). Over the course of 90 minutes, this advance of 10 yards or so is significant, as it lets everyone on the pitch know that they are patrolling that area.
It lets the defenders know that they can maintain their high line, as the space behind them is being manned, but it also tells the opposition that the option of a through ball won't work.
This image demonstrates where the keeper sits at all times, outside the box, in position, ready to deal with an ambitious pass over the defence, nullifying counter attacks before they happen – vital for teams who generally see more of the ball than their opponents.
What are the Attributes?
The best sweeper keeper in the world, still, is Manuel Neuer. He has facilitated Bayern's gameplan and domination of German and European football for nearly ten years. His comfort and ability outside of the box (of course combined with exceptional shot stopping ability) has allowed Bayern's defenders to sit at the halfway line in near enough every game they play.
Whether under Heynckes, Guardiola or Flick, Bayern have never needed to be scared of the opposition, they can always play their high line with the confidence that Neuer will sweep behind.
The key attributes to look out for are:
Command Of Area
Communication
Eccentricity
Kicking
One On Ones
Rushing Out (Tendency)
Acceleration
Clearly, Neuer excels in all of these attributes, which is what makes him the archetypal sweeper keeper. When searching for your SK, make sure you check out their one on one ability. Whilst this hasn't got much to do with dominating outside the box, your high line will, on occasion, leak clear cut chances. Give yourself the best chance with a competent one on one keeper.
For a top division team, keepers like Gollini at Atalanta are perfect – demonstrating the abilities to sweep up behind defences.
For lower ranked sides, an example would be Billy Crellin, who starts the game at Fleetwood Town (on loan at Bolton). Whilst his rushing out tendency is minimal, his command of area, kicking and communication more than make up for it, providing an inexpensive option for League 1 and Championship level teams.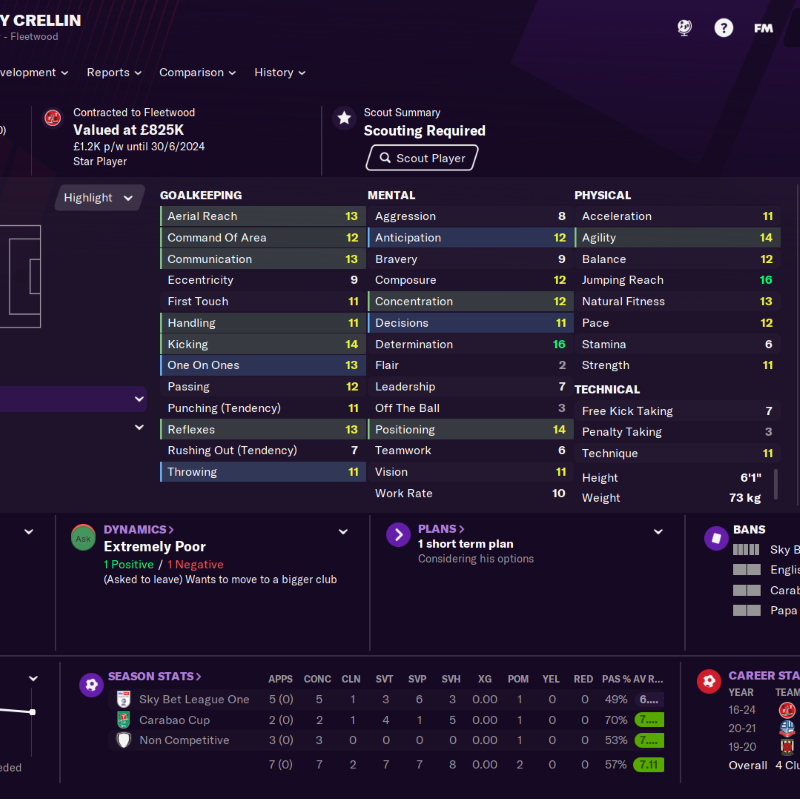 Adjusting your Tactics
Of course, this is a tactic that brings high risk as well as high reward. Whilst teams will have more control of the game, football is a low scoring sport – expect to lose games by a single goal from an unexpectedly brilliant through ball by the opposition left back, it just happens from time to time.
But on the whole, playing with a high line squeezes the opposition into their own half, where they don't want to be. This creates more chances, a higher xG, and is more likely to win more games in the long run.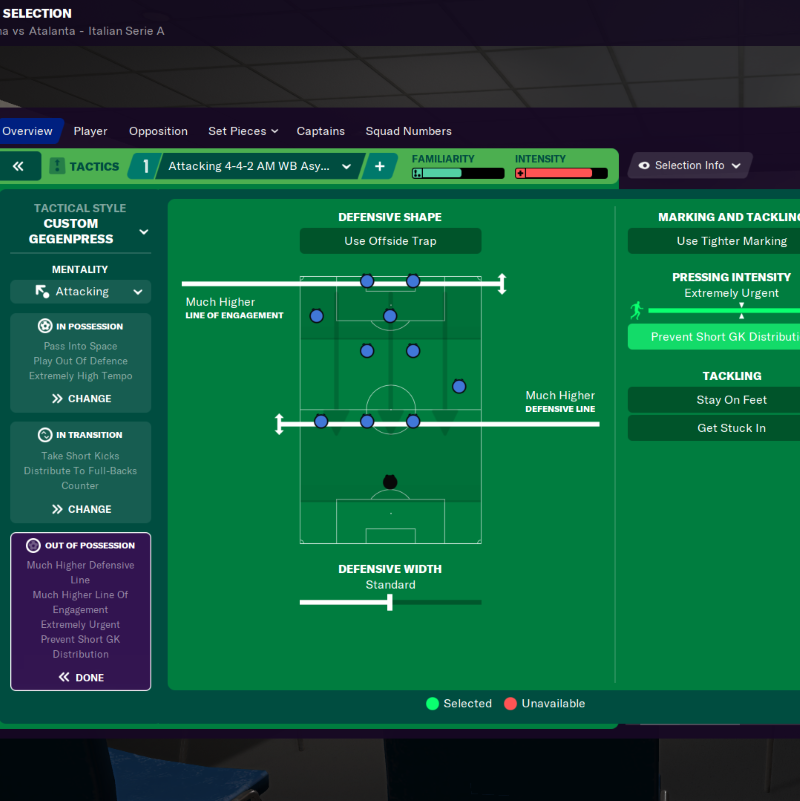 Modern football has shifted – all elite sides, those who regularly win league titles, utilise a high line and a sweeper keeper. Count them up, it's how the modern game works – and if you aren't using it in your FM career, that might be the difference between 2nd place and finally winning that trophy.