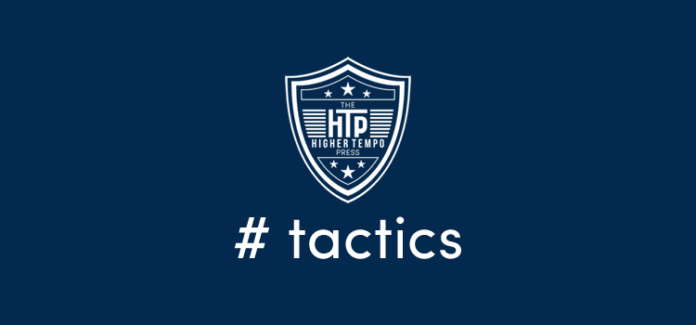 This series continues to attempt to build a competitive team on a budget, by using real life data analytical techniques with the data available within Football Manager 2020. Already, the goalkeeper and left back positions have been analysed, this episode will focus on the right back and two centre halves.
As outlined in previous episodes, I am analysing young Championship players to determine their style of play and ability, to find players who can suit my very specific system at Leicester, in the Premier League. Having sold a number of top players from the Leicester squad, the potential transfer income is around £200m. The value of the players coming in is likely to be around a third of that, with hopefully improved results.
The Right Back
As with the left back, the right back needs to be a strong crosser of the ball, first and foremost. His role will be to push up the pitch, hit crosses from deep and support the out and out winger ahead of him (the left back will be working behind an inside forward, so will be needing to overlap further).
As a result, I compared total crosses per 90 minutes against cross accuracy amongst each shortlisted right back, which provided the below graph.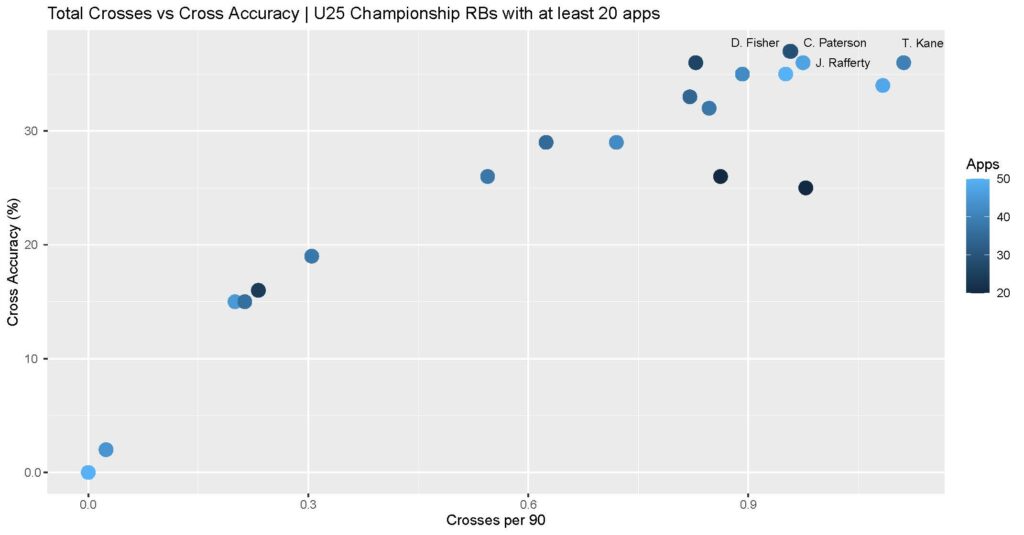 Interestingly, there is a clear positive correlation between number of crosses and accuracy, which indicates that those that cross more do tend to be better at it. The main names highlighted are those who achieved the better cross accuracy while taking many crosses, namely Kane, Rafferty, Paterson and Fisher (the latter two are essentially overlapped on the graph).
Of the four, Rafferty achieved this with the most appearances, which is why I decided to assess him in more detail. I put together a basic radar chart, to compare his statistics with the average Championship right back. The results came out very positively in favour of the Preston full back.
As the chart shows, he excels in a variety of disciplines, ranging from defensive attributes like tackles and interceptions, to attacking output in the form of crosses, dribbles and assists. A notable statistic did come up, however, outlining just how many fouls he committed this season, one of the highest ranked players for fouls per 90. This may require careful management, but instructing him to ease off tackles may solve the problem.
Another potential issue is his Km/90 is relatively low, although still above average. This should be a serious concern, however, as he is not being required to go beyond the winger as much as the left back will be, so won't need to cover as much ground. It should also be noted, that many right backs will be playing in a back 5, so will naturally need to cover more ground compared to traditional full backs such as Rafferty. On the basis of this, Rafferty was the clear choice for the right back spot.
The Centre Half Pairing
The key to a centre back duo is to blend physicality with intelligence, or combine the two where possible. So long as at least one of them can be trusted to make that key challenge, and the other can be guaranteed to win the headers he needs to, that is the fundamental of a strong back two.
First things first, tackles. Comparing tackles per 90 with their success rate offers up a selection of potential signings at centre half.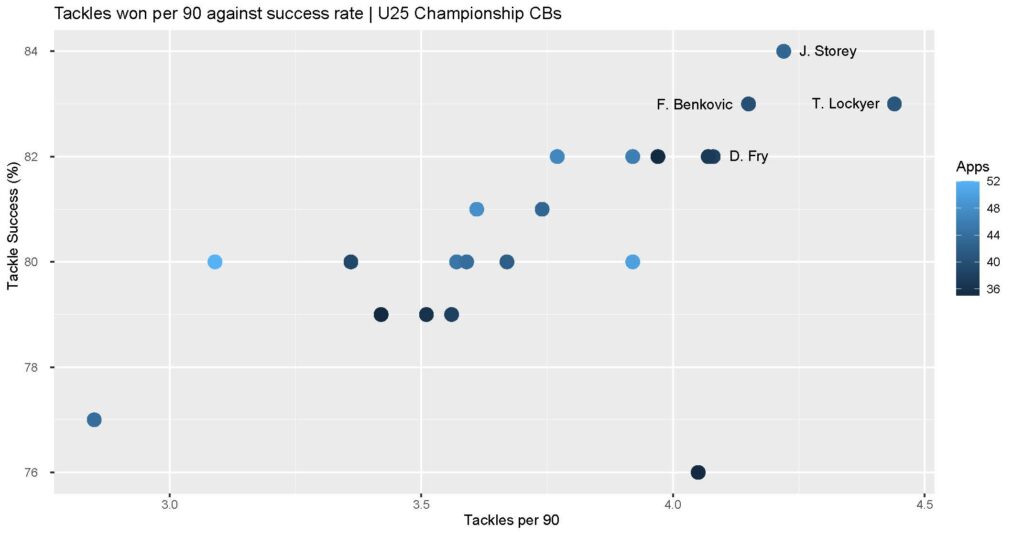 The highest tackler per 90 minutes is Tom Lockyer, of Charlton. Being a side towards the lower end of the division (although they did stay up comfortably), you might expect the centre half to make more tackles than better placed counterparts. However, this, mixed with a fine success rate, makes him an intriguing prospect.
The two players I was interested in examining further, therefore, were Lockyer and Storey, the player with the second highest tackle rate, and highest success rate. On any other save I do, it would appear that red cards and penalties are drawn towards me like wasps at a picnic, so it was important to me that my centre half minimises the fouls conceded.
Of these, Lockyer has made fewer fouls per 90, so he was the one I pursued further as my more "intelligence and ability" defender. It may also be clear that Filip Benkovic ranked highly on both of these metrics. I would go in to sign him also, but that would be futile, as he is already at the club. He was merely on loan at Bristol City, and as I am not Joe Kinnear, I won't be making an offer.
So, who is to be the big strong player to partner Lockyer? I know who I would have in my mind, a classic Championship centre back. But it took the analysis of how far ahead of the competition he is to make the decision for me.
For headers won, compared with aerial duels, Jake Cooper of Millwall is astonishingly far ahead of his colleagues. He has to be the main target for our physical presence at the back. Interestingly, Lockyer ranked highly once again on this, indicating that he could be the more rounded of the two. Also noted is that Kipre, of Wigan, has a slightly improved success rate compared to Lockyer, but Cooper is the standout choice for an aerially sound centre half.
Under the Radar
To finalise my decision, I completed a radar chart of both centre backs against the competition, to see if there were any key metrics in which they fell short. On the whole, I am more than confident.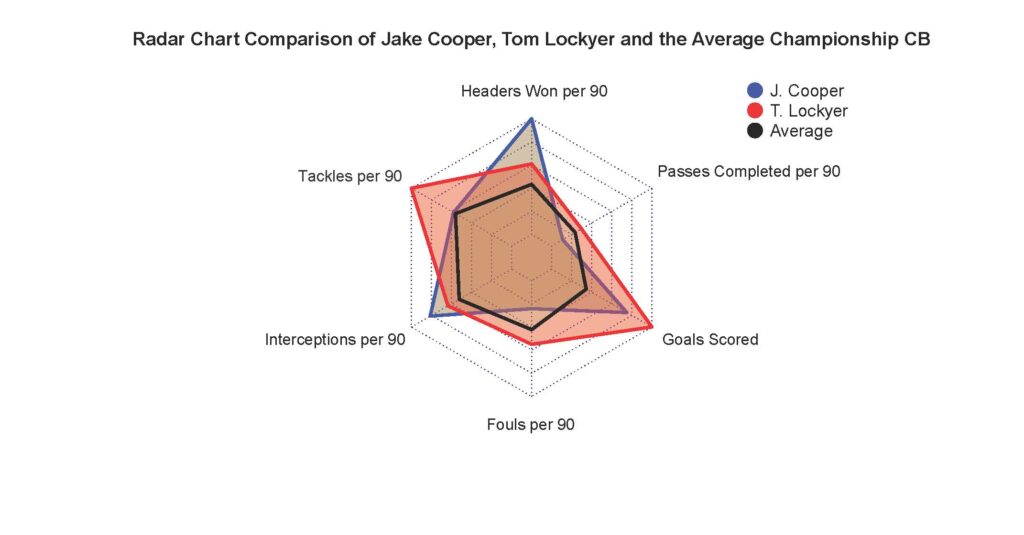 Lockyer beats the average on every metric, particularly for tackles, but is also the highest scoring centre back of those analysed. Unfortunately, he is slightly above average for fouls conceded too, but this can be an artefact of the sheer number of tackles made. In any case, this will need to be managed.
Jake Cooper, in comparison, has committed relatively few fouls, is by far away the best header of a ball and is among the league leaders for interceptions made too, a key aspect of centre back play. Both players rank relatively lowly on total passes completed, but that isn't an issue as that's certainly not what they are in the team for. When they get the ball, I will need them to do one of two things. Give it to a full back, or give it to the sides main creator – the CDM.
The transfer offers that have been made so far can be seen below, over the course of the coming episodes we can hope that these will start to come to fruition.