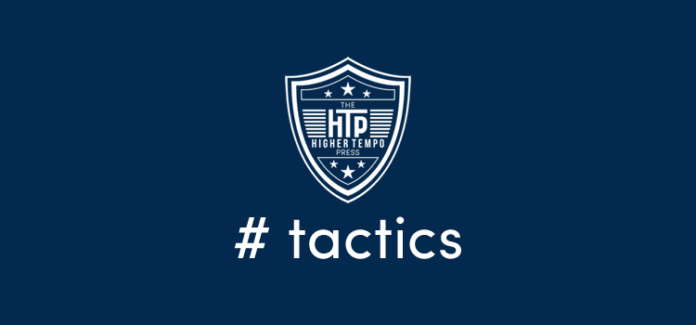 Football Manager is a game with two distinct schools of tactical setups. You either create a tactic but tweak it to fit your players, or you create a tactic and shoehorn your players in (or indeed purchase new ones to fit the system).
Personally, for an easy life, I like to let my players have the roles they are comfortable with, but I know full well that in some cases a false nine would be much more effective than a poacher, and I don't have the guts to ask my forward to do it.
So, to help out, here is a handy guide to what sort of player fits with particular player roles. What key attributes and stats does someone need in his locker in order to be effective in a role, and how can you identify the right player for your system?
Today, we will start off with a hugely important player role, the Advanced Playmaker with the attack duty…
What is the Role?
Firstly, I should say, I'm largely referring to the CM version of this role, as I personally feel that it has more of a benefit for a team playing just that touch deeper.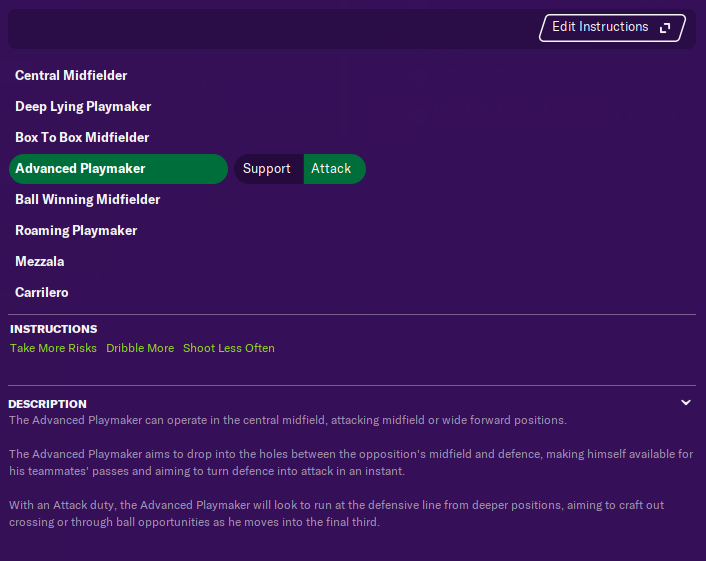 The job of an Advanced Playmaker is to get between the opposition defence and midfield to pull strings, make through balls and pop up in space while the team is attacking, and to come back and help screen the defence when out of possession. With the attack duty, they will also be tasked with pushing further into the opposition box, to either pick up a knock down from a cross, play a neat one-two, or to bag a goal himself.
What are the Attributes?
For an effective Advanced Playmaker, your standard attacking attributes need to be solid (dribbling, first touch, passing, technique, flair, vision), but what sets the attacking ones apart are the attributes that may be more closely associated with a striker (composure, determination, good physical stats and, ideally, finishing).
Take, for example one of my favourite players from Football Manager 2020, Luca Connell. I first used him at Celtic in this particular save, where he was branded as a winger, who could help out in CM if needed.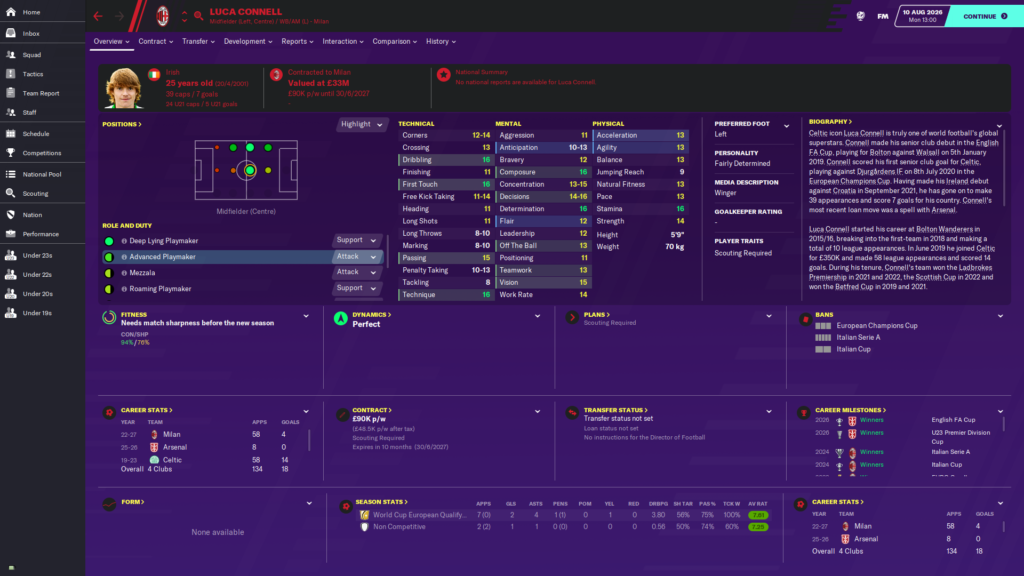 As I view him later in the save as he's gone on to pastures new, his stats have improved considerably, but the general outline of them remains the same. Here is a player with the strong attacking stats of a winger, yes, but I'm more interested in his determination, composure, stamina. Those are the attributes of a late arriver (not a word) into the opposition box, someone who has the blend of technical, mental and physical attributes to be effective in the middle of the park AND in scoring goals.
I was only at Celtic for a single season, but look at how he performed in that role, in the 2021/22 season. By changing his role, due to the attributes he displayed, he was a force of nature, and has since become an established European-standard Advanced Playmaker.
These are the sort of stats your Advanced Playmaker should be achieving. Unlikely to be the player with the highest goal or assists tally within your team but is likely to be in the top 3 for both. The sort of player you hate to play against, because there is always a chance that he produces something special.
Taking the Plunge
Whether playing with a CAM, CDM or two strikers, a player charging into the box from deep is an extremely effective tool for your side. Yes it may pull them out of position and is a gung-ho strategy against tougher opposition, but the value is clear to see (just take a look at Frank Lampard's career stats). But not many players on FM have the Advanced Playmaker (Attack) role comfortable to them, it is a rare phenomenon, but the right players can adapt their game, you need to find them.
And that is the underlying point to this series: most players on FM will only have one or two players roles that are 100% comfortable to them. It is up to you to identify which attributes could be better adapted to your preferred roles in your preferred tactic, in order to find success.