Hello and welcome to Season 5! Part 13 might be considered unlucky for some but we're hoping for quite the opposite, as Norwich go looking to secure a place in the Champions League group stage whilst proving that last season's fourth-place finish was no fluke. It probably was. So how do you prepare Norwich for Champions League football?
34-year-old Alan Shearer might help. He knows where the goal is, that's for certain.

Joey Gudjonsson I'm less hopeful of, but the scouts love him and £3.4m is a very reasonable price

It'll be Hapoel Haifa or Olympiakos Nicosia in the qualifying round, I'd say that could be a lot worse.
We head to Israel full of confidence but after spending 83 minutes banging on the door, big Al gets his first goal and the vital away goal to set us up nicely for the return leg.
New pants, please.

We are just minutes away from exiting on away goals until To Madeira pops up with the most important goal in the club's history (probably). That goal could be worth millions. We deserved it, Haifa had looked like stealing it really.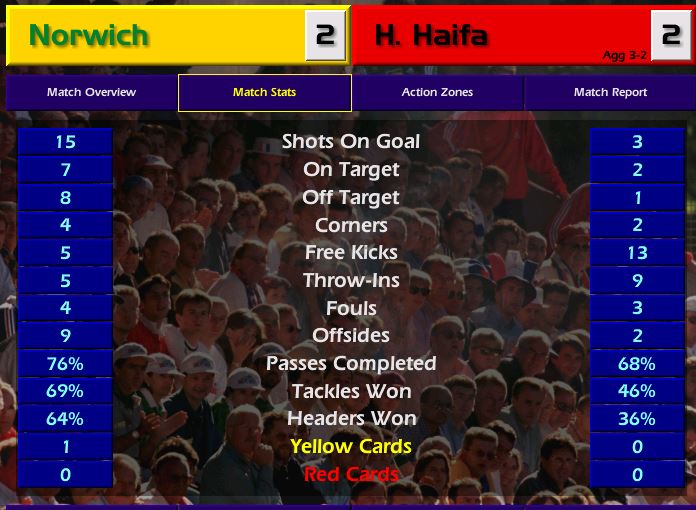 Cross everything for a decent draw.
We can work with that. Kind of. Dortmund have just spent £37m on Thierry Henry, so it's not all going to be fun, but it could have been worse.
Meanwhile, the domestic season begins at Molineux. Joey Gud gets the nod but Dimi is banned for the first few games after the incident we don't talk about at Highbury.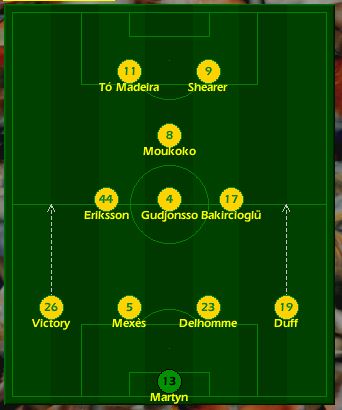 New season, same story.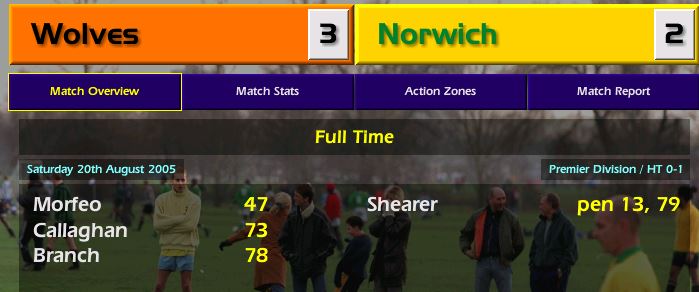 Shearer looks useful but we still can't defend and we're off to a losing start.
Because of the Champions League qualifiers, we have two more away games. One ends with a classic 1-0 away win whilst the other involves Joey Gudjonsson ramming home an injury-time equaliser. The scrapes we get ourselves into.

It's not the ideal way to prepare for our first Champions League game but Shearer puts us ahead and it looks like it could be a famous night only for Tomas Rosicky to not be injured for once and equalise. It's probably a good result, in the grand scheme of things.
We finally play our first home league game in the middle of September, and the Carrow Road faithful are soon reminded that we are as good as we are bad. We lead 2-0 against Spurs, now managed by Tony Adams, only for it to finish 2-2. We really are a joke sometimes.

Incidentally, Adams was sacked by Chelsea, who poached Hoddle off Spurs, who in turn appointed Adams. Job swap.
Off we got to Lisbon to snatch another draw from the jaws of victory. Not Jamie Victory, he scored but his jaws were not involved.

Again, a result I would have taken before kick-off but to be leading in the 92nd minute and not winning is poor form.
Anfield, now there's a place you don't want to go after a Champions League trip. We have the temerity to lead for 4 minutes before Owen and the less celebrated figure of Jesper Gronkjaer consign us to a loss.

Fenerbahce are our next visitors and they become the latest team to rob us blind. Is Dimi to blame? Maybe.

Fulham are having a rough season and that fact is underlined by Luke Chadwick scoring a belter against them to give us a rare league win. The only downer is the injury to Mike Duff, which heightens the chances of me having to play Aaron Hughes.

Man Utd come to town and we romp into a 2 goal lead. I say romp, we nick two goals against the run of play and get barracked for an hour, and Michael Bridges helps himself to a couple of goals. At 3-2 down it looks all over but Shearer pops up in injury time to equalise and goad the Man Utd fans who doubtless gave him some stick for turning them down in 1996. Roy Keane looks on, angry and confused.
That leads us to the vital return match in Turkey against Fenerbahce. A draw will keep us alive (it's a tight group) but a loss will pretty much end it for us. It's a very famous night.
Chadwick proves again to be a man for the big occasion whilst Moukoko is back in the good books. Gudjonsson seals it with Fener pushing men forward and it'll be a very enjoyable flight home.
I've added John Hartson to the ranks – Shearer is old and is struggling with two games a week whilst Hartson was free and equally familiar with kicking people in the head, so it's an easy decision to bring him in. He rewards me with a pair of strikes against Birmingham
That means Shearer is nicely rested for the Dortmund away game. Henry is rested to the bench for them, which sums up our differences, but Tonton, oh Tonton, why did we ever fight?

He grabs an early goal and it's backs to the wall as Dortmund throw everything at us, including Henry at half-time. It's fine though, we're made of stern stuff on occasion and Dimi takes home man of the match. We're on the verge!
All we have to do is draw with Sporting and we are through.

Gillingham are a Premier League club?! John Hartson scores again. It's a strange day but one we'll enjoy more than our visitors.

We even secure our passage in the League Cup, despite changing the entire team. Bishop Auckland striker Michael Dunwell, signed for £100k, scores the winner. Thanks Charlie!

Here's confirmation of our signings, I probably should have put this in before now but I didn't have a big reveal for Hartson.
Salomon Olembe has been absolutely awful, by the way.
We're 12th, had we won our final game of the update against Leeds we'd have been 5th. But we didn't. So we are 12th.

It's a very tight league so I'm not too worried, it's the Champions League I'm bothered about. I took the decision to rest most of the team against Leeds as the Sporting game is just two days later – how is that fair!?
You'll have to wait until next time for the outcome of the Sporting game. Boo indeed, but I have to do everything I can to cling on to my 3 readers so hopefully that entices you to come back next week for Part 14. Toodles!