Welcome! It's the end of season 4 and if you've stuck with me through the good and bad at Carrow Road then I am very grateful. You are the Darel Russell of the operation. If you're new to these parts, well, I guess the summary is we had no money and we got promoted. Then we had slightly more money and blew it all for mid-table finishes. But now we sit here, 11 parts in, on the verge of Champions League qualification which would sort us out financially for at least a couple of years. So how can we mess it up?
We're also still in the FA Cup, which in itself is an achievement given our total aversion to winning cup games. Neil Sullivan keeps us at bay though and we have to settle for a replay at White Hart Lane, somewhat of a bogey ground for us.
The draw has us away to Arsenal in the Quarters, so the TV companies are probably begging Tottenham to get the job done. We're so close to extra time…
An 18-year-old Swede called Wallin puts us to the sword. My own Swedes have gone off the boil (if you can boil turnips I mean that pun entirely. I'll ask Delia) but look who is trying to make amends.

He returns with a man of the match display against Wolves. That my friends is called man management.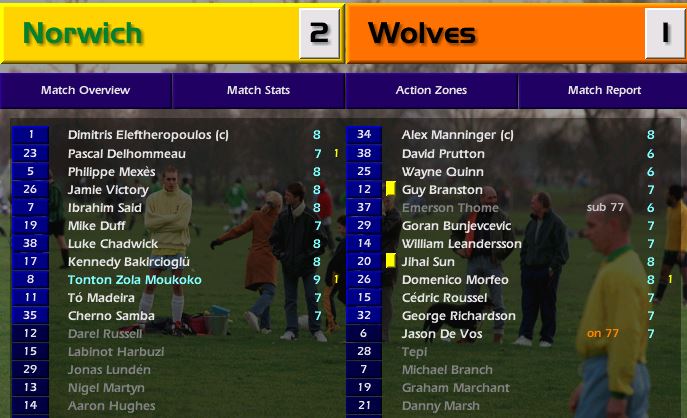 A defeat at Chelsea puts us under pressure as we travel to 6th placed Liverpool. We've got a 5 point cushion over them but every game is an eternal struggle for us at the moment.
It's a very good time to pull out one of the results of the season!

That's followed up by a draw at home to Middlesbrough and a narrow away loss to Sheffield Wednesday – a pair of bad results. There's mounting pressure heading into our home game with Sunderland.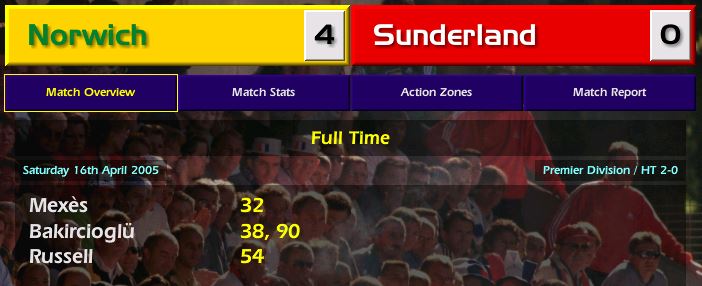 Phew! It keeps our necks above water in third, though Leeds are in great form. 4th would be good enough though, I am not greedy.

The need for us to finish in the top 4 though is becoming critical. I don't know how this club manages to lose so much money!


Obviously losing a million a month is the root cause. I haven't purchased any players in that time so it's purely operating expenditure. We are boned.
Cherno is starting to get some reward. He's only scored a handful of goals this season, I'm starting to think it's all a myth.

Meanwhile, the Dimi money looks well spent – though that midfield is a bit lopsided with Dabizas in there. Paolo Maldini…sub. Behind Alain Goma. This country.
Anyway, the pressure is mounting and a 2-0 lead against Leicester is great, until Said gets injured and the roof falls in. Bloody hell lads.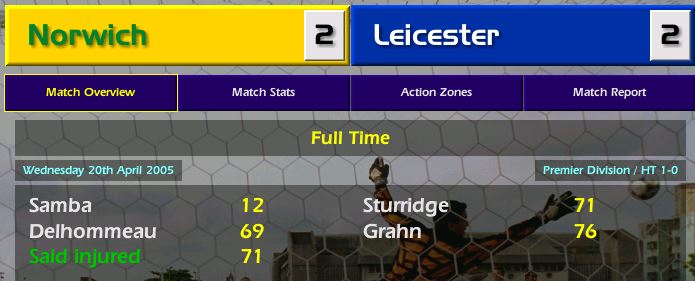 That would have been very helpful. Instead, it's off to Old Trafford to see the champions-elect.
That point may be useful but to lose Mexes for a game at this stage is probably not good.
Arsenal next, who have had an average season by their standards, but can you be surprised by that when Colin Cameron is playing? And scoring…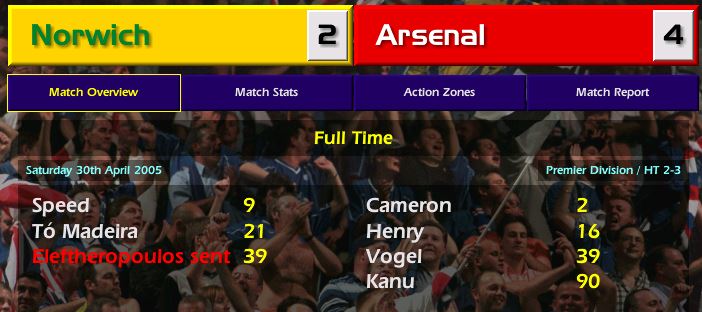 I know what you're thinking. Silly Dimi got sent off and they scored the free kick or something. Well, you'd think so wouldn't you?
What I like about this is that we kicked off again and THEN Dimi decided to lamp Ljungberg. You silly man. So he's going to miss the run in. The loss doesn't help either.
Neither does a defeat at Fulham. Oh crikey.
With one game to go, we've almost blown it. Liverpool and Chelsea have home games against Birmingham and Bolton whilst we are at home to relegated West Brom. That is music to my ears. Liverpool would need a huge win coupled with a huge loss for us, so I'm not too worried about them.
We cannot blow this. We'll probably never be in this position again. Nigel Martyn is in goal and Darren Moore is at centre-half, so it won't be easy.
It's never easy.

Liverpool only won 1-0, so they remain below us. At Stamford Bridge, Tony Adams' men are pushing for a winner having just equalised through Mario Stanic. They can't do it. We've done it!

It's a worrying trait of ours that the wheels simply fall off at unpredictable times of the season but we'll have a Champions League playoff to get stuck into in August and then we might actually have a chance of being financially sound. Maybe.
The great clearout has begun. Gillespie, McPhee, Wilkie, Drury, Nedergaard, Easton & Abbey have all moved on. The board expect cup success. Season 5 might be our toughest yet.