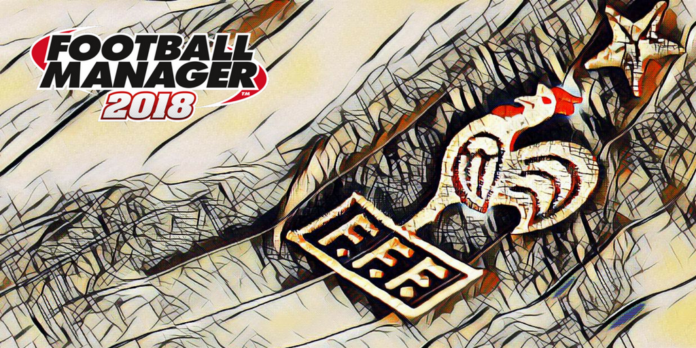 "Let me get this right. Every single one of you in this room said we would get relegated. And now you are suggesting we bottled getting promoted? Seriously? Do you understand what we achieved this season? Can you actually comprehend what we did? Yes, we were close to promotion. We know that, we feel the pain. But we finished 5th. 5th! There was one point between us and Saint-Etienne and we all know how much they spend on wages (€25m per annum). Don't you dare say we have failed. We are heroes. Did anyone else beat Auxerre (the Ligue 2 winners) twice? No."
---
MISSED OPPORTUNITIES
A missed opportunity? You betcha. This will haunt me forever.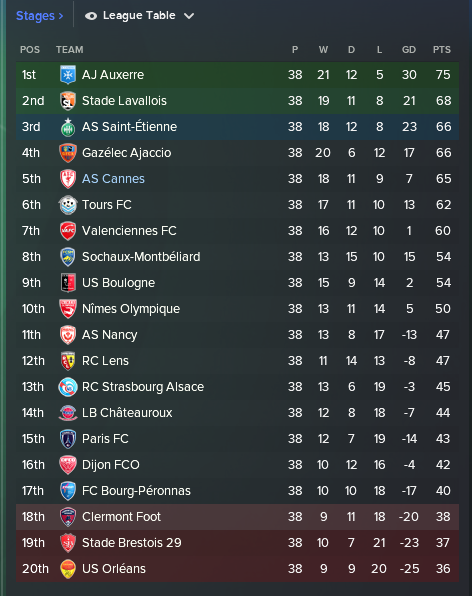 One single point off a promotion playoff against Montpellier.
Three points off an automatic promotion.
Does it hurt? Hell, yeah.
Especially when you look at this.
Paris: Hadn't won in 5 until they played us.
Tours: We were 4-2 up with 15 minutes left.
Strasbourg: They were bottom when we played them.
Orleans: They were bottom when we played them.
I can take the shellackings off Gazelec Ajaccio and Saint-Etienne because, when it comes down to it, they were better than us. But those points we dropped, we could have gone into Ligue 1 as amateurs.
So what happened?
Scoring wasn't a problem.

Conceding though, well that wasn't a problem either.

The tactic that I unveiled in a previous post, the one the RPM in a DM role still has it's moments. But maybe if I'd been a little more cautious we'd have picked up more clean sheets and, therefore, the missing points.
Equally, if I hadn't started the season with two converted DM's at CB then we might have been tighter. Ifs, buts and maybes.
This post is being written at various points, so these are the initial thoughts having seen the season end.
---
3 THINGS I DO WHEN THE SEASON ENDS
#1 Plan the recruitment: Without stating the obvious, it's vital. As soon as the final whistle goes on the final day I shortlist all the players released by Ligue 1 clubs since Jan 1 and then players released by certain Ligue 2 clubs (this season, only Lens, Saint-Etienne and Auxerre). I then remove all the ones already picked up clubs and all the ones U18 as they will never get a chance to play. The remaining players will be scouted, and anyone under 60% recommendation will be removed. Then, if and when they become "interested", I will look to bring them in.
#2 Fire in some board requests: The board should still be loving me as manager, so now is a good time to request some stuff. I started with staff this time – extra coaches was turned down, but I got a new physio and scout. I went back a week later and got the training facilities improved, the data analysis improved and more money for junior coaching.
#3 Assess who might be released: I won't rush into releasing anyone until I know I have replacements lined up, but some players did not impress me this season. I have to bring in at least two proper centre-backs and put my DM experiment behind me if we want to try and get promoted next season. We could also do with stronger fullbacks. Other than that, unless a superstar talent is available, I think we are in good shape.
---
AIMS FOR THE NEW SEASON
We go again. It's that simple. I've seen enough to believe that, with a little luck, AS Cannes could get themselves into Ligue 1 as an amateur club. I can tell you don't believe me, but we were SO close this last season that I know we can do it.
Recruitment hasn't been great so far in preseason, but I think it is normally like that. After the season starts players without a club become a little less picky about coming to play for free. We shall see. A smaller squad might actually benefit me.
I've had three job offers from Ligue 1 over the summer (so far) and I've turned them all down. I'm not going anywhere. We may not remain amateur forever, sure. This might be our last season before we go professional – and if it is, cool. That would make the save challenging in different ways, managing that transition to professional status financially.
We are expected to be 20th this season. That isn't happening.
Au revoir!