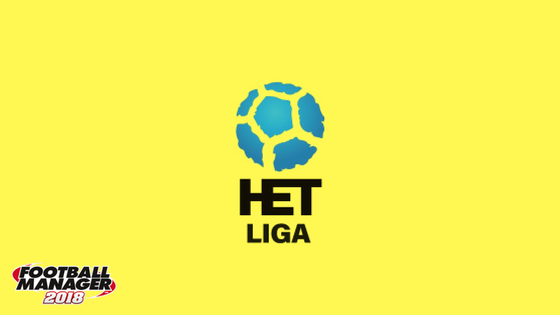 "Dobrý den, vítejte v České republice…"
After a perfect Colombia league guide by Mike aka AccordingToFM, I decided to write about the Czech 1st division. In the game it's called "Synot liga" but before the 2017/2018 season, it was changed to "HET liga" as there is a new major sponsor of the first division.
Structure
The Czech 1st division contains 16 clubs and they play each other twice. But despite the new system will be active from the 2018/2019 season in real life, Football Manager 2018 is ahead of the real life so we have the new league system already in the game.
That means the teams will be split into Championship Group (TOP 6), European Places Playoff First Round Group (teams placed 7th-10th) and Relegation Group (Bottom 6 teams).
There is a limit of 5 non-EU players in the starting XI.
In the Championship Group, you will play 5 games as team play each other once and teams at better places should play more matches at home. Teams entering this stage will start with all their stats from the first 30 matches along with all points gained.
The European Places Playoff is very simple. You will play twice (home & away) and the winners qualify for the second round. The winners of the second round will qualify for the Final.
The Relegation Group has the same rules as the Championship Group as teams will play five matches and the bottom team is relegated to the 2nd tier. Teams placed 4th and 5th will have to play relegation Playoff with two teams from the second tier.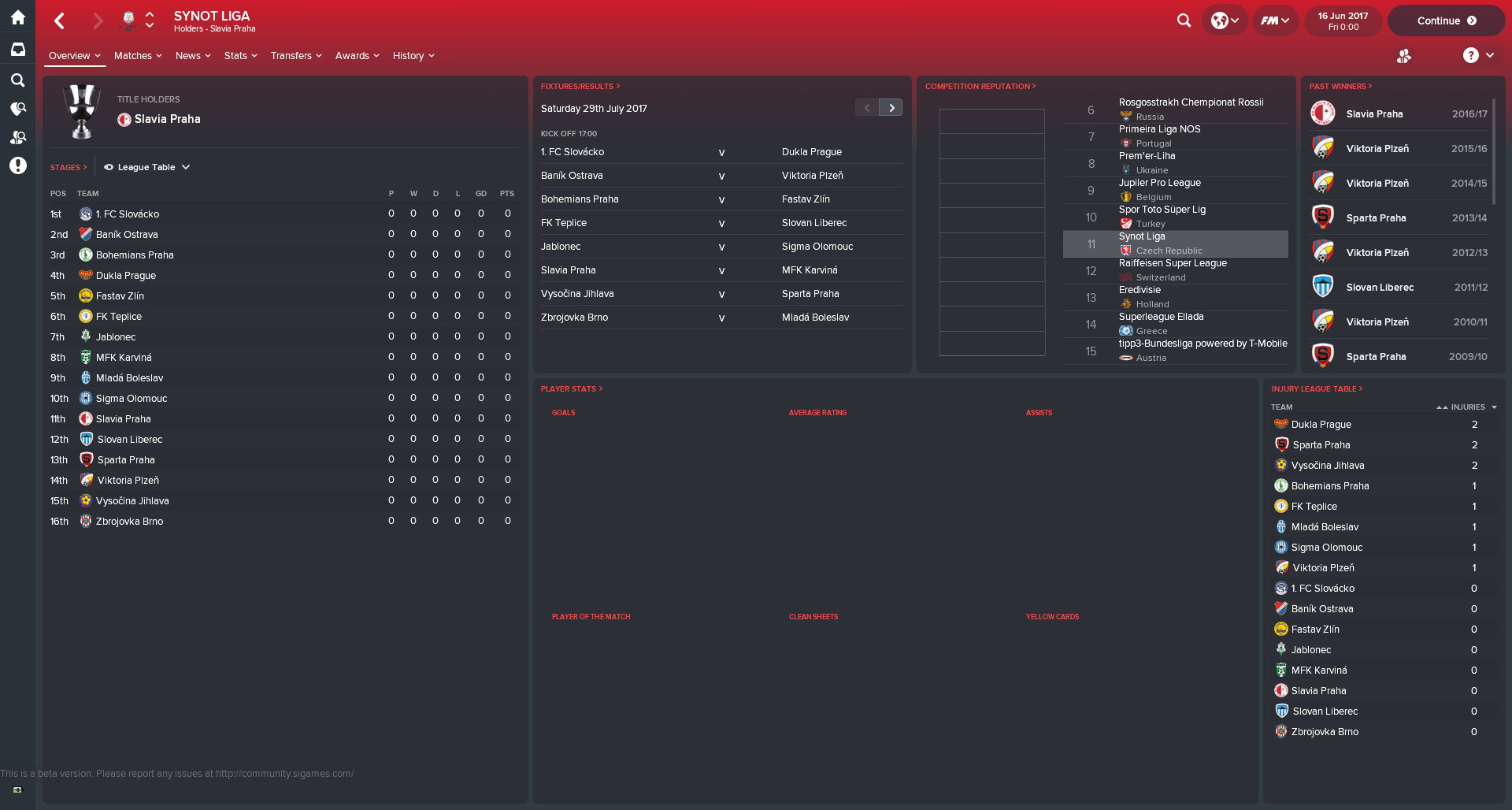 Continental qualification
Same as the new league system is adopted in the Football Manager 2018 it looks there are also updated places in UEFA Champions League and UEFA Europa League.
One team qualifies for UEFA Champions League Champions Playoff
One team qualifies for UEFA Champions League Best Placed Second Qualifying Phase
One team qualifies for UEFA Europa League Group Stage
One team qualifies for UEFA Europa League Third Qualifying Phase
One team qualifies for UEFA Europa League Second Qualifying Round (depending on the winner of the domestic cup).
Places are also allocated by league positions and results in the European Places Playoff.
Restrictions and rules
As it was already mentioned there is a limit of 5 non-EU players in the starting XI. The summer transfer window in the Czech Republic is longer than in England or Germany etc. It starts 1st July but it ends 22nd September. The winter transfer window is also longer as it ends 21st February.
You will have a winter break in the Czech Republic as the first part will end in December and it will be restarted in the mid of February.
Past Winners
AC Sparta Prague is the most times winner as the club from the Czech Republic capital won the league 12 times since 1993 when the Czech and Slovakia were divided into two nations and both nations have their own football structure.
They won the league in the 2013/2014 for the last time. In the previous three seasons, Viktoria Plzeň won the league twice and Slavia Prague is the latest Czech title holder.
Who to pick
Top Side(s): The top 3 sides to pick in the Czech Republic are Slavia Prague, Viktoria Plzeň and Sparta Prague. You can find a "stars" like Danny, Halil Altintop, Rio Mavuba, Marc Janko, Jonathan Biabiany and more in the squads of Slavia and Sparta as both teams spent a lot of money in summer 2017. On the other side, Viktoria Plzeň took back Pavel Vrba as their head coach and they have squad mainly with players from Czech and Slovakia.
Slavia have Chinese owners and there could be a lot of money. Sparta have a very rich owner but finances were more restricted in the past and Plzeň is addicted mainly to money from European cups and transfers.
Medium Side: My main pick for the medium side would be FC Slovan Liberec. The club from the north of Czech Republic have limited finances as their owner is very strict but they have a talented squad with a couple of youngsters on loan from Sparta Prague for example (Havelka, Pulkrab, Kulhánek).
Youth save: I have to say there is not only one club to this type of challenge because as you will progress in the save you will notice they will be fantastic newgens and you can build great teams based on young players. But I really like newly promoted SK Sigma Olomouc. They won a promotion from 2nd tier mainly thanks to players from their own academy with a year of birth 1993. Players like David Houska, Tomáš Zahradníček or Jakub Plšek became very good players in terms of Czech Republic and they are key players now. Sigma is flying in real life after promotion so there is a challenge for you to make it the same or even better in FM18.
Challenge: My main challenge this year would be to pick FK Mladá Boleslav. It's a team from the central part of the Czech Republic and Škoda cars are produced in the town. The club is very ambitious and they want to play in Europe but they failed to qualify for the Europa League groups stage in the past. They finished fourth in the league three times in a row despite they have a very good squad including Marek Matějovský, Jan Chramosta, Tomáš Přikryl or talented Ladislav Takács. There is a big chance to build the squad around Matějovský and Chramosta and fight with Slavia, Plzeň and Sparta for the title.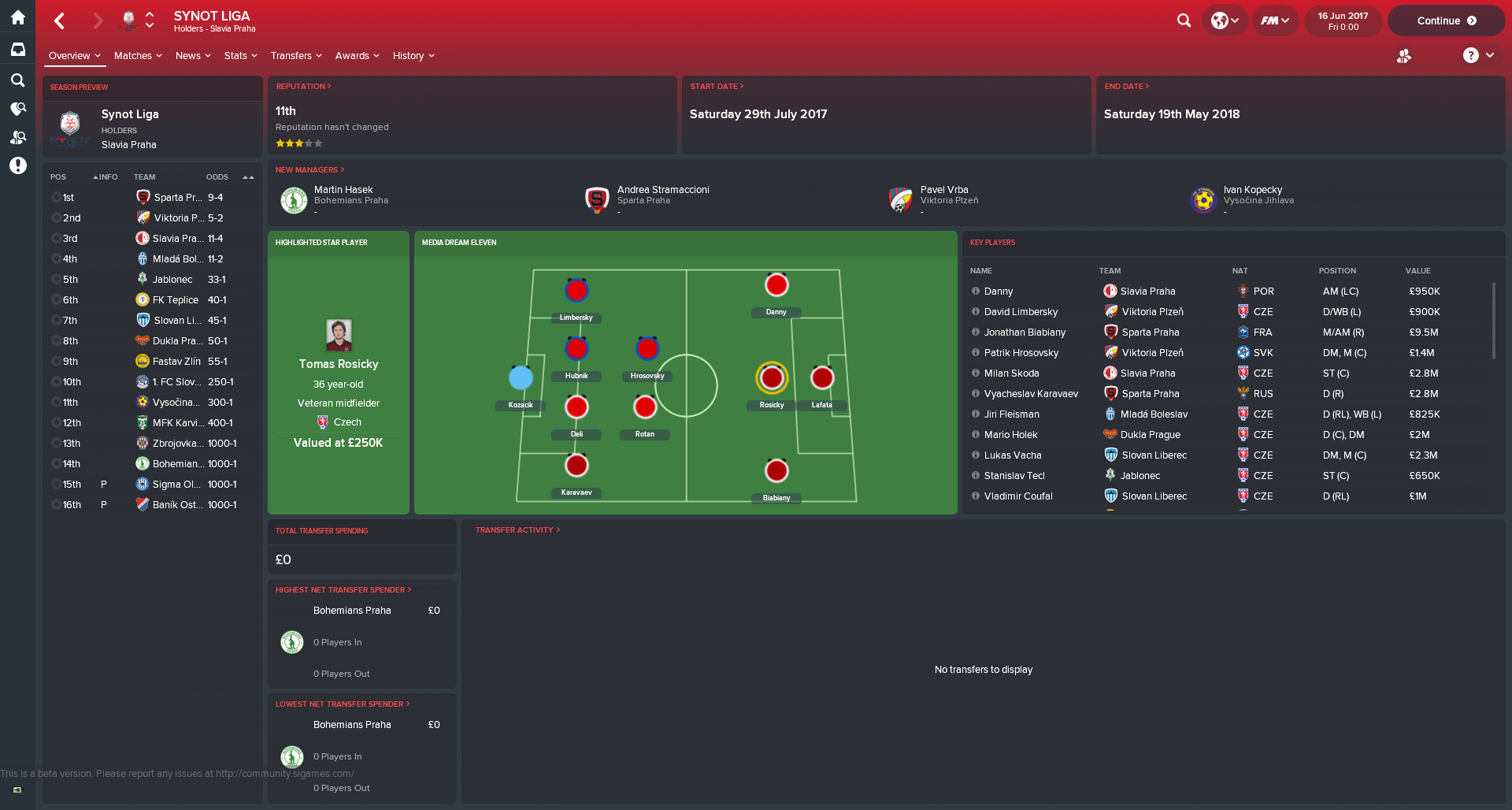 Simulations
I ran three simulations of the 2017/2018 season. It resulted in these results.
1st attempt: Champions – Sparta Prague; Relegated – Bohemians Prague, Olomouc & Baník Ostrava avoided relegation in the Playoff.
2nd attempt: Champions – Sparta Prague; Relegated – Vysočina Jihlava, Zlín & Baník Ostrava avoided relegation in the Playoff.
3rd attempt: Champions – Sparta Prague; Relegated – MFK Karviná, Bohemians Prague & Baník Ostrava relegated after Playoff.
The most common tactic in all three simulations was 4-2DM-3-1. There were also 4-4-2 (2 teams) & 4-3-2-1 (1 team).
Players
As I mentioned above there is a lot of foreign players in Sparta or Slavia squads. But mainly in Sparta as they bought 12 foreign players during the 2017/2018 summer transfer window in real life. There is right "Babylon" and it could be interesting to see how it will work in terms of the new FM18 Dynamics feature.
One of the new players, Jonathan Biabiany (on-loan from Internazionale) is the most valued player at the start of the save with £9,5M. You could manage Tomáš Rosický if you pick Sparta Prague. Yes, he is still alive.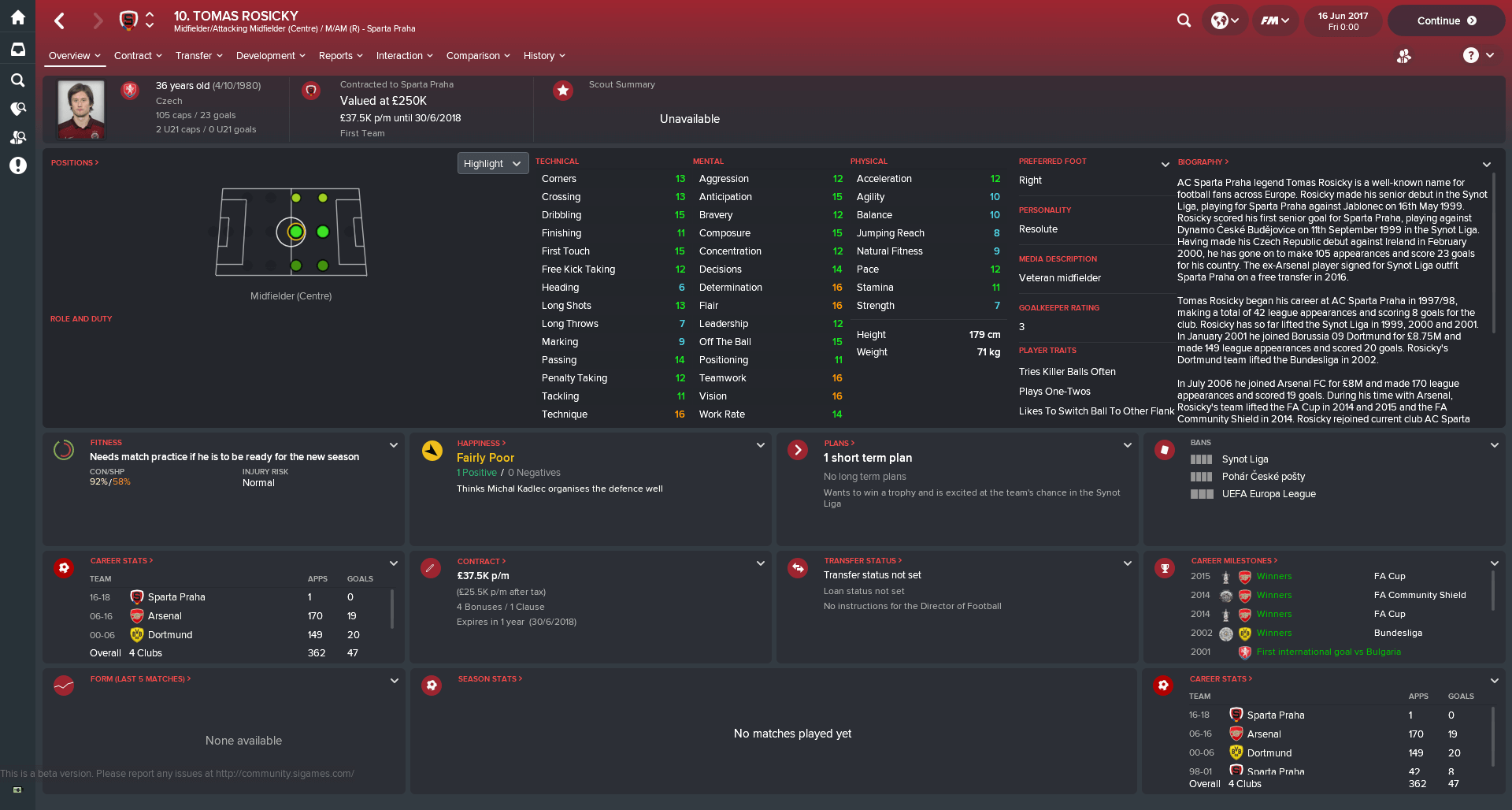 I would be interested in if some big club will snap central defender Simon Deli from Slavia Prague who is their key player.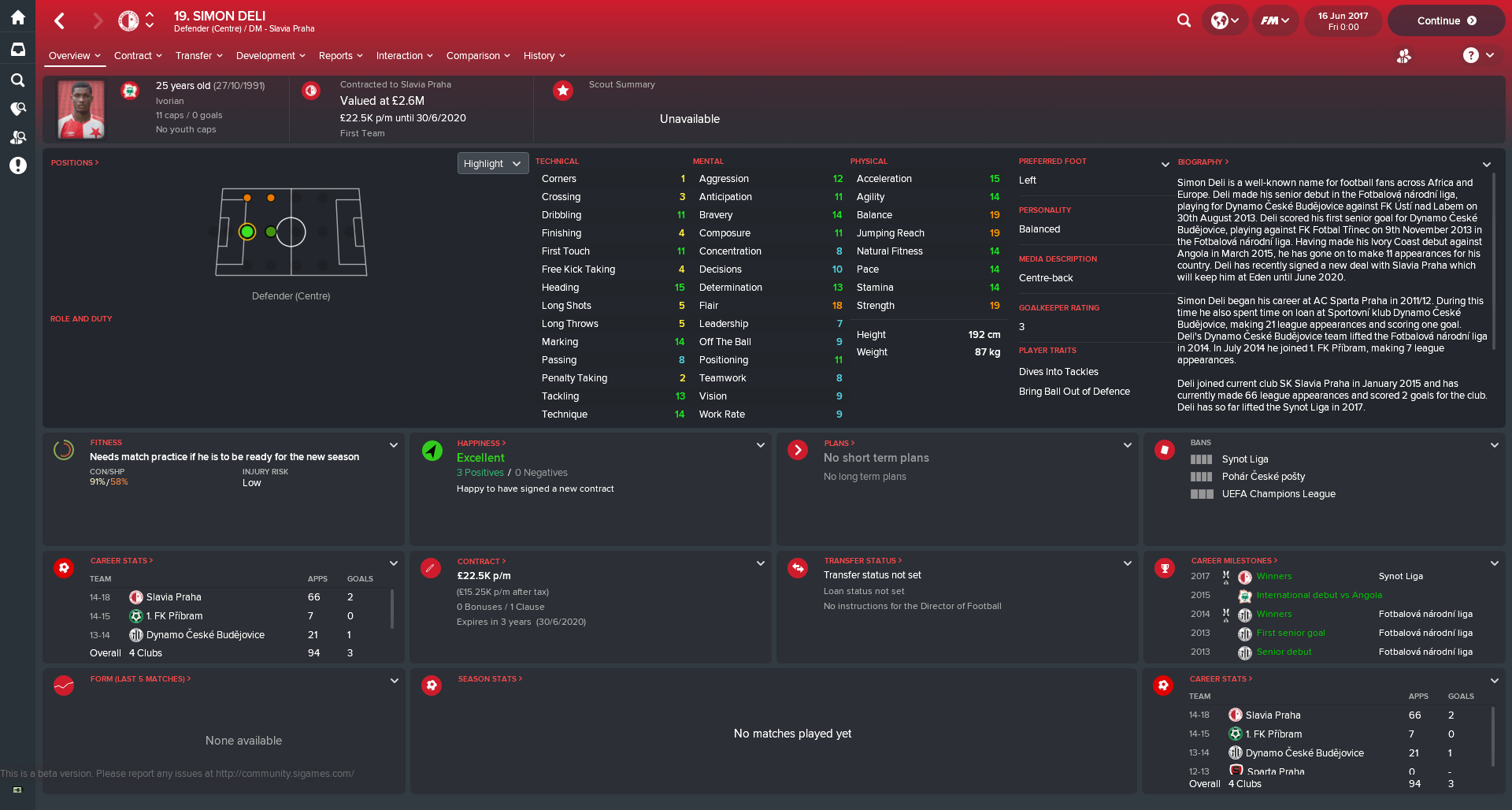 But if I would play in the Czech Republic in FM18, no matter of club, I would be interested to sign midfielder Michal Sáček from Sparta Prague and try to develop him. I really like his playing style in real life and he should be the future of Sparta Prague but with all the foreign players there is a possibility he will not play too much, as well in the game, so you will be maybe available to sign him for a loan.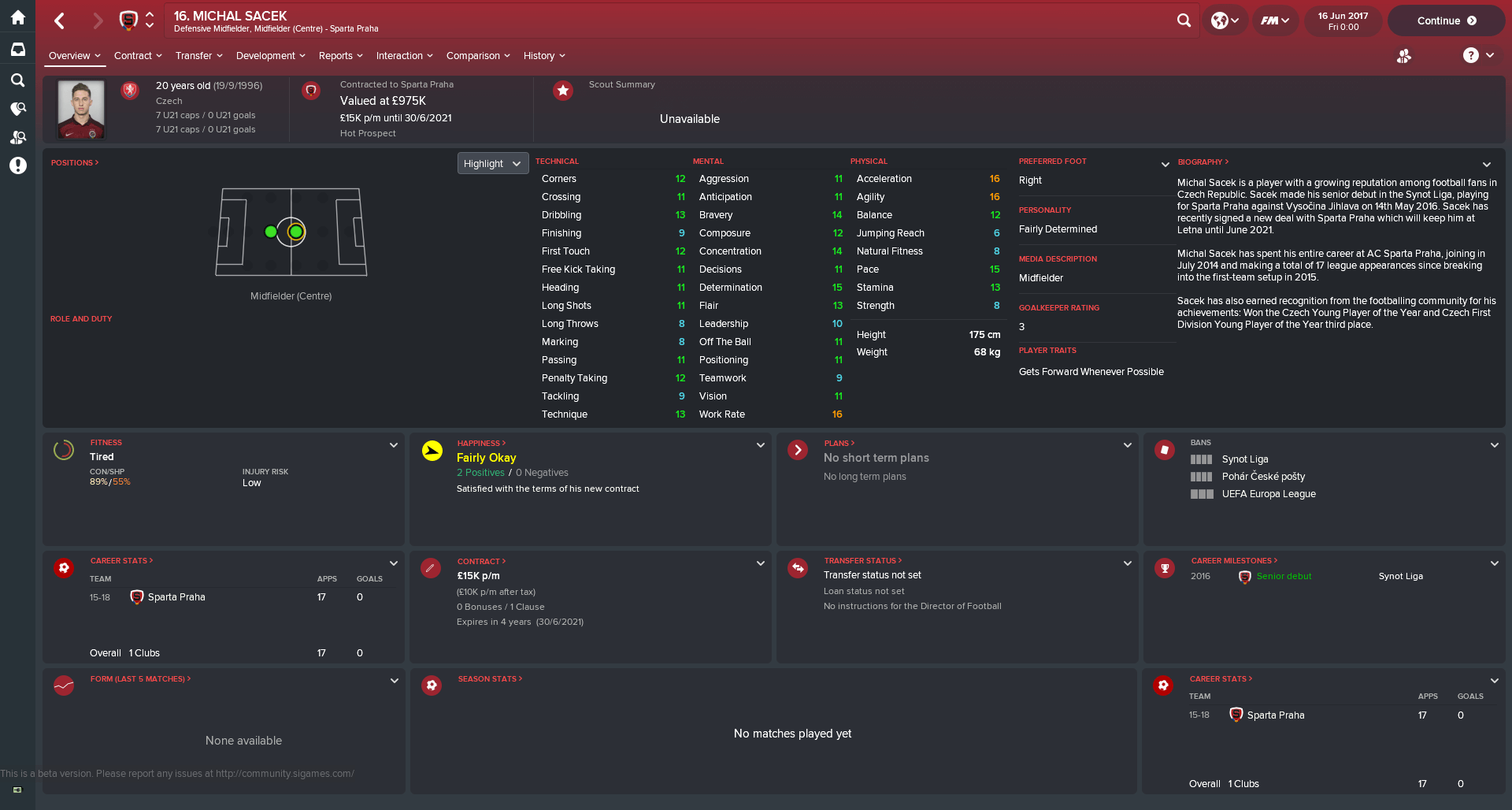 Domestic Cup
The domestic cup called "MOL Cup" is a simple competition. The winner of the round is qualified to the next round. Competition starts with 86 teams in the first round, top 4 teams in the 1st division from the previous season start from the third round. The winner qualifies for the Europa League.
To play in the Czech Republic could be really interesting as more and more players from abroad are willing to come here but you can also build the homegrown squads with a lot of young talented players already in the default database or with newgens.