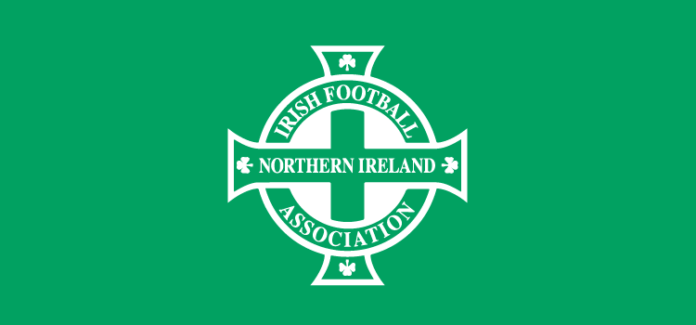 Championship Manager 01/02 has often been lauded as one of the best editions of the FM/CM series. With the ability to download and play the game (free and legally), I have decided to set myself a challenge that is a little different from anything I have done before.
It is 14th July 2001 and Northern Ireland's 2002 World Cup Qualifying campaign is nearing its end. The results haven't been anything to shout about but the infamous 10 match goal drought hasn't quite hit us yet. Nor will it (I hope!) as we splinter off into an alternative reality. One in which I take charge of Northern Ireland and seek to change their fortunes. At this point it has been 15 years since Our Wee Country qualified for a major finals, Michael O'Neill's men managed to do it after 30 years – can I beat that?
As a method of comparison, my good friend Henry Muldrew will be giving his own personal review of each qualifying campaign in Northern Ireland's history since this point on our sister site That Football Daily.
Finishing the 2002 World Cup Qualifying Campaign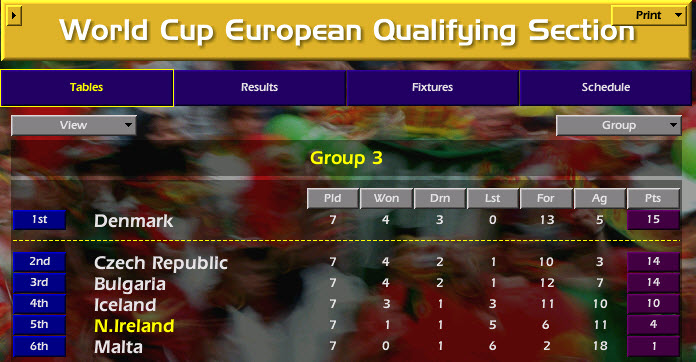 It's a baptism of fire for our first round of international call-ups as a number of potentially key players are unavailable due to injury. Steve Lomas, David Healy, Gerry Taggart, Keith Gillespie, James Quinn and Jon McCarthy among those currently seeking treatment at their clubs.
Denmark v Northern Ireland
A traditional 4-4-2 for the travelling side with only five players aged over 25 years old across the starting line-up and bench! Not through choice but rather necessity due to availability. There's a starting debut for promising Sunderland defender George McCartney while uncapped Joe Dolan, Stephen Carson, Owen Morrison and Grant McCann take seats on the bench.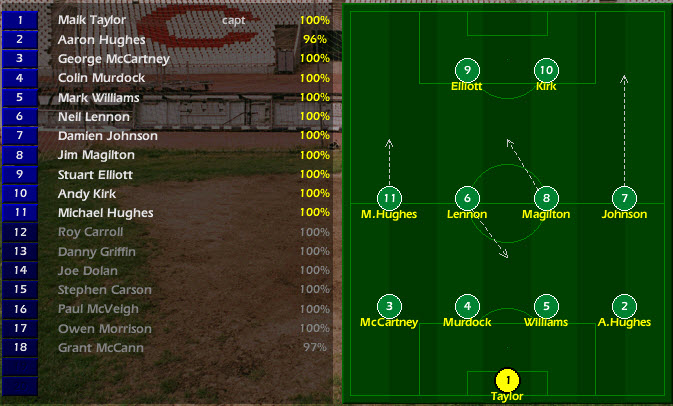 Group leaders Denmark will be difficult to break down as they set out with a 5-3-2 of sorts with sweeper Michael Hemmingsen of Odense Boldklub, and a Serie A wingback combination of Udinese's Thomas Helveg and Milan's Martin Jorgensen.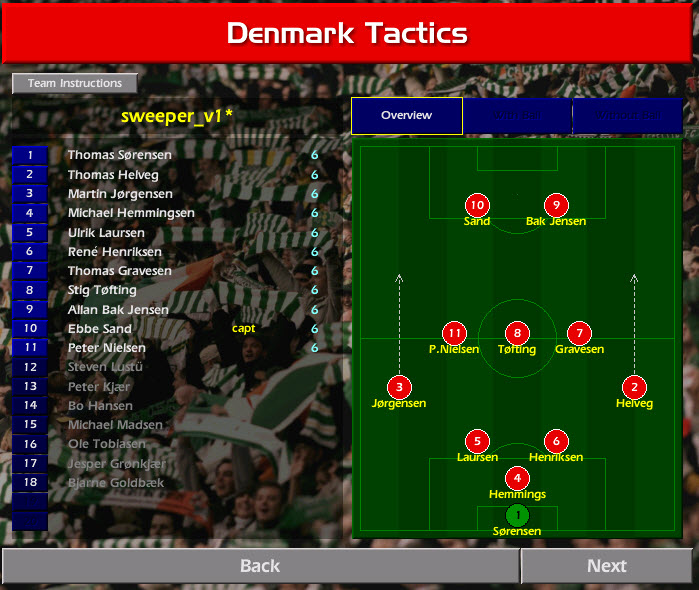 Northern Ireland come away with a respectable point against difficult opposition. It was the Ulster men who struck first after a goalless first half. Stuart Elliott rising high to power home a Michael Hughes free kick on 53 minutes. Tactical changes were made and Northern Ireland switched to five at the back, it wasn't enough to stop a late Danish fightback when Ebbe Sand scored from an Ulrik Laursen cross.

Northern Ireland v Iceland
There's no reason to change a starting eleven that performed so admirably away in Copenhagen.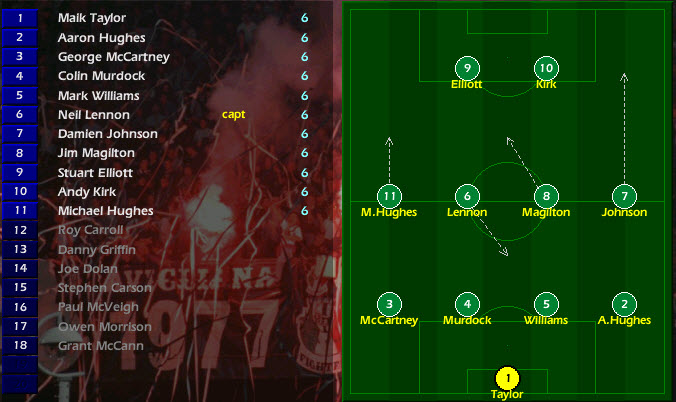 Iceland's 5-3-2 is littered with familiar faces, many of the Scandinavians plying their trade in the English leagues.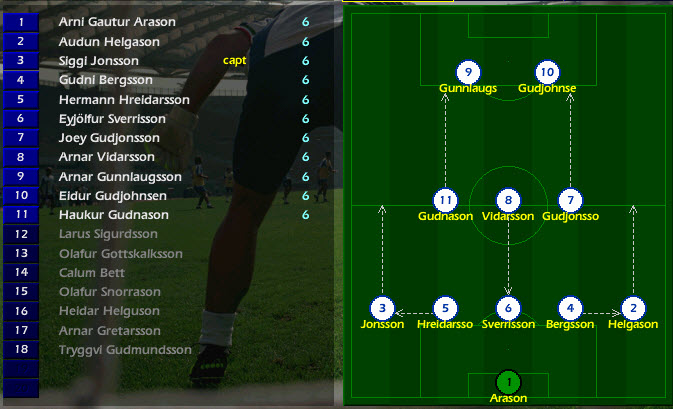 It turns out to be a disaster for the Windsor Park faithful as they go 90 minutes without even registering a shot on target! Iceland are ferocious in their attack and were unlucky to only win by the two goals scored, thanks in no small part to a superb performance by Maik Taylor who thwarted them on seven further occasions.

Malta v Northern Ireland
Keith Gillespie, Steve Lomas and Gerry Taggart are welcomed back to the fold as they recover from their injuries. Malta at home has been our only win in this campaign so far, prior to my taking over control.
Gillespie and Taggart go straight into the starting line up but Lomas only makes the bench as he's still not 100% fit.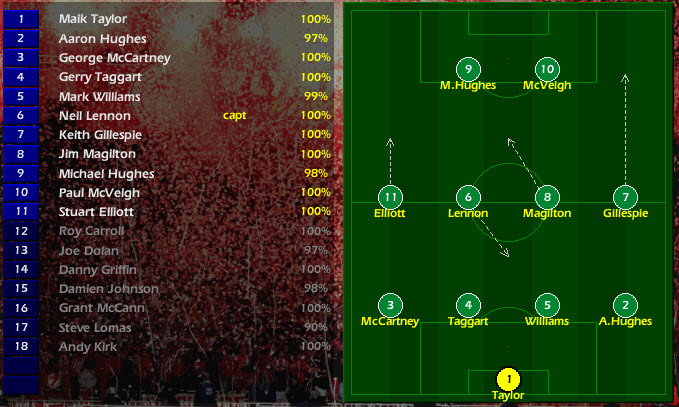 Malta play a 4-4-1-1 of sorts, they'll probably look to stifle us in midfield.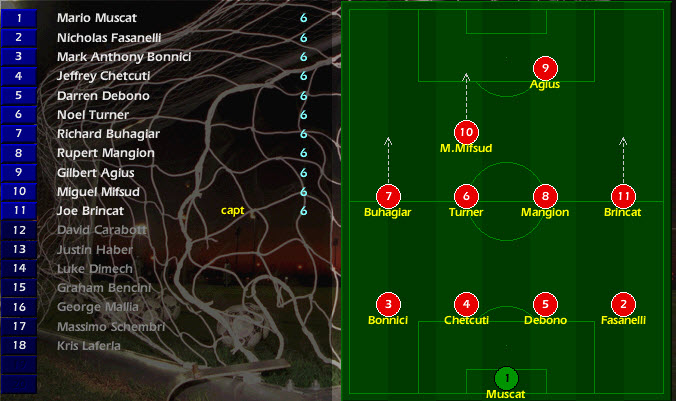 The best possible start for NI as Michael Hughes opens the scoring in the 5th minute. Just after the half-hour mark NI double their lead as Paul McVeigh grabs his first international goal! Malta make for an uneasy finish when they pull a goal back on 81 minutes through Richard Buhagiar and the game turns into a disaster for Northern Ireland when Rupert Mangion equalises with the last kick of the game!
Northern Ireland v Lithuania
A home friendly to finish off a disappointing 2001 for us. With several players out injured, there are call-ups for a few U21 players to have the chance to impress: a young Warren Feeney, Wesley Boyle, Brendan McElholm and Wayne Carlisle are in alongside David Healy returning from injury.
David Healy announces his return to the team with a lovely 18th-minute goal. 9 minutes later his strike partner Warren Feeney doubles the NI score with a goal on his debut. What a debut it is, when Feeney grabs his second 11 minutes later! The away side pull a goal back on the stroke of half-time but an uneventful second half hands the victory to Northern Ireland.

Wales v Northern Ireland
Disappointingly David Healy is out through injury again, this time NI go with a strong XI which we hope will be our first choice team – minus the injured Healy.
Ryan Giggs gives Wales the lead with a long-range finish after 15 minutes. Jason Koumas is sent off after 68 minutes but 10 man Wales manage to hold on for the victory.

Latvia v Northern Ireland
For the final friendly fixture before Euro 2004 Qualification begins, Northern Ireland travel to Latvia. Yet again, David Healy pulls out of the squad with an injury.
Latvia take the lead on 32 minutes through Fulham midfielder Andrejs Stolcers. Michael Hughes gets the away side back into the game just after the break. Of course, Latvia push themselves back in front on 71 minutes thanks to Andrejs Rubins of Crystal Palace. The Latvians extend their lead on 79 minutes thanks to Juris Laizans.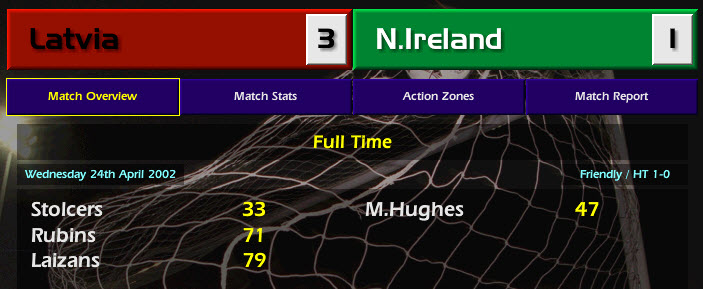 World Cup Qualifying Group 3 Review
I took charge of the final three fixtures but could only take 2 points from those games. Disappointing collapses away to Denmark and Malta sandwiched an abysmal performance against Iceland at Windsor Park.

2002 World Cup: South Korea / Japan
Well, how about that?! After topping our group Denmark made it all the way to the final before being defeated by a strong Italian side.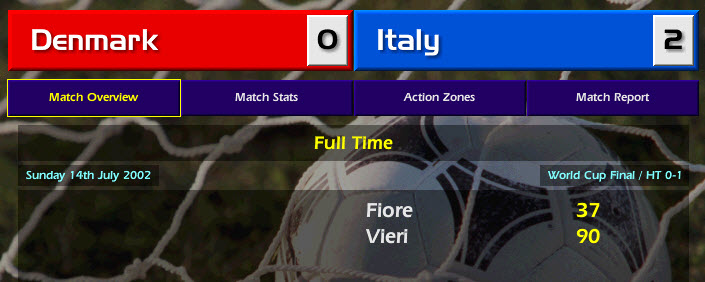 Next week is the Euro 2004 qualifying phase…make sure to check out Henry's view on how Northern Ireland performed in real life.