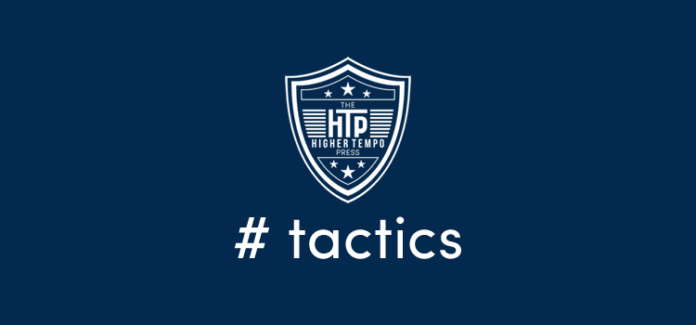 "a pibe with a dirty face, a mane of hair rebelling against the comb; with intelligent, roving, trickster and persuasive eyes and a sparkling gaze that seem to hint at a picaresque laugh that does not quite manage to form on his mouth, full of small teeth that might be worn down through eating 'yesterday's bread'. His trousers are a few roughly sewn patches; his vest with Argentinian stripes, with a very low neck and with many holes eaten out by the invisible mice of use. A strip of material tied to his waist and crossing over his chest like a sash serves as braces. His knees covered with the scabs of wounds disinfected by fate; barefoot or with shoes whose holes in the toes suggest they have been made through too much shooting. His stance must be characteristic; it must seem as if he is dribbling with a rag ball. That is important: the ball cannot be any other. A rag ball and preferably bound by an old sock. If this monument is raised one day, there will be many of us who will take off our hat to it, as we do in church."
Borocotó
El Grafico, 1928
This is how the editor of El Grafico, the long-running Argentinian sports magazine, Borocotó described the perfect example of El Pibe – what we might now reduce down to calling a street footballer. Throughout their footballing history – except perhaps the anti-futbol years following their 1958 world cup humiliation – Argentina has revered El Pibe – that creative spark who captures fans' imaginations with tricks and dribbles. Although not unique to the country – you could argue Luis Suarez of Uruguay fits the description and Colombia's Carlos Valderrama was nicknamed El Pibe – it is Argentina who defined the role and produced two of the greatest examples ever in Lionel Messi and Diego Maradona. In fact, I could have saved word count by replacing Borocotó's quote with any photograph of Maradona in full flow. And now this season in Serie A, we have an FM17 favourite, Paulo Dybala tearing up goal scoring records and looking every bit like the next great pibe.
So this is an FM blog not a history lesson. Therefore, for the purposes of FM, I want to look at what attributes represent the qualities of a pibe and what tactical systems offer el pibe the best chance to flourish. I will look at three tactics in particular, who they were set up and run them through a few examples using FM Touch to identify strengths and weaknesses. The first tactic is the oldest one – Maradona and Argentina's World Cup 1986 triumph with Bilardo's 3-5-2. The second is Guardiola's 10/11 vintage that used Messi to great effect to beat Manchester United to win the Champions League. The final tactic brings up bang up to date and will be looking at how Allegri has changed his Juventus side for league games to get the best out of Dybala.
What Makes El Pibe?
In Football Manager terms at least I would describe the attributes of the player rather than the position although it's safe to say he's a forward.

FM Attributes of El Pibe
Technical

Dribbling
First Touch
Technique

Mental

Determination
Bravery
Flair
Vision

Physical

Balance
Agility
Acceleration

Preferred Moves (not essential)

Runs with ball often
Likes To Round Keeper
In general Role/Duty and Player Instructions you want to be looking at getting your Pibe as high an attacking mentality as possible. PIs include:
Move Into Channels
Roam From Position
Dribble More
Shorter Passing
More Risky Passes
Closing Down Less
This is what you want to see:
Interestingly, a player search on FM Touch with these attributes (>15) brought out these guys: Neymar, Hazard, Dzagoev, Verratti, and Dele Alli.
El Pibe Numero 1 Maradona
Analysis of Argentina 86 World Cup Team
Former gynaecologist, Carlos Bilardo claims he invented the 3-5-2 in preparation for the 1986 World Cup in Mexico. The Argentina manager was a former player of Estudiantes de La Plata – a team notorious for doing anything and everything to win under Osvaldo Zubeldia. Their success influenced years of anti-futbol and Bilardo took this approach into his management career. Bilardo took the post from Cesar Luis Menotti who had railed against anti-futbol by setting out his teams to win with attacking flair – a return to the romantic ideals of la nuestra. Menotti was himself a world cup winning manager in 1978. Even now Argentinian football divides itself into camps of style based on these two managers. You're either Team Menotti or Team Bilardo!
Prior to Mexico 86, Bilardo recognised that team no longer played with wingers and concluded there was no longer a requirement for full backs. The result was a line up with a libero behind two man-marking centre backs, a ball winning defensive midfielder sitting behind a bank of 4 midfielders and two forwards. After testing – successfully – in some pre-tournament friendlies, Bilardo hid the formation until the Quarter Final against England. The plan caught Argentina's opponents out and the team beat West Germany in the final to claim the trophy with Diego Maradona standing out as the star performer.
Recreate Argentina 86 in FM
Defence
The team is set out as Bilardo's with a Libero-Supp behind two Central Defenders with Mark Tighter set. In game once the opposition set up is known, I will set the Mark Specific Player.
An Anchor Man is used rather than BWM or DM. We want him to hold his position and protect the narrow back three. You are looking to pack this central area and prevent teams from exploiting your golden zone.
Defensive Wingers are used to encourage the two wide midfielders to track back when not in possession.
Attack
Bilardo used Valdano as an advanced forward spearheading the attack, with Maradona given free reign to find space and make things happen. So AF role fits here.
Maradona would drop really deep into midfield to get the ball so to replicate use a Trequartista in the AM strata rather than up top. Note in my tactic I have Dybala to the right slightly to encourage him to cut inside onto his stronger left foot.
One of the CMs is set to get forward more to mimic Burrachaga's role.
Attacking width comes from the two DWs
Team Instructions
Control to have players take more risk going forward.
Fluid used to prevent the team getting too stretched with danger the DWs get caught too high up the pitch.
Results
It is difficult to get sustained success from this tactic in today's modern game. The reason Bilardo went with 3-5-2 was because nobody played with wingers but most teams in FM use variations of 4-3-3 or 4-2-3-1. This means you are very vulnerable on the flanks. Also it negates the effect of having two man markers as there is usually only one central striker to mark and a clever one will lead your CDs on a merry dance.
However it is not without its merits especially in getting el Pibe involved – which is what this is all about! Here's an example against Udinese playing a standard 4-4-2. Look at how Dybala was able to exploit the space between their Defence and Midfield. He had an incredible 265 touches in a match Juventus dominated.
I would only recommend this tactic in certain circumstances. If you have a really good squad with Defensive Wingers with high work rate, speed and determination you could cope against opposition wingers. However if you are an underdog team, this will not be defensively sound enough for you.
El Pibe Numero 2 Messi
Analysis of 10/11 Barcelona Champions League Final
After the Champions League Final at Wembley in 2010/11 Season, Sir Alex Ferguson described Pep Guardiola's Barcelona as the best team he ever faced. High praise indeed and worthy too for the Catalan Giants. This particular version of Barca seemed to encapsulate the style and dominance more than in previous seasons. Pep's basic formation was still the same 4-3-3 but the final showcased how his team had evolved. Looking back it was a legendary midfield with Busquets sitting behind Xavi and Iniesta in the centre. Central defence was revolutionised with the small central midfielder, Mascherano, now the last line of defence whilst his partner, Gerard Pique, would often move up into midfield line to create overloads. By keeping the ball away from the opposition, Barcelona had set both their defensive and attacking strategies.
However, star of the team was their very own Pibe, Lionel Messi. A true challenger to Maradona's GOAT status, Messi was operating now in the centre of Barca's three-pronged strikeforce rather than previous seasons as an inside forward on the right flank. This brought an astonishing goals and assists return from the Argentinian (that he'd eclipse the year after but without the trophy haul).
Summary of Messi's stats for the 2010/11 season:
46 apps / 3907 mins
43 goals / 21 assists
Involved in a goal every 61 minutes
Dribbles/game 5.85 / Shots/game 4.9
Won La Liga and Champions League
Not Bad!
Recreate in FM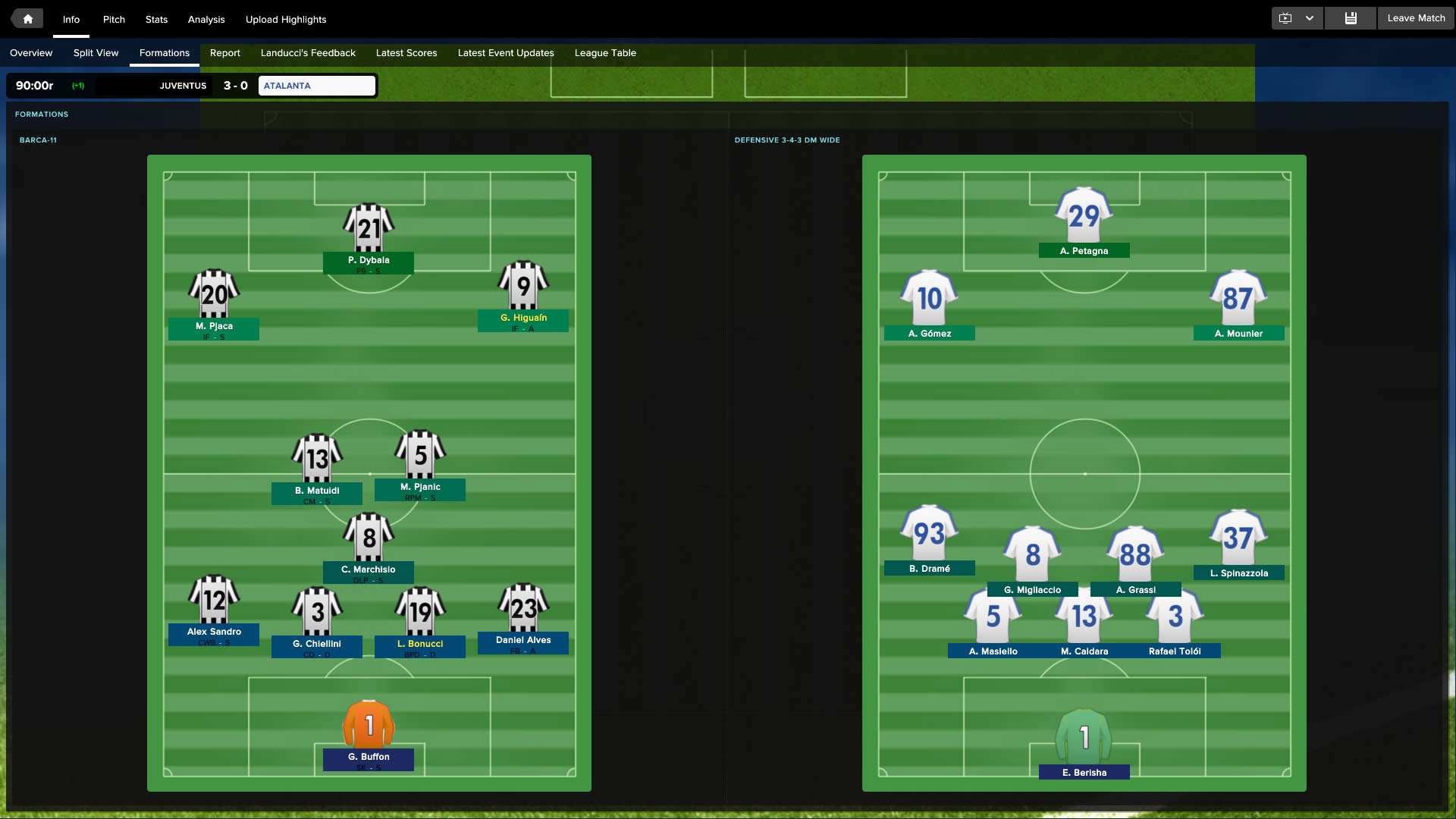 Defence
On paper a back four but in reality anything but static.
Two Ball Playing Defenders
Two Attacking Wing Backs
Busquets role is in the DM strata as a Deep Lying Playmaker on Support to get him up the pitch in possession
Goalie should be set to Sweeper Keeper
Attack
Two Inside Forwards flank Messi in the centre as a False 9
Xavi played as a Roaming Playmaker
Iniesta is CMsupport but with PIs set to encourage to Get Further Forward. On Attack duty I found CM moves into similar positions to False 9 thus negating space.
Team Instructions
Control to have players take more risk going forward.
Fluid used to keep front three from getting too isolated from midfield.
More pressing/slightly higher def line
Will drop d-line to stretch the game if opposition park the bus.
Results
This feels like a very balanced tactic although Juventus' squad isn't the best example to use due to lack of Inside Forwards (Seems a waste of Higuain, Mandzukic and Cuadrado). I got some great performances from this tactic and the formation got Dybala a lot of touches in that dangerous central area as you can see from this graphic in the game against Atalanta.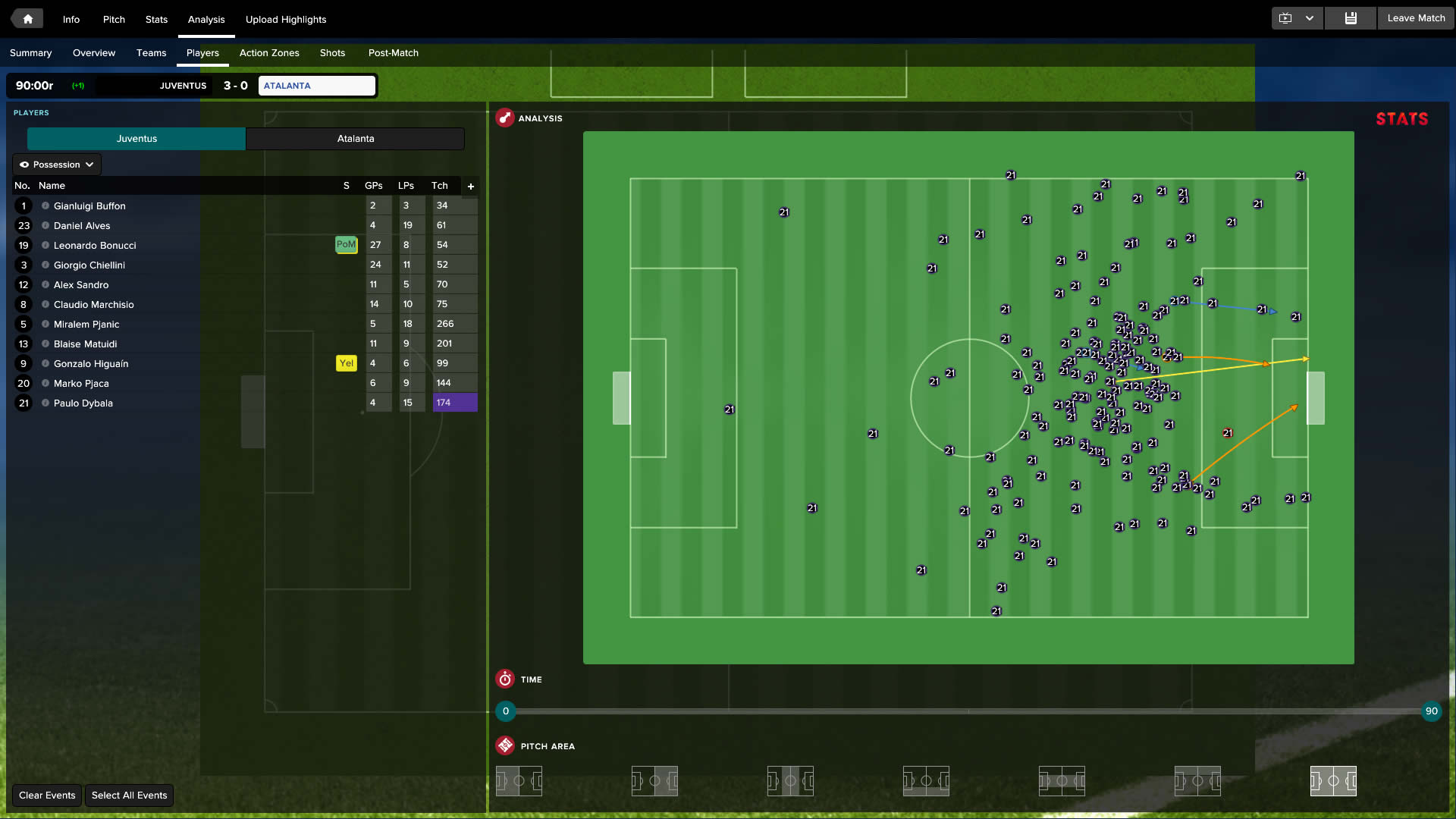 You can also see from these two videos how my Pibe would get into a pocket of space before using his technique and dribbling skills to set up some cracking goals.
The weakness of this tactic was again teams getting in behind our flanks as the full/wing backs pushed forward. Be prepared to find your centre backs exposed especially in fast att-to-def transitions.
El Pibe Numero 3 Dybala
Analysis of Juventus 2017-18 Serie A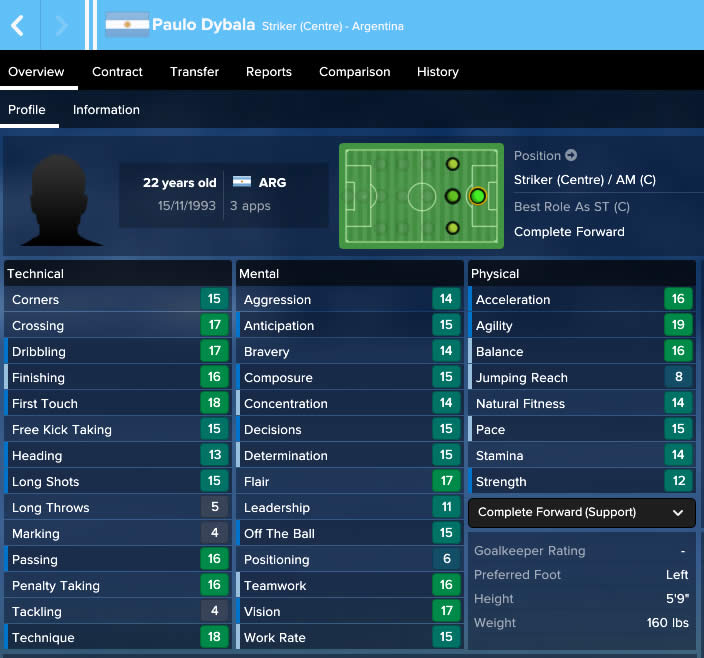 Following last season's league triumph and being within touching distance of the Champions League trophy you would be anticipating more of the same for Juventus. However, Max Allegri has moved away from the solid back three in Serie A this year and found a system that has helped Paulo Dybala find his goal scoring touch. Perhaps enforced by the sale of Bonucci to AC Milan in the summer, Allegri has set his side up nominally with a back four but average position maps show that in reality the full backs are sitting alongside the midfield to create a wonky 2-5-3. Dybala has been pushed up to the forwards strata where he likes to drop deep into the spaces between the opposition's defence and midfield.
Look at the Average Positions from Juve's game against Fiorentina and Torino to see this shape.
You can see the full backs pushing right up and Dybala(10) pushed right up front (Higuain presumably on his knee against la Viola)
Recreate in FM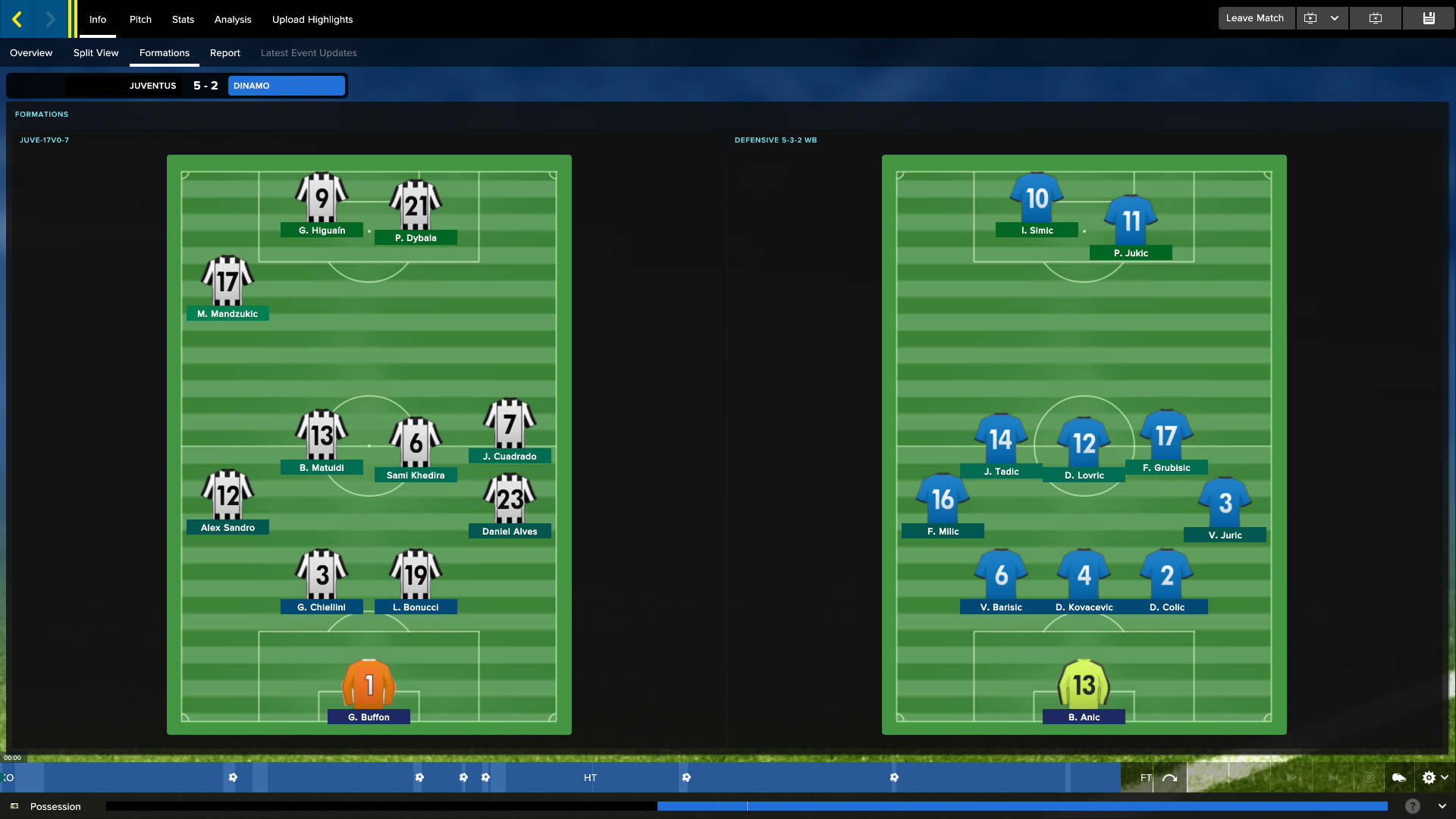 You could start to recreate this with a 4-4-2 basic shape but i got closest to the average positions above with this wonky 4-3-3.
Defence
Two centre halves – nothing fancy here
Two Wingbacks starting on the DM strata to get them further up the pitch on average
CM on defend – look to drop a bit deeper to help out the defence – especially when the wingbacks are pushed forward
Attack
Dybala as Trequartista to encourage him to drop into the spaces around the opposition's defence
Higuain as AF to occupy and stretch centre backs.
Mandzukic is set as WTMatt – this is his preferred role.
Attacking Support comes from CM and Winger who will wait until in control before springing forward.
Team Instructions
Control to have players take more risk going forward.
Fluid/Very Fluid to reduce space between lines
Results
As in real life, pushing Dybala up front saw him getting into better goal scoring opportunities than the deeper roles. This included a tap in against Dinamo Zagreb and this cool finish that was all about playing off the defender's shoulder.
The weakness again is the tactic gives plenty of opportunities to the opposition to attack down the wings behind our marauding wing backs and there is space between the CDs and CMs that can be exploited too.
Future Pibes
Of course, Dybala is still young and it is an exciting prospect as to how he will improve but who are the other less well-known Pibes out there?
Franco Cervi, SL Benfica
His team aren't doing too well at the moment in real life but Cervi is a great prospect who matches the quintessential pibe attributes.
Ezequiel Barco, Independiente
Very young in this FM, Barco only debuted in August 2016 for Independiente in real life but already people are sitting up and taking notice due to his flair and skill. A solid first season should see an FM18 boost but will he become the next Bochini?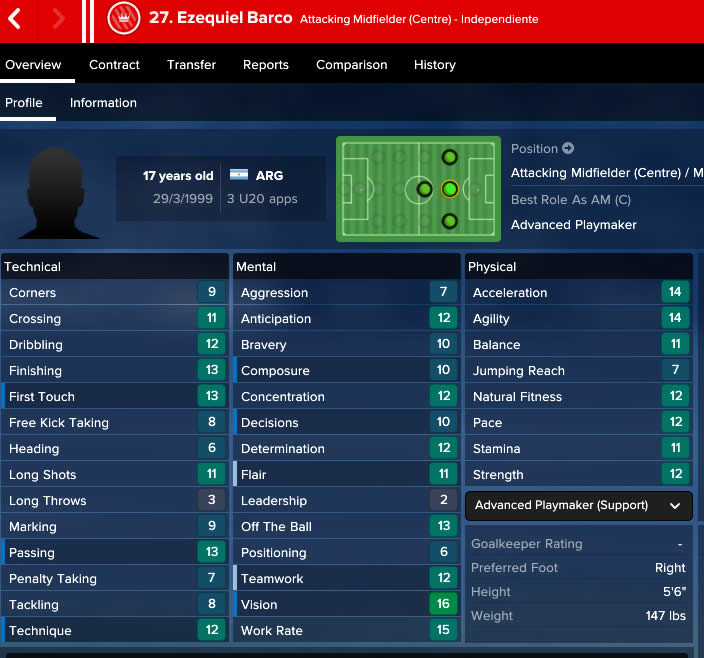 Sebastian Driussi, Zenit St Petersburg (River Plate in FM17)
Driussi joined Zenit in July 17 but you can pick him up in FM17 from River Plate. He debuted at 17 years old in 2013 but 2016/17 was Driussi's first big impact season that saw him score 20 goals in 36 games to win his big money move to Russia. His form last year should see a boost in FM18.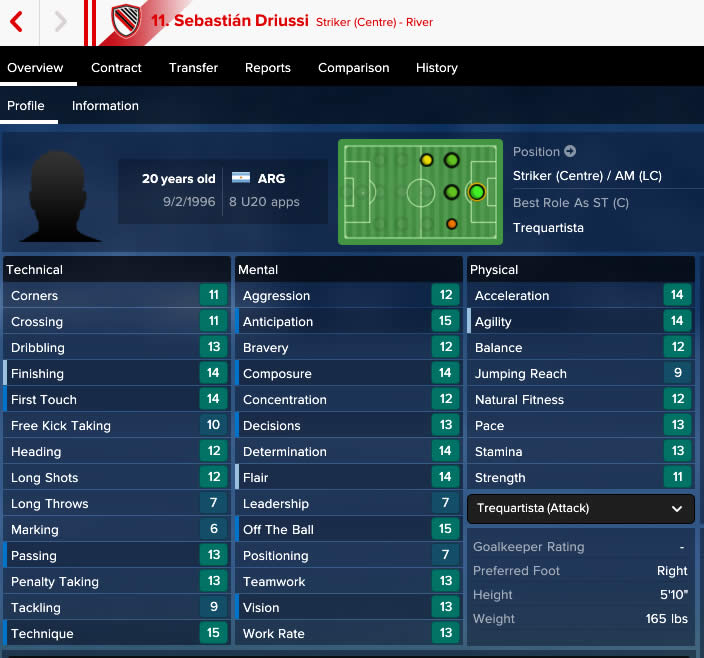 Conclusion
El Pibes might be an Argentinian speciality but I know that creative, skilful players who seem to play for the fun of it capture the hearts of fans across the world. They transcend beyond tribal team colours or countries to be loved almost universally. And who wouldn't want a player like that in their team?
Note from the Writer: The inspiration behind this article was from reading Jonathan Wilson's fantastic history of Argentinian football – "Angels with Dirty Faces". It's a book I would highly recommend to any football fan but especially FMers who are looking to broaden their horizons for new saves (FM18 klaxon).
Still reading?
Really? I'm not sure you are the type of person I want to follow me on social media or in the FM Slack but check out my profile at the end of this post for links anyway. To see what else I have written click on my name. I apologise for any old posts with Vimeo videos that they keep locking as spam.