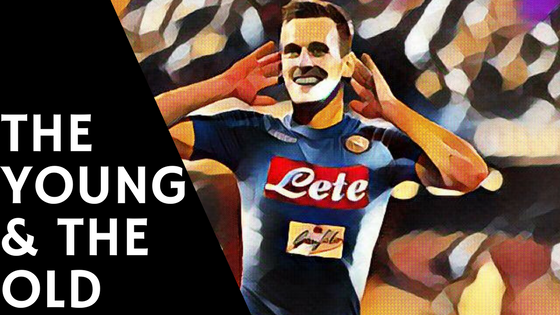 Back on Track
After some disappointing performances last time out, particularly against Chievo, it was important to get off to a flyer this week.The first game of Part 3 in this Young and Old series was away at Carpi. I decided to switch things up slightly with a 4-2-3-1 formation, spearheaded by
The first game of Part 3 in this Young and Old series was away at Carpi. I decided to switch things up slightly with a 4-2-3-1 formation, spearheaded by 37-year-old Dirk Kuyt.
Having fallen behind, star attacker Dries Mertens levelled things up for us, before the home side had a man sent off while conceding a penalty. Kuyt was the man we put our faith in to put the spot kick away, and he duly obliged.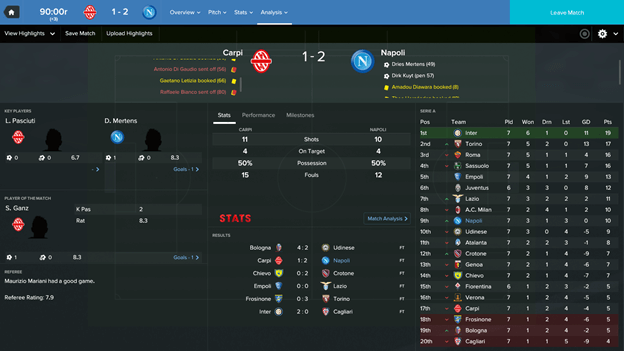 Carpi ended the game with 9-men, giving us a comfortable victory in the end. Shortly after, we hosted Frosinone. The lack of a gap meant that Callejon and Kuyt needed resting.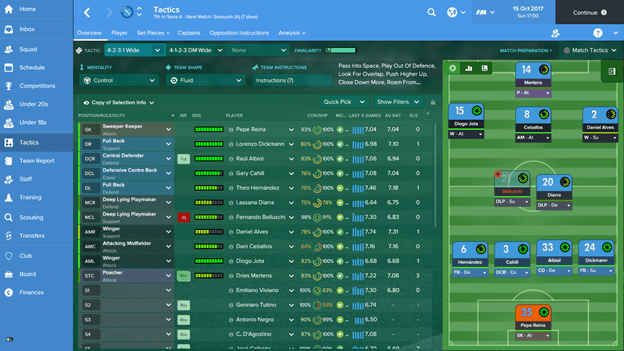 Everyone put in a solid performance, including youngsters Jota and Ceballos, but it was a super free-kick from Alves and a good finish from Mertens that sealed the win.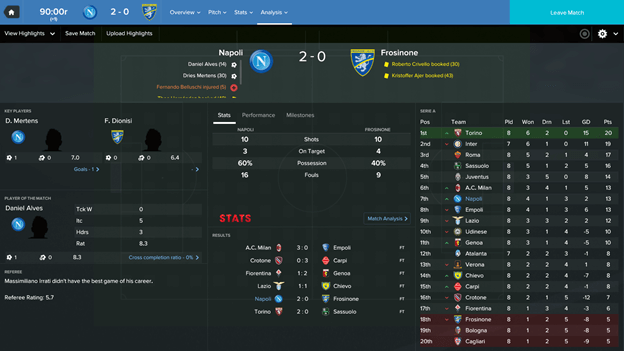 We were on a bit of a high off two comfortable victories, but a trip to Sassuolo was going to be tricky. They were a few places ahead of us in the league, and included 18-year old Kylian M'Bappe in their lineup, causing me to curse my luck for missing out on the teenager.
We were awful. Mertens needed resting and other attackers just didn't show up. We defended very well, until the final ten minutes when Falcinelli broke past Albiol to really grate me. We lost 1-0, and really showed where the difficulties lie with this experiment.
There is only one thing that players under the age of 21 and over the age of 30 have in common. A relative lack of stamina. While they are all talented, skilful and can be physically imposing, peak performing players will always have an improvement in natural fitness.
This explains many of the results we've been through, in which goals have been conceded as a result of the opposition breaking the back-line in the final ten minutes. Dropping the defensive line in the final 10-15 may be the next step for this side.
Big Games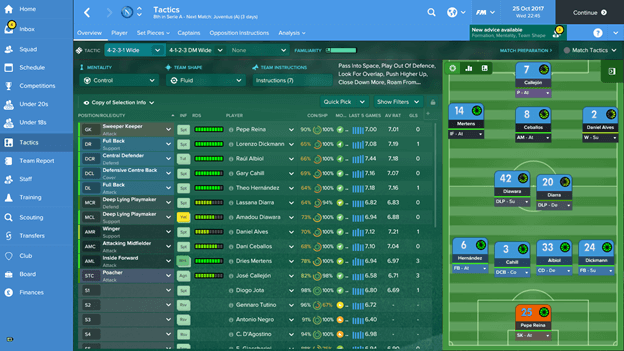 After Sassuolo came a visit from league leaders Inter. They were five points ahead of Juventus by the time our game came around, which is some achievement in the Serie A. We used a defensive-minded midfield, and a mainly over-30 attacking line.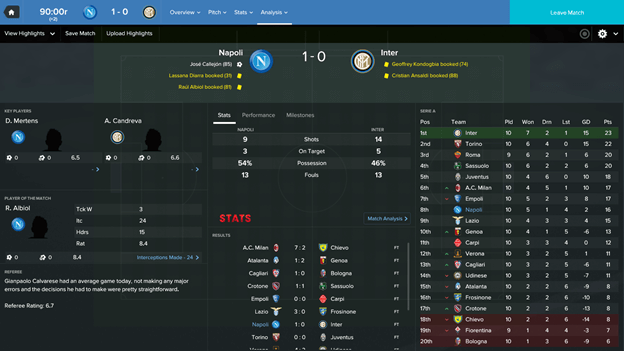 It worked, which is nice. Contrary to my suggestion that we tail off late in the game, Callejon scored from a superb Dickmann cross in the 85th minute, to clinch it for us.
But the real quiz came up the week after, to bring back down to Earth. Away at Juventus is the nightmare of every Serie A manager, and no amount of defensive-mindedness could prevent the Juve attack.
Despite two great finishes from Mertens (yet again), Juventus had too many players of quality to outmuscle our defence. Irritatingly, it was Lucas Biglia that really put us to the sword in the closing stages, including a 25-yard thunderbolt that caught Pepe Reina out at his near post.
It wasn't a 4-2 loss to The Old Lady that disappointed me, however. It was the next result that ground my gears.
Tiring Defence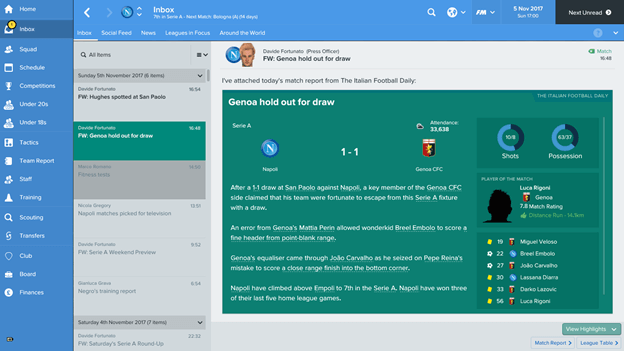 Genoa were not performing badly when they came to Naples, but we really should have turned them over. Even more aggravating was the next result.
Bologna were rock, absolute bottom. The press conferences in the build-up were determined to get the opposition manager sacked, and even didn't seem confident of keeping his job after our match.
YET SOMEHOW, another late goal was conceded, this time an equaliser from Mattia Destro. A player who is certainly eligible for our team, Destro again broke the back line and consigned us to our third game without a win.
To make matters worse, we then had to host new league leaders Roma. We went a goal ahead in the opening stages, before conceding a stupid goal from a corner shortly afterwards. We then went 2-1 down approaching half-time, when Alves stepped up for a penalty, won by Callejon.
As per usual on FM17, the penalty was missed, and that was the end of the game for us. We had to go all out in the final 20 minutes to rectify the situation, and Mertens did put it away to match it up 2-2.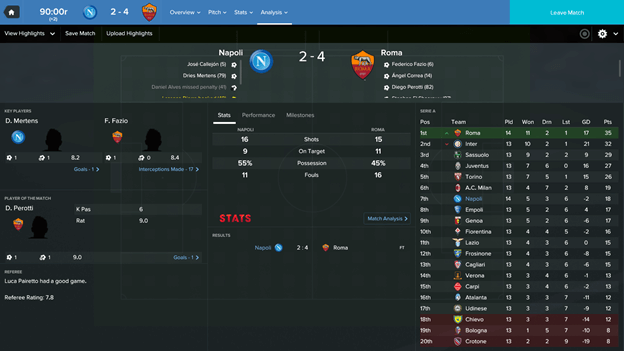 But the effort of the equaliser took it out of the players, and two late goals did the job to put real rain clouds over my job security.
I should point out the performance of Reina in the Roma game though. 4.7 from a goalkeeper is irreversible, and no matter how well the rest of the team play, the team is doomed no matter what.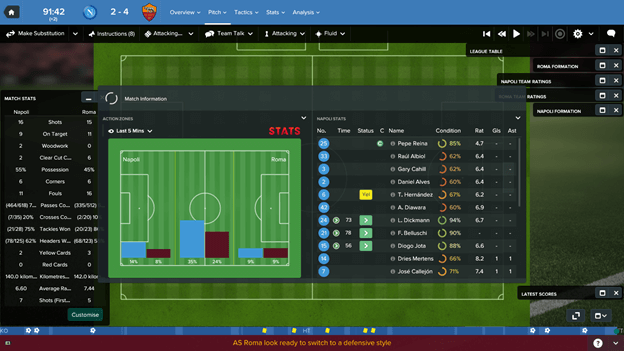 Still, we have had a rocky autumn, not winning as many games as we need to, but I think I know what needs to be done to turn this ship around.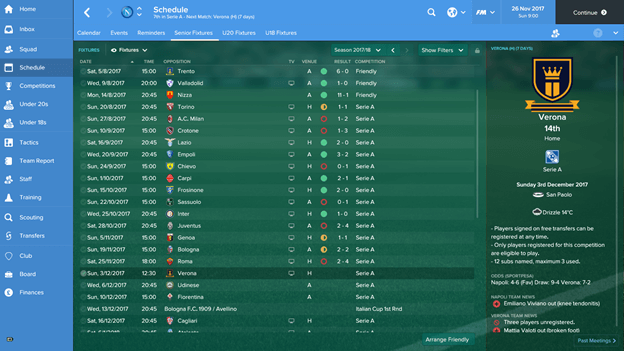 Next week kicks off with a home game with Verona, which we will win. I'm sure of it. Hopefully that will kick on our season and give us a promising December.