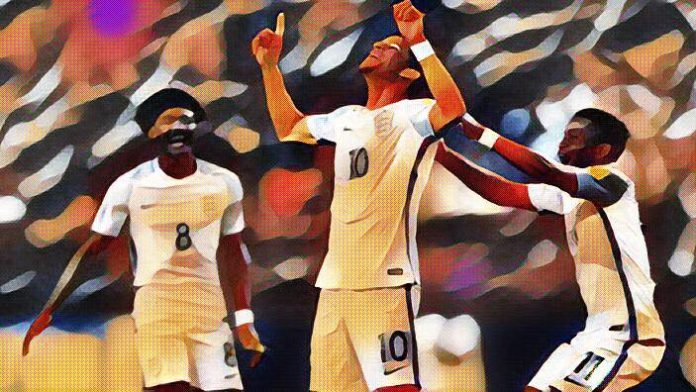 We've actually had a solid defensive performance! We've had a few, but we've had one I am proud of. I've also pinpointed a goal which encapsulates a counter-attacking style we've been forced into trying.
Defensive Performance
Firstly, I have two images to talk through.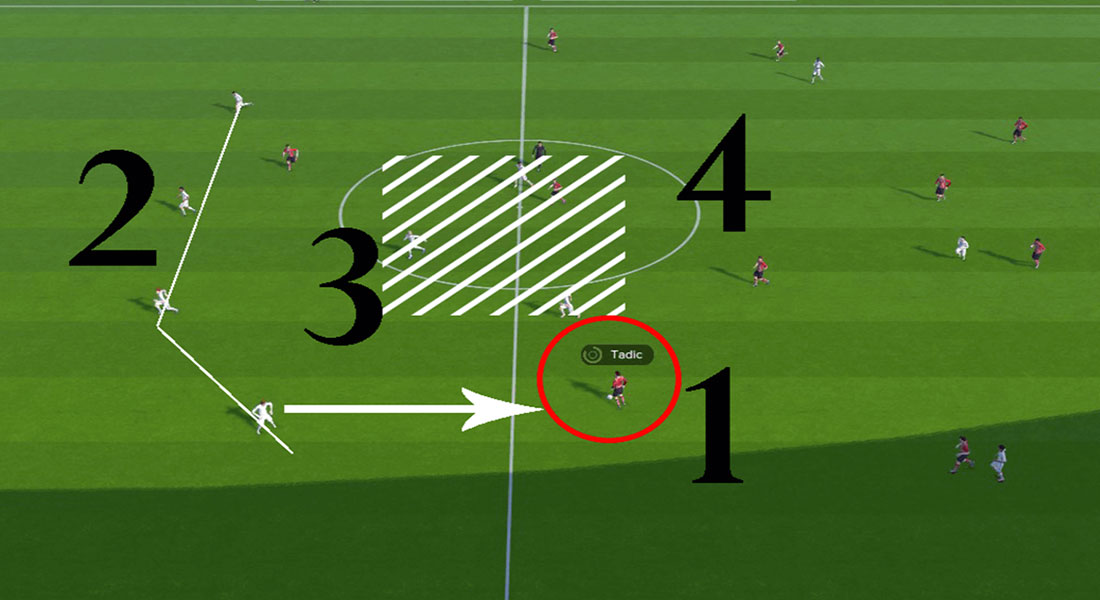 Here is 0-0 after 41 minutes. Southampton, as expected, have been dominant. This follows a Lion's free kick which ends up behind the goal for a Southampton goal kick. Southampton have played it out from the back but found Tadic in space.
1. Tadic has the ball and room to move into, but aside from this, he has no good options. If he runs with the ball then he's running straight into trouble. The midfield can come across to help Bree (Right back) if Tadic decides to run wide, but he's a long way from causing trouble for us. Right now, Southampton are no threat but it is early in the build up.
2. We've set our stall out early here. Our backline is set up. We are narrow, almost completely within the width of the box, and shifted towards the left-hand side where the ball is. Tadic cannot drive into the space behind the defence as he is so deep. Only the striker could run behind, but the pass would likely be easily intercepted.
3. Our midfield has held its shape here. The deepest midfielder is ready to fill any gaps, and the two in front can pressure wherever Southampton move the ball too. They're marking the dangerous Ward-Prowse while leaving the Southampton centre-midfielders to themselves. The opposition playmakers are deep enough not to be a threat right now.
4. This is the only area Southampton can move the ball too. This area is not dangerous, and we will allow Southampton to move the ball around in their own half.
This next image is a mere 8 seconds later. Southampton switched the play as expected, and most of the team have reacted well. They played it back in field, followed by a quick pass out to Gabbiadini.
1. The defensive line has dropped deeper in reaction to the ball being higher up the pitch, but it is still narrow and has no gaps.
2. The midfield has kept its shape but shifted to the left. They're compact and nothing is going through them.
3. The big threat is out wide. Gabbiadini and the onrushing full back are about to find space out wide. We have men over there, but the overlap can generate excellent chances.
4. Here is the issue. Our winger has not tracked his man and no one has it covered in a clear manner. In this situation, I'd like Daws (left back) to sit off and let the midfield pressure the ball.
However, this doesn't happen. Daws chases the ball, and it leaves a gap behind him. This is why we have the DM though. Davies races behind Daws to cover the overlap and makes the tackle before clearing his lines.
This is a great GIF for me. It shows me that this particular tactic can defend well, but needs work. Perhaps a switch from 4-3-3 to 4-1-4-1 would benefit us, in that the wide players may track back more. Some games we have no real hope of winning, but if we can turn a battering into a scrappy loss, or a scrappy loss into a draw then I'm happy.
Southampton in this alternate reality are a mid table side, and a team we could beat. Yet they have a good side, and I don't know why they're so mediocre. Southampton had players to threaten me, and I didn't want to risk an expansive game against them.
Attacking Performance
The other game we played I want to discuss was Newcastle. Away from home against a team that we could beat I thought I could go a bit more aggressive.
We played an altered tactic. A 4-4-1-1, but we lacked a true striker so we played with a shadow striker and a False 9 / Deep-Lying Forward. We got the ball forward, but without any good penetrating runs once we had the ball forward we played it around looking for an opening. At the end of the first half, our defence had a pass rate of a mere 48%, but our midfield came in at 84% and Calvert-Lewin up front had 93% success rate. Come the end of the game the statistics were very similar.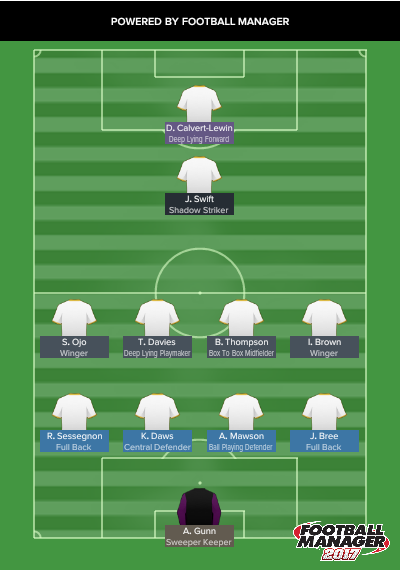 So let us analyse a goal from this game! A positive goal, one we actually scored! It shows how the DLP and a Deep Lying Forward tied to a Shadow Striker can move around to help the team.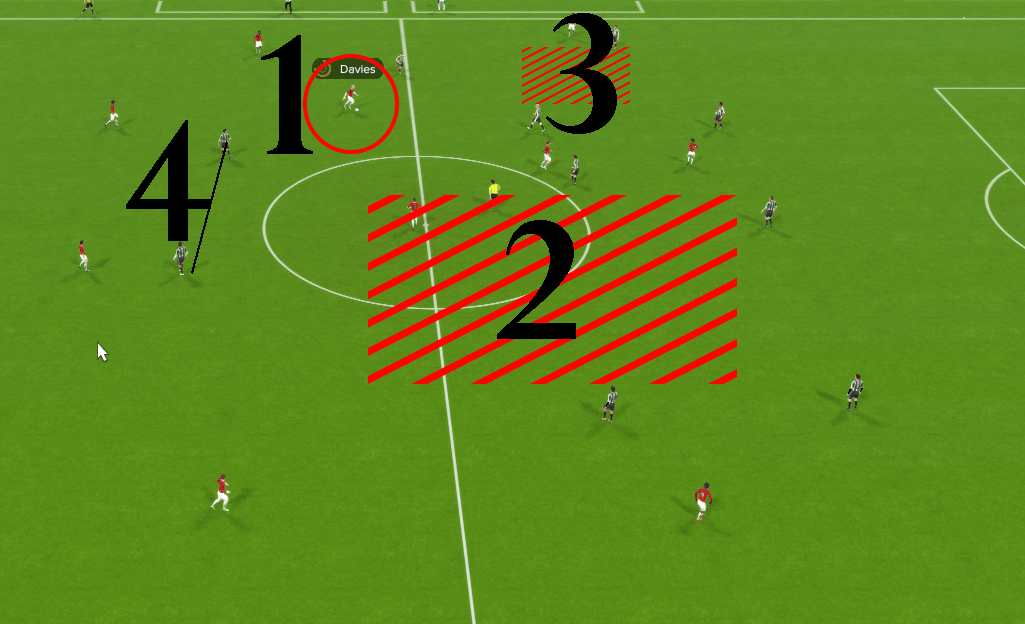 1. Davies has dropped deep to pick up the ball from the full back 8 seconds after a kickoff. He has room to move into and people to pass too. He is under slight pressure from the winger, but he has options to pass too if he needs it.
2. This is an area of the pitch that has been vacated. Our Box to Box Midfielder is the only player inside of this area but is actually moving out of it. Newcastle's 4-4-2 has kept it's shape too their detriment. Our midfield will utilise the fact that Newcastle has an immobile and ineffective defensive cover.
3. This is the half space we want to occupy. The winger has kept wide and opened up space and now we need someone to drop into it. This is what our Deep Lying Forward will do.
4. The two up front for Newcastle were effective on the counter attack but did not contribute defensively. They didn't pressure my defence or midfield at all and instead crawled towards the player on the ball. This is what allowed Davies the time to drop deep and assess the pitch.
The next image is of two passes later. Davies passed into Thompson, his CM partner who followed it up with a quick pass into Calvert-Lewin. Calvert-Lewin has dropped deep to occupy the half space (3 above), this leaves him with lots of room.
1. Here we have the two danger spots. Ojo can make his move behind the defence, as he has the defender on the ropes already. Swift (3.) is also in space but is not as threatening as Ojo. Newcastle have a similar shape as before and have left space in front of their defence for Swift. He is unmarked, and no one can mark him without leaving someone else.
2. This arrow is the pass we make. Ojo makes the run behind the defence, and Calvert-Lewin has an easy job of picking the pass. The channel is completely open, and no one is pressuring him at speed.
3. Swift makes the run on his arrow (3). He is behind Ojo, and will not catch up to him, but he knows no one is going to be able to track him.
You can see the ball is played for Ojo and the central defenders of Newcastle either cannot keep up or have to drop to try and cover. The full back catching Ojo is beaten, and the other full back is weary of our other winger. Swift times his run into the box well, and once Ojo pulls it back through the gap he has an easy finish.
I love this goal. I'd love for us to score more like this, and we'll aim to do so. It fulfils the crossing/through ball type assists we're aiming for. It can be replicated, and if we come up against more 4-4-2 type formations then we will be able to easily exploit those half spaces. If teams play more midfielders then it becomes harder to exploit. We need to find a style/tactic that can exploit the weaknesses of a packed midfield. Using our full backs to circumvent the midfield is a possibility…