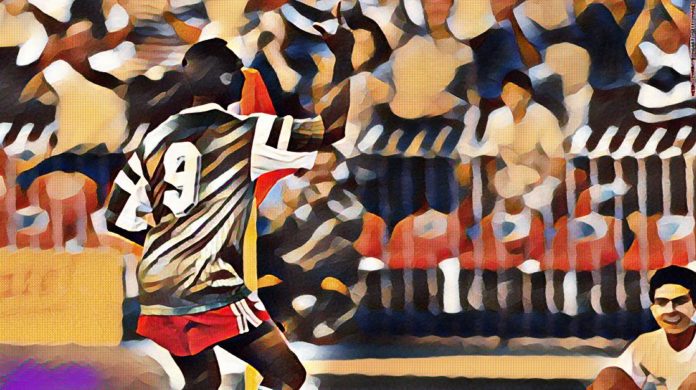 I mean, that's quite important. Initially I was double checking on Google but more recently I have got damn lazy with it. I think this is supposed to be episode 20. I think.
Has a count.
30? Holy crap. That's like a proper series. We've done alright over the last 30 pieces, and I am not just talking about getting at least 28 Roman Numerals correct. Today I announce Tonnerre KC as MTN Elite I invincibles!
How do you like them apples?
Winning the league by 28 points feels like a personal record. Conceding single figures in a league lasting 34 games beats my wonder season at Boca Juniors back on FM15. I know I've been unbeaten once before in a season on FM17 – at Dortmund II before the bastards sacked me I think. But this feels special, but at the end was all rather easy.
It was Canon Yaounde who came closest in the last three matches to putting an end to the Invincible dream. Yet, we turned it around and won 3-2, meaning we'd need two clean sheets to secure a single digit goals against column. Aige Royal and a disappointing Coton Sport rolled over for us, and we achieved a big tick.
One of the key decisions made in the last couple of league games was to replace the keeper William Kamga. The official FM stats say he has only made one mistake leading to a goal, but I'd dispute that. He scored an own goal against Canon Yaounde, had a mare in Africa over at Vita and was arguably at fault for Canon Yaounde's second goal as well. So, I replaced him with the lesser rated Mbarga-Mohamed who has kept a clean sheet in each of six first team appearances.
Once again, this brings me back to a key part of how I manage. Coach reports, attributes and star ratings all have a place sure – but when someone with shit attributes, a lousy coach report and has current ability of not-even-yellow stars yet keeps six clean sheets? You kinda have to trust your own eyes.
We continue to progress in our defence of the Coupe de Cameroon, leading Cosmos de Bafia 2-0 after the Quarter Final first leg. I'd expect us to win the thing if we can concentrate until the end of the season.
We have had one major thing happen though – the sale of another prospect.

€90k for a left back we picked up for nothing when the lad wanted to move is good business, yet again. It has allowed me to blood the kid playing for the U21's for the last two seasons, and he played very well on his debut. We also have a young lad, Bamba, returning to Cameroon after it didn't work out for him in Europe who will add competition for places, as well as Sohna who has been with me since the start.
The U18's finally confirmed their third straight league title.
We have a striker from the last intake, he is going to be special. I don't want to say too much yet but with the focus being "finding the next Roger Milla" there is a chance this kid could be him. He will be fast tracked into being the lead U21 striker next season.
We also had some international stuff to take care of, in the shape of two AFCON qualifiers. I won't bore you with the details, but we saw off Niger and Ethiopia with ease, 3-0 apiece. We are in prime position to qualify for the Ivory Coast now. None of this is improving our ranking though, which is mildly frustrating.
So the next steps are as follows:
Win the Coupe de Cameroon
Assess the squad and draw up an updated list of who might get targeted
Release those who have come to the end of the line
Decide on appropriate replacements, ideally searching internally initially
Strengthen the backroom team with more coaches, maybe more scouts
As I alluded to in the last post, next season will give me a clearer idea of how much longer Mark Monroe will be in Cameroon, so let's get to it!
#LeTKC