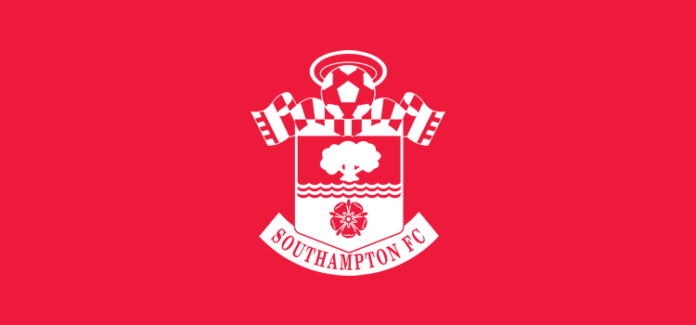 Welcome back to 'Southampton's Black Box': a story focused on the organised success of the club known for their over-achievement. As the title implies, the save will be highlighting and representing the recruitment strategy by Southampton. I will be compiling a large database of players in the game to assist me in my FM17 successes, as well as your own. Enjoy!
I must admit, in Part 8 I wasn't completely forthcoming with you. I broadcasted my signings – Will Hughes, Vincenzo Grifo, and Adama Traoré being the most important. What I didn't show were the signings I'd made already that were to be completed in the future.
Mahmoud Dahoud (Mönchengladbach) – €11m rising to €15m
Matheusinho (América-MG) – €10m rising to ~€20m

These signings are undoubtedly more expensive than usual, but I have high confidence in the ability of both of these young players. Dahoud has proven himself as an intelligent playmaker in the Bundesliga while Matheusinho already has the ability to play first team football in the PL. Both players will link up with Southampton at the end of the season. What do you think of the signings?
Premier League
Now onto the football. I was quietly confident of our chances for European qualifications coming into the season, but I knew that the big teams still out-muscle us in every area of the pitch. I generally used a 4-1-2-3 against tougher sides but allowed my players to roam free in a 4-2-3-1 in most home games. This is how it turned out.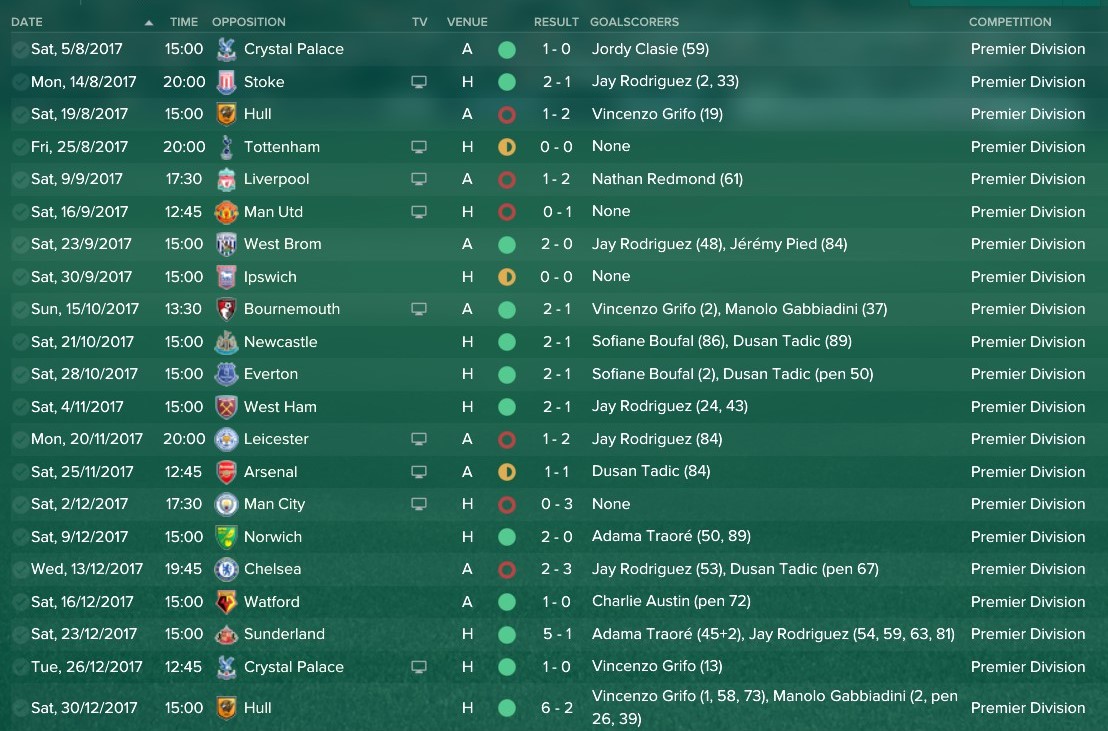 The opening months were up-and-down – a flying start out of the gates gave way to four straight winless fixtures. As you can see, we did hold our own against some of the larger teams. This helped our confidence in October as Southampton had a perfect month, a feat that won me my first Manager of the Month award. Another rough patch against Leicester, Arsenal, and City saw us humbled, but it wasn't long before the likes of Virgil van Dijk, Jordy Clasie, and Jay Rodriguez were firing on all cylinders.
An emphatic win over Hull to end the season implored Saints fans across the country to check their phones for the Premier League table going into January. This, my friends, is what they found.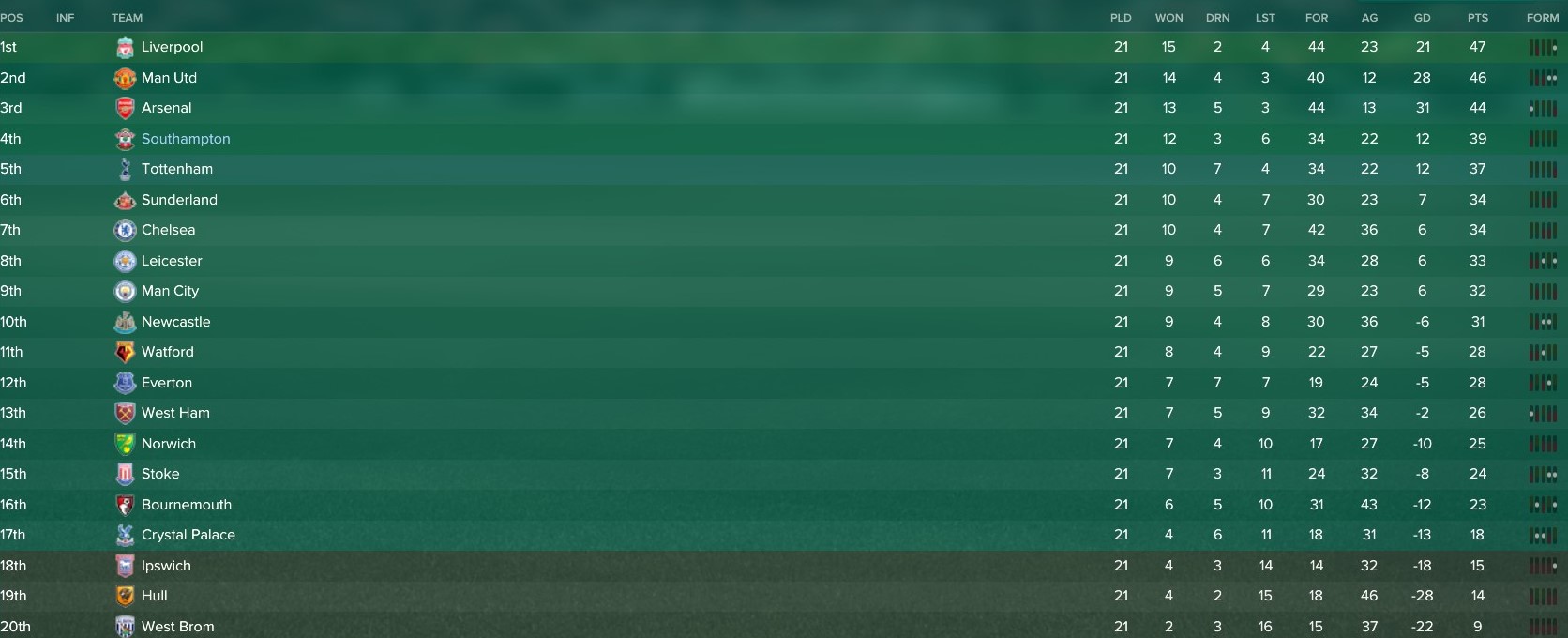 Believe your eyes. 39 points from the opening 21 matches are good enough for a spot as a Champions League contender…4th place! When I guaranteed Van Dijk that we'd win the league I was just saying it to get one more season from him, but we're actually within a shout of league leaders Liverpool. What I'm most proud of is our goals conceded: 22 – making us the third stingiest defense in the league. I must say that I'm absolutely ecstatic at the moment.
EFL Cup
Not only have we outperformed every prediction in the league to this point, but we've made a cup run as well! MK Dons and Peterborough were the first to fall at the hands of the mighty Saints. QPR provided a challenge, but a nail-biting penalty shootout that saw three spot-kicks saved in a row by both teams ultimately ended in victory. Finally, it was 17-year-old new signing Blazej Bator who spared our blushes against a struggling Crystal Palace to pair us against Stoke City in the Semi Final. What a time to be a Southampton supporter!
Top Performers
Honorable mention: Jay Rodriguez – 11 Premier League goals
Virgil van Dijk – 7.56 average rating (PL)

Our star player, defensive marshal, and captain. The player sought after by Real Madrid has made his intentions of leaving the club clear, but I'm glad I've held onto him this season. Without the big Dutchman, this great run in the league wouldn't have been possible. Not only is he a rock at the back and a monster on set pieces, Virgil initiates build-up play with his composure on the ball and smart passing. It's truly an honor to manage such a great defender.
Adama Traoré – 7.86 average rating – 3 goals – 3 assists (PL)

Our new signing from relegated Middlebrough has been nothing short of astonishing. The flashy Spanish winger was originally bought to back up Nathan Redmond, but the latter's poor performances have allowed Traoré to strive. A pacey winger with great skill on the ball, he has no reserve when taking on defenders to create space and opportunities for his teammates. His finishing was also on display in the 2-0 win over Norwich, where he scored both goals to deliver the three points.
Vincenzo Grifo – 7.24 average rating – 6 goals – 1 assist (PL)

Another summer signing, the Italian playmaker has been sensational most of the time. Sofiane Boufal has been all but forced out of the team because of Grifo's performances, and Dušan Tadić is often started as a midfielder to make way for him. A world-class set piece taker, Vincenzo has the ability to create for himself and others. His threat from range forces defenders to close him down, allowing the likes of Rodriguez (who has taken over Gabbiadini's starting role up top) and others to overlap into open space. Vincenzo Grifo is the perfect example of the Black Box being put into practice and allowing Southampton to operate way above our expectations.
The Future
Southampton is now in an interesting position. I know the team is good enough to maintain a European spot at the end of the season, but I need reinforcements. A big position of need is a solid defensive midfielder to win the ball back against top teams. Leicester City have put up Nampalys Mendy on the transfer list, so I'm going to launch a bid to try and reinforce our midfield. Centre-back is also a position that could use a better backup, so I'll be scouring the market and my Black Box for options.
Until next time, you can follow me on Twitter @adiek22 if you have any questions. I'm always open to chatting about some FM. Thank you once again for reading and we'll see you in Part 10!