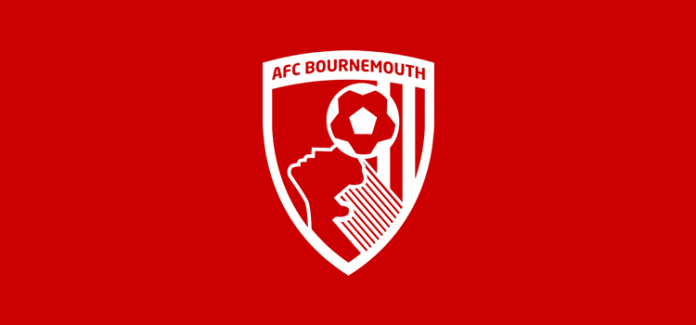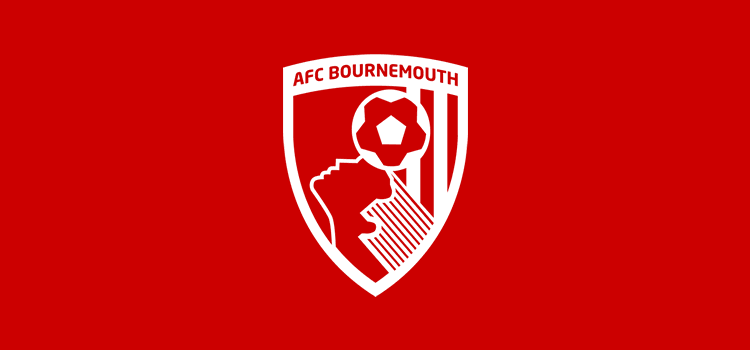 With that first disappointing season put to bed, it's now time to cast our eyes to the future to try to build a team for next year that doesn't leave my job hanging by a thread after 5 games.
The first part of this is to take a clear-eyed look at our performance last season, assess our strengths and weaknesses, and then pinpoint areas that we can improve. So, without further ado, let's have a look at the squad. Here they are ordered by average rating: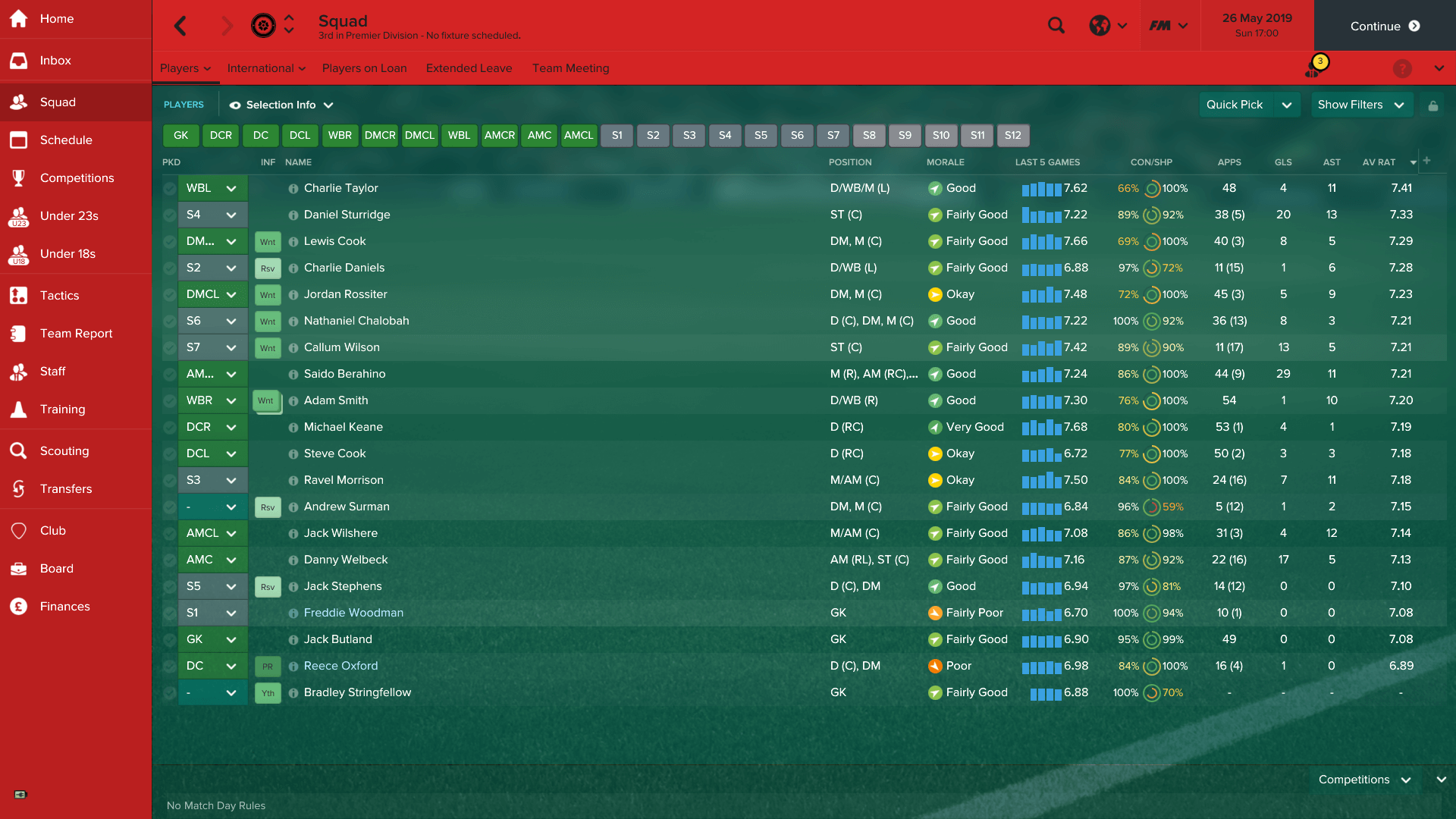 There are a few things that become immediately apparent. First is that there is a pretty clear divide between my defence and my attack; all four members of my back four reached or surpassed the magical 7.0 average score, with Francis and Keane being two of my best performers. In fact if you discount Dan Gosling, who played <50% of our games, Keane was my joint-best player making him a shrewd bit of business, if I do say so myself.
The good news, then, is that I don't need to worry about strengthening my defensive options (my first choice back ups, Jack Stephens and Adam Smith managed admirable 6.9somethings). I am slightly concerned by that tiny little "Wnt" badge next to Keane though. I can feel the vultures circling, so it might be wise to think about replacements for my crown jewel after only one season.
My midfield were fine but not much more than that. Marc Wilson was surprisingly solid, when he occasionally filled in for Surman or was used as part of my more defensive system away from home. However, he is 29 and Irish so I should be looking for a younger, more overtly defensive midfielder to take over from him.
Onto my wingers: Marc Pugh did alright and Stanislas was ok, while Ryan Fraser was quite poor in his limited opportunities. My greatest disappointment is reserved for Jordon Ibe, though:
He's dribbling with the ball often but he's not producing enough end product to have a real impact on the game. His shots on target % is not great, managing fewer than one per game. He's covering a lot of ground but not really getting involved with play much and when he does, he's not contributing enough in the attacking phase (only 19 key passes). His crossing completion (17/175) is abysmal. Overall it's not awful, but there's a lot more to come from him. Clearly if I want to use him more effectively, I need to tweak how I play.
What do I do about my strikers? Both Afobe and Wilson managed 9 goals but otherwise struggled to perform well in my current system, while Lewis Grabban was next to useless operating from the bench. I'll look to move him on asap. What's clear to me is that I need some investment uptop, if only to give me a greater range of options. I'm convinced that Afobe and Wilson are both good players and I'm determined to find a way to get the best out of them. There'sdefinitely an internal solution to our goalscoring issue to be found.
Then there's Jack. The supporter's player of the year, the player who contributed the most assists, and our most consistent performer: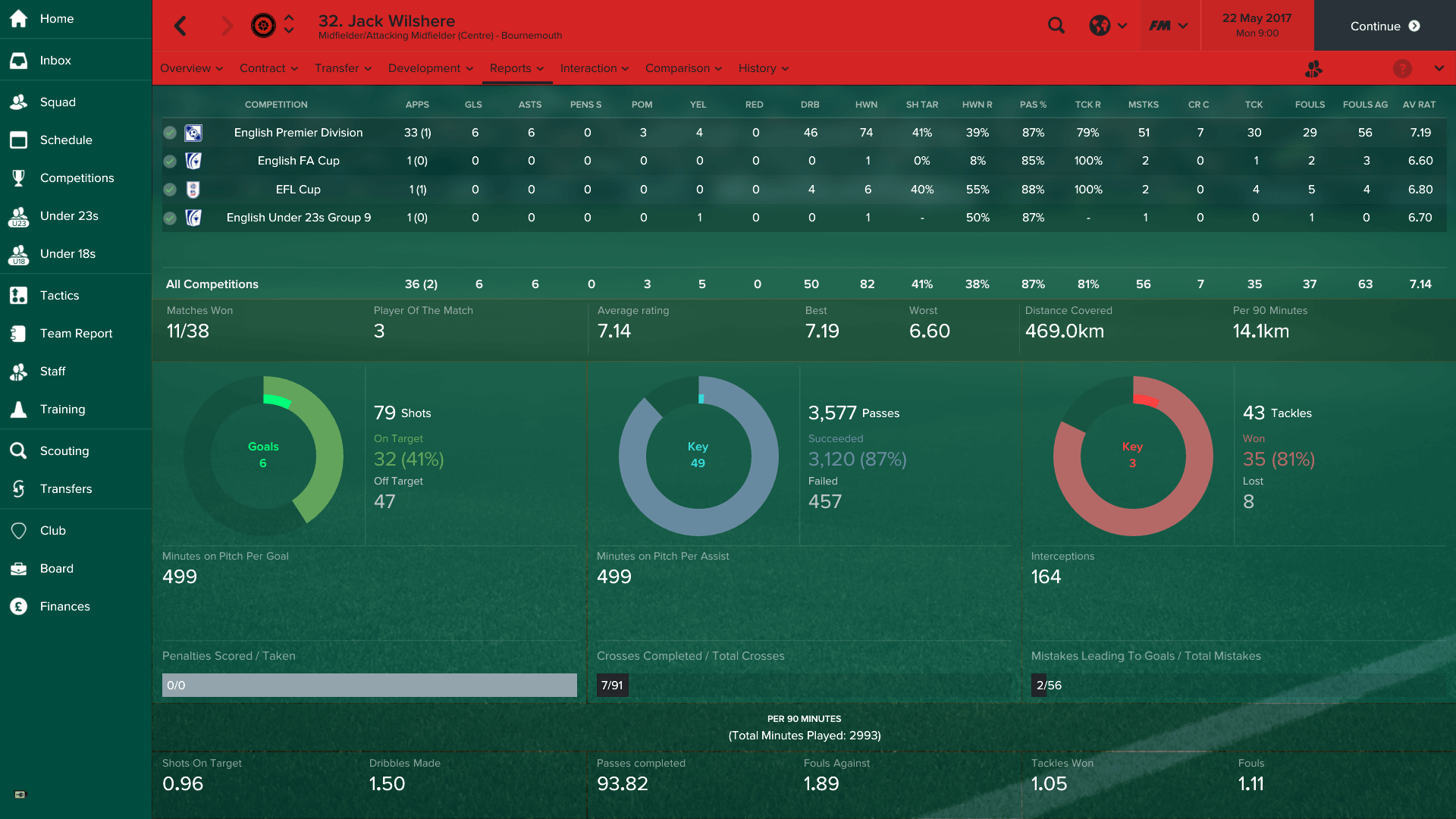 Just look at that. A huge volume of passes per 90 – more than a pass every minute – and a hefty 49 key passes. He was often at the heart of things when we were playing our best football and I'm going to sorely miss him. It's going to be tough to fill that Wilshere-shaped hole in my midfield (and my heart).
Next, let's look at team performance as whole: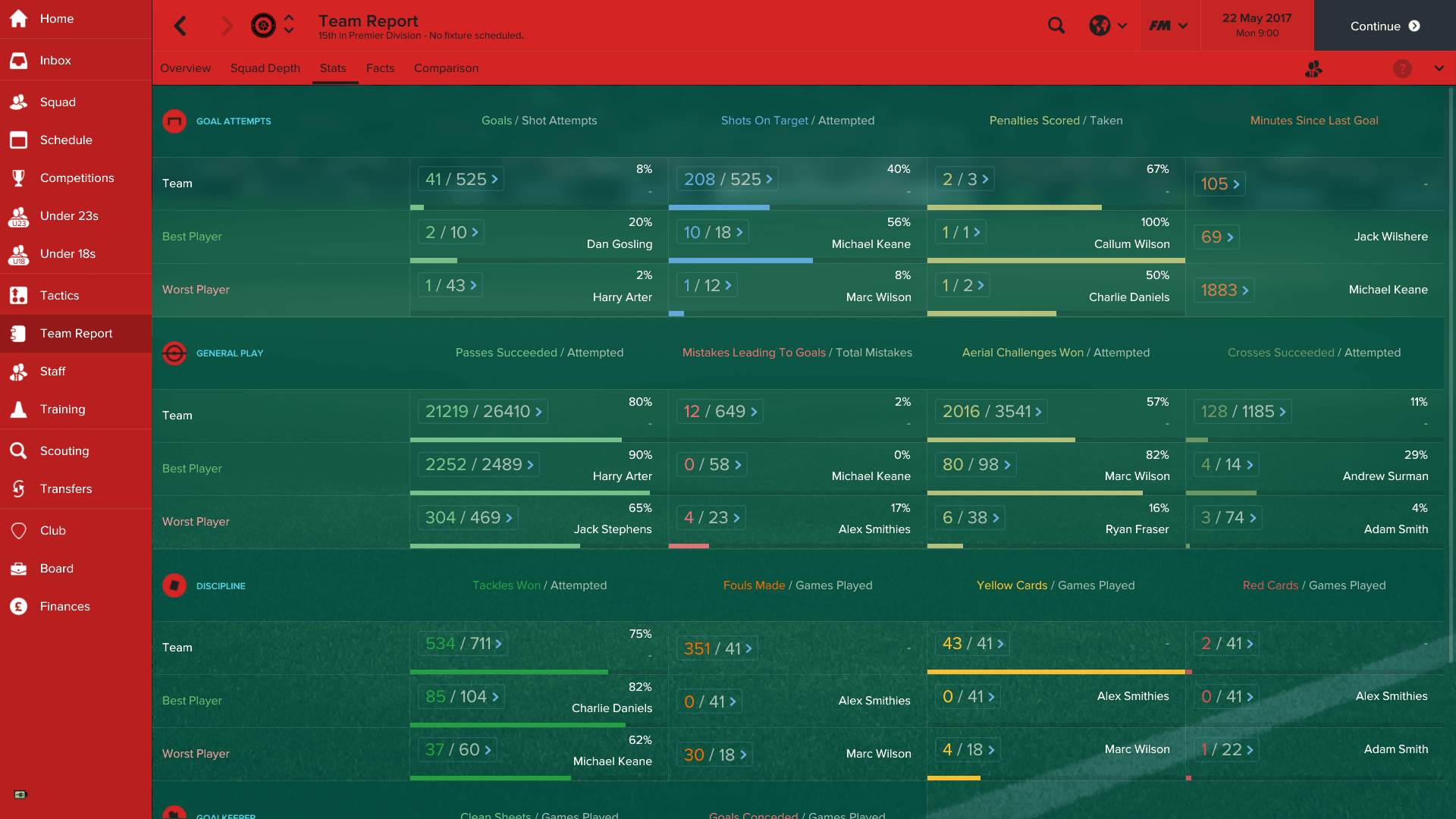 Again, there are a few things that jump out. For one, my side is bad at shooting. Like, really bad. It speaks volumes that Michael Keane is my most efficient shooter. Of course, sample size and context are all important with this sort of thing – Keane's shots will predominantly be headers from set plays which are easier to get on target – but that overall shots on target score of 40% isn't great.
But at least it's better than my goal conversion rate which is horrendous. We only managed to turn 8% of our shots into goals, which suggests that we need to work on creating better quality chances and also to invest in some players with better finishing ability.
Elsewhere, it turns out we're not great in the air. Considering that awful run at the start of the season where we consistently conceded from corners, I can hardly say I'm shocked. Marc Wilson is our best performer on that front, so when it comes to bringing in someone in his mould, I should focus on aerial presence.
And then there's that awful crossing stat, which explains why my wide players performed so poorly. We attempted a lot of crosses and only just over 10% of them succeeded. I suppose in part that's due to the fact that the players on the receiving end are ill-equipped to win balls crossed from the byline. Even so, that's incredibly wasteful and it appears that playing out wide doesn't suit us. I'll bear that in mind for the season ahead and try to factor that in to any tactical changes.
On the more positive front: Our passing is exceptional, which is to be expected, and suggests that focusing on playing centrally will be a good idea henceforth (although I've clearly got some work to do with polishing Jack Stephens). I'm also impressed by the small number of mistakes we made resulting in goals; Michael Keane went the whole season without an error costing us a goal which is staggering. He's less impressive when it comes to tackling, but those around him are picking up the slack for him.
Based purely on our assessments, it seems as if there are a few things we can use going forward:
My defence is good, so I should endeavour to keep hold of current personnel. It would be sensible to earmark a replacement for Keane as it won't be long before someone swoops in for him.
I need a defensively minded holding midfielder to take over from Marc Wilson.
At least one more striker is a necessity to provide competition for the existing two, preferably someone who is an upgrade in terms of quality.
Somehow we need to do the impossible and find a creative replacement for Mr. Wilshere.
As an aside, it's always worth a look to see how we stack up in comparison with the rest of the league:
Our average age of 27 puts us an average level for the league, something I'll be looking to bring down in the foreseeable future. Our average wage is a measly £14k, just half of the league's average, which makes me feel better about our achievements as we are clearly punching above our financial weight – something that is further underlined by the fact that we used the fewest number of players of any club in the Premier League. That 91% domestic player bias is glorious, but we want to get the 100%.
So, we now have a rough idea of what went well for us last season, what went wrong, and we've highlighted some of the areas that most require our attention. It's time for big Jeff Mostyn to break out the chequebook and let me run wild with the club's money in the transfer market.