Recreating Guardiola's Inverted Wing-Back Tactic in FM17
Follow @DistanceCovered on Twitter for more.
An Overview of the Tactic
Halfway through his first season at Bayern Munich, Pep Guardiola's newly educated side were consistently winning matches, yet Pep was found unsatisfied. His players at Bayern loved his fresh new ideas and found themselves leading the Bundesliga by a comfortable margin; Pep still wasn't happy. His unhappiness was not results based; it was related to how his team performed on the pitch. Pep felt he wasn't maximising the attacking weapons at his disposal, so he opted for a change.
After evaluating his squad, it was evident that his most influential resources were his world-class wingers, Robben and Ribery. To get the most out of his wingers, Pep instructed his full-backs to tuck inside as inverted wing-backs when his team were possession of the ball, which effectively made them look like central midfielders. This move dragged opposing players inwards, leaving his wingers very wide and thus able to engage in 1v1 situations with the opposition's full-backs. These world-class wingers were then able to win their 1v1 duels and cross with enough quality to find the striker, who would often finish resulting in a goal.
At Manchester City, Pep has adopted a similar approach due to the dribbling ability of Sterling and Sane, and the poaching nature of Sergio Aguero. Often this season, Clichy and Sagna have acted as inverted wing-backs with Sterling and Sane playing as wide as possible to create 1v1 situations, as demonstrated in the image below.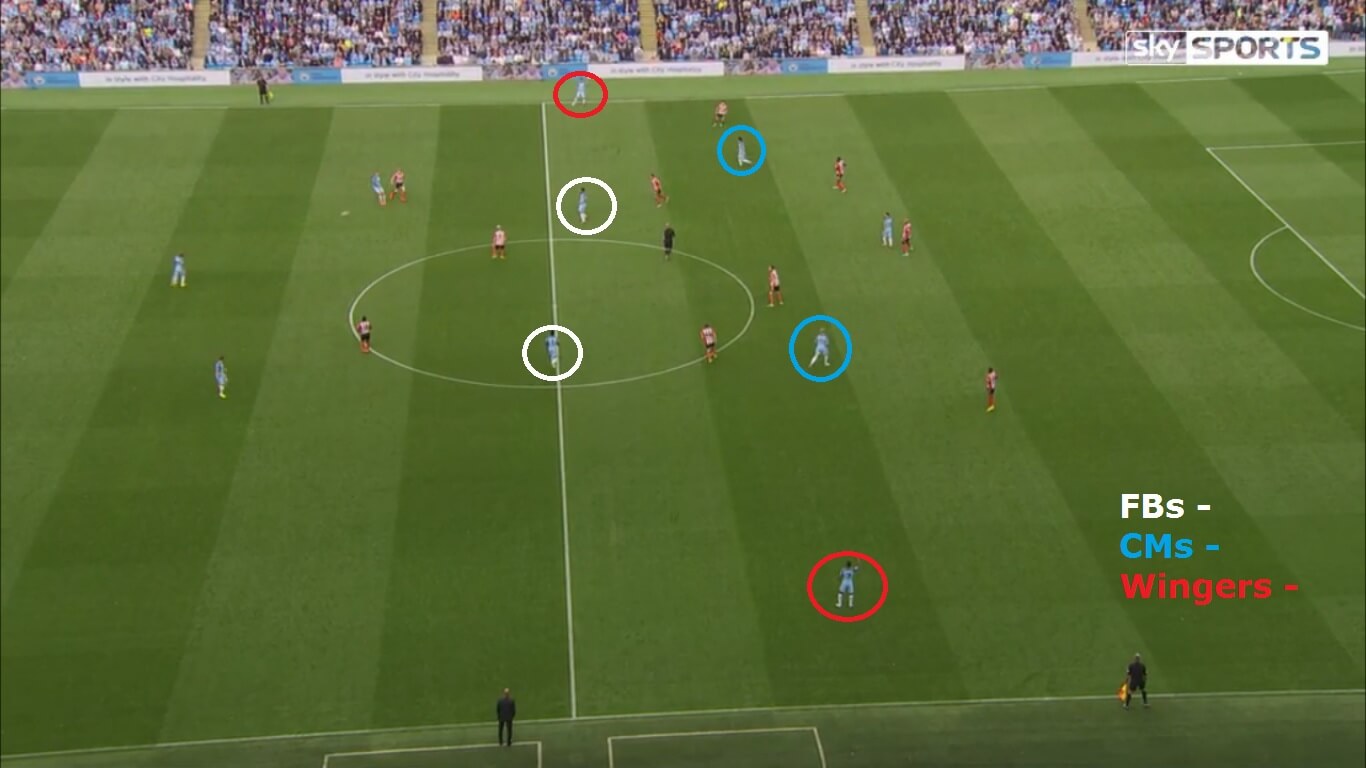 As shown above, one of the ways in which Pep's current system at Man City differentiates to the tactic used at Bayern, is that Pep now strives to utilise the quality of his 10's, David Silva and Kevin De Bruyne. By Pep employing his full-backs as central midfielders, this then allows Silva and De Bruyne to move forward and operate in the half-spaces between the lines of the opposition's midfield and defence.
To summarise, the key movements of the tactic include:
Both Full-Backs moving centrally to play as Inverted Wing-Backs.
Both CM's then moving forward to play as AMC's.
Both Wingers playing very wide to create 1v1s.
Once these key movements have been executed by the players involved through patient build-up play, the team will be precisely positioned on the pitch in order to maintain control. An example of this is demonstrated below, as the tactic effectively allows five men to create with considerable freedom, and five men to be positioned centrally behind the ball to stop any counter-attacks.
Recreating the Tactic in FM17
The Formation
After testing out multiple formations to determine which recreates the movements of the tactic best, I finally opted for what is pictured below.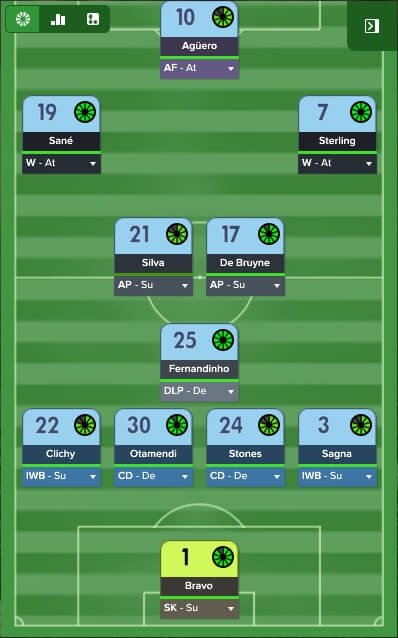 The full-backs are obviously set as IWBs so that they operate centrally. In terms of the DLP, I tested the Half-Back a few times and the role wasn't having the desired effect; it was too defensive, forced my CBs too wide and didn't have the controlling influence that Pep requires from his pivot. Regarding the CBs, the immediate perception is that they should be BPDs, which I'd agree with and did try. However, I'm playing with 3 playmakers in midfield and two IWB's, and all of these have the instruction of More Risky Passes, so in order to retain the ball more effectively and manage risk, I eventually opted to change them to CBs. In terms of the two APs, this was fairly clear to me, as Pep wants both Silva and De Bruyne to operate in the holes between the opposition's midfield and defence. I would've added Get Further Forward to those APs, but for some reason the tactic creator doesn't allow this on a Support duty, and when they're on Attack duty the tactic is prone to becoming unbalanced. Now for the Wingers, these are vital attacking outlets to the tactic, so they're on Attack duty as I want them to dribble more, play very wide and cross from the byline after beating opposing full-backs 1v1. I also added an additional player instruction to my Wingers to aim low crosses to the centre, which is where Aguero will often be to finish. Aguero will play as an AF, as I want him playing highly and on the shoulder of the opponent's last defender to utilise his high anticipation when attacking crosses.
The average position of each player will vary on a game-by-game basis depending on a number of aspects. Overall though, the average positions of your players when in possession should appear similar to what is pictured below.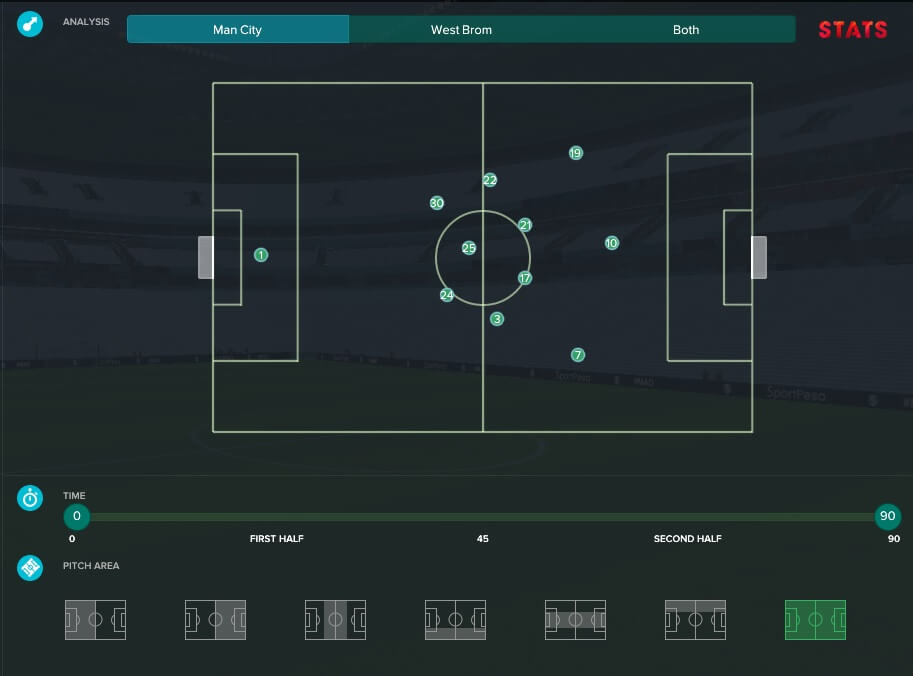 Team Instructions
Now for the team instructions, pictured below.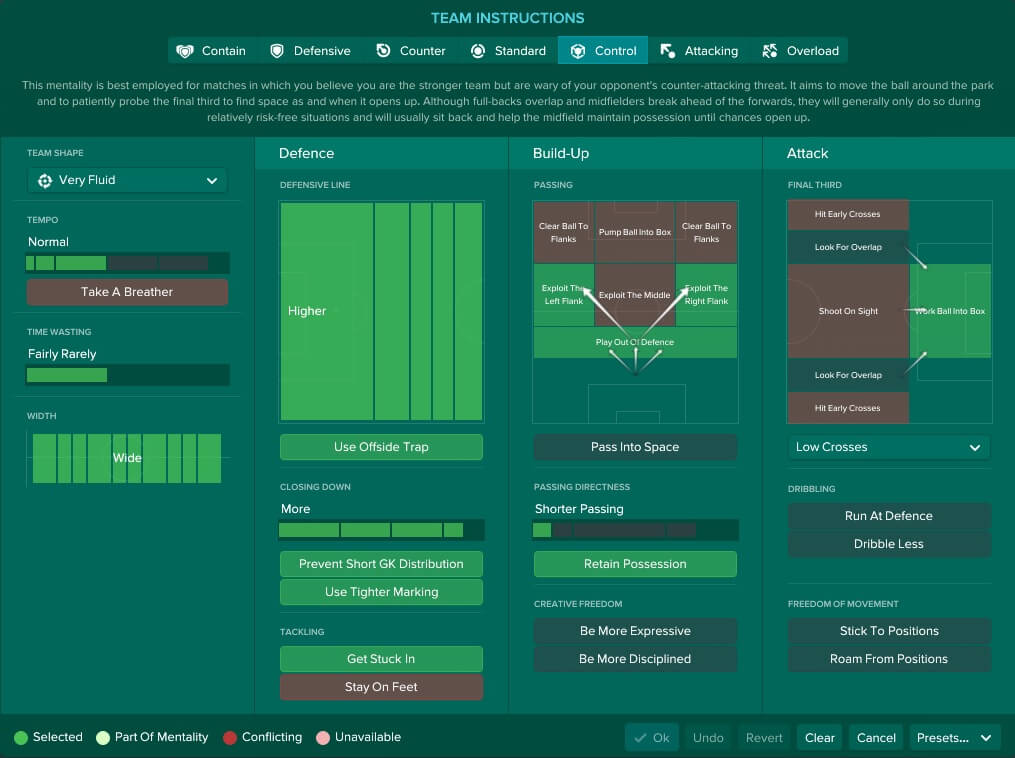 I opted for a Very Fluid team shape and Control mentality as I felt these were fairly obvious. Pep is a very modern manager in terms of wanting every one of his players to contribute to every phase of the game, as well as remaining compact and counter-pressing when possible, as pictured below, so Very Fluid is ideal.
The Control mentality is effectively what Pep's philosophy is about, ultimate dominance and being aggressive with and without the ball. I've set my tempo as Normal, and appreciate that this is probably open to debate. As tempo is purely a with-the-ball setting, I didn't think higher was appropriate, as Pep likes his players to be patient and make good decisions on the ball and this is less likely to happen with a higher tempo. I have tested lower tempo with the tactic and although it does work, I prefer my players to have the option of speeding up play when appropriate, so I've opted for normal.
Manchester City play with a higher line so that the game is played far away from their goal, however this can sometimes change to deeper if the opponent is defending with a low-block. Closing Down More, Prevent Short GK Distribution, Use Tighter Marking and Get Stuck In all interlink in my experience to form aspects of counter-pressing. They empower your players to position themselves close to opponents in order to win the ball back and be aggressive when doing so. Regarding build-up play, it's imperative that your team tries to Exploit The Flanks as this is where most attacking penetration will occur, and using this setting will encourage your playmakers to pass to your Wingers. Finally, Work Ball Into Box, Shorter Passing and Retain Possession all interlink to develop a patient approach focused on dominating the ball and taking advantage of an opportunity when it arises.
Results
In order to prove a tactic is effective, I'll often play a full season with the tactic in place to show that it works. However, this time around I implemented the tactic halfway through the season in my RB Leipzig save. Pictured below is a summary of my team's achievements at the end of the season after using my recreation of Pep's tactic since around January.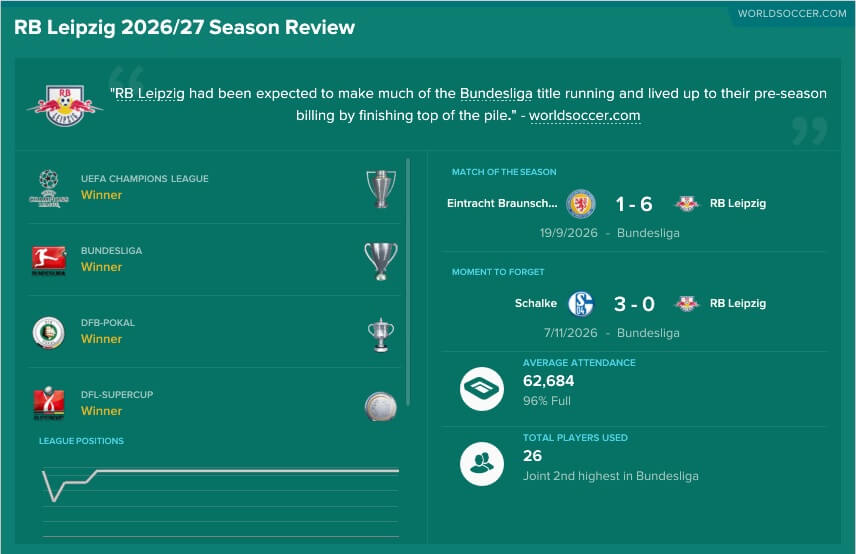 Clearly, the tactic is stable, balanced and prolific enough to compete at the highest level, as my RB Leipzig side have won every competition that they've competed in, including a 5-1 win in the Champions League final against AS Monaco. Another example of the type of dominant performance that the tactic can produce is shown below, with a large number of shots and 50% of them being on target, as well as not conceding a single shot on target from the opposition.
Enjoy the tactic. For any guidance, questions or help, follow @DistanceCovered on Twitter.