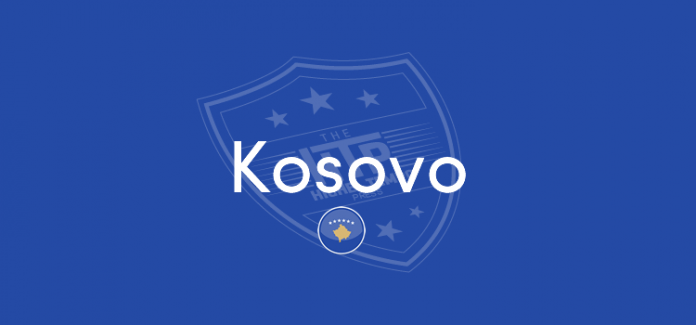 To catch up on more of my articles on The Higher Tempo Press click on the author name (FMAdventure) above, here you can also find links to my Twitter and personal FM blog.
=====
After discussions around the big round table at Tempo Towers I have developed a new strategy for Kosovo. We will follow the example set by Wales in that friendly matches will be few and far between and carefully chosen. The thinking is that this will help us progress up the World Rankings due to the calculation system which will in turn help us attain better seeding for better Qualifier draws.
July
As is my routine in July I have requested National Reports of all players eligible for Kosovo. The number of players available is now 449 although that will include a few of dual nationality who are, at this point, still rejecting my advances. This time I've requested my reports from the Coaching Pool as a whole in the absence of any individual with top attributes for player judging.
The latest World Rankings have seen us climb ten places to 155th.
I've been impressing someone in my short tenure at Kosovo as the Russian National job is offered to me. I kindly decline, I'm loyal to Kosovo!
August
This month sees us climb up another spot on the World Rankings to 154th.
September
The squad is announced for our first two UEFA Nations League matches against Cyprus and Luxembourg. Not really any big surprises in my eyes.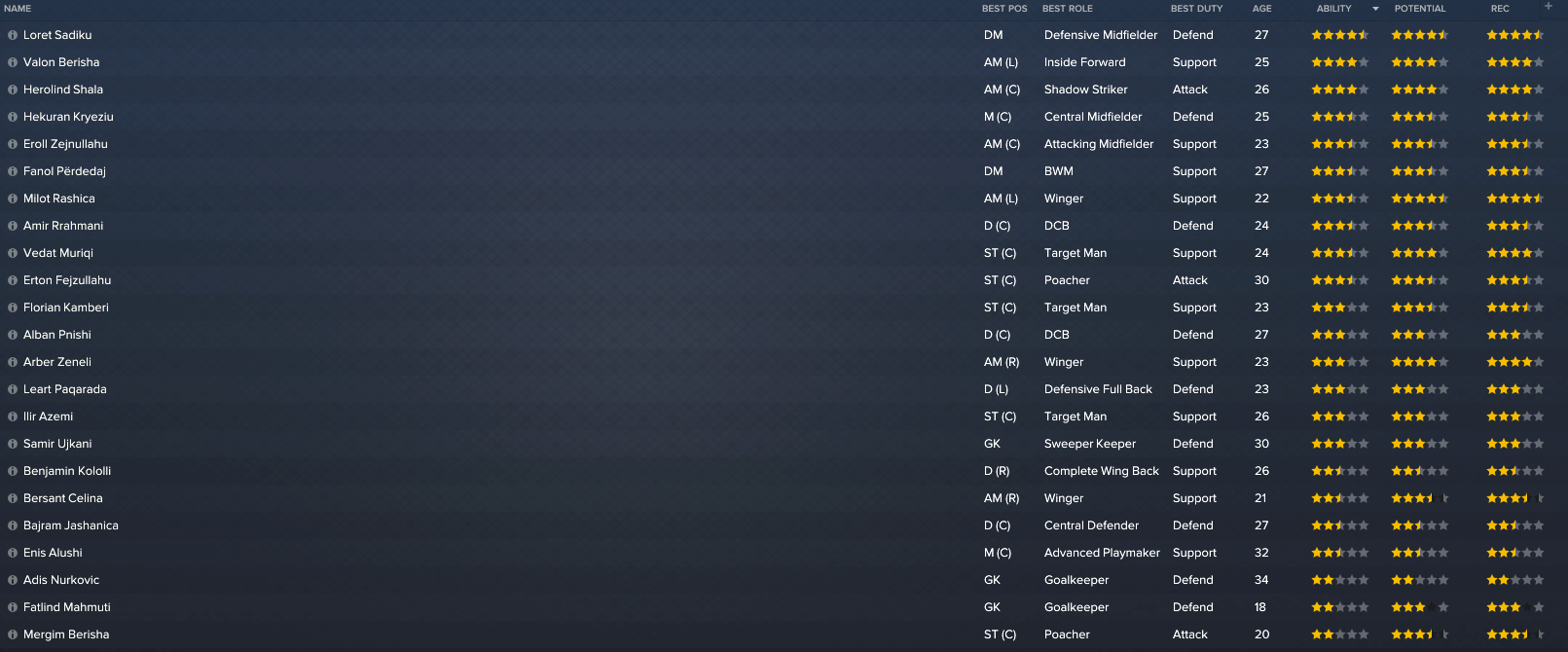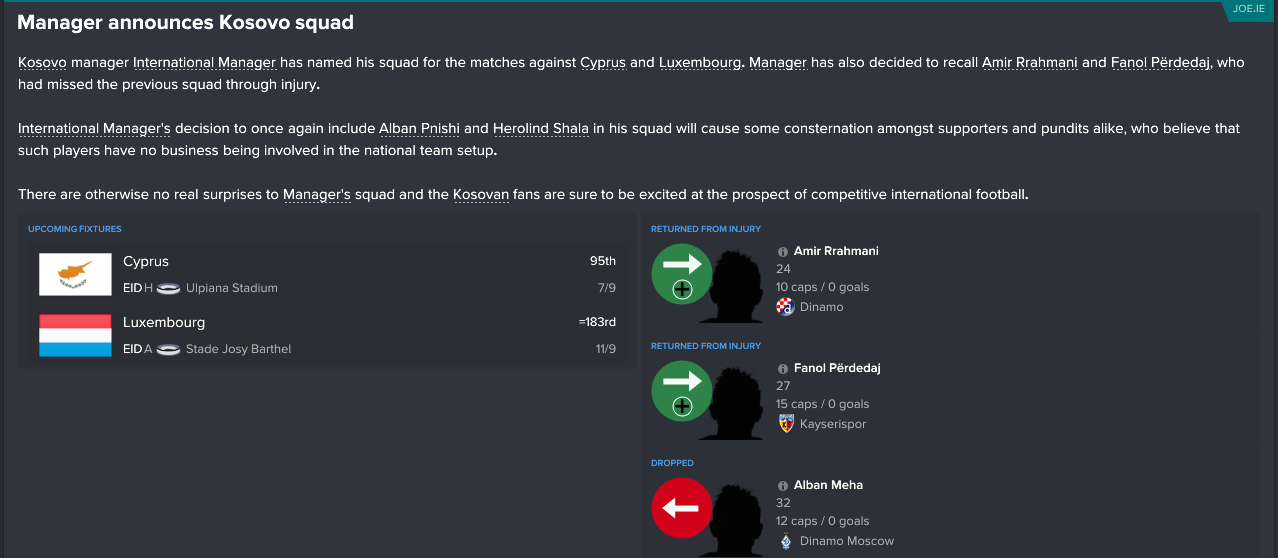 The draw has been made for the UEFA U19 Championship First Qualifying Round. Our U19s should be aiming for 3rd place in this group.

U19 Friendly: Cyprus 2-1 Kosovo, UEFA U21 Quals: Ukraine 0-0 Kosovo
The squad is named for our match against Cyprus. Sadiku slips back into the defence and Fejzullahu is given a chance up top.
The game was only 3 minutes old when some neat passing through the middle tees up Herolind Shala to fire us into an early lead. 34 minutes gone and we utilise our favourite move – a long ball from Shala splits the Cyprus defence and Fejzullahu runs onto it to score his first international goal, 2-0 at the break. 10 minutes into the second half and Cyprus pull one back to 2-1. In the 67th minute we restore our two-goal lead after a quick breakaway and some neat off the ball movement gives Shala his second of the day. It ends 3-1 with Shala an obvious Player of the Match. Fantastic!!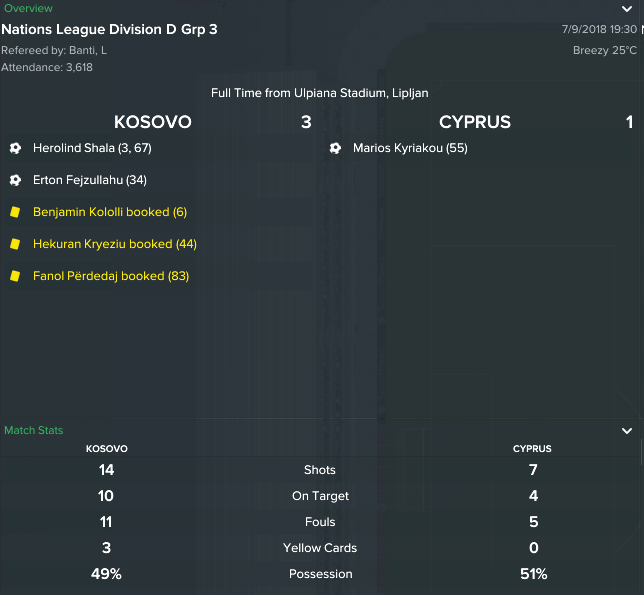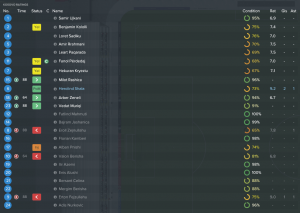 A first competitive win, amazing. Our biggest problem has always been holding on to a lead. I feared the worst when Cyprus pulled one back but we were incredible, going on to secure it with another goal. We deserved every bit of that win. Shala joins Valon Berisha, Sinan Bytyqi and retired Albert Bunjaku on the record of 3 international goals.
U19 Friendly: Andorra 1-0 Kosovo, UEFA U21 Quals: Kosovo 2-1 Hungary
There's no time to rest on our laurels as we travel to Luxembourg. Luxembourg lost 2-1 to Faroe Islands in their first game of the group. There's a bit of rejigging to replace Eroll Zejnullahu and Amir Rrahmani who aren't quite at a high enough condition rating for me. Could it just be…?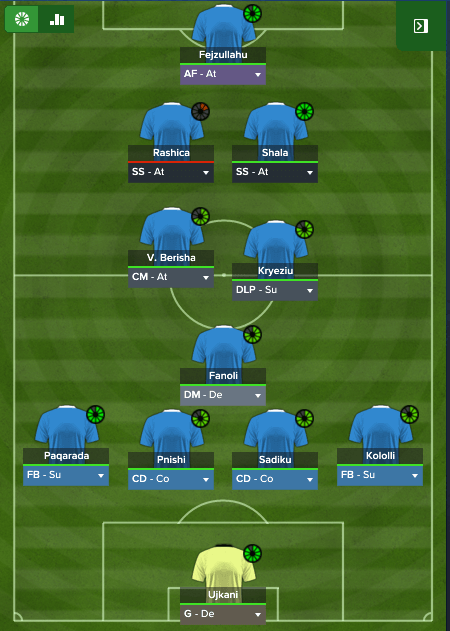 28 minutes gone and the ball falls to Hekuran Kryeziu on the edge of the area, he blasts homes to give us the lead! On the stroke of half time the home team strike and find an equaliser from a header. 1-1 at half time. The second half is a tame affair until suddenly in the 80th minute Shala strikes from nowhere: 2-1 Kosovo! We thought it was time to see the game out, Shala thought differently. Yet again he pulls one out of the ether, smashing it into the top corner from 30+ yards… it's 3-1 Kosovo. It's still not over, into injury time Paqarada crosses low to the near post and substitute Vedat Muriqi is on hand to sidefoot home. The whistle blows and Kosovo are 4-1 winners!
Maybe it is only Luxembourg but that was dominant. That was two wins in a row. That was…ever so slightly emotional! Herolind Shala has been questioned by the media on recent call ups, he's proved them wrong by becoming our record international goalscorer with 5 goals after that brace.
More good news as we move up to 141st in the World Rankings.

October
The squad is named for the upcoming games against Faroe Islands and Cyprus. Still the media question Shala – unbelievable.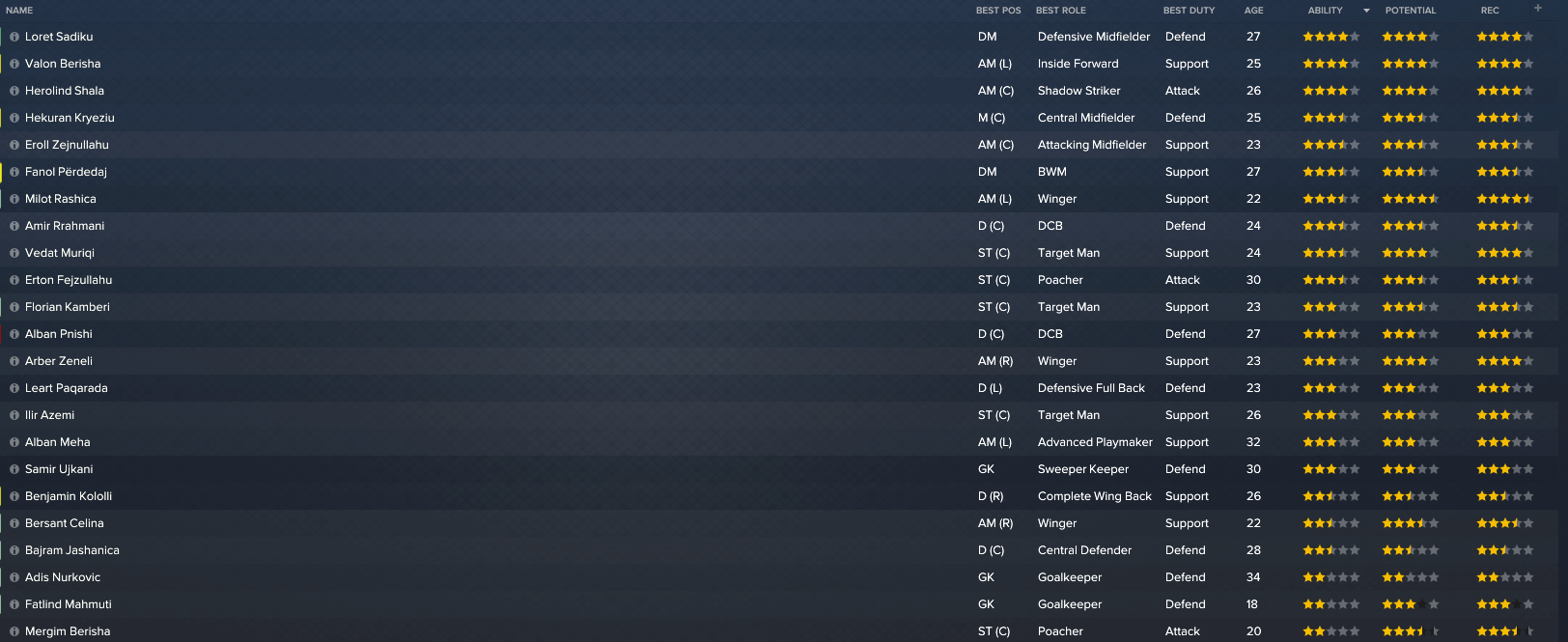 UEFA U19 Quals: Greece 4-1 Kosovo, UEFA U21 Quals: Kosovo 0-0 Portugal
We name the same squad that defeated Cyprus in the first game as Zejnullahu and Rrahmani are recalled to the starting XI.
13 minutes gone and a freekick is taken short, it finds its way to Shala in the box who makes no mistake in firing us into the lead again. A minute later Faroe Islands peg us back from a cross from the left, 1-1. On 27 minutes the goalscorer turns provider as Shala slips one through for Fejzullahu to restore our lead in the game. 5 minutes later and Fejzullahu scores his second of the day to give us a 3-1 lead that we take into half time. The second half is quiet but for a few wayward efforts. A solid 3-1 win to extend our winning run to three games. Valon Berisha is named Player of the Match for his two assists.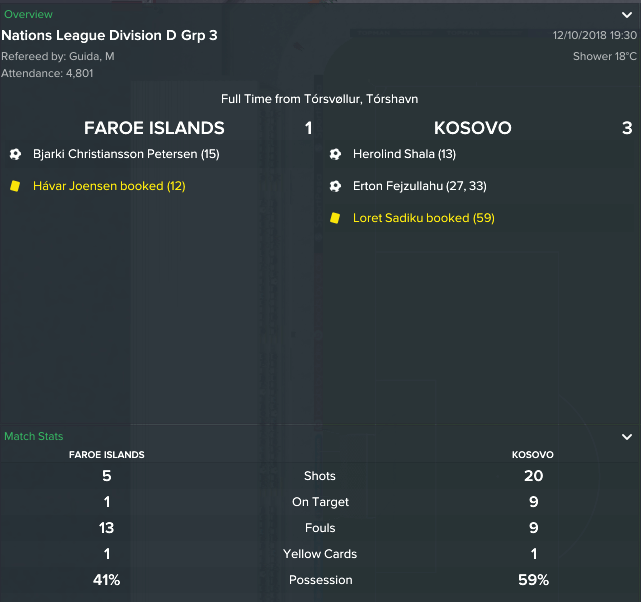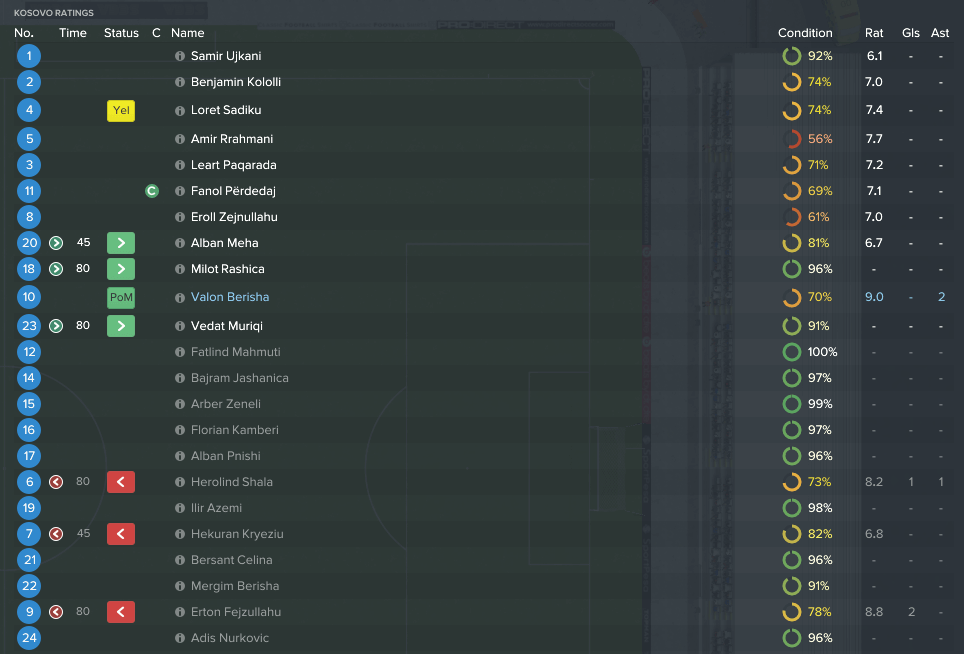 UEFA U19 Quals: Kosovo 1-0 Liechtenstein
UEFA U19 Quals: 1-3 Israel, UEFA U21 Quals: Luxembourg 0-2 Kosovo
Our U21's UEFA Quals campaign ends with 11 points from 10 games – probably better than expected and it gives them a good platform to progress from.

Two changes again for the tired Rrahmani and Zejnullahu, in come Pnishi and Rashica. There's no room for complacency. Cyprus are still the top ranked side in this group so we'll go out with our usual hard working attitude.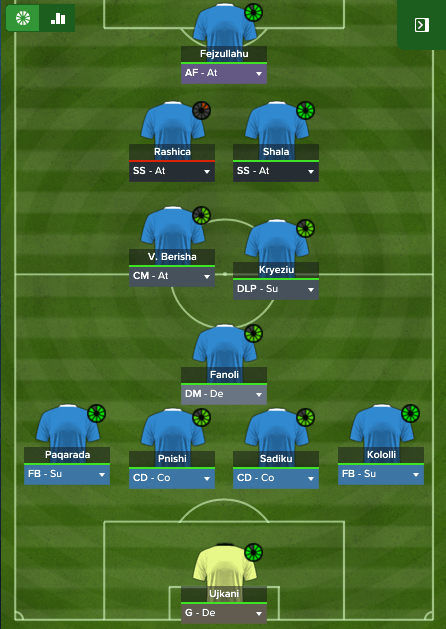 11 minutes in and it is another cracker from outside the box for Kryeziu to give us a 1-0 lead and that is how the score stands at half time. On 57 minutes, another neat passage of play sees Valon Berisha slip subsititute Bersant Celina through in the box, he makes no mistake and doubles our lead to 2 with his first international goal. In the 67th minute substitute Vedat Muriqi capitalises on a poor first touch from a Cyprus defender to see himself in front of goal, the shot is placed home and it's 3-0, a rout! A fantastic result and first competitive clean sheet for us. I'm beyond pleased.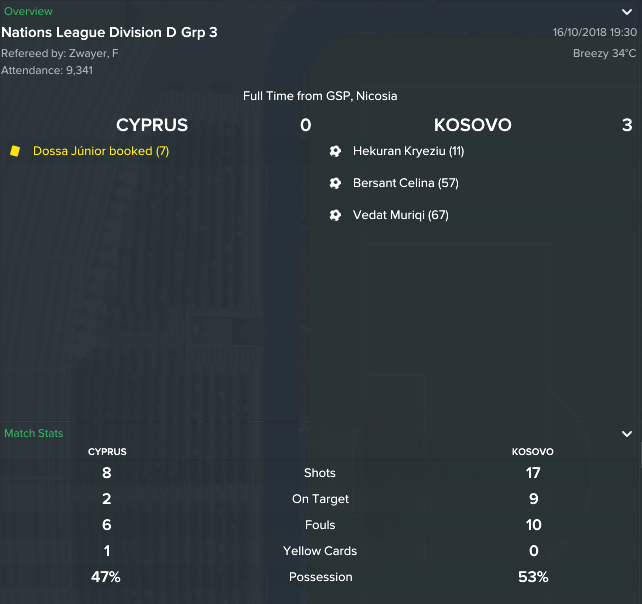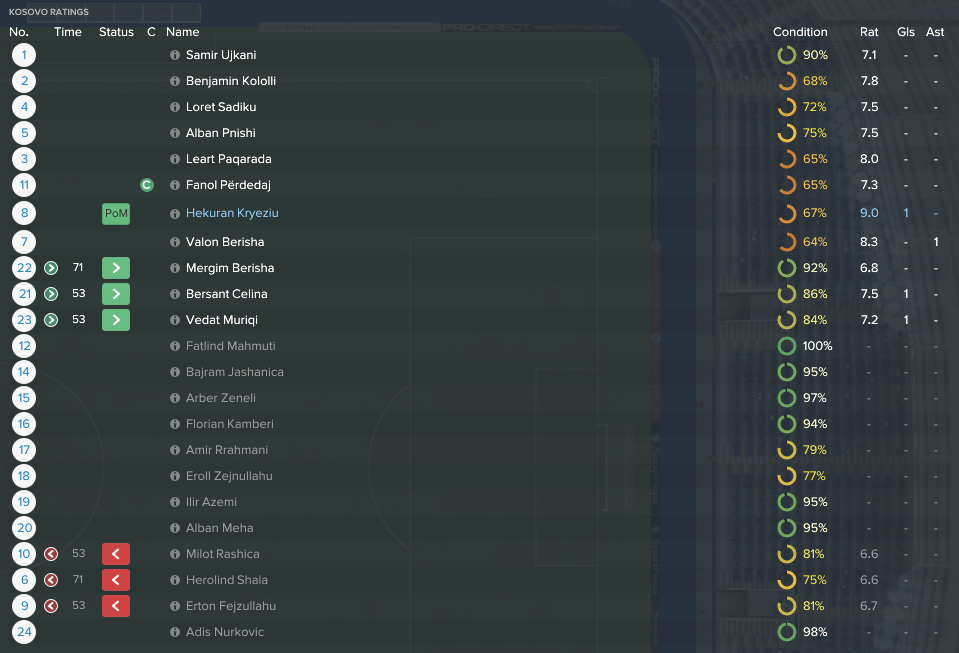 The World Rankings news item lands in my inbox and we're now a lofty 114th in the World! We sit joint with that famous footballing nation of Cuba.

November
I announce my squad for the final UEFA Nations League fixtures against Luxembourg and Faroe Islands. We are already guaranteed to top the group as we sit 6 points clear of Cyprus and the sorting rules are based on Head-To-Head results in the first instance, simply incredible! Mahmuti and Meha miss out through injury.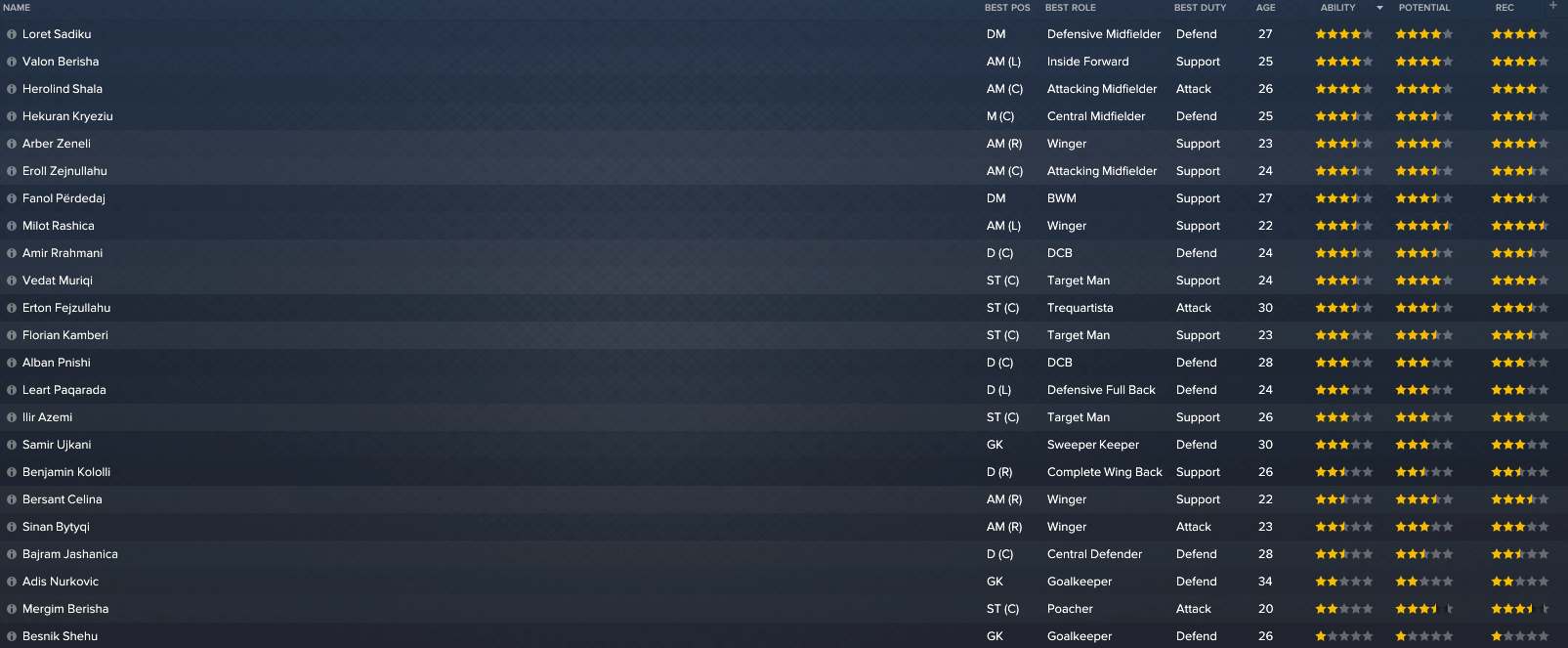 The World Rankings are out and we're not 104th – so very close to breaking the Top 100.
U21 Friendly: Lithuania 1-1 Kosovo
Back to my first choice XI for this fixture. We want to finish on a high after this run of wins.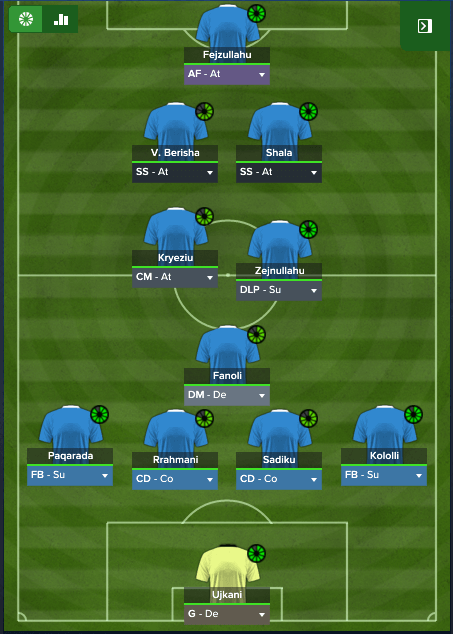 It takes just two minutes for the deadlock to be broken. Shala has two failed attempts at getting the ball into the box before the ball falls kindly to Kryeziu to yet again fire home from outside the area. Just a minute into the second half Shala is played into the box and there was no way he was missing it, 2-0 Kosovo. With the last kick of the game two young substitutes combine as Bersant Celina plays a ball over the top and Mergim Berisha fires home. 3-0: another win, another clean sheet and another delightful performance to go with it.
U19 Friendly: Bulgaria 0-2 Kosovo, U21 Friendly: Bulgaria 0-0 Kosovo
We go again with the same squad as the Luxembourg game. Time to see this out in good fashion.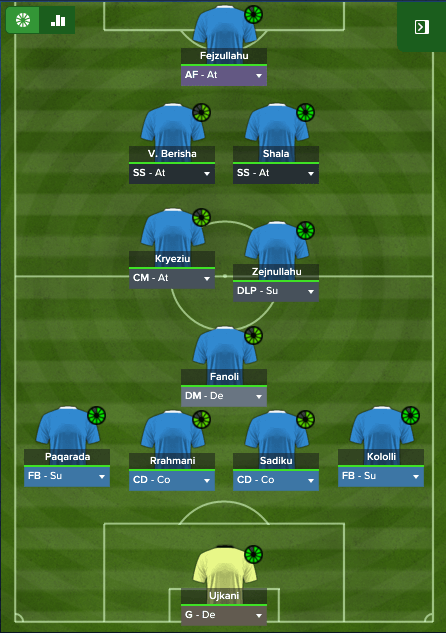 A frustrating first half see the game remain goalless until 44 minutes when Fanoli plays Kololli in down the right wing, his low cross is met in the six yard box by Valon Berisha, 1-0 Kosovo at half time. In the 66th minute Muriqi is hacked down in the box, penalty to Kosovo: up steps the right back Kololli but his weak effort is easily saved! Three minutes later we put things right as Muriqi runs through again and is this time allowed to slot the ball home for 2-0.
So, the first UEFA Nations League Group Stage comes to an end and we've managed to secure top spot and promotion to Division C with 6 wins from 6 games. Absolutely delighted with that, no doubt we'll have a lot tougher opposition in the higher division but no one expected that from us.
December
Unfortunately, we drop 3 places in the World Rankings but still sit pretty at 107th.

We have been drawn in Group A of the UEFA European Championship 2020 Qualifiers. It's not going to be an easy group but I can definitely say that it could have been a lot more difficult.
Player Watch

2018 Review
A fantastic year for us which has seen us gain 55 places in the World Rankings. Confidence is high after six wins from six games in the UEFA Nations League and we're playing some attractive football.

For the Campaign ahead, our immediate aim is to finish anywhere but the bottom of the group. We will look for 6 points from Liechtenstein but also aim to take points from Wales, Northern Ireland and Romania.
The fans have selected their Best XI for 2018 as follows, with Erton Fezjullahu, Vedat Muriqi and Denis Markaj brought into their Overall Best XI – although all as substitutes .
Milestones Update
First goal: Ilir Azemi v Azerbaijan (Friendly 31/08/16)
First competitive goal: Enis Alushi v Finland (WCQ 08/10/16)
First clean sheet: Samir Ujkani v Azerbaijan (Friendly 31/08/16)
First competitive clean sheet: Samir Ujkani v Cyprus (UEFA Nations League Division D 16/10/2018)
First win: 1-0 v Azerbaijan (Friendly)
First competitive win: 3-1 v Cyprus (UEFA Nations League Division D 07/09/2018)
Avoid finishing bottom of qualifying group: UEFA Nations League Division D 2018 (1st Place)
Qualify for tournament finals:
Win a trophy:
Reach Top 100/50/20 in World Rankings:
Number 1 in World Rankings:
First player to reach 50/100 caps:
First player to score 10/20/50 goals: