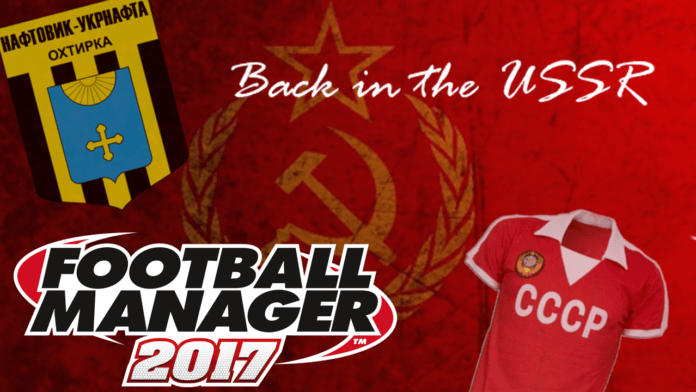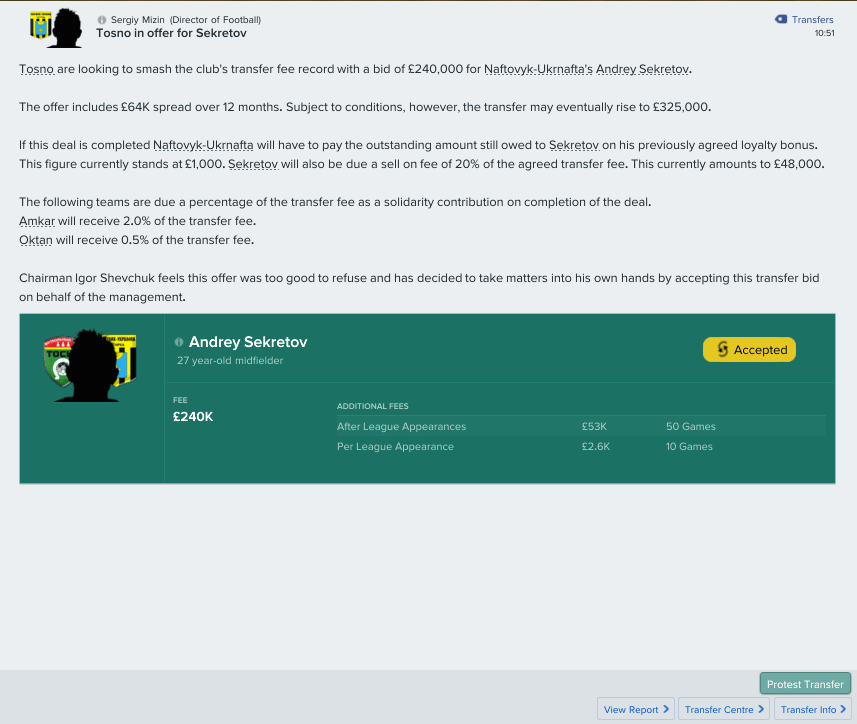 I protest. I swear and cry. I try everything, but let's be honest £240,000 is a lot of money and the board seem to have already spent it on monogrammed dressing gowns and expensive cigars, so there's no chance of keeping Sekretov around. Spending hours looking at potential transfers is not the ideal match preparation.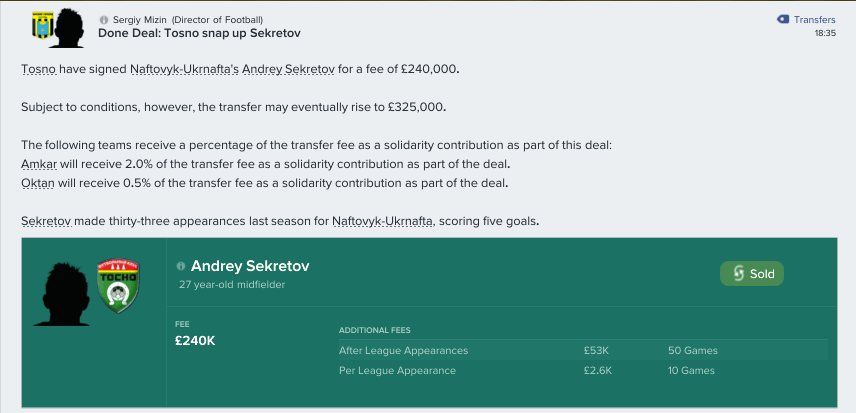 Speaking of which, I still find it a little alarming that, despite playing the same, or similar, formation for a year now, my team is still not familiar with it. I despair, I really do. Still Avangard are our first game of the new campaign. Let's hope for a good start.
Well, they may not be familiar with the formation but they certainly did it justice. We looked comfortable from start to finish, averaging 60% possession away from home is very pleasing and what's more, two goals from Artem Kulishenko on his debut makes for a very good day at the office. Both his goals were basically the same: his striker's instinct led him to drift inwards from the right which allowed Vodkodav space to get forward and whip the ball in low. Kulishenko smashed both of the crosses into the top corner and I was left feeling very happy about things.
That was until the board accept a bid for Vodkodav on my behalf…
Desperate times call for desperate measures, I cannot allow the board to sell all our best players just because they're eyeing up some expensive night clothes and hand cream. Not on my watch. I pull out the big guns and threaten to resign if they let the transfer go through. Miraculously it works, which is a relief – I've no idea what I would do with myself without this job.
With Vodkodav going no where, I am able to concentrate on the next game. Metalurg were promoted from the second division last season, so they're an unknown quantity but they won their first game 4-0 so I doubt they'll be push overs. I'll have to keep a close eye on Ruslan Yermolenko who picked up three assists last time out.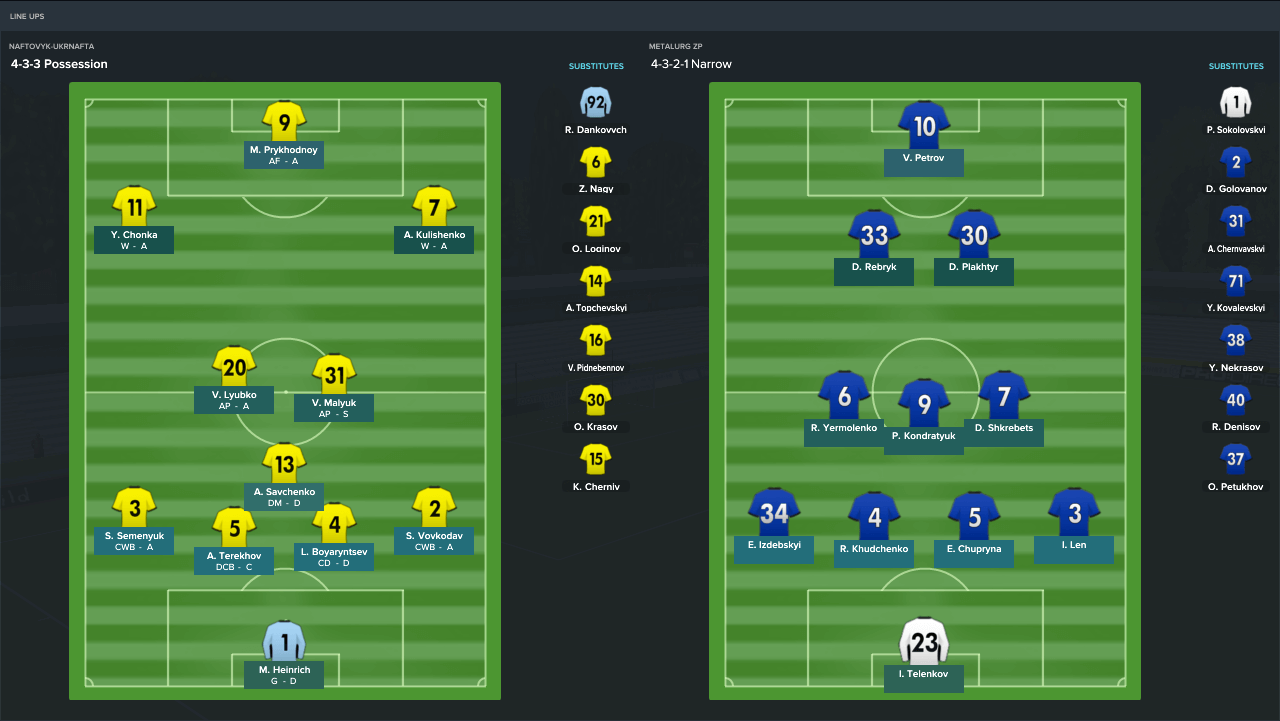 Turns out, they were a bit of a push over. Although, perhaps I'm doing my boys a disservice. We were unstoppable. Our full backs caused no end of problems. Metalurg, playing a narrow formation, couldn't cope with the overlapping runs and each of our three goals came from a cross. Maxym Prykhodnoy opened his account for the season before Boyaryntsev stole in at the back post to volley home. Things were made easier for us when they had a man sent off for careering through the back of Chonka, but when Vodkodav's cross was deflected in by their centre back, I knew the day was ours. Two wins, two clean sheets. Lovely.
Cherkaskyi Dnipro are the next opponents, just four days later. Last season, the two games produced 13 goals, so it could be spectacular. I'll settle for a drab 1-0 though.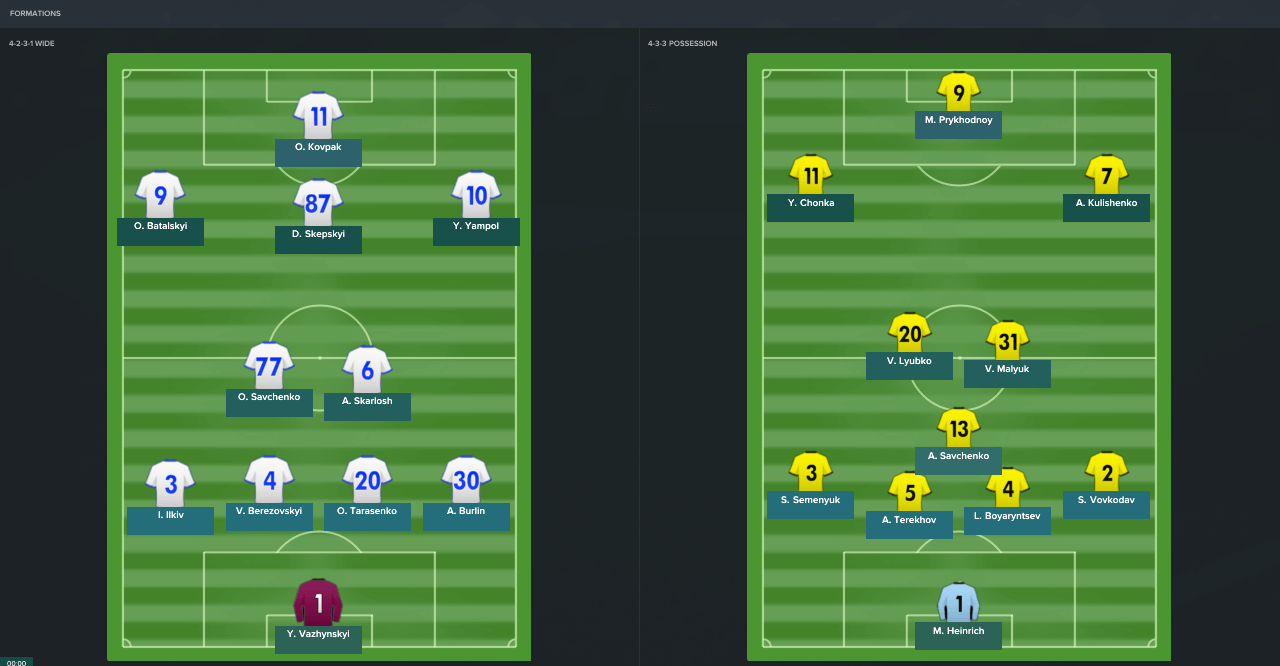 Drab it was not, successful it certainly was. It was a masterclass from Kulishenko. Scoring his third of the season; a wonderful free kick opened the scoring in the first half, before he sent a glorious ball over the top for Maxym Prykhodnoy to finish. Maxym got his second of the game only five minutes later with a Di Canio esque volley from another Semenyuk cross.  When you consider we also hit the bar twice, I think we were unlucky to only score three.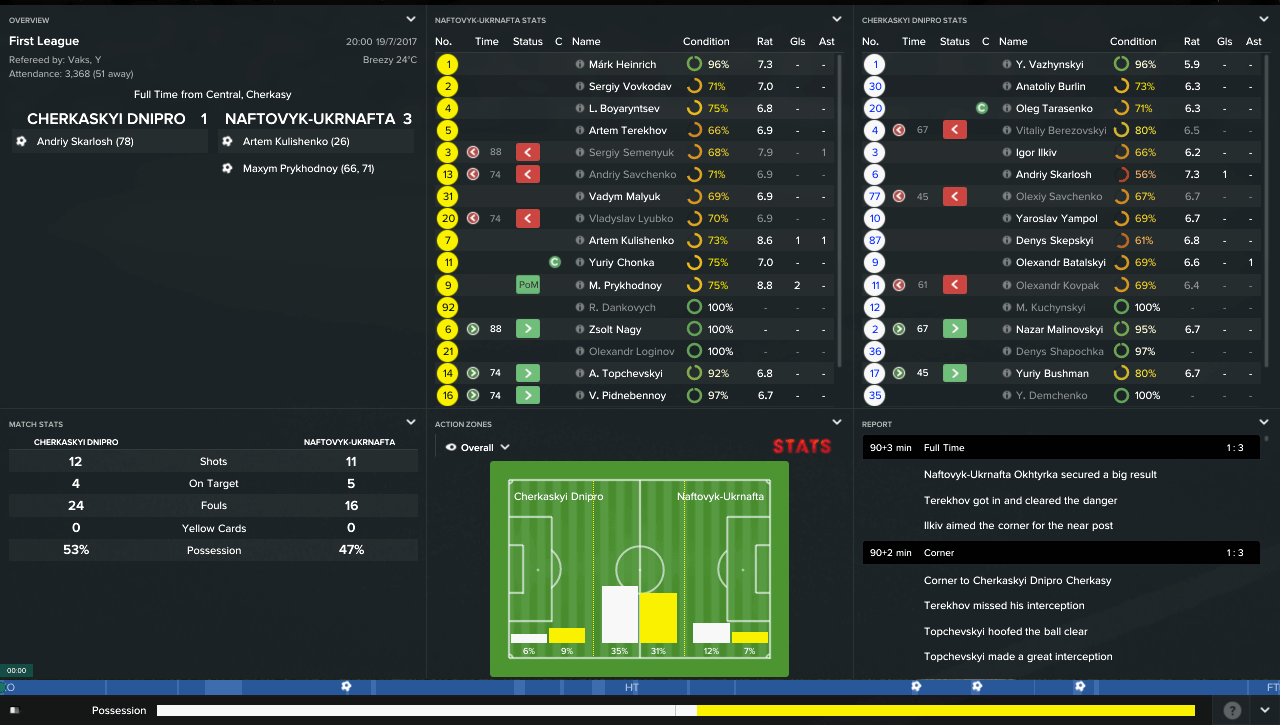 We barely have time to catch our breath before Girnyk-Sport come to town. Both Terekhov and Semenyuk are so tired a stiff breeze could knock them down, so they're out and Loginov and new boy Nagy take their place. Come on you bunch of beautiful misfits let's dig deep, we've looked good so far, can we make it four wins out of four?
Right…so, in the short term everything is fantastic. The long term – not so much.
Last season if we had gone down to NINE MEN with ten minutes to play, we would have collapsed like Bambi on Smirnoff Ice, but this season, there's something different about this side. We won't talk about how their players kicked us off the park and the referee didn't so much as blink. We'll talk about how, with our backs against the wall, a long ball forward found Maxym Prykhodnoy to put us in front and then five minutes later he rose tallest to nod in a Kulishenko cross and give us a fantastic victory.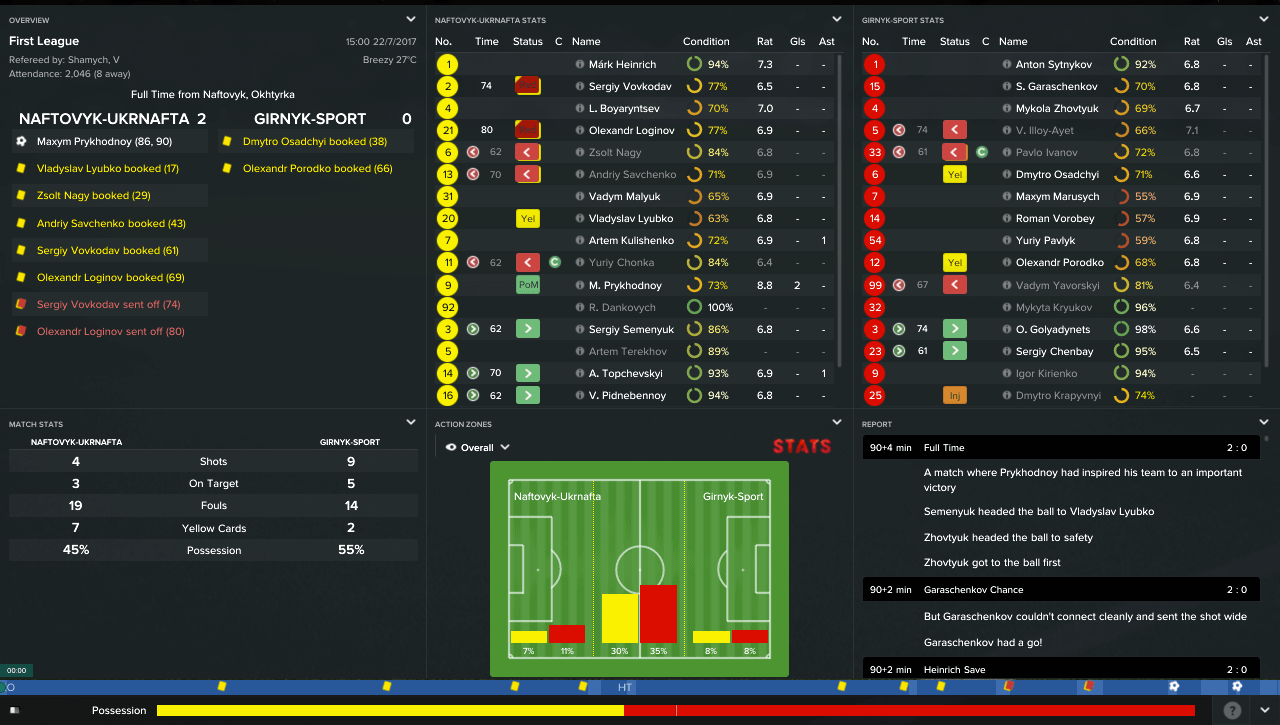 Both Loginov and Vovkodav are banned for one match, which does present us with a problem in four days time. But right now I'm too busy buying drinks to worry about that.
Since Sekretov left, I've been searching for a replacement and I think that man is Mykola Vechurko. He looks pretty good and was in no way signed because churko sounds a bit like Chonka…
Arsenal-Keiv, remember them? They beat us 3-2 last season. Twice. Normally I'd be nervous, but this lot seem to finally be clicking, we actually appear to have some resilience – maybe this season, we'll come out on top.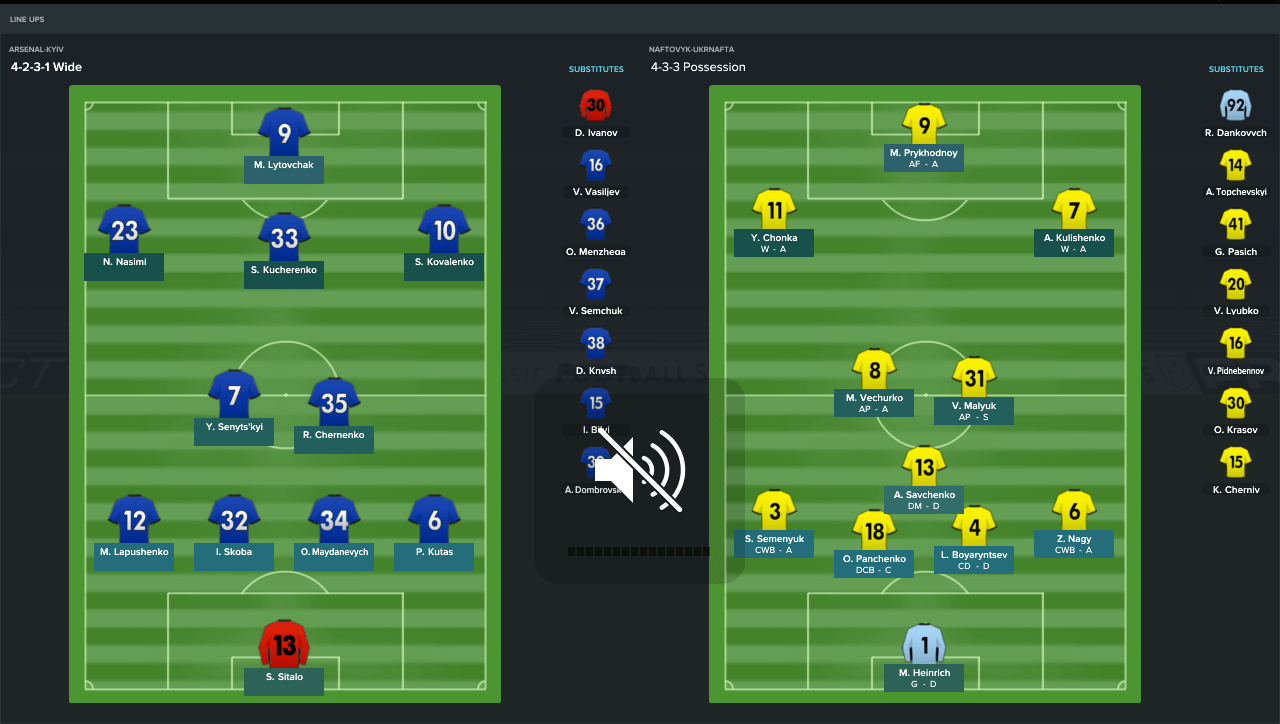 If I were to describe that game in one word it would be frustrating. Bloody frustrating actually, but that's two words. We fire out of the blocks; Kulishenko runs 70 yards with the ball, his legs moving so fast you can barely see them, and squares for Prykhodnoy to sweep in. We look incredibly comfortable, until Heinrich drops a routine catch from a corner at the feet of Senyts'kyi. I've told him to stop eating kolbász* with his gloves on before the game, but will he listen? The rest of game was full of our desperate attempts to score, but despite our 7 shots on target, we couldn't find a way through.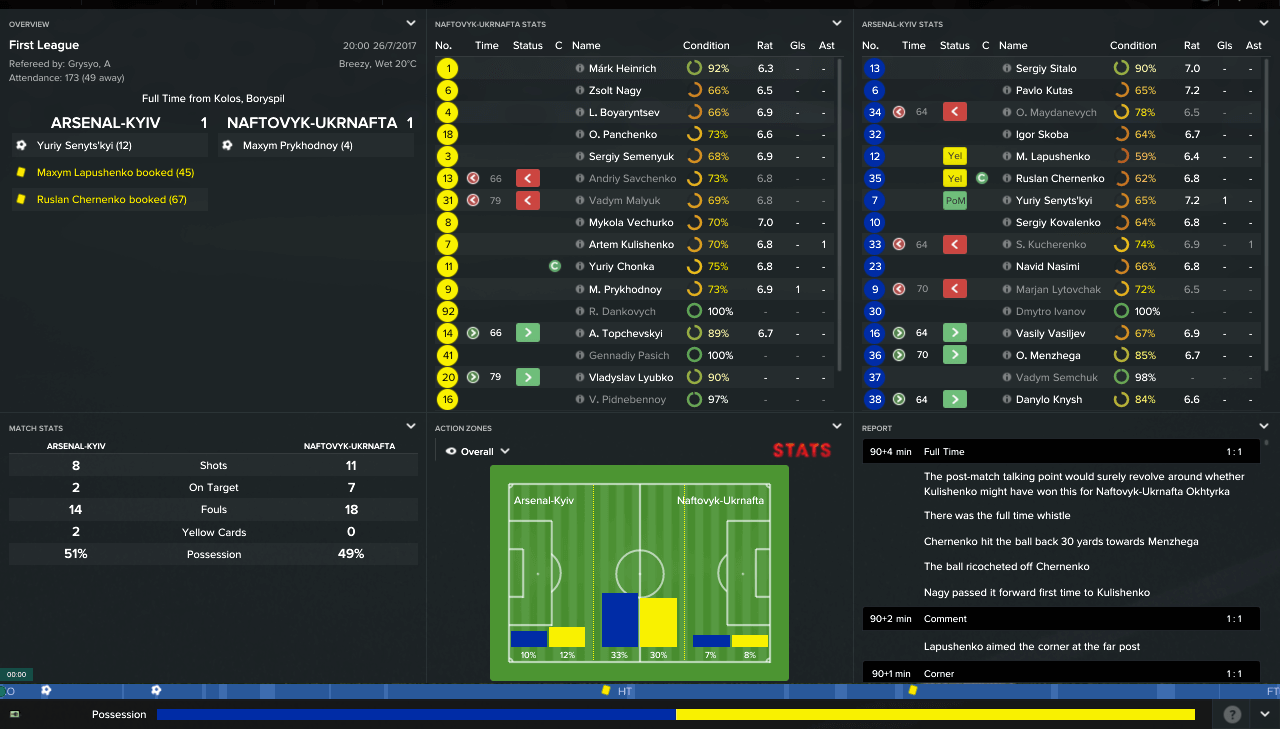 That draw extends our unbeaten run to six and while it's always nice to break records, it's a damning indictment of our team that this is even is a record.

Our last game of the month is against Olimpik Donetsk, or Olimpik D which sounds like a terrible Europop act. They were relegated from the Premiership last season and although they've not started well, they're certainly not to be underestimated. Loginov and Vokodav come back in following their suspensions, but they're the only changes.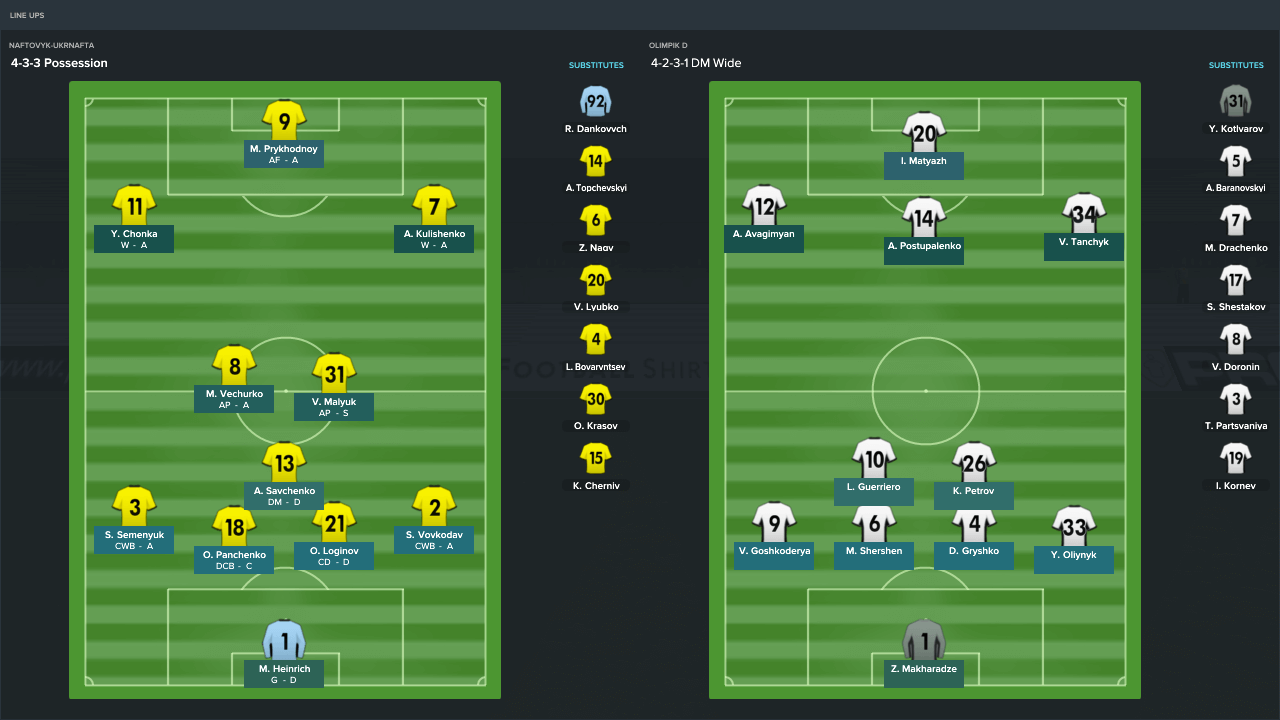 Oh yes, that is exactly what we wanted. Despite going a goal down early doors, we respond immediately through a wonderful team goal, we worked the ball from Chonka on the left to Vovkodav, overlapping on the right wing and his cross is thrashed in by Prykhodnoy for his seventh goal of the season. On the 25th minute Yuriy Chonka, who has started in the shadow of Kulishenko, reminded us all about how fantastic he is, with lovely eyes, by smashing one into the top corner from 20 yards. Shortly after the break, Kulishenko tops another great performance by heading in Semenyuk's deep cross and we end the month unbeaten.
Unbeaten feels good, unsettling – like everything's going to blow up in my face at any moment – but good.
*Kolbász is a Hungarian sausage, traditionally greasy – Heinrich is Hungarian. It's a Hungarian sausage joke. What do you mean niche? You're niche.