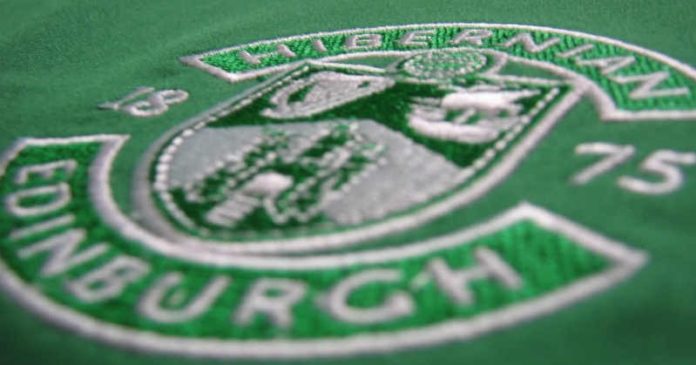 The Last King of Scotland

A Hibernian Tale: Part 3:3
Extract from the Managers diary:
'Garry, I've got some bad news for you, mate.'
'What's that boss?'
'I'm going to leave in the summer.'
Silence.
'Resign, Garry. I'm quitting and leaving. As of now.'
Garry jumps up and starts dancing. From nowhere he pulls out a party popper which bursts into the air.
'Wahooo.'
Part 3 of my third season. All is looking well as we currently lead the charge for the title. But will there be any last twist and turns to the season? Let's be honest, probably not.
Transfers:
With a squad I'm happy with in terms of its size and depth, I didn't feel any need to trade heavily in the January window. Only one came in and one left. Besides, with not knowing whether I plan to stay beyond this season it seemed pointless bringing in players I could possibly want elsewhere. Bit evil that, but fuck it, you know you're thinking the same thing.
Outgoings:
Martin Boyle, a backup player who was seeing as much playing time as me. For that reason I allowed him to leave to Charlton on loan until the end of the season.
Incomings:
Only Ousmane Coulibaly came in. He is a RB but also capable of playing as LB if needs be. He was signed on a free and became a useful squad player.

Fixtures January – June:
So, the transfer window is open, clubs in their desperation are bringing players in or pushing them out in hope of freshening their squads to push on in the final stretch of the season.
Dundee, currently third in the league, kick off the final run in of our season. Without wanting to bore you with the monotony of repetitious scores I'll allow you to examine the fixtures and results for yourself.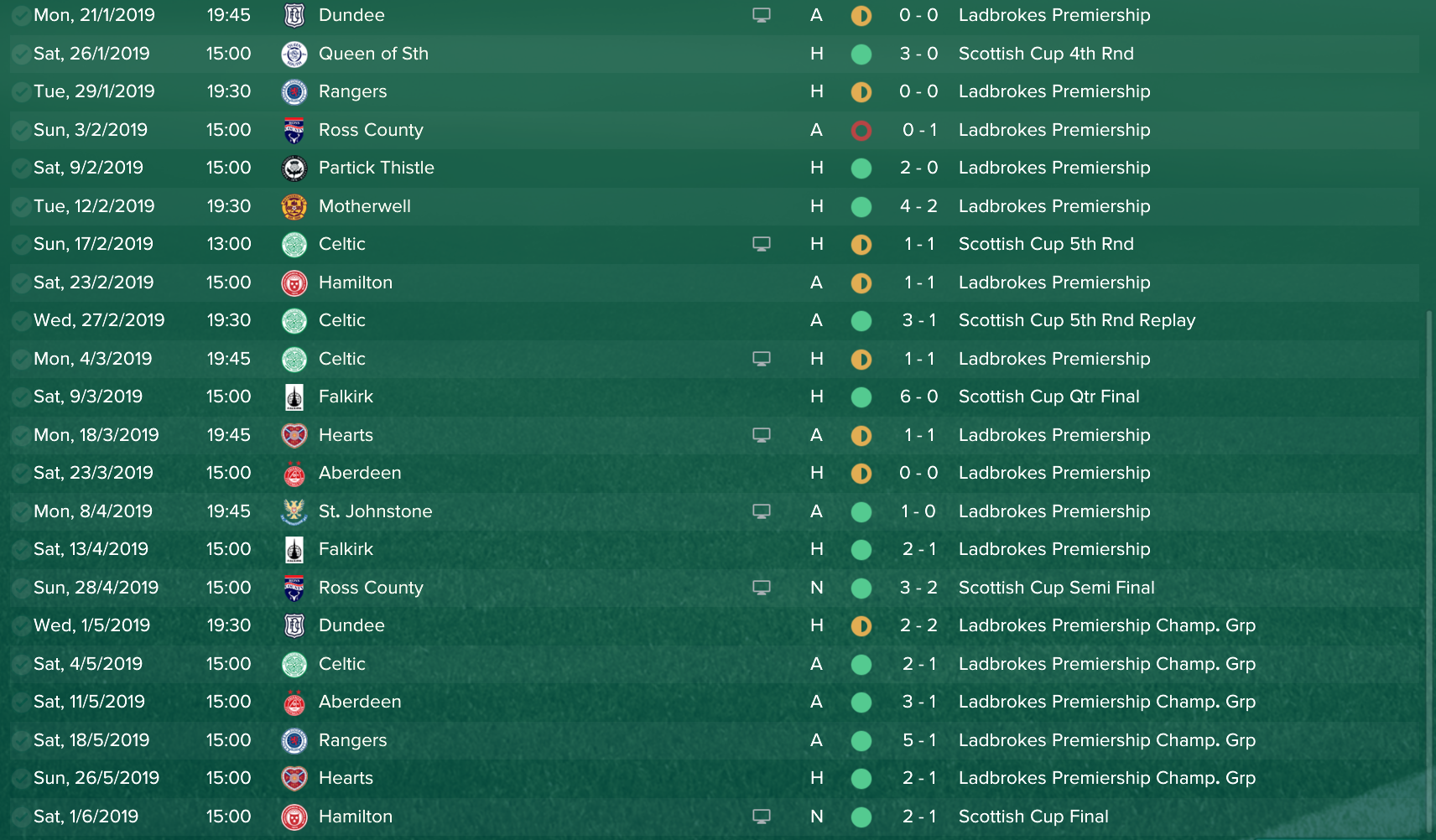 As you can see only a single loss in the remaining fixtures meant we ended the season with a respectable point tally of 81 compared to the runner ups Hearts who managed 65. That consisted of 23 wins, 12 draws and only 3 losses. The draws irritated me to be honest. Eight of them. Considering we only drew 12 times overall I'm disappointed so many came in the final stretch. If the opposition had been stronger it could have been costly. I'm obviously very happy to win the league. Hugely happy, don't get me wrong. It's a massive feat for the club, one not managed since the 50's. The fans were jubilant. R Kelly is throwing money at me in the form of a new contract. Everybody is happy. The problem is it all came a bit too easily really. We weren't playing brilliantly and despite my best efforts we were dropping a lot of points to teams I felt we should be beating, but the other teams simply couldn't keep up, or perhaps gave up, and before long we were miles out in front. I also feel slightly cheated. Strange as it may sound, I feel like Celtic let us down by not turning up this season. They finished third equalling Hearts 65 points but missing out on goal difference. Considering they have won the title for the past seven years or whatever it seemed almost a pathetic way to hand it over. Like complacency had settled in and there was no more stomach for fighting anymore. Ultimately it cost Rodgers his job at the midway point which was no surprise. See below for this years final league table.
Compared to the season before:

Celtic had a humungous point swing of 27 from last season compared to this. Twenty-fucking-seven. I mean, I can't help but feel a little bemused by their indifference. It is almost like they simply shrugged and thought, 'Meh, we'll win it next year instead, whateves.'
The other interesting statistics you can see is our goals for and against from this year compared to last. Last season we played like a team who wanted to score five goals in every game, with little thought for defending. It was an exciting and emotional ride and one that helped us achieve 2nd but everyone knows 2nd is only the 1st best loser. So to win the league I knew we had to change if only slightly. Because fuck conservatism. This year I wanted that exciting attacking aspect but accepted maybe a less gung-ho approach to our defending. It meant the 76 goals scored in 2017-18 dropped down to 68 in 2018-19, with the goals conceded dropping from 44 goals to a more respectable total of 29 this season. As such there was much less thrashing of teams and some much tighter games but ultimately it brought the league title home, so the fans won't begrudge me that surely? If so I'll meet you in the park across the road. Y'what m8?
We also made great progress through the Scottish Cup, beating the likes of Falkirk, Ross County and even the almighty Celtic. Boy oh boy have they stunk out the gaff this season. They've left skid marks everywhere they've been that shite. The Scottish Cup is a cup me and the club have taken a great liking to in recent times. A 2-1 win in the final against Hamilton made it my second time lifting the cup and Hibs third in four years. Sheafy, who has had an excellent season, woke up and felt like playing a blinder on the day. With two goals, he made his mark and ultimately won us the match. Thanks mate.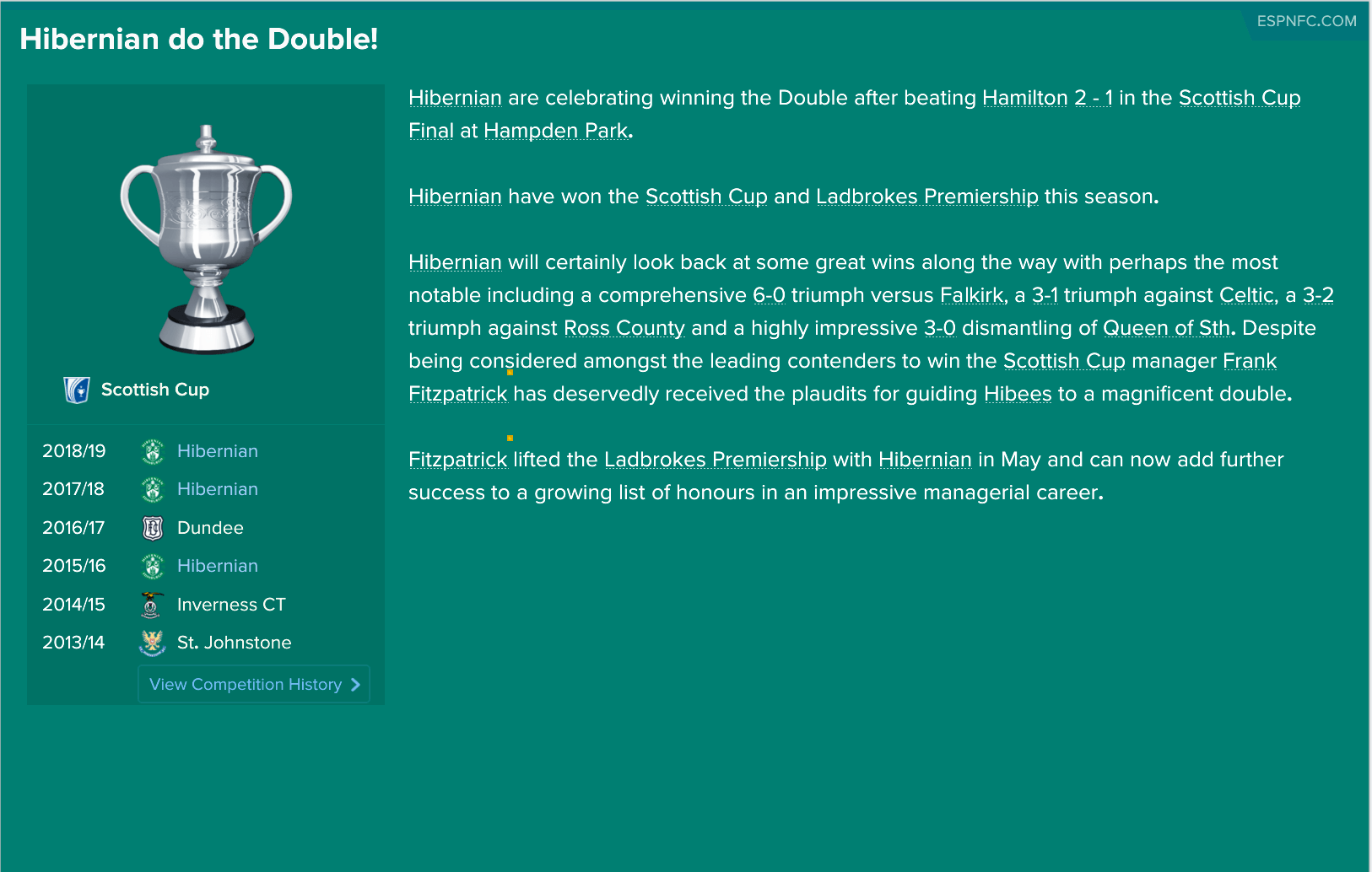 So a successful season. One to leave on a high possibly?
Performances:
Ryan Hardie – ST: So, as you would expect, Hardie finished the season as our top scorer. In 39 games he scored 25 times and assisted 14 times. So, for any of you who have a math ability as bad as mine, in every game he played this season Hardie was involved in a goal. Very impressive that, but then, by now it is what I've came to expect of the little rascal.
Antonio Xavier – ST: Our loanee from Porto. He got a chance in the early stages of the season due to the heavy schedule and took it. With 34 games he managed 12 goals and an excellent 16 assists. At the tender age of 20, this lad has a bright future.
Jason Cummings – ST: A slow start to the season saw him dropped to the bench and replaced by Xavier, but as time wore on, Hardie and Xavier's form dipped and gave him a chance. He played 25 times, scored 15 goals and assisted 5 times. It makes me wonder what would have happened if I'd given him more game time. When on song, him and Hardie are a dream partnership.
Ben Sheaf – C/RM: My hero. My mate. Sheaf played 31 games this season and managed his biggest goal tally of 17, with 7 of them coming from the penalty spot. He took 8 pens for us throughout the season and missed only 1. A good lad, is my Ben. I shall miss him the most.
Adriano Russo – CB: At 31, I feel like this was his last season at the top of his game. He was excellent throughout and became something of an insurmountable man mountain to any foolish enough to take him on.
Here's my best 11 of the season:
There's also time to reflect on my overall best 11:
So, over the course of three years at the club this is considered my best overall eleven. It makes me a bit teary eyed looking at that collective lineup. Like a bitter ex I've kept an eye on some of my former players and some of them have gone on to become top players elsewhere, like Melegoni who is now worth a tidy sum of £12m at Sassuolo and Alena currently making a name for himself on loan at Les Palmas. A good team that, it's a shame I never got to see it as one unit because we would have been unstoppable. Ah nostalgia.
Future:
I don't know what the future holds for me. I had a three year plan and I've achieved everything I've set out to do. I've built a team I'm extremely proud of and so I know whomever is lucky enough to succeed me will be one lucky bastard. So why leave? I hear you ask. Why leave when I've created such a monstrous team. Why not stay and dominate the league for years to come? Simple answer really, I'm bored. I'm bored of playing the same teams, I'm bored of the cold, I'm bored of the team. That doesn't mean to say I don't love the bunch of bastards but like an old married couple, I'm sick of the fucking sight of them. No, a new challenge beckons to me.
There's been a lot of silverware for us during my time here, lots and fucking lots. Here's the list of achievements:
Our success over the last few years has meant I've gained some admirers and job offers have been pouring in throughout the year. A number of Prem teams tried to steal me away with the likes of Watford, West Brom knocking on the door. Teams fighting against relegation. Not the sort of challenge I want really. I have my eyes set on Germany or Spain but who knows. Celtic also came knocking after sacking Rodgers too.
'Cheeky sods', I thought. I couldn't do that to my boys. To 'r R Kelly. I can't say any of them really turned my head but it's nice to feel noticed, to feel wanted by someone else. Like a woman, I've been enjoying the adulation. I've been drinking it up and strutting about. Yes, it's time to move on from Scotland. Take a break somewhere. Somewhere that sees sunshine more than five days of the year. Somewhere there's water above freezing temperature. Somewhere I wont have my face punched in for accidentally catching someone's eye. As to where that is, who knows?
For the final time, Up the Hibees.