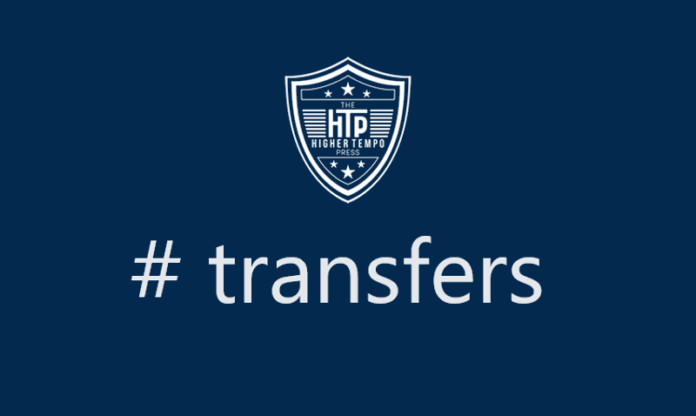 On November 5th, FM24 was officially released after a two-week early access period. The game is playing well so far. One of the challenges of the game is obviously squad building.
One of the biggest challenges may be that the team you are managing doesn't have a big transfer budget. However, at the game's start, bargains are to be had in the free agent market. Here are some players I would recommend you sign as free agents:
David de Gea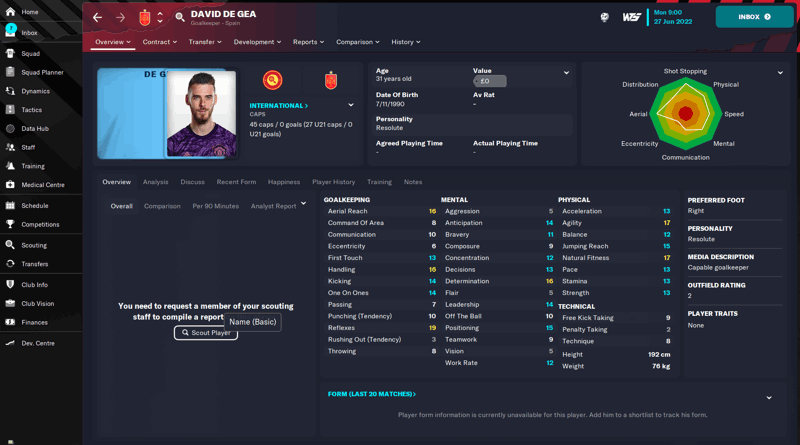 It is quite incredible that despite leaving Manchester United in the summer, highly-rated Spanish international De Gea has still not found himself a new club. There has been talk of De Gea returning to United after his exit, but that is just a rumour at the moment.
For now, De Gea is available as a free agent, and even at 33, he is one of the best players available without a fee at the start of the game. However, there is a slight caveat in the fact that in my early saves, the former Atletico Madrid star has chosen the big money of the Saudi Pro League rather than staying in Europe.
Jesse Lingard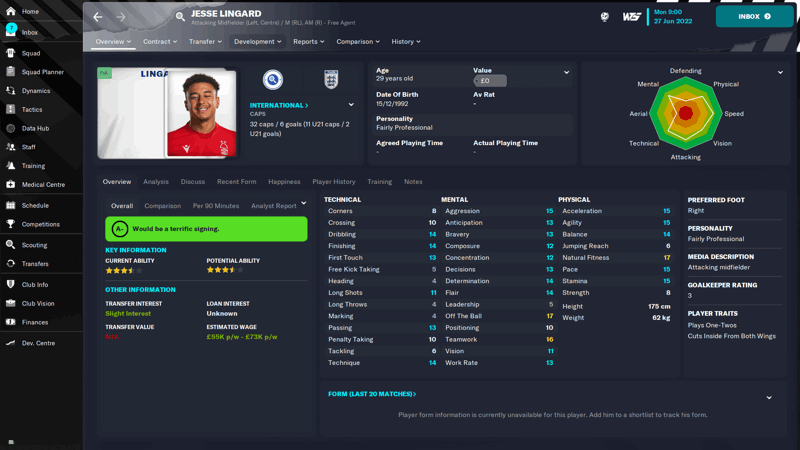 Another former Manchester United player who is without a club but could prove to be a useful signing if you are a mid-to-bottom half-level Premier League club. When you look at his stats, they are not world-beating, but they are solid enough.
He still has enough quality to be a decent squad player, especially as his wages are not usually that much, as he could be signed for as little as £20,000 per week, which by Premier League standards is not massive wages. His versatility also makes him a more attractive prospect, as he can play on both wings and as a number ten. The only downside to Lingard is that he is already 30. He will still give you a few years of service, though.
Stefano Sensi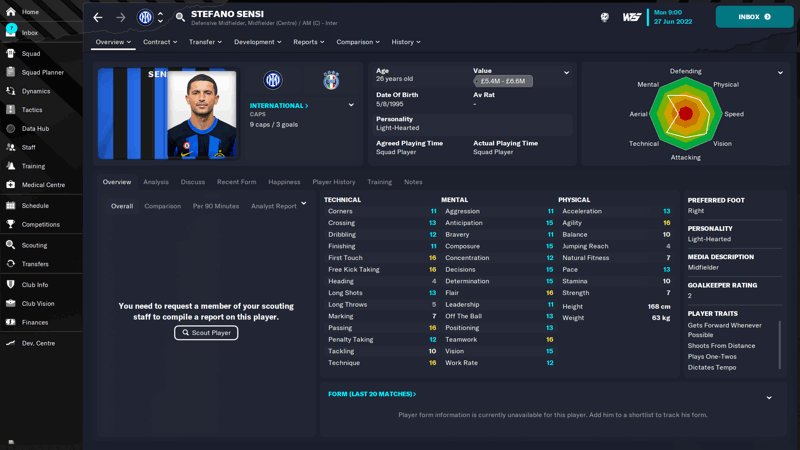 A player who doesn't always start as a free agent but who was released in the summer by his club Inter in my first save, the Italian midfielder was an excellent signing for my Everton team, as the Toffees squad was slightly short on quality in midfield.
He scored ten goals in his debut season, often playing as a defensive midfielder or even a central attacking midfielder. His stats are highly respectable for a central midfielder, who, at 26, is in the prime of his career.
The beauty of Sensi is that even if you don't have the same fortune as me of Inter releasing him in the first summer, he is available for a small transfer fee of between £6-8m. He is well worth the fee if you are managing a team outside of the ones challenging for the Premier League title.
Jose Campana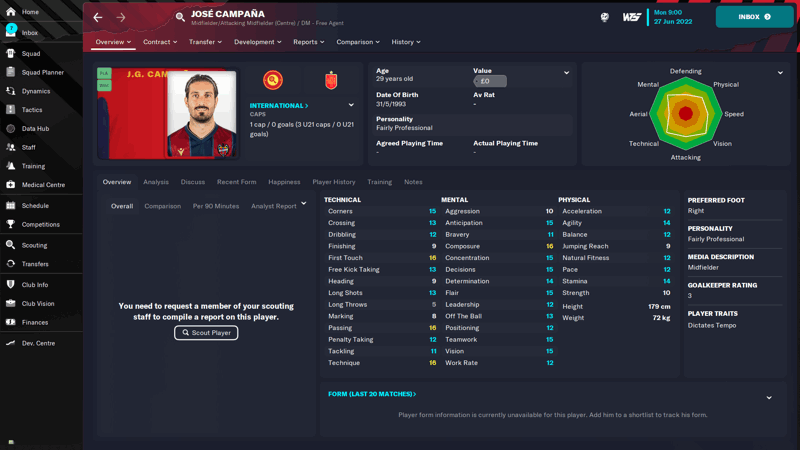 The Spanish international is another midfielder well worth picking up if you manage a mid-level Premier League or the equivalent in other leagues. Like Sensi, his stats like passing, first touch, technique and composure are high.
Also, like Sensi, he can play as a defensive midfielder, central midfielder and an attacking midfielder. At 29, he is not too old to make an impact at your club, and you could even make a small fee for selling him. Signing the former Levante star as a free agent, even for a wage of between £50-60,000 per week, seems like a no-brainer.
Alejandro 'Papu' Gomez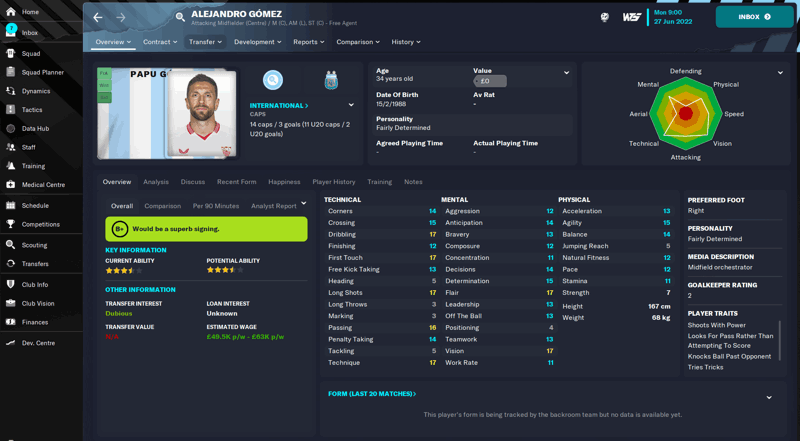 The Argentinian attacking midfielder has lit up the European game at Sevilla, particularly at Atalanta in Serie A. Gomez is a talented and versatile player who will bring flair, creativity and excitement to most teams.
There is one slight downside to Gomez, and that's the fact that he is 34, which has probably played a role in him still being a free agent in real life. However, the former Atalanta could be a great squad player for a season or even two at the game's highest level.
Axel Tuanzebe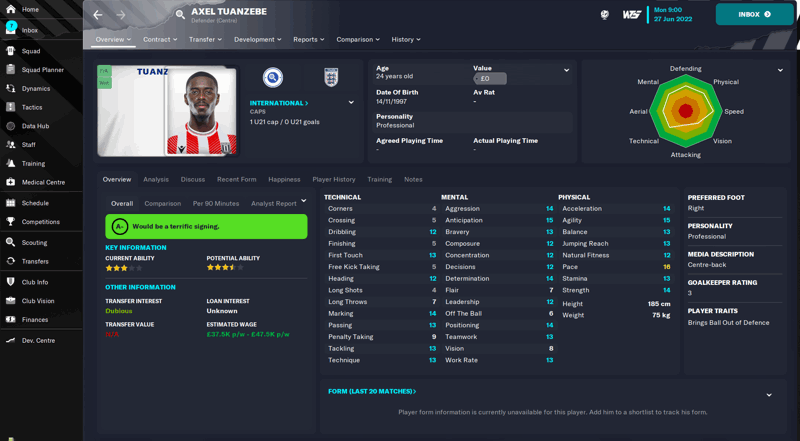 Unlike some of the other players on this list, Tuanzebe is not a flair-attacking player but instead, a centre-back who has not yet fulfilled his promise within the game. However, after various loan moves, including at Aston Villa, the 24-year-old left Manchester United as a free agent in the summer.
His stats are solid, and he could be a great signing for most teams in the Premier League. However, the only problem is that he is in high demand. His wage of around £50,000 per week is not unreasonable, so if you can snap him early in the game, he could well prove to be one of your shrewdest signings.
Who are your favourite free agents on FM24? Let us know via our socials