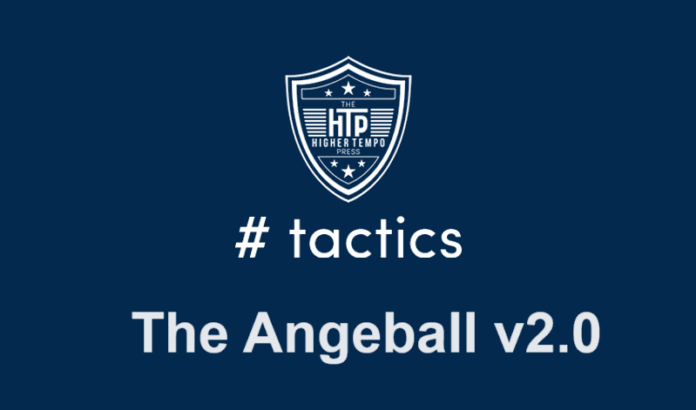 On this week's tactic testing, we looked at a tactic called The Angeball v2.0 by Lowerleagues from FM Scout.
As you can guess from the name, it is based on the tactics of Tottenham head coach Ange Postecoglou. With Spurs thriving this season, it seems like an interesting tactic to test.
I have seen many people attempt to recreate the Australian's tactics in FM. However, for me, this was the best and closest to Postecoglou's set-up.
The conditions of the tactic
The test was conducted with an updated database downloaded via the Steam workshop from FMInside.net if you want to update your game.
I started the game with Everton, who had a predicted finish of 12th place and holidayed an entire season. As is normally the case, the tactic overperformed the predicted finish position.
What is the tactical set-up?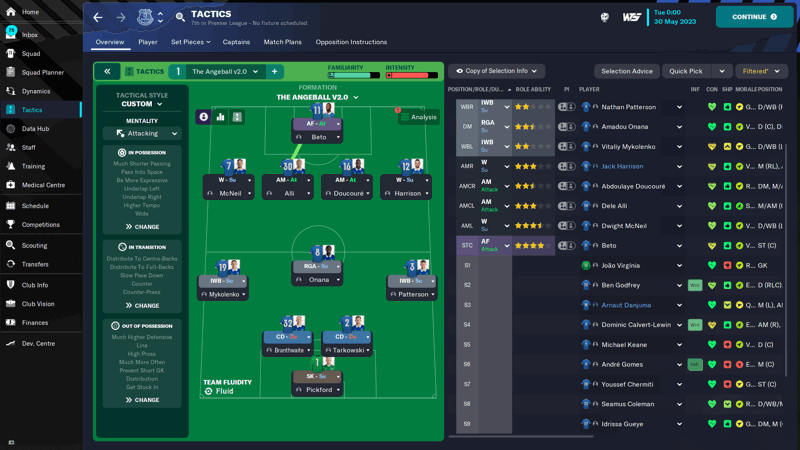 The tactic is set up almost in a 2-3-4-1 formation, with the mentality of attacking. The goalkeeper is a sweeper keeper on support, with two central defenders on defend. Interestingly, the two centre-backs are the only players with defend duty in the whole team.
In front of the backline are two inverted wing-backs on support duty, and slightly further forward, a regista on support.
Moving up the pitch, two wingers on support occupy the positions on the flanks with two attacking midfielders on attack in between the wide-men. Up front is an advanced forward on attack.
How did the tactic perform?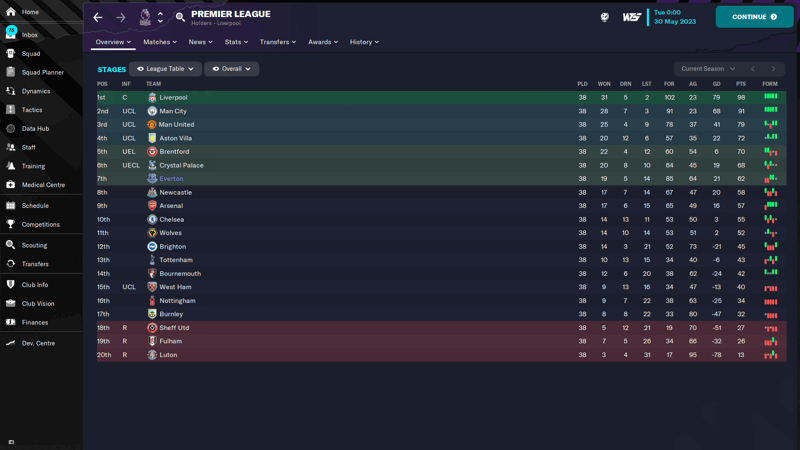 The tactic overachieved slightly, finishing in seventh place and, unfortunately, missing out on European football by six points. The team achieved a highly respectable goal difference of 21, the fifth-best in the league, only bettered by the league's top-four teams.
It is not hard to see that the tactic is based on outscoring your opponent, especially because there are only two players on defend duty. The tactic certainly delivered when it came to goals, as the team scored 85 times in the Premier League, a tally that was bettered by only the top-two Liverpool and Manchester City.
Like any attacking tactic, it was always likely to concede goals, especially when the team didn't have great defenders to fill the two all-important central defender roles. With this tactic, the team's defensive vulnerabilities were exploited, as they conceded 64 goals, which made it the sixth-worst defence in the Premier League.
Unfortunately, there was to be no cup glory either, as the team exited the FA Cup in the Third Round against Wolves while also being knocked out of the Carabao Cup in the Fourth Round by Crystal Palace.
Who were the top performers with this tactic?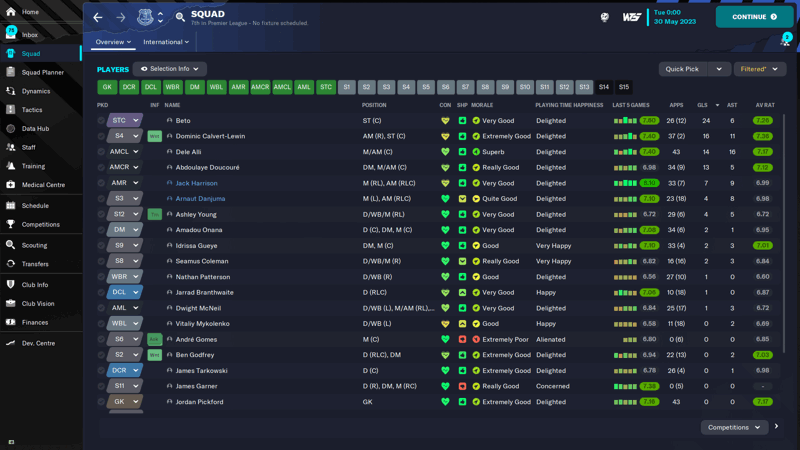 Unsurprisingly, the top performers in this tactic were attacking players. The top goalscorer was advanced forward Beto, who scored 24 goals and produced six assists in 38 appearances, yielding a season-average rating of 7.26.
The only player to achieve a higher average season rating was fellow forward Dominic Calvert-Lewin, who picked up a season average rating of 7.36, scoring 16 goals and producing 11 assists in 39 appearances.
Dele Alli and Abdoulaye Doucoure, the two attacking midfielders, also thrived with this tactic. Dele scored 14 goals and created 16, with an average rating of 7.17. Doucoure scored 13 goals and produced five assists with a season-average rating of 7.12.
Jack Harrison also thrived playing as both a winger and an attacking midfielder, scoring seven goals and producing nine goals with an average rating of 6.99.
On the other wing, Arnaut Danjuma scored four goals while producing eight assists, with a season average of 6.98. Veteran Ashley Young produced good attacking numbers playing as an inverted wing-back, as he scored four goals and produced five assists, with a season-average rating of 6.72.
Goalkeeper Jordan Pickford doesn't usually get a mention in the highest-performing players, as his presence is usually taken for granted. However, despite conceding so many goals, he still picked up a respectable average-season rating of 7.17.
What is my conclusion?
I knew this would be a goal-filled tactic as soon as I saw the tactical set-up. It is the sort of tactic that always produces great entertainment, especially if you have a strong squad of players to fulfil the various roles.
Everton has decent players to fill the roles, but I can't help thinking that this tactic could be a lot more fun with a better team. This is definitely one I will try on my latest personal save, as I have a squad full of four and four- and half-star players, which would obviously produce better results.
If you are looking for a tactic that will give you many thrills and spills, then this one could be a lot of fun.
Have you ever used the Angeball v2.0 by Lowerleagues? If you have, let us know your thoughts via our socials.