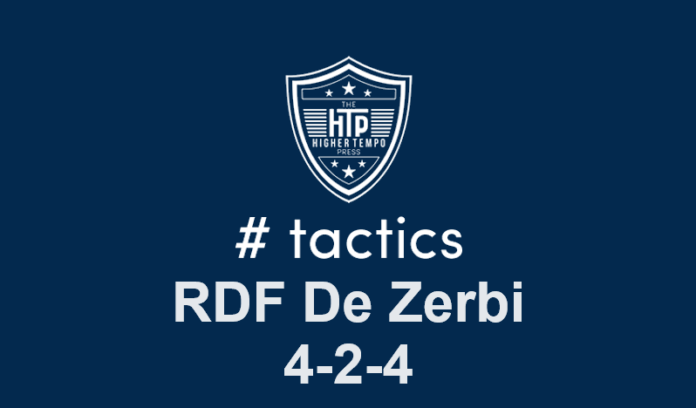 Today, we are back with another tactic testing. The latest tactic we have tested is from one of our favourite tactic creators, RDF.
The tactic in question is RDF De Zerbi 4-2-4, and it's fair to say, like most of his tactics, this is certainly worth trying out with your team.
The conditions of the tactic
The test was conducted with an updated database downloaded via the Steam workshop from FMInside.net if you want to update your game.
I started the game with Everton, who had a predicted finish of 12th place and holidayed an entire season. Courtesy of all our clever tactic creators, I don't think I have ever finished that low in the standings in these tests, and this tactic was no exception.
What is the tactical set-up?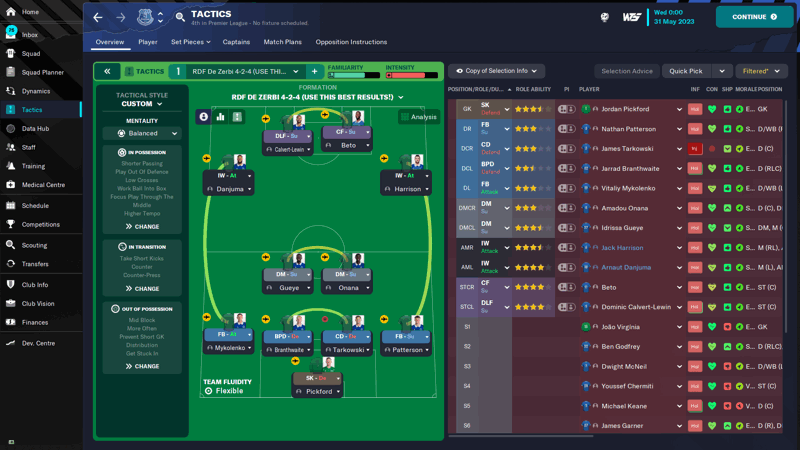 As revealed in the title of the tactic, it is a 4-2-4, with a balanced mentality, which worked really well. The set-up begins with a sweeper keeper, one ball-playing defender, and one central defender at the heart of the defence, all on defend duties.
Flanking the two central players in defence was a full-back on attack and a full-back on support on the other flank, which gave the defence a nice balance.
In front of the backline is two defensive midfielders on support. Further up the pitch, out wide, we have two inverted wingers on attack. In attack, we have a deep lying forward partnered by a complete forward, both on support. I have to say it was an interesting move to put both of the front two on support. It's something I have never seen before in a two-forward system.
The tactic screen at the end of the season shows that many players have built strong partnerships, which is a sign that the tactic is well set up. In fact, players in every department of the pitch have built strong partnerships.
How did the tactic perform?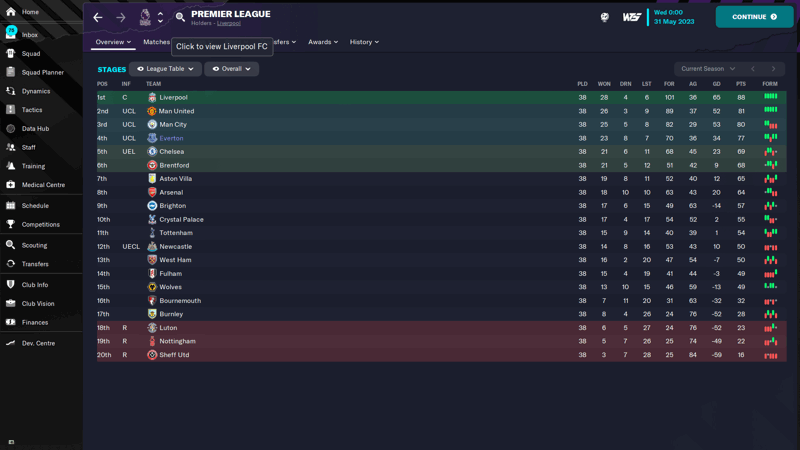 The tactic performed well, as the team finished fourth place and booked a place in the Champions League for the next season. For what looks like an attacking formation and tactic at first glance, it performed remarkably well in defence, which I cannot say about all tactics, especially ones with a two-forward system.
Impressively, only Manchester City conceded fewer goals than our team's tally of 36. The tally was actually the same number of goals conceded as champions Liverpool. While the defensive stats were impressive, so were the team's attacking numbers, as we finished as the fourth-highest scorers in the Premier League with 70 goals.
Another impressive aspect of this tactic was that we had the best away record in the Premier League, picking up two more points than champions Liverpool on our travels, winning ten of our 19 league games on our travels.
In the other competitions, we suffered a fourth-round exit from the FA Cup against Bournemouth. However, the team made it to the semi-finals of the Carabao Cup only to suffer defeat against Manchester United.
Who were the top performers using this tactic?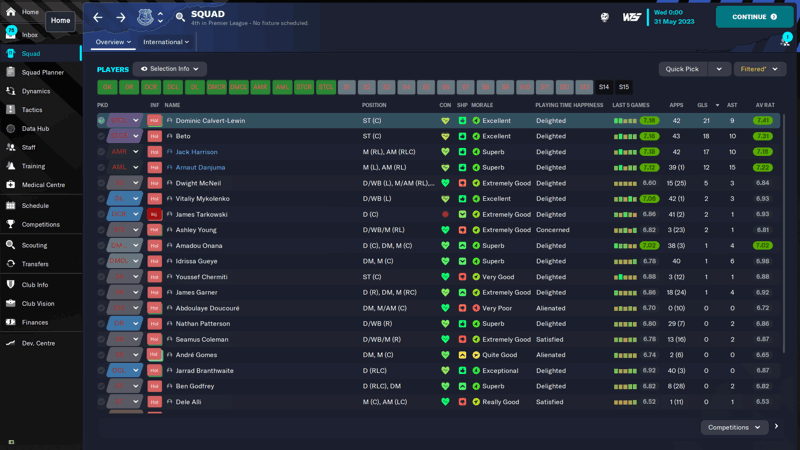 It is not a major surprise to me that the front four players were the highest-performing players using this tactic. Dominic Calvert-Lewin played as the deep lying forward, picking up a season-average rating of 7.41, having scored 21 goals and produced nine assists.
His strike partner, Beto, who was playing in the complete forward role, wasn't far behind with a season average rating of 7.31, as the Portuguese star grabbed 18 goals and ten assists.
The inverted wingers also produced good attacking stats, as Jack Harrison scored 17 goals and created a further 10 for his teammates, picking up a season-average rating of 7.16.
On the opposite flank, Arnaut Danjuma was also highly effective, scoring 12 goals and producing a team-high 15 assists with an average season rating of 7.22, just outdoing Harrison over the campaign when it came to season ratings.
Dwight McNeil also scored five goals and produced three assists. However, it was obvious from the fact that he started just 15 games and made 25 substitute appearances that he was just a bit-part player in the team.
When it comes to assists, defensive midfielder Idrissa 'Gana' Gueye deserves a mention, as he produced six from his mainly defensive role. His fellow midfielders Amadou Onana and James Garner also produced four assists apiece.
What is my conclusion?
As I have mentioned in previous tactic testing pieces since the update, I love tactics in which I can start both Dominic Calvert-Lewin and Beto. The pair are two of Everton's most potent attacking weapons and best players on FM23. This formation allowed me to get both players in without sacrificing any defensive solidity, which is always a good thing.
At first glance, the tactic looked highly attacking, mainly due to it having two wingers and two forwards. However, it turned out to be beautifully balanced due to the roles and player instructions.
I would recommend this tactic to anybody who is managing a team with good attacking options, it can not only get the best out of those attacking players but also produce an impressive defensive record. This is definitely a tactic I will be using in my personal save in the near future.
Have you used the RDF 4-2-4 in FM23, and if you have, what are your thoughts on the tactic?