Welcome back to what is now a rather tetchy Norwich. The end of season 3 is nigh, and despite my plans for Norwich to be in Europe at the end of this season, we're actually in a spot of relegation danger. Not serious danger, but we can't win. We lose a lot. Then I remembered I had Cherno Samba and we beat Sheffield Wednesday 4-0. Could it be a turning point?
Well, in a word, no. This isn't my fault though.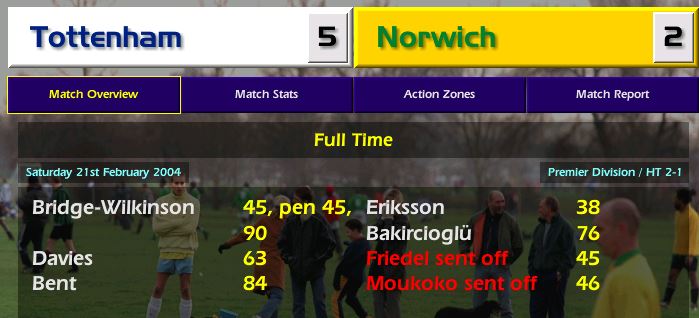 It was going quite well, our half time lead would have been lovely. Spurs equalised on the stroke of half time – a shame, but not a disaster, but then in the longest spell of first half injury time ever recorded, Friedel took down Marcus Bent and it was a penalty and a red card. Friedel was only in goal because Leo Franco was injured, and I didn't put another keeper on the bench. Lee Wilkie played the second half in goal and actually didn't do that badly. Obviously things weren't helped by Moukoko running out of the dressing room with a two-footed tackle, meaning we played the second half with no keeper and 9 men. It never rains but it pours.
The madness continues with a home defeat to lowly Villa.

The writing is on the wall for some, sickened by the stupidity of his colleagues.

A real topsy turvy clash with Everton is just another kick in the balls. We will never catch a break.
We do at least claim a late point at the Stadium of Light, thanks to Cherno.

Yet another 7 goal thriller follows. Honestly, I sit watching these games with my head in my hands. Are the defenders on glue? Why can't we do anything right?!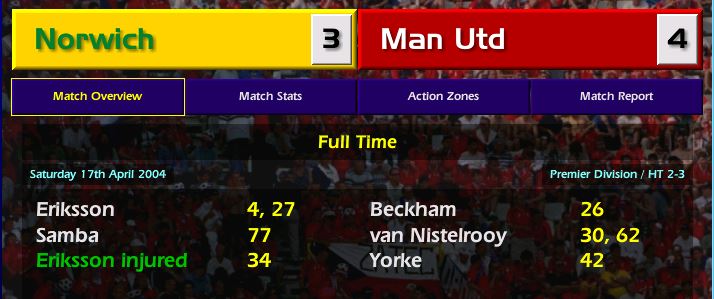 It's a sorry place around the club. I have grown to hate 90% of the playing staff, of whom I had such high expectations. It's not like they all have terrible average ratings either. We're just doomed to fail. I mean yes, all roads of blame lead to my door but it's my blog so I'm not going to go.
Another defeat follows.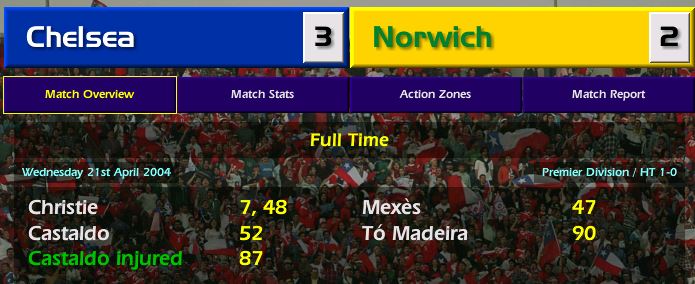 A trip to Birmingham is next, and this run of defeats has us 16th in the table with just a few games to go. We won't go down but it's become a matter of personal pride. Tonton, back from suspension, rattles in a late winner. Phew.

It actually sets us up nicely for the Old Farm derby, and the chance to relegate our Suffolk rivals. Ipswich need to win to avoid the indignity of being relegated at the homes of their local enemies. If I were them, I'd be pretty confident.
That'll get me some favour back.

The last game of the season is Arsenal, a game we wouldn't win at the best of times. I can take some solace in being level for a bit.

All of that leaves us with a disappointing 15th placed finish, with the second worst defence in the league but still one of the more potent attacks.
Top half for a "look at what you could have had".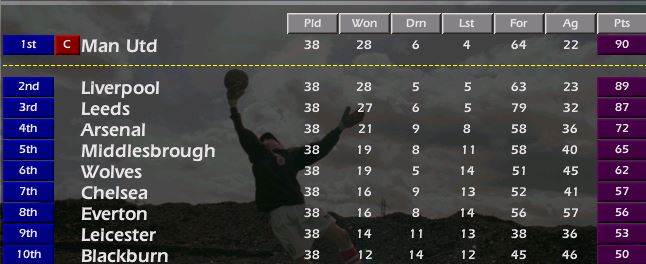 Something has to change. Like I said earlier, the averages aren't tragic. Most of the first team regulars are rating around the 7 mark, with some exceptions.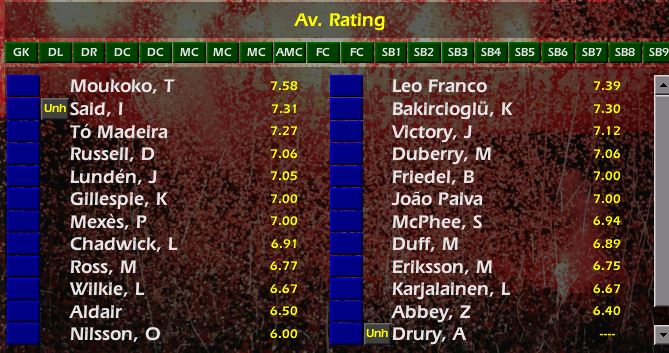 The likes of Duberry & Leo Franco are on big wages with release fees, a problem which rears it's ugly head very early on as Middlesbrough swoop for Leo Franco whilst Friedel's contract becomes unprotected and Bolton swoop for him. I am keeperless.

That's probably not the worst news, and we can set about rebuilding this squad. Duberry heads back to Leeds and a lot of the fringe players are put in the reserves and transfer listed. They will leave at some point.

I've sent the scouts far and wide. We'll leave no stone unturned trying to find some competence. Premier League nous is very much on the menu. Also, sensibly salaried players. I can't play fast and loose with Delia's money anymore, mainly because the mean old bint refuses my request for transfer funds when we're desperate around February.
I'll leave you in suspense for who we can bring through the door at Carrow Road ahead of Season 4, but if it doesn't go right this season, that might be it. Until next time…